[UPDATE: As of May 2023, ETFmatic no longer accepts new retail clients. Their focus is on the B2C side. Current users can log in as usual].
Hello there! This article will give you our honest review of one of the most famous Robo-Advisors in Europe: ETFmatic.
ETFmatic is a Robo-Advisor designed for people who want to enjoy the expected long-term performance of stocks and bonds, don't want to allocate their time choosing financial instruments, and prefer to have their savings automatically managed with rigorous risk controls.
Their user-friendly mobile app has resulted in 13M+ downloads and allows its customers to invest exclusively in low-cost Exchange Traded Funds (ETFs) in a low-cost and automated way. On the downside, depending on where you reside, you might face some tax headaches.
That's ETFmatic in a nutshell. If you want to find out what our research team has to say after carefully analyzing ETFmatic, keep reading. Here's what we'll cover:
Founded in 2014, the Robo-Advisor ETFmatic presents itself as a more transparent, efficient, and low-cost investment alternative to the traditional wealth management options.
It allows its users to fully benefit from allocating their savings in the stock market with minimal costs and effort.
The investment approach is based on the premise that passive investment, in the vast majority of the time, will give you better results than active management (well documented by the SPIVA reports – check it out here).
Having had removed layers of unnecessary intermediaries, ETFmatic is now the most downloaded Robo-Advisor App in Europe. You don't need to worry about where to put your money when you make a deposit; it will be automatically invested for you.
Want to understand better what a Robo-Advisor is and how it works? Check our Introductory Guide to Robo-Advisors.
ETFmatic Highlights
| | |
| --- | --- |
| 🗺️ Supported Countries | 31 European countries |
| 💰 Fees | 0.48% (per year) |
| 🎮 Demo Account | Yes |
| 📈 Portfolio Rebalancing | Yes |
| 💵 Minimum Deposit | €/$/£ 1,000 |
| 📍 Investment Instruments | ETFs |
2. ETFmatic Pros and Cons
Simplicity within its mobile app

High service and fee transparency

FCA regulated; and usage of the largest ETFs issuers

Annual consolidated summary activity for tax purposes

No account opening, inactivity, or withdrawal fee

Limited options to customize your investing goals (we consider this as an advantage, as this way investors don't have to choose among thousands of alternatives)

Free simulation account available
High minimum required deposit (1000 EUR/USD/GBP)

Distributing ETFs may be tax-inefficient in some jurisdictions

Only investment in Equity and Bonds. No cryptocurrencies, alternative investments, and/or Forex.
3. ETFmatic investment strategy
As we've pointed above, ETFmatic's investment strategy is based on investments in ETFs, which are low-cost, exchange-traded funds aimed at replicating the market performance.
Their standard asset allocations can be found in the image. Nonetheless, they may be individually adapted for your investment goals.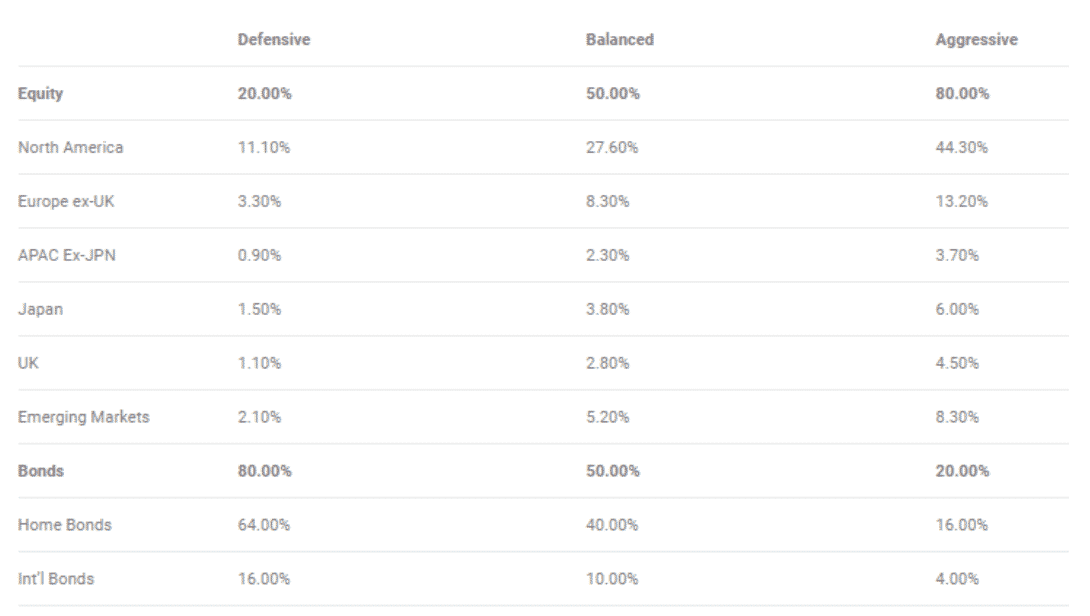 The Robo-Advisor allows clients to select their target percentage weights in each. However, the underlying ETFs are still chosen by ETFmatic, which, unlike other reviews, we find useful for their clients because it trims the thousands of options in the market, so you don't need to focus on that. Wasn't this one of the reasons that made you search for a Robo-advisor in the first place?
For portfolio construction, ETFmatic only uses distributing ETFs, which, in some jurisdictions, may not be tax efficient due to dividend tax rates paid in the majority of European countries.
After our anonymous contact with the customer support, ETFmatic claims that the reason for opting by distributing ETFs is because it gives them greater control of how the dividends are re-invested, meaning that ETFmatic may use the payouts to buy the ETFs that would help to bring the overall portfolio in line with the target weightings (also known as rebalancing).
As a hypothetical example: "If the FTSE 100 is overweighted and the S&P 500 is underweighted in your specific portfolio, we could then use the dividends from both the FTSE 100 and the S&P 500 to buy more S&P 500 ETFs". However, it may jeopardize greater compounding effects if the tolerance bands are too narrow (see picture below).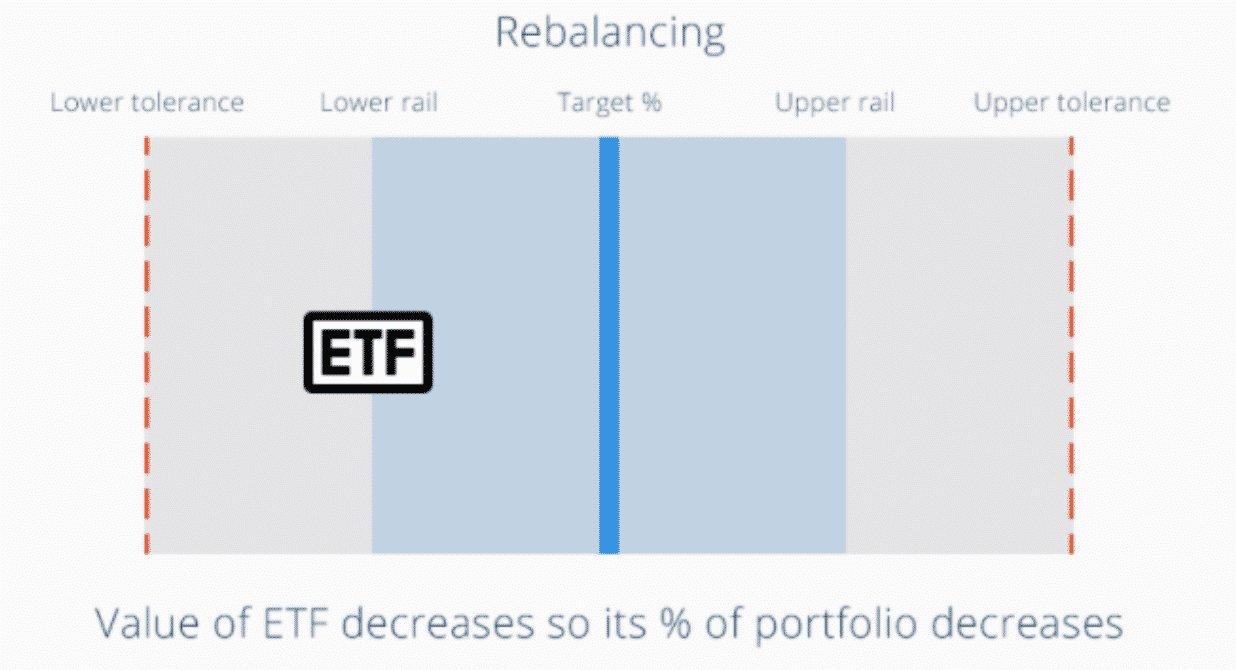 Please, keep in mind that not all countries provide this tax benefit to accumulating ETFs. The UK is a notable example of that. In those cases, either format of ETF is irrelevant.
ETFmatic only uses the largest ETF providers: Vanguard, iShares (brand of BlackRock ETFs), SPDR, and HSBC. By using these companies, it adds an extra layer of reliability. These are the ETFs used in each of the GBP, EUR, and USD-based accounts: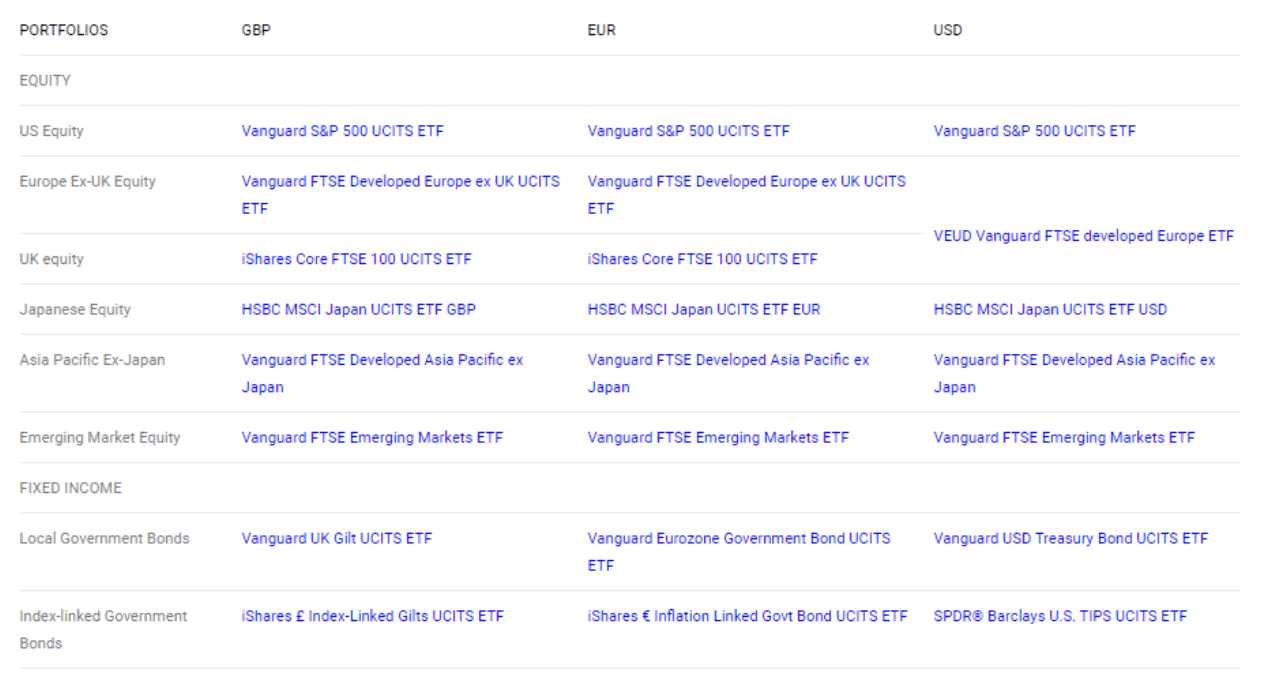 On a final note, the investment strategy within each profile may face discretionary changes (see image below). From time to time, the management team of ETFmatic reallocates the percentage of your invested capital between different asset classes creating under/overweight positions that they feel could benefit you in a particular market environment. In our view, this goes a little against the idea behind the Robo-Advisor space: set a risk profile for its clients and keep it that way until their risk aversion level modifies. Otherwise, it can be considered a disguised way of active investing using tilts in asset allocation instead of a purely passive investing approach.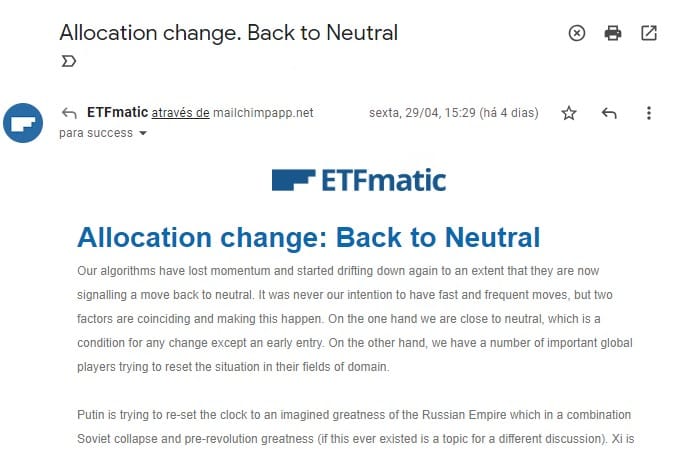 4. ETFmatic Fees Snapshot
The ETFs in the portfolio have an inherent fee, called Total Expense Ratio (TER), that averages 0.12% annually due to the ETF providers. It is already priced in each ETF.
The only fee you will be paying ETFmatic is an annual fee of 0.48% on the total value of your portfolio. As simple as that! And it already includes typical costs associated with investments such as custody (where your assets are secured) and brokerage (the activity of buying/selling ETFs).
How do you pay this fee? Well, the 0.48% fee will be divided by twelve to give a monthly fee of 0.04%, and it will be automatically deducted from the cash held in your ETFmatic account at the end of each month. ETFmatic will send you monthly summaries of fees so that it's clear exactly what they charge for the service provided!
And, as a "friendly reminder", at the end of each tax year, they will also send out a consolidated summary of all purchases, sales, and dividend payouts, which can be used to complete your tax filings.

5. ETFmatic Account Currencies
ETFmatic is available in 31 European countries, offering you bespoke Pound (GBP), Euro (EUR), and Dollar (USD) accounts.
If you are from Bulgaria, Croatia, Czech Republic, Denmark, Hungary, Poland, Romania, or Sweden, you will not use your home currency to invest. In that case, your best option to convert money is to use low-cost currency exchange platforms such as Wise or Revolut.
6. ETFmatic Safety and Reliability
Before the 1st of April of 2021, ETFmatic Ltd was authorized and regulated by the Financial Conduct Authority (FCA), and all clients were covered up to £85,000 by the Financial Services Compensation Scheme (FSCS). In other words, the FSCS protected against the loss of cash and securities in the unlikely event of the broker going bust.
Since the 1st of April of 2021, this protection scheme has completely changed. As Aion Bank has bought ETFmatic, all clients will be under Belgian law (please read the details here).
We've personally opened an account (before the 1st of January 2021), and everything went well.
Despite this, like most other Robo-advisors, this company is still recent in the market. Having been founded in 2014, the track record of the company to resist periods of crisis is still limited.
7. ETFmatic Supported Countries
ETFmatic is available in 31 European countries, offering GBP, EUR, and USD-based accounts. Their services are available in the following countries: Austria, Belgium, Bulgaria, Croatia, Cyprus, Czech Republic, Denmark, Estonia, Finland, France, Germany, Gibraltar, Greece, Hungary, Iceland, Ireland, Italy, Latvia, Liechtenstein, Lithuania, Luxembourg, Malta, Netherlands, Norway, Poland, Portugal, Romania, Slovakia, Slovenia, Spain and Sweden.
ETFmatic is not accepting new clients from the United Kingdom.
Free simulation accounts are available worldwide.
Due to Brexit, ETFmatic was in a transaction period to adopt the new policies that resulted from the negotiations between the UK and EU.
On the 18th of March 2021, a new press release came up: ETFmatic has been bought by Aion Bank, a full-service digital bank based in Belgium and supervised by the National Bank of Belgium ("NBB") and the Financial Services and Markets Authority in Belgium ("FSMA").
What does it mean?
You will be under Belgian law (including the UK clients that joined before the acquisition), so your assets will be protected by the Belgian Guarantee Fund:
All the money held in cash in your ETFmatic account will be protected up to €100,000 (regardless of the currency) per client.
Financial instruments are covered up to €20,000 (regardless of the currency of the financial instruments).
The current and new clients are not required to take any action, so, in practice, you will not even notice these changes in your investments.
Currently, the custodian of your money is Barclays Bank Ireland PLC, while the ETFs are held by Saxo Bank S/A in an account in the name of Aion SA/NV.
Did we answer all your doubts? Did it help you make your decision regarding opening an account in ETFmatic? Let us know your feedback in the comments below!
Looking for ETFmatic alternatives? Check our full list of Robo-advisors available by country.