As your business grows and generates consistent cash flows, so does the need to invest your capital. You probably have reasonable cash reserves and feel confident that some of your business money can and should be put to work elsewhere. You maybe want to invest it in the financial markets (perhaps, for diversification?). You're looking for options with flexibility since you want to withdraw your capital at any time and use the funds for any project that comes up or for any unexpected expense.
This article will give you some options for your business brokerage account. Our selection criteria involved reputation, security, fees, products, markets covered, customer support, and others! Let's go right into it!
What is a Business Brokerage Account?
A brokerage account is an investment account that gives you access to various financial products such as stocks, ETFs, bonds, futures, crypto, and more! The word "Business" only indicates that the entity opening the account is some kind of business structure (Corporation, LLC, Partnership,…).
In practice, the product offering for corporate investment accounts will be similar to retail accounts; however, some slight twists will apply. Higher minimum deposits, lower spreads, commissions, and more personalised customer support, to name a few.
Some reasons people choose to invest through their company include taxes (investing through a corporate legal entity can help reduce or mitigate taxes), diversification, and protection/limited liability.
Best Business Brokerage Accounts
1# Interactive Brokers (Best overall)
Interactive Brokers Corporate Accounts at a glance
Products
Stocks, ETFs, Options, Futures, Forex, Commodities, Bonds and Funds.
Regulation
FINRA, SIPC, SEC, CFTC, IIROC, FCA, CBI, AFSL, SFC, SEBI, MAS, MNB.
Supported Countries
Worldwide (+220 countries – including the US). Exceptions apply.
Founded in 1978 and publicly listed in NASDAQ (ticker: IBKR), Interactive Brokers is a global online broker that surpassed significant financial crises, showing resilience and a rigorous risk management process.
Interactive Brokers offers an advanced investment platform that allows you to invest globally in stocks, options, futures, currencies, bonds, and funds from a single integrated account. Its advanced trading and account management tools let you control and delegate user permission for a business brokerage account.
With Interactive Brokers, businesses around the world can open a company account. Some institutions that can open an Interactive Account include Small Businesses, Hedge Funds, Prop Traders, Family Offices, and more.
It gives you solid trade execution through IB SmartRouting and a set of technical and fundamental tools to help you make investment decisions.
Interactive Brokers' fee structure is also quite complex, the registration process is lengthy but fully online, and the broker doesn't offer commission-free trading outside the US. However, when considering FX fees, narrower spreads, and the stock loan program, Interactive Brokers' clients still get significant savings compared to most brokers.
Want to know more about Interactive Brokers? Read more details directly on Interactive Brokers' landing page.
Webull Business Accounts at a glance
Products
Stocks, ETFs and Options (only US markets).
Supported Countries
US, Hong Kong, China, Singapore, Japan, the UK, and Australia
Webull is a US-based online broker offering comprehensive financial products: stocks (including ADRs), ETFs, and Options. Its design and hassle-free use have attracted millions of people in the US and Hong Kong.
Webull has 0% commissions on trading activities in all its product offerings. The revenue streams come from stock loans, interest on free credit balances, margin interest, and payment for order flow.
It supports several features such as Extended Hours Trading (you can trade in pre and after-hours sessions), a PC version for more advanced customizations (plus mobile and web versions), and customer support 24/7. Essentially, you will find the basics for investing. If you are looking for complex products (forex, futures, or others), Webull may not be the right investment platform.
Webull only provides accounts for Limited Liability Companies (LLCs). It requires a minimum of $100,000, and you will need to reach out to Webull through e-mail since you cannot open a Webull business account directly on their website.
Saxo Bank Business Accounts at a glance
Products
Stocks, ETFs, Options, Futures, Forex, Commodities, Bonds, Funds.
Regulation
FSA, FCA and other local regulators.
Supported Countries
Worldwide. Exceptions include the US, Australia, Japan and South Korea.
Launched in 1992, Saxo Bank is one of the most solid financial entities in the brokerage industry, with a proven track record of success. It lets you trade over 70,000 financial instruments through their trading platforms: SaxoTraderPRO (for PC) and SaxoTraderGO (on mobile).
The Saxo Bank corporate account tiers are the following:
Classic: A minimum $100,000 deposit is required, giving you access to tight spreads and customer and technical support 24/5.
Platinum: A minimum $200,000 deposit is required. In addition to Classic features, it also lowers trading prices by up to 30% and prioritizes local-language customer support.
VIP: A minimum $1,000,000 deposit is required. Here, you will find the best prices, access to trading experts, and exclusive event invitations.
The pricing structure will vary according to your account tier. For instance, a US stock order will be $0.02 per share, with a minimum of $5 in Classic. However, within the VIP tier, the same trade would be $0.01 per share with a minimum of $1.
Saxo Bank states that it usually takes one week to approve a business investment account, assuming they are provided with clear copies of the following documents:
Memorandum and Article of Association
Certificate of Incorporation
Proof of the company's business address if different from its registered address (e.g., a company bank statement or utility bill less than three months old and issued in the company's name)
Latest financial statement
Group structure diagram (for entities within complex group structures only)
In addition, every beneficial owner with a 25% or greater company holding and each company director should send other documents, namely:
Passport
Proof of residency – a utility bill less than three months old that displays the date, applicant's name, and address that matches the one on the application
If you want to know more details about Saxo Bank's corporate account, check their landing page for corporate investment accounts.
Vanguard Business Accounts at a glance
Products
Stocks, ETFs, Bonds, Options, and Funds (US markets only).
Supported Countries
Targets primarily US and UK residents.
Founded in 1975, Vanguard is the 2nd largest investment company (after BlackRock) with $6+ trillion in assets under management and 50+ million clients trusting their services.
For retail investors, Vanguard is only available in the US and the UK since these are their primary target markets. However, for corporate accounts, most businesses should be able to set up an account with Vanguard.
The brokerage segment was introduced in 1983 to add diversification by combining stocks and bonds to the mutual fund's segment. The Vanguard brokerage was not designed for short-term traders but more for long-term investors (buy and hold strategies).
With a Vanguard Organization Account, you can set up an investment account for your business and start trading or investing in financial products such as stocks, ETFs, CDs, or Bonds.
If you want to know more details about Vanguard corporate accounts, check their landing page for Organization Accounts.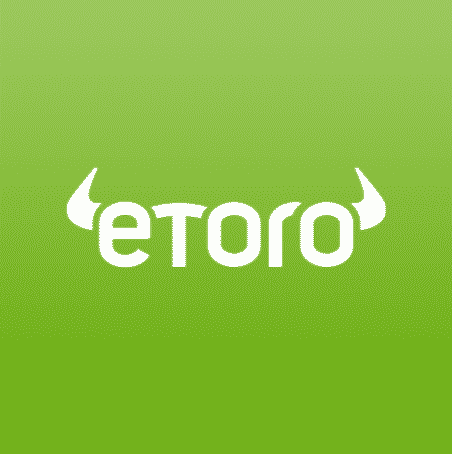 Visit eToro
76% of retail CFD accounts lose money.
eToro Business Accounts at a glance
Products
Stocks, ETFs, Cryptos, and CFDs on Stocks, ETFs, Commodities, Forex, Indices, and Cryptocurrencies
Regulation
FCA, CySEC, ASIC
Supported Countries
Worldwide. Exceptions include Canada, Japan, Hong Kong, Russia.
Founded in 2007, eToro is a commission-free trading platform with a worldwide presence (+140 countries) and 30 million registered users. It is a multi-asset brokerage company offering stocks, ETFs, and thousands of CFD products on stocks, indices, currencies, and commodities.
Opening a business investment account through eToro is possible. However, depending on your location, the products and markets available to trade might vary. In some cases, corporate account holders can have access to better spreads and fees and increased leverage.
Your first step to opening an eToro corporate account is to contact customer support because there is no place on their website where you can start the process on your own. Since we have already reached them, you may get one step ahead by providing the documentation without waiting for their reply.
To open an eToro business investment account, you should open a ticket and provide eToro with the following information:
What is the purpose of opening a corporate account with eToro?
What type of legal entity is your company?
Where is your company incorporated?
Please provide a detailed description of your company's business activity.
Please provide a copy of your company Memorandum and Articles of Association or the local equivalent.
The minimum initial deposit for a corporate account is 10,000 USD. Please confirm this will be acceptable".
Want to know more? Read eToro's FAQs for opening a corporate account.
CFDs are complex instruments and come with a high risk of losing money rapidly due to leverage. 76% of retail investor accounts lose money when trading CFDs with this provider. You should consider whether you understand how CFDs work and whether you can afford to take the high risk of losing your money.
Schwab Business Accounts at a glance
Products
Stocks, Bonds, Mutual Funds, ETFs, Futures, CDs, Cash, and Cash Equivalents (US and Canadian markets only).
Regulation
SEC, FINRA, SFC, CFTC, MAS
Supported Countries
Targets primarily US residents, but other countries are supported.
Schwab is one of the largest US brokers offering commission-free trades on stocks, ETFs, and mutual funds through the Schwab Mutual Fund OneSource list.
It is a publicly-traded company on the NYSE and a suitable broker for long-term investors and traders. In 2020, Schwab bought TD Ameritrade, another leading US broker. However, the two companies operate separately, while the complete merger isn't finalized.
Charles Schwab also supports business accounts, so you can invest your company's money and reach your financial goals. The entities supported include corporations, sole proprietorships, partnerships, limited liability companies (LLCs), and unincorporated associations.
Before opening a business account, you must contact a Schwab financial consultant or download a Schwab account application file (a complex and lengthy process) – a minimum of $250,000 is required. After registration, the client service will be available 24/7 through the Schwab website and mobile apps.
If you want to know more details about Charles Schwab's corporate accounts, check their landing page for Organization Accounts.
Questrade Corporate Accounts at a glance
Products
Stocks, ETFs, Options, Bonds, Currencies, Mutual Funds, CFDs and Precious Metals (only US and Canadian markets).
Supported Countries
Canada and other countries (information given upon request).
Questrade is a Canadian-based firm offering both Self-Directed Investing and Managed Investing. You are allowed to invest in a wide variety of investment products with very low commissions, including commission-free ETF trading.
To open a Questrade corporate account, you will need a minimum of $1,000. Questrade is based in Canada, however, international clients are accepted – this information is nowhere to be seen on their website, even so, we decided to ask them if it was possible to open an account in Portugal, and they said "yes".
Questrade has four types of business accounts: Corporate, Investment Club, Partnership, and Sole Proprietorship. We believe most of you will be looking for the "Corporate" one. Still, before moving on, read the information.
Questrade, Inc. is supervised by the Investment Industry Regulatory Organization of Canada (IIROC), and is a member of the Canadian Investor Protection Fund (CIPF).
With a corporate business account, you will have plenty of options to manage your company's money. You can look into more conservative investments within the monetary market, like interest-bearing instruments (US treasuries, for instance), or if you are inclined to make riskier investments, use it as a share dealing account for your limited company. This is if you are solely focused on buying company stock with the intent of capital appreciation and receiving some dividends.
Whatever your investment objectives, we hope these alternatives can help you achieve them!
Please do remember that the above should not be construed as investment advice and is only intended as an information resource. Investors should do their research and due diligence about the services and opportunities to determine which are best suited for their risk, returns, and impact strategy.
Did our breakdown help clarify certain questions or concerns you had about Business Brokerage Accounts? Or maybe you'd like to share feedback regarding the article? Please do let us know in the comments below.
We wish you great success in your business!
Am I legally able to invest in the stock market through my company? Can I trade with a business account?
Yes, your company is a legal entity and should be able to invest in stocks, bonds, cryptocurrencies, or any other asset class.
Does Robinhood offer business accounts?
No. Robinhood only opens accounts for retail investors.
Does Public.com offer a business account?
No. Public.com only offers solutions for retail investors.
What about European brokers? Can I open a business account on Trading 212, Freetrade, DEGIRO?
You cannot open a business account on Trading 212, Freetrade, or DEGIRO.
Does Wealthsimple support business accounts?
Yes, Wealthsimple allows Canadian companies to open a corporate account: a Checking Account, a Savings Account, or an Investing Account.
Does Oanda support business accounts?
Yes, Oanda also supports business accounts. Oanda is focused on forex and CFD trading.
Can a business open a brokerage account at TradeStation?
Yes, TradeStation also offers business brokerage accounts. It is a great broker with low fees. However, it lacks some financial products such as forex and non-US financial products like EU-listed stocks.
Can a business open an investment account on E*TRADE?
Yes, E*TRADE does offer corporate brokerage accounts for US residents. To open an E*TRADE business brokerage account, you must fill out an application form and send it through fax or mail. After the application has been received, it takes three business days to be reviewed.
Does TD Ameritrade support corporate accounts?
Yes, TD Ameritrade (recently bought by Schwab) also supports business accounts so that you can invest or trade through your company. You can start the application process on their website.
Does Fidelity have corporate accounts?
Yes, Fidelity also supports business accounts and offers a wide range of products and markets. More about it on their landing page for Fidelity Accounts for Business.