If you invest in crypto assets or want to start investing, using crypto exchanges is probably the easiest way to buy and sell the assets. There are many online exchanges with different functionalities where you can buy crypto/tokens such as bitcoin, ethereum, Shiba Inu, Solana, stablecoins, altcoins, and many others.
In this article, we will review the best European crypto exchanges and compare the features of the four best platforms to buy and sell cryptocurrencies.
Best European Cryptocurrency Exchanges for 2023
| | | | | | |
| --- | --- | --- | --- | --- | --- |
| Exchange | Minimum deposit | Number of crypto supported | Staking available | Crypto card available | Insurance against theft |
| eToro | $50 | 60+ | ✔ | ✔ | X |
| Crypto.com | €20 | 250+ | ✔ | ✔ | X |
| Coinbase | €50 | 250+ | ✔ | ✔ | ✔ |
| Kraken | €10 | 185+ | ✔ | X | X |
Best Crypto Exchanges in Europe Reviewed
1# eToro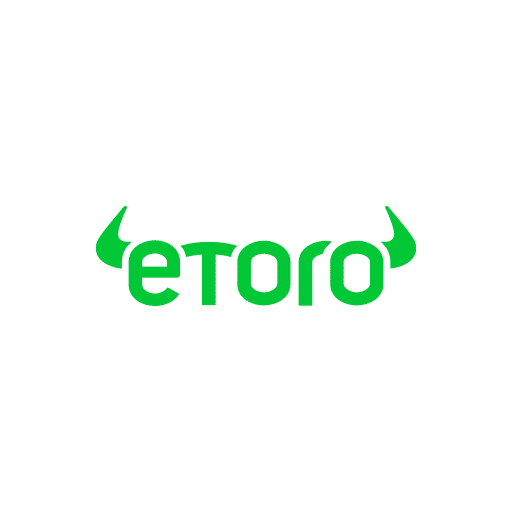 Visit eToro
74% of retail CFD accounts lose money.
eToro at a glance
Nº of cryptocurrencies
60+
Minimum Deposit
Varies by countries
Regulators
CySEC, FCA, ASIC
Fees
1% (on buy and sell positions - other fees may apply)
eToro is the leading social trading platform in the world. The platform allows you to discuss the world of crypto by sharing your view and reading comments from other investors about investments. It is also possible to copy other traders' strategies, leading to rewards for traders who can attract followers.
They currently offer 60+ options of cryptocurrencies, and the platform is intuitive and easy to use. When buying cryptocurrencies, you will gain the ownership of the asset if you fulfil three requirements:
There was no leverage on the position through CFDs;
You did not short sell the crypto asset;
You are not a client under the supervision of the Australian Securities and Investments Commission (ASIC).
If you are a client of eToro Europe, you can withdraw some of the cryptocurrencies from the platform to the eToro money crypto wallet and transfer them somewhere else if you wish.
The platform also allows you to leverage your cryptocurrency position through a Contract for Difference (CFD). This financial instrument is a derivative that lets you open a position without owning the underlying asset, benefiting from a higher rate of return than what you could gain initially, but exposing yourself to higher losses. Note that this is a complex financial instrument, and eToro reports that approximately 79% of the retail investors that use CFDs lose money with their investments.
Cryptoasset investing is highly volatile and unregulated in some EU countries. No consumer protection. Tax on profits may apply.
Read our in-depth eToro review for more details.
CFDs are complex instruments and come with a high risk of losing money rapidly due to leverage. 77% of retail investor accounts lose money when trading CFDs with this provider. You should consider whether you understand how CFDs work and whether you can afford to take the high risk of losing your money.
2# Coinbase
Coinbase at a glance
Nº of cryptocurrencies
100+
Regulators
New York State Department of Financial Services and others.
Fees
Between 0.50% and 1.50% (3.99% for credit card purchases)
Coinbase is one of the biggest cryptocurrency exchanges in the world, with more than 80 million users. The platform combines a user-friendly interface with a large offer of cryptocurrencies for the user to buy and sell. It also provides a massive library of information about cryptocurrencies, focusing on beginner education. Any user with limited knowledge of computers can use both the online website and the apps for Android or iOS.
For more advanced traders, the exchange enables the Coinbase Pro, which any retail investor can use to have more advanced types of trades such as limit and stop orders, which are unavailable on the central platform.
While Coinbase is known for its simplicity, the platform has higher transaction fees than its competitors. Users also tend to complain about its customer service, saying that it is hard to contact other humans, with the service being primarily automated. Finally, Coinbase Europe is not a regulated financial service provider for digital currency services.
3# Kraken
Kraken at a glance
Nº of cryptocurrencies
185+
Regulators
FinCEN, FINTRAC, AUSTRAC, FSA in Japan
Founded in 2011, Kraken is one of the oldest crypto exchanges in the world. You can easily buy/sell over 185 cryptocurrencies with low fees (up to 0.26%), versatile funding options, 24/7 customer support via live chat, and high-security standards. Its inclusion of live support leads the market and makes it a preferred choice for investors new to crypto.
It offers trading tools for beginners, scaling up to that needed by experts. In addition, there are detailed "Crypto Guides" alongside instructional videos, even a podcast if you're so inclined. These are excellent tools for beginners to be informed before making any decision.
We like the inclusion of futures and staking. The latter functions are similar to a locked savings account. With the right cryptocurrency choice, you could earn 10%-plus in interest. It's an ideal choice for traders who wish to keep a portion in a secure wallet but make something out of that too.
On the downside, It lacks a wallet for retail users, but it maintains a reputation for storing 95% of the exchange's assets in cold storage across different geographies. Besides, Kraken's trading platform and mobile app are pretty basic, so you might be disappointed if you're looking for more advanced features.
4# Crypto.com
Crypto.com at a glance
Nº of cryptocurrencies
250+
Regulators
Malta Financial Services Authority (MFSA)
Fees
Between 0.04% and 0.40% (2.99% for credit card purchases)
Crypto.com is a platform that is suitable for investors with some experience. With more than 10 million users from 90 different countries, the highlights of this platform are its cheap fees, the possibility to earn interest on crypto holdings at a high rate and its visa card that allows you to spend your cryptocurrencies and earn rewards for it.
The platform is also famous for its NFT market, which is easy to navigate and suitable for investors that want to start investing in this specific market.
If you hold the platform's native utility token Cronos (CRO), you can lower your fees and earn higher rewards when using your crypto debit card. It is possible to get between 1% and 8% cashback when acquiring certain goods or services.
If you are beginning to invest, you may be overwhelmed by this platform's interface and opt for other exchanges that are more user-friendly, even though they have higher fees for trading. If you have some experience and want to access a platform with low fees and an extensive list of assets, Crypto.com might suit your needs.
How to choose the Best Crypto App in Europe

You should consider many aspects when choosing the European crypto platform to make your investments. Some of the features that we believe you should consider are the following:
Range of cryptocurrencies available to trade: you must assess whether the platform offers a wide range of crypto assets or only the most established ones.
Safety and Regulation: is there a regulatory body overseeing the exchange you chose? How reputable is the company? How long has it been operating, and how has its track record been? This can provide you with extra safety in your investments.
Fees: exchanges may charge above-average prices for buying, selling, or swapping cryptocurrencies.
Deposits: how can you top up your wallet in the exchange? Is there a minimum deposit amount?
Services offered: exchanges offer different types of services. If you want to take on riskier investments, maybe you could consider using exchanges where you can trade derivatives. If you need to be able to use your cryptocurrency investments to make payments in your day-to-day life, an exchange that has a crypto debit or credit card may be more useful.
To sum it up, these are our top picks:
Best crypto platforms in Europe
There are many European cryptocurrency exchanges for you to choose from, and we have reviewed a few of the best crypto apps to help your decision. This article is for informational purposes only, and it should not be seen as financial advice. Before making a decision, you need to consider your specific needs and objectives, and your due diligence should include the search for a good crypto exchange.
We hope that this article was informative, and we wish you the best of luck in your investments!
What is a crypto exchange?
A crypto exchange is an online marketplace where you can trade cryptocurrencies for other cryptocurrencies, digital money, fiat money, or many other tokens, such as NFTs. Typically, crypto exchanges are centralised, similar to stock exchanges. These platforms will work as intermediaries that match transactions between buyers and sellers, offering you more safety when selling or purchasing cryptocurrencies. Crypto exchanges may also be decentralised. In this case, the platform will use blockchain technology to facilitate the exchange of your asset with another party without the intervention of the platform.
Is the cryptocurrency exchange the only place where I can buy crypto?
No. Buying cryptocurrencies in cryptocurrency exchanges is probably the most famous method to buy crypto, but it is not the only way. Firstly, it is possible to purchase cryptocurrency through brokers. While exchanges are intermediaries who enable trade between two parties by charging a fee for the services, brokers act as the counterparties. It is also possible to buy cryptocurrencies in P2P (peer-to-peer) marketplaces. Your transaction will happen directly with the other party on these platforms, with no automation or matchmaking engine.
Are cryptocurrency exchanges regulated in Europe?
At the moment of writing, there is no direct European regulation in effect for cryptocurrency exchanges. However, since 2020, cryptocurrency exchanges have been included in the European AML framework. They have to perform customer due diligence checks and maintain ongoing monitoring of clients.
There are plans to implement EU law that will directly regulate cryptocurrency exchanges. Over the next few years, there should be a European harmonised framework for licensing crypto assets service providers.
Currently, cryptocurrency exchanges are regulated at the national level by the countries within the EU, and requirements may vary. Exchanges still need a license for anti-money laundering purposes, as we can see in Germany and Portugal, but the procedure changes from country to country.
What is the best altcoin exchange in Europe?
Altcoins are any cryptocurrencies other than bitcoin, including Ethereum, Cardano and Solana. We can say that the best European cryptocurrency exchanges are also the best altcoin exchanges. You can buy altcoins in Etoro, Coinbase, Kraken, Crypto.com, and many other platforms, such as Bitpanda, Nexo, etc.
How is cryptocurrency taxed in Europe?
At a European level, cryptocurrencies are not subject to taxation. The CJEU has ruled that the act of exchanging legal tender currencies for cryptocurrencies is a supply of services but should be exempt from VAT.
On the other hand, cryptocurrencies are subject to capital gains tax in most European Countries, with the rates varying according to the jurisdiction. There is a trend for jurisdictions to adhere to the taxation of cryptocurrencies over the next few years. Even countries considered crypto tax havens for retail investors, such as Portugal, are starting to prepare a legal tax regime for the area.
Is there a Bitcoin ETF in Europe?
Yes. Currently, there are 73 crypto ETPs in Europe, which includes Bitcoin ETFs. For instance, in February, Fidelity International launched in the swiss and german exchanges a Bitcoin ETP which tracks the value of the cryptocurrency.