The persistently record-high inflation and the ongoing cycle of interest rate hikes are causing the activity of retail investors in typically speculative instruments to decline consistently. Savers are looking for safer instruments that simultaneously provide a satisfactory rate of return. After a weak 2022, corporate bonds offering around 5-8% returns are shining in 2023.
If you are interested in investing in corporate bonds, you might wonder where to buy them online. Several options are available for bond investors, such as bond broking services, online brokers, and bond trading platforms.
In this article, we will compare these options and show you step-by-step how to buy corporate bonds online.
What Are Corporate Bonds?
Corporate bonds are debt securities corporations issue to raise funds for various purposes, such as expanding their business, refinancing debt, or funding acquisitions. Corporate bonds typically pay the bondholders a fixed or variable interest rate (coupon) and promise to repay the principal amount (face value) at a specified maturity date.
Corporate bonds can offer higher returns than government bonds or bank deposits, but they also carry higher risks, such as default risk, interest rate risk, and liquidity risk. The table below shows the main differences between government and corporate bonds.
| | | |
| --- | --- | --- |
| Bond | Corporate Bonds | Government Bonds |
| Definition | Company Bonds are financial instruments private and public enterprises put forth, irrespective of their stock market status. | State-backed Bonds represent financial tools released by national and regional governmental bodies. |
| Issuing Entity | These bonds are the products of both private and public-sector businesses. | These are issued by the governments of given countries. |
| Regulation | Corporate securities are usually authorised by a given country's financial commission or regulatory body. | For state-backed bonds, the government stands as the primary overseer. |
| Profile of Risk | While company bonds carry a higher default risk, credit rating institutions often evaluate their credibility. | Bonds issued by the government are considered extremely secure, bearing a guarantee at the national level. |
| Yields | Owing to the elevated risks associated with company bonds, they generally offer more lucrative returns than their state-backed counterparts. | State-backed bonds usually provide lesser returns than company bonds. However, the yield can vary based on the bond's term and certain economic variables. |
Best Place to Buy Corporate Bonds. What Broker Should You Choose?
If you are wondering where you can purchase bonds, regardless of whether you are an investor from Europe, the USA, or other parts of the world, you can choose from a vast majority of online brokers.
They allow investors to trade various financial instruments, such as stocks, options, futures, forex, and bonds. Online brokers usually offer lower fees and commissions and more convenience and flexibility than traditional trading companies or bond broking services.
Best brokers to buy corporate bonds
| | | | | | |
| --- | --- | --- | --- | --- | --- |
| Broker | Minimum Deposit | Supported Products | Currency Conversion Fee | Available in the US? | Bonds Trading Fees |
| Interactive Brokers | $0 | Stocks, ETFs, bonds, mutual funds, currencies, options, warrants, and futures | 0.08-0.20 basis points x Trade Value per order ($1-$2 minimum per order) | Yes | From $1 (corporate, municipal) to $5 (treasuries) minimum (could be more with larger volumes) |
| TD Ameritrade | $50 (electronic transfers); no account minimum | Stocks, ETFs, mutual funds, options, fixed income (including bonds), futures, forex | Commission free (included in the spread) | Yes | Commission-free for U.S. treasuries on auction; net-yield-based fees for other bonds |
| E*TRADE | $0 (Account must be funded within 30 days to remain open) | Stocks, ETFs, bonds, options, futures, mutual funds, managed portfolios | Up to 300 basis points | Yes | Commission-free for U.S. treasuries; $1 per bond ($10 minimum) for online secondary trades |
| Fidelity | $0 | Stocks, ETFs, bonds, stock options, futures, futures options, indices. | Commission free | Yes | $1 per online bond trade, including corporate and municipal bonds. |
How to Buy Corporate Bonds Online Using Interactive Brokers
We will use Interactive Brokers as an example to show step-by-step how to purchase corporate options online. Interactive Brokers is one of the best places to buy corporate bonds online, as it offers a wide selection of bonds, low fees, and advanced trading tools:
Open an account with Interactive Brokers. You can choose from various account types, such as individual, joint, trust, or IRA accounts. You will need to provide some personal and financial information, as well as verify your identity and fund your account.

Log in to the Interactive Brokers Client Portal. This web-based platform allows you to access your account and trade various instruments. You can also use desktop or mobile platforms like Trader Workstation or IBKR Mobile.
Navigate to the Bond Scanner. This tool allows you to search and filter bonds based on various criteria, such as issuer, category, rating, maturity, yield, and coupon. You can also use the Quick Search feature to find bonds by name or symbol.

Select the bond you want to buy. You can view the details of the bond, such as price, yield, volume, and ratings. You can also see the bid and ask prices from various dealers and market makers.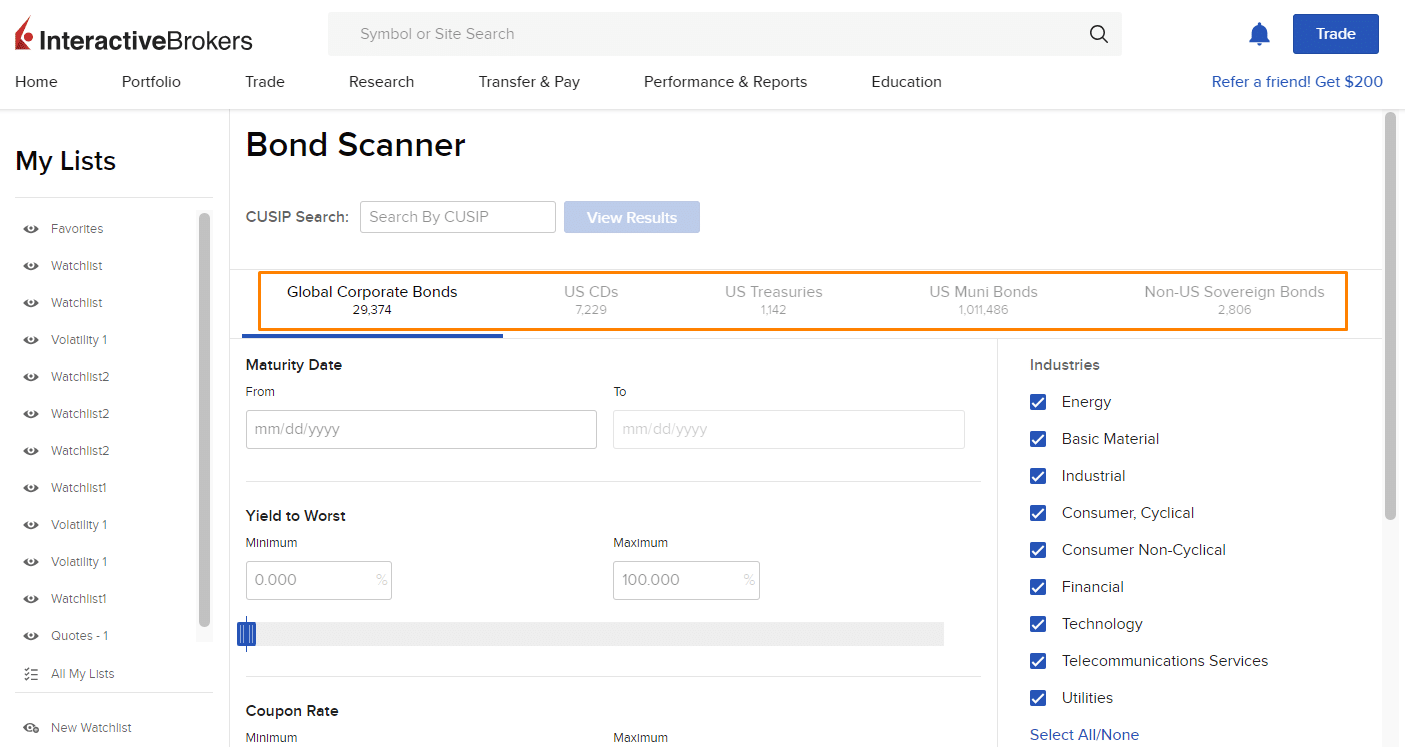 For this example, let's use a Bond from Santander (SANUK Corp 5.0 Nov07'23):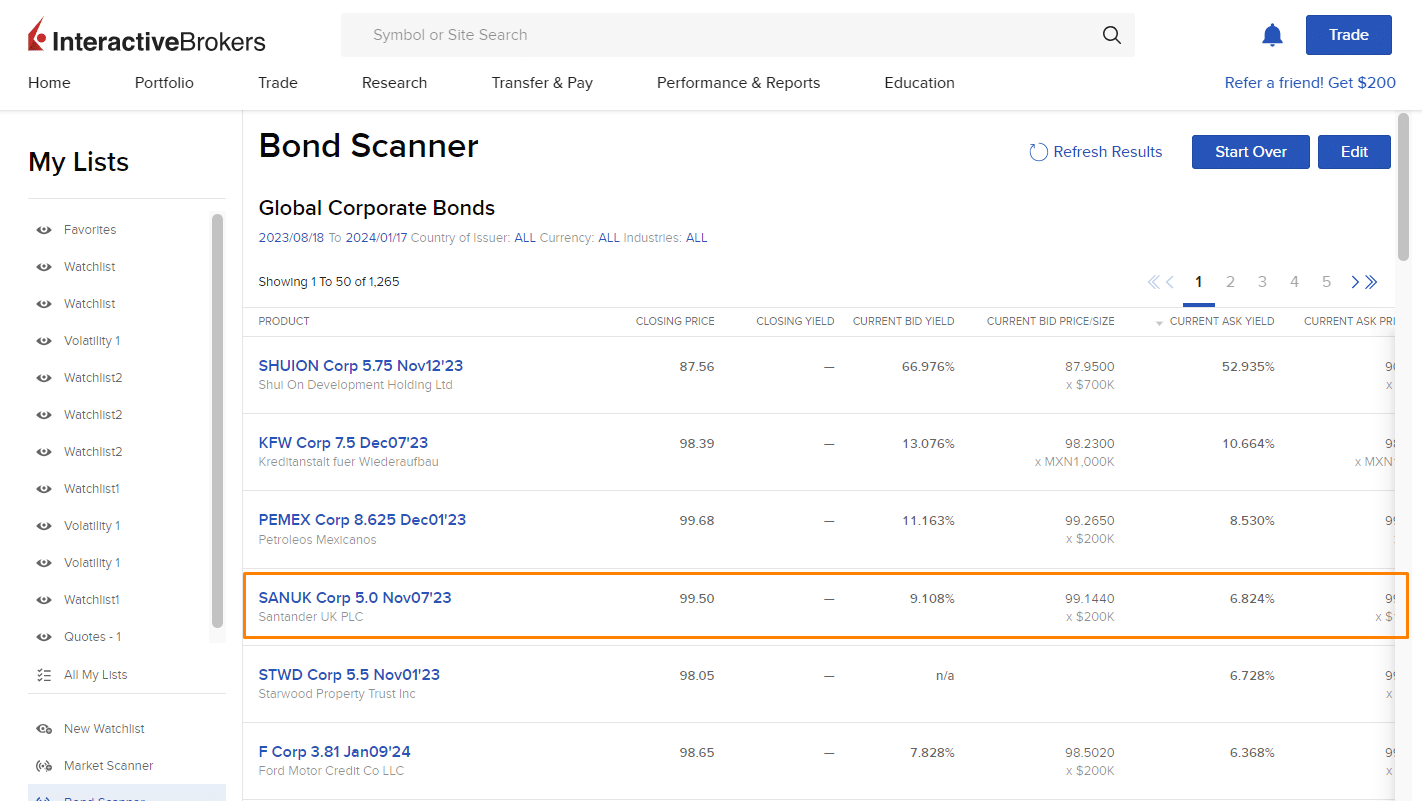 Place your order. You can choose from various order types, such as market, limit, stop, or trailing stop orders. You can also specify the quantity and duration of your order.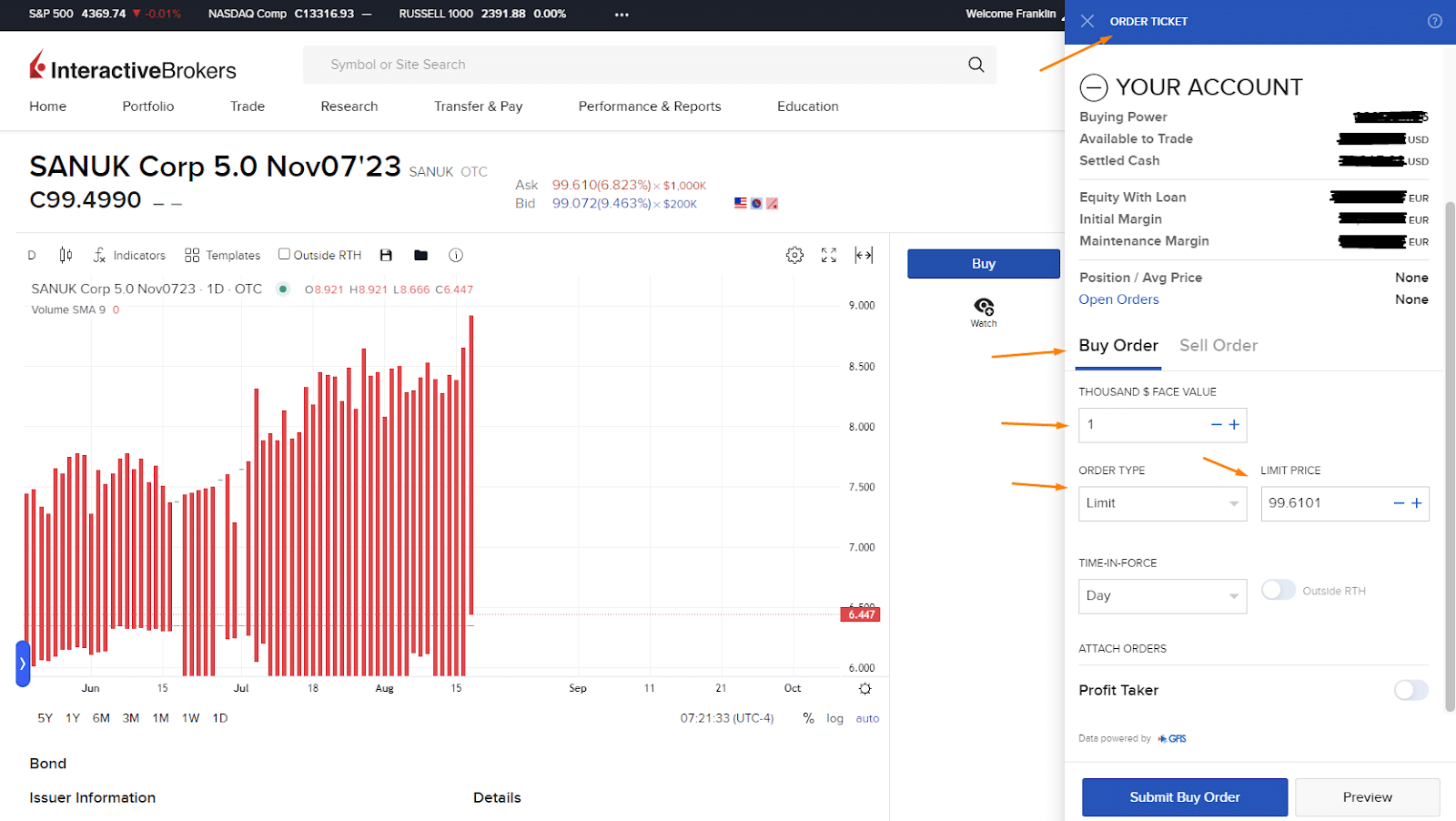 Confirm and execute your order. You can review your order details and modify or cancel your order if needed. Once you are satisfied with your order, you can submit it by clicking the "Submit Buy Order" button and wait for it to be filled.
Monitor your position. You can track the performance of your bond investment using various tools and reports, such as portfolios, positions, trades, statements, and tax reports.
An alternative to buying Corporate Bonds: iBonds ETFs
While many investors are familiar with the conventional approach to buying corporate bonds directly, there's an innovative instrument available that melds the best features of bonds, stocks, and funds: iBonds ETFs. This new frontier in bond investment offers a unique way to diversify and manage risk in your bond portfolio.
What are iBonds ETFs?
iBonds ETFs are essentially portfolios of bonds that mature in a specific calendar year. They combine several characteristics:
Diversification like a fund: Instead of being exposed to the potential default risk of a single corporate bond, iBonds ETFs spread the risk across multiple bonds, enhancing portfolio safety.

Trading like a stock: On major exchanges, iBonds ETFs can be bought or sold just like shares, providing real-time pricing and flexibility.

Maturity like a bond: As the name suggests, all the bonds in an iBonds ETF portfolio mature in the same calendar year. When this happens, the ETF is wound down, and the net proceeds are returned to the investors.
For a deeper dive into how iBonds ETFs function, BlackRock's one-pager on iBonds ETFs offers a concise overview that's both informative and accessible.
For those who are sceptical or wary of the complexities associated with individual bonds, iBonds ETFs present a solution that's easy to understand and manage. Moreover, they offer the added benefit of diversification which can be especially crucial when navigating the sometimes volatile corporate bond markets.
Interactive Brokers also provides access to this iBonds ETFs:

Corporate bonds are an attractive investment option for investors who want to diversify their portfolio, generate income, and potentially earn higher returns than other fixed-income securities. However, buying corporate bonds online can be challenging, as many options and factors must be considered.
To help you make the right decision, we have compared three main options for buying corporate bonds online. We have also shown you how to buy them using Interactive Brokers, one of the most popular and accessible platforms for bond trading.
If you have any questions or feedback, please feel free to contact us or leave a comment below.