eToro, the leading social trading platform, is available in Malaysia, but it is not licensed there! This online platform enables more than 20 million people to trade almost anything from commodities, currencies, ETFs, stocks, and indexes to cryptocurrencies. It offers commission-free stock and ETF trading, a slick and easy-to-use platform, and you can even follow and copy other investors!
On the downside, the platform only operates in USD, meaning you will be charged currency conversion fees upon deposit and withdrawal (unless you deposit in USD). To invest in real stocks, you must make sure that you buy the underlying asset, otherwise you will be investing in CFDs and not real stocks. (Check out our article about the differences between CFDs and real stocks.)
Want to know more? We have got you covered! Keep reading.
Is eToro Legal in Malaysia?
Despite being available for Malaysian investors, eToro is not licensed to operate in Malaysia. The Securities Commission Malaysia (Malay: Suruhanjaya Sekuriti Malaysia) has not granted eToro to carry out any regulated activities in Malaysia, including operating a recognised market through an online platform. As such, it includes eToro in the Investor Alert List as an "unauthorised company".
Since you are under the subsidiary "eToro AUS Capital Limited", you should be protected under the Australian rules (eToro Australia registration). However, since eToro is not authorised by Malaysian authorities, you are not protected under Malaysian securities law. As explained by a Securities Commission spokesperson, "this will expose investors to potential fraud and money laundering and may not have access to legal recourse in the event of a dispute".
This is a risk you need to acknowledge. Still, we are comfortable with eToro since it operates in jurisdictions like the European Union, where regulation is very restricted, and eToro is perfectly legal to operate in those countries.
💡 If you are still apprehensive, please check an alternative fully licensed to operate in Malaysia: Interactive Brokers which has launched IBKR GlobalTrader, a modern mobile trading app to trade Stocks and ETFs, ideal for novice investors.
eToro Malaysia Highlights
| | |
| --- | --- |
| 👨‍⚖️ Legal in Malaysia | No |
| 💰 Stocks and ETFs fees | Free of charge (Some ETFs are not free) |
| 💰 Cryptos and CFDs fees | Low |
| 💰 Inativicty fee | $10 after 1 year of inactivity |
| 💰 Withdrawal fee | $5 |
| 💵 Minimum Deposit | $50 |
| 📍 Products offered | Stocks, ETFs, Cryptos and CFDs |
| 🎮 Demo Account | Yes |
| 📜 Regulatory entities (based countries) | FCA, CySEC, ASIC |
Most of the time, this is the first question that comes to everyone's mind and we entirely get that! As investors ourselves, this was our first concern as well!
eToro presents three layers of safety:
Your securities are held in a segregated account: eToro is an intermediary in the financial system. Each time you buy a non-leveraged position in a stock or ETF, you acquire a financial asset that belongs to you and it is deposited in a custodian bank. In other words, if something went wrong with eToro, you would be allowed to transfer your securities to another broker.
Investor Protection (Regulatory obligation): As a Malaysian investor, you will open an account through the subsidiary "eToro AUS Capital Limited", authorized and regulated by the Australian Securities and Investments Commission (ASIC). As a result, it must maintain membership in the Securities Exchanges Guarantee Corporation, which means direct access to the National Guarantee Fund (NGF), giving an investment protection coverage of up to $1,000,000 per client per account (for cash, such claim is capped at $250,000).
Private insurance: eToro has partnered with Lloyd's of London to provide free insurance up to 1 million Euros. Every eToro investor is automatically granted this insurance as soon as they open an account.
If you need more details on security, check out our analysis of the safety of eToro.
What Financial Instruments/Features Will I Find?
You can trade a wide variety of financial products:
Stocks: You will be able to trade stocks from 17 different stock exchanges, including Zurich, Amsterdam, Frankfurt, London, Madrid, Milan, New York and Nasdaq. Note: eToro does not allow you to buy stocks on the Malaysia Stock Exchange (Bursa Malaysia).
ETFs: eToro also offers ETFs from providers like iShares, Vanguard, PIMCO, Invesco, Market Vectors, among other asset managers.
Commodities: You can easily invest in gold, silver, copper, platinum, palladium, and others.
Forex: You can gain exposure to the foreign exchange market through many currency pairings. The most commonly used ones are EUR/USD, AUD/USD and GBP/JPY, though 40 other currency pairs are available.
CFDs: eToro allows you to leverage your returns in all the asset classes previously mentioned through CFDs. Be aware that if you do this, the likelihood of significant losses does increase.
Besides, you can enjoy the Copy Trading feature to simply copy other investors thereby delegating your investment to someone you believe will deliver superior returns. Amazingly enough, you can copy the portfolios of up to 100 investors at the same time.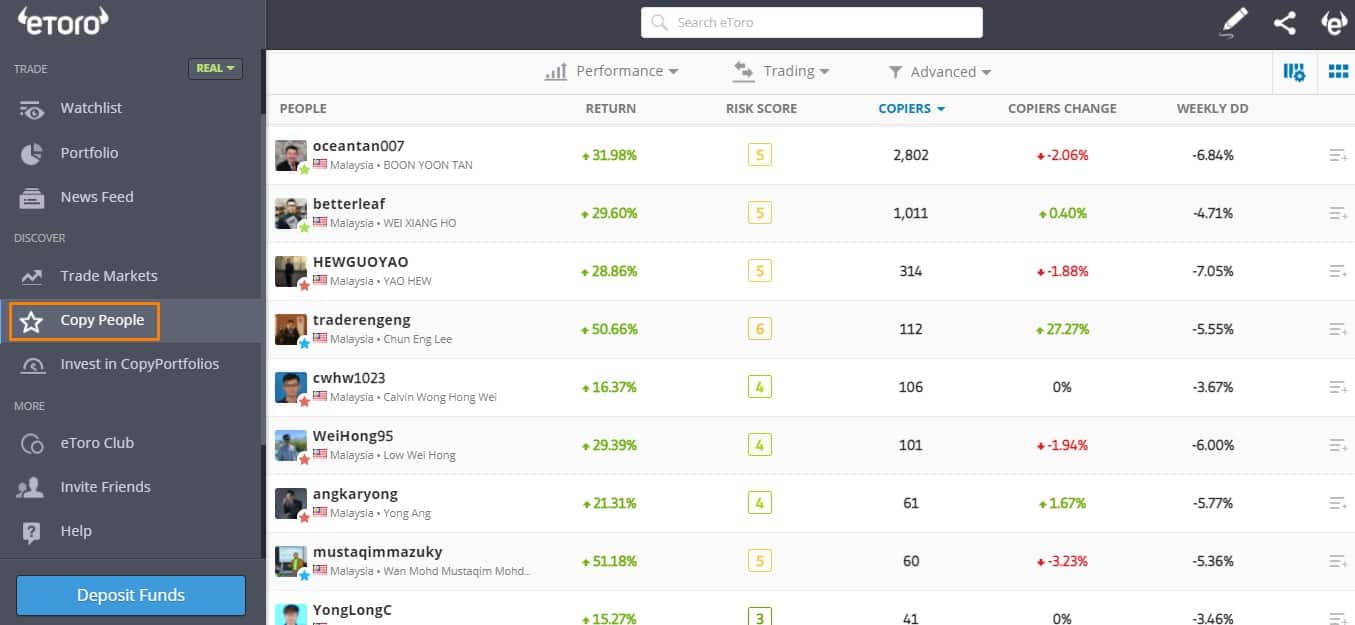 eToro Review in Malaysia – Copy People feature
As with any other business, eToro needs to make money. Its primary source of revenue comes from the spreads – the difference between ask and bid prices – as you can see: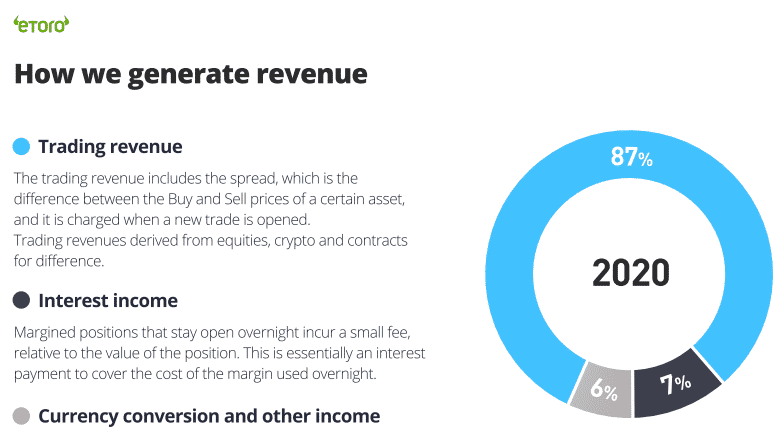 eToro Review in Malaysia – How eToro makes money
As eToro offers commission-free real stock and ETF trading (not all ETFs are commission-free), you will be able to save significant amounts of money on these.
When trading cryptos or CFDs, you'll be charged a spread every time you buy and sell. Spreads can be high for some products, so make sure you take a look at eToro's fees page to make sure you know how much you're paying.
Additionally, there are financing rates (interest income, for leveraged positions only) and conversion fees. Regarding non-trading fees, eToro charges a fee for inactivity ($10 per month if not logged in for 12 months) and another one when you withdraw funds from your account ($5).
To open an account, you need to go to eToro's website, click on "Join now", and provide the required information, as shown in the following image: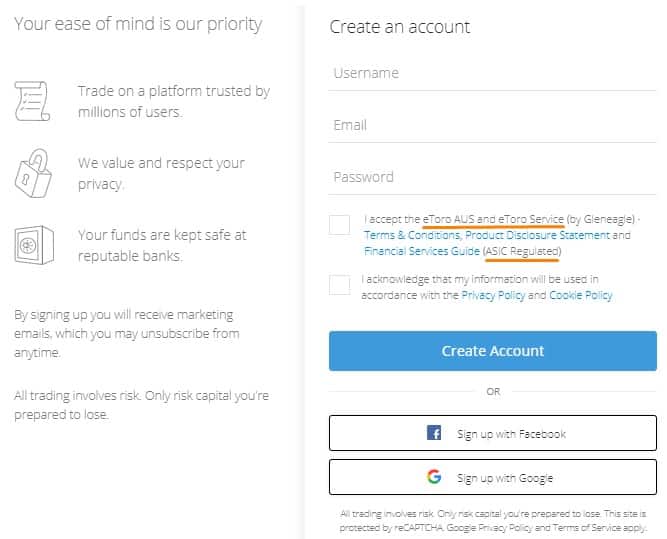 eToro Review in Malaysia – Account opening and legal entity
In the first check box (underlined in red), confirm in which subsidiary you are registering.
After this step, you need to verify your identity and address. Your proof of identity could be your ID or your passport. Meanwhile, your proof of residency could be your driving licence, a copy of a bank statement or a utility bill.
We suggest you submit all the remaining documents as soon as you open an account to prevent delays when withdrawing your money! We have witnessed no issues in taking money out of the platform, but it may take a more extended period if your account is not fully updated or verified.
Once everything is correctly set up, you'll be able to deposit money to start trading with your real account on the eToro platform: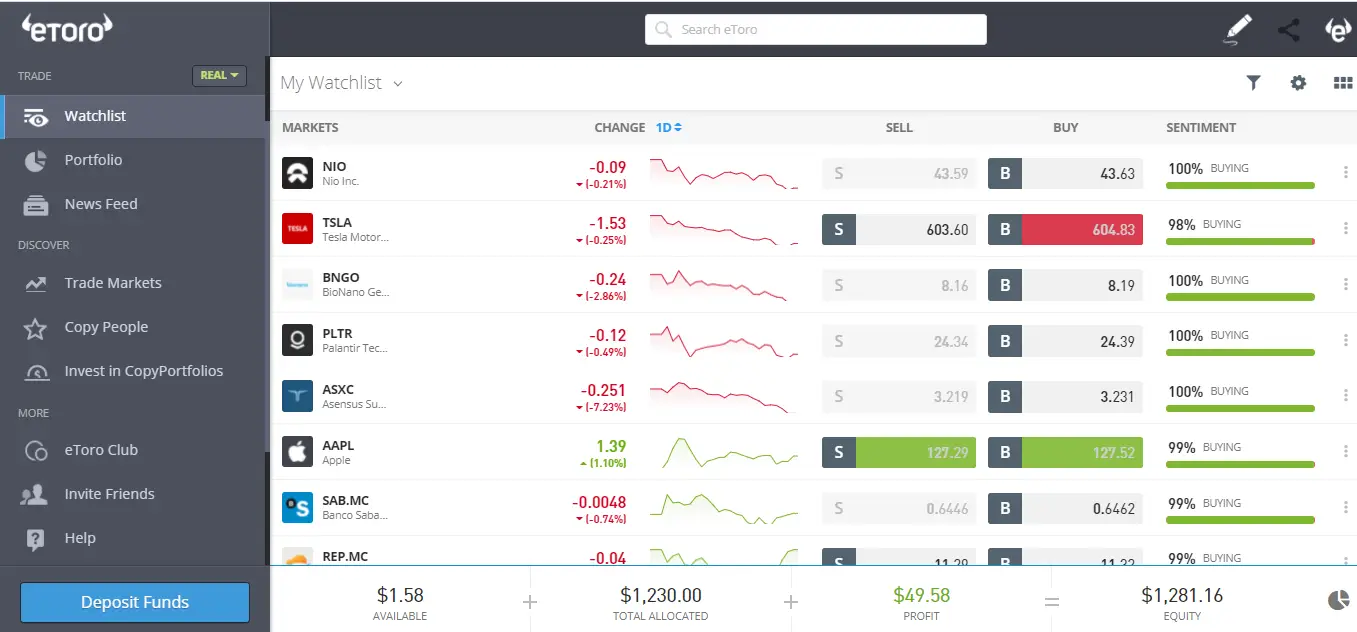 eToro Review in Malaysia – Trading platform overview
It is effortless to navigate through all the sidebars and the search function on the top. We are confident that you will find what you came looking for in less than a minute.
How to Deposit and Withdraw?
Before answering this question, let us remind you that you have the option to use a Demo Account before deciding whether to deposit funds or not.
Deposits: On your eToro dashboard, you will find "Deposit Funds". When clicking on it, you will notice a pop-up window with five types of deposit options (credit/debit card, Skrill, Rapid Transfer, Neteller and Bank Transfer). The eToro minimum deposit in Malaysia is $200.
Withdraws: You will also find a tab called "Withdraw Funds". The method you used for depositing should be the same for withdrawing money from the platform. Keep in mind that the minimum withdrawal amount is $30, and there is a fixed withdrawal fee of $5 (per withdrawal).
Note: Do not forget that you are subject to a currency conversion fee – for both deposits and withdrawals – if you deposit in MYR instead of USD. For example, if you use a bank transfer as a deposit method (from your MYR account), you will be charged 2%. Another 2% will apply when pulling money out of eToro. An easy way to get around this expense is by using a cheaper option like Wise.
How to Trade Stocks or Any Other Security?
The process for buying or selling stocks is straightforward, and is similar to other asset classes (ETFs, cryptocurrencies or any security).
First, use the search bar to find the company you are looking for and then click on "Trade", as shown in the image below:

eToro Review in Malaysia – How to place an order
Second, a pop-up will appear where you can buy (or short) the stock. In this case, you are buying the underlying asset, and not a CFD. If you want to leverage your investment, you will need to change the "X1 LEVERAGE" to "X2" or to any other level of exposure that eToro allows.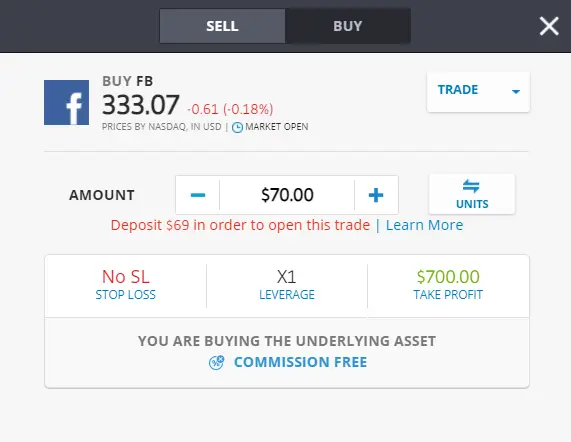 eToro Review in Malaysia – How to place an order
Our judgement of any customer support comes from our own experiences. Given that, we have noticed an improvement in response times since the Covid-19 pandemic.
We have contacted customer support more than once, and the response time varies. The longest we had to wait for a response was about seven days, but in normal circumstances, it takes less than three days.
All in all, eToro is a solid option for any Malaysian investor, whether you are a beginner, an intermediate, or even a professional.
The company is currently going through a period of growth to further boost its reputation and credibility, and to gain even more customers.
For a complete overview of how eToro operates globally, please read our eToro review!