eToro is in the spotlight, and no wonder! Founded in 2007, eToro is an online broker that made its name through its social trading platform. As of October 2023, it had more than 30 million registered users and it keeps expanding its presence worldwide, so there is a natural excitement surrounding eToro.
Enthusiasm apart, you need to take a step back and ask yourself: "Is eToro safe?", "Is it a good platform to trust my money?". Security is a serious matter when examining any broker, and, as such, we did our due diligence before joining eToro (yes, we have opened personal accounts in eToro as well).
eToro USA LCC does not offer CFDs, only real Crypto assets are available.
What is the eToro Business Model?
eToro's business model is focused on attracting individual investors, also known as retail investors, entering the financial markets world for the first time. Usually, these investors are redirected to the "social investment network", where they can copy other people's trades using the social trading feature.

eToro makes most of its money (87%) through a typical process in the brokerage industry known as a market maker model.
When you open a trade, you will see a "bid price" (price you receive when selling an asset) and an "ask price" (price you have to pay when buying an asset). As you will notice, there is a gap between these two prices, formerly known as the spread. The larger the spread, the more money eToro makes from it.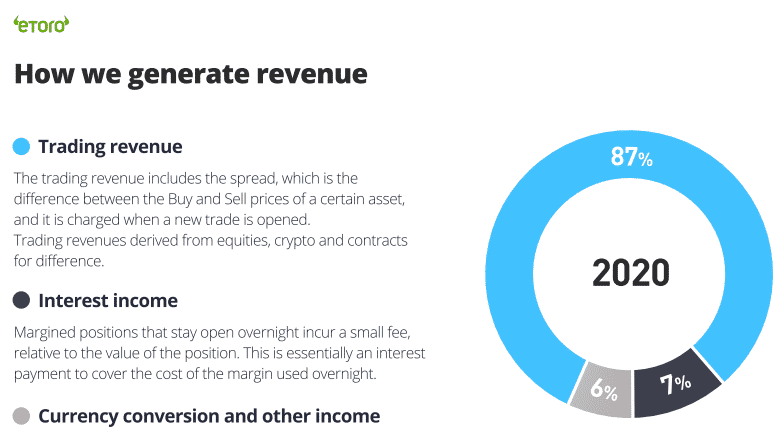 The income statement from 2016 to 2020 (image below) shows a sustainable business model. The firm's operating performance (EBITDA – Earnings Before Interest, Taxes, Depreciation, and Amortisation) is a clear sign of business sustainability. Except for 2016, all the years have demonstrated comfortable margins.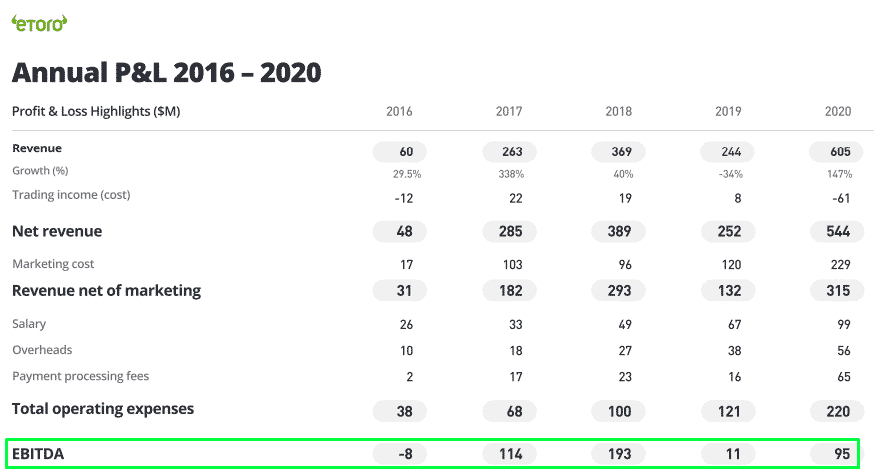 This screenshot does not show you the complete picture. We still have no access to an audited Balance Sheet or Cash Flow Statement, which would help us analyse the company's financials. Some items revealed to the public following the SPAC merger were not audited, so a careful interpretation is needed. However, from our analysis, there is no sign of red flags.
eToro Risk Management & Governance
eToro follow strict rules on what concerns risk management. As highlighted in their Q1 2023 presentation, they segregate their assets, do not lend crypto assets and are audited by one of the biggest auditing firms: EY.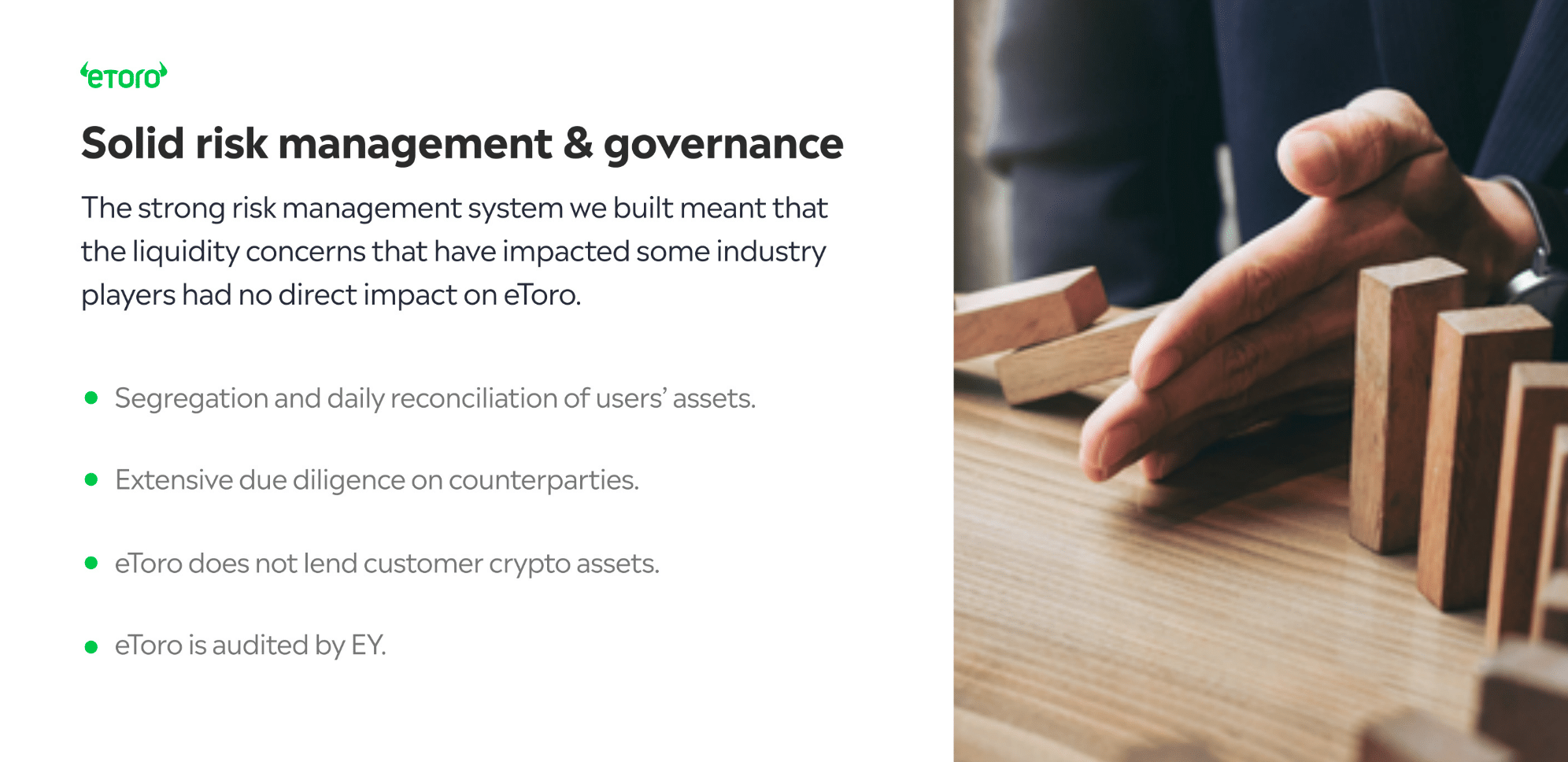 a. Securities are held in a segregated account
It is crucial to know the structure of eToro – it is similar to most other brokers. It only acts as an intermediary that deposits your ETFs, shares or other financial products.
As such, it holds your securities in a segregated account within a custodian bank. This means that if the broker went bankrupt, the creditors couldn't claim the investor's assets, as these belong to the investors.
Given that, what would happen in practice is that you would have to wait (it can take months or years) for the financial authorities to know what belongs to you and allow you to transfer those assets to another broker. If eToro went bust, clients would have their share of the segregated money investments returned, minus any administrators' costs from handling and distributing these funds. If things always worked like this, the protection amount would be only a formality.
b. Investor Protection
Despite eToro current sustainable business model and asset segregation, the company may go bust for other reasons: fraud, administrative malpractice or operational errors. eToro clearly states all the "Risk Factors" (slide 50 onwards) associated with their business.
That's where Investor Protection comes into force. eToro is supervised by several top-tier regulators who oversee the securities market to ensure transparency and fair dealings:
eToro (Europe) Ltd: authorised and regulated by the Cyprus Securities and Exchange Commission (CySEC)
eToro (UK) Ltd: authorised and regulated by the Financial Conduct Authority (FCA)
eToro AUS Capital Pty Ltd: authorised and regulated by the Australian Securities and Investments Commission (ASIC).
eToro (Seychelles) Ltd: registered by Financial Services Authority Seychelles (FSAS).
eToro USA LLC: licensed by the Financial Crimes Enforcement Network (FinCEN) and Money Services Business (MSB). Member of the Financial Industry Regulatory Authority (FINRA)

These three regulatory bodies are primarily compliance mechanisms to prosecute civil cases against companies that commit fraud, do not fully implement risk management tools, or engage in other irregular activities. However, they do not insure against any loss you might have due to these problems.
c. Investor Compensation Schemes
Given that, in addition to CySEC, FCA, and ASIC regulations, eToro also maintains membership in the following Investor Compensation Schemes[1]:
The Cyprus Investor Compensation Fund (ICF) gives investment protection coverage of up to €20,000 for clients under the subsidiary eToro (Europe) Ltd;
The Financial Services Compensation Scheme (FSCS) compensates investors up to £85,000 for the clients under the subsidiary eToro (UK) Ltd
The Financial Industry Regulatory Authority (FINRA) compensates US investors up to $500,000 in financial assets, and the Federal Deposit Insurance Corporation (FDIC) provides protection for your cash holdings up to $250,000.
As an important reminder, if you invest in cryptocurrencies (CFDs or non-CFDs), you will NOT benefit from the above investment protections!
[1] ASIC does not provide a pre-defined protected investment amount. More info here.
Am I signing in with the "right" eToro?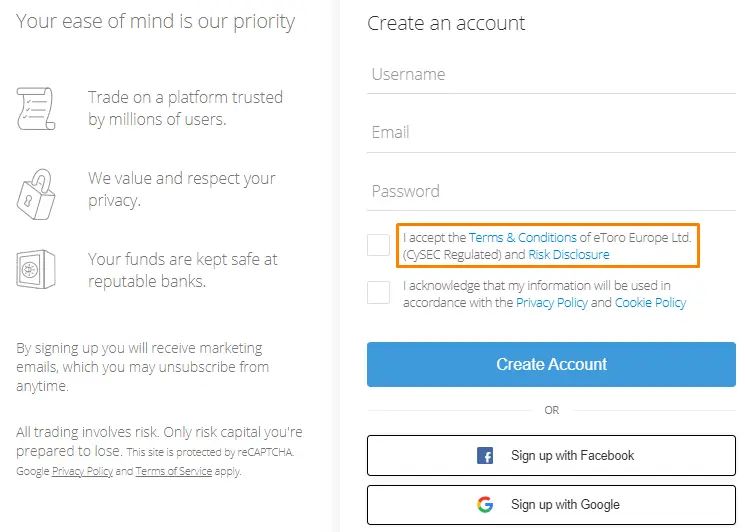 What Other Protections are Available?
On top of the mandatory regulatory protections, eToro created an additional layer of protection on its own: eToro Insurance.
eToro has partnered with Lloyd's of London to provide free insurance for up to 1 million Euro, GBP, or AUD (depending on the region). Every eToro investor is automatically granted this insurance when they open an account.
This insurance is only applicable to losses above the protected amount of the investor compensation schemes. For example, if you are a UK investor and have an account with £100,000, you would receive £85,000 from the investor compensation scheme, and £15,000 would come from this insurance.
But there is a catch: "The Insurance Policy also has a maximum limit of £10,000,000 (ten million pounds). This is the most it will pay out in aggregate for all Eligible Claimants. Therefore, there is a chance you may not get all of your Losses back if the aggregate Losses of all Eligible Claimants exceed this maximum cap" (our highlights).
Following the same procedures of the regulatory entities, the insurance covers cash, all CFD positions, and securities (Stocks, ETFs,…). Again, cryptocurrencies are not covered by insurance.
All in all, eToro has set three layers of insolvency protection for its clients:
Asset liquidation: In case of insolvency, the assigned liquidator will manage eToro's assets and money distribution among its clients, if applicable.
Regulatory protection: For clients under CySEC or FCA regulation, investor compensation schemes apply, which compensate clients in the event of insolvency and a shortfall of client funds. The ICS (CySEC) protects up to €20,000; While the FSCS (FCA) protects up to £85,000.
Private insurance: Provided by Lloyd's of London, this investment insurance is a complementary measure to mitigate the insolvency risk. Up to 1 million GBP/Euro/AUD per client (limited to an excess amount).
Please do not forget that both the "Regulatory protection" and the "Private insurance" demand the submission of the relevant claim form to the FSCS within 12 months of the default date and an "Excess of FSCS Claim Form" (in case it applies) to eToro.
The introduction of online brokers has opened the world of investing to everyone with a PC/Smartphone and an internet connection. The easiness of investing also creates a healthy suspicion about the safety of these new market operators.
We hope we contributed to your due diligence by reading this article! We believe you should be pretty confident regarding the safety measures conducted by eToro. Hopefully, it will continue to operate for decades to come. Still, you should know what to expect if something unexpected happens to eToro.
As a final tip, once you begin trading, ensure you keep records of your holdings, trade confirmations, and account statements every month. This little step will make the job easier for the regulators when filing for any insurance claim.
Stay safe out there!
__________________________
eToro is a multi-asset platform which offers both investing in stocks and cryptoassets, as well as trading CFDs.
CFDs are complex instruments and come with a high risk of losing money rapidly due to leverage. 76% of retail investor accounts lose money when trading CFDs with this provider. You should consider whether you understand how CFDs work and whether you can afford to take the high risk of losing your money.
Past performance is not an indication of future results. Trading history presented is less than 5 complete years and may not suffice as basis for investment decision.
Copy Trading does not amount to investment advice. The value of your investments may go up or down. Your capital is at risk.
Cryptoasset investing is highly volatile and unregulated in some EU countries. No consumer protection. Tax on profits may apply.
eToro USA LLC does not offer CFDs and makes no representation and assumes no liability as to the accuracy or completeness of the content of this publication, which has been prepared by our partner utilizing publicly available non-entity specific information about eToro.