You have probably heard about the Robinhood app on YouTube and want to know if it's available in Canada, right?
Robinhood is a modern and easy-to-use investment app from the US, which has introduced the concept of commission-free trading in financial products such as stocks and ETFs, alongside its biggest rivals, Webull, E-Trade, and TD Ameritrade.
Want to know if Robinhood is available in Canada, its expansion plans, and the alternatives available for Canadian users? We've got you covered!
Is Robinhood Available in Canada?
Unfortunately, Robinhood is not yet available outside the US. It had planned to open in the UK in 2020, but it was postponed to the end of 2023.
As stated in the Robinhood Financial Report of Q1 2023:
"Our continued exploration of growth opportunities and belief that we are on track for our ambitious goal of launching brokerage services in the UK by the end of year".
Currently, Robinhood has show no indications to expand to Canada. While it is a great market for brokers, it is also a highly regulated and competitive market.
Robinhood Alternatives in Canada
If you're in Canada and want to access the best brokerages and investing options, there are some alternatives to Robinhood that provide more choice and flexibility. Here are some of the best brokerages available in Canada that may be more suitable than the limited Robinhood:
| | | |
| --- | --- | --- |
| Broker | Fees for US stocks | Minimum Deposit |
| Interactive Brokers | $0.005 per share (min $1, max 1% of trade) | $0 |
| Saxo | $0.02 per share (min 5 USD on classic) | $1,000 |
| Questrade | $0.01 CAD per share (min $4.95, max $9.95) | $1,000 |
| XTB FR | $0 | $0 |
| Qtrade | $6.95 – $8.75 CAD | $0 |
#1 Interactive Brokers (IBKR)
Interactive Brokers at a glance
Products available
Stocks, futures, options, Forex, commodities, bonds, mutual funds, hedge funds, ETFs, CFDs
Deposit methods
Bank transfer, wire transfer, cheque, electronic funds transfer (EFT), online bill pay
Fees and commissions
Low fees but vary based on asset and order size
Interactive Brokers is an exceptional broker available to Canadian traders and investors. The company was founded in 1978 and landed in Canada in 2000 through the legal entity Interactive Brokers Canada Inc. (IB Canada). Since its arrival, the company has become one of the most reliable brokers in the world.
Due to its sophisticated and powerful tools, the wide range of products available for trading, and its low prices, Interactive Brokers normally attracts advanced traders. However, the mobile app IBKR GlobalTrader is user-friendly and more suitable for beginners, simplifying investments without losing the powerful tools for which the broker is famous.
Interactive Brokers offers attractive features such as low commissions on US stocks, a demo account for practising investments, a wide range of tradable assets, and trading in CAD$.
#2 Saxo Bank
Saxo Bank at a glance
Products available
Stocks, Forex, ETFs, commodities, indices, options, bonds, and futures
Deposit methods
Credit/debit card, wire transfer, cheque
Fees and commissions
USD $1-$5 min commission on US stocks; CAD $4-$8 commission on Canadian stocks
Saxo Bank is a subsidiary of the Danish bank with the same name founded in 1992. It operates in more than 170 countries, including Canada. The broker is a reliable option for advanced traders and beginners, providing safety, fair prices, and useful tools.
This brokerage offers a wide range of investment products from more than 50 different exchanges, high-quality educational resources, and well-designed and comprehensive trading platforms. In particular, the mobile app SaxoInvestor and the web-based SaxoTraderGO are user-friendly and functional applications, ideal for beginners. In the applications, it is possible to practise investments in demo accounts.
In a nutshell, the broker offers low prices, great educational resources, an impressive range of tradable assets, and user-friendly trading applications, making it an excellent alternative to investors in Canada who wanted to use Robinhood.
#3 Questrade
Questrade at a glance
Products available
Stocks, ETFs, options, forex, bonds, CFDs
Deposit methods
Electronic transfer, VISA debit card, wire transfer
Fees and commissions
$4.95 - $9.95 for stocks and ETFs (some ETFs are free), and $9.95 for mutual funds and options contracts
Questrade is a Canadian broker that's been helping investors since 1999 as an alternative to the big banks. Only Canadian residents are able to open an account with Questrade.
You can invest using the app or web desktop and can choose from a few different plans, including the competitively priced 'Questwealth Portfolios' for pre-built ETF portfolios. You're only able to hold cash in USD or CAD, but this brokerage is a solid option for beginners and more advanced investors with plenty of resources like up-to-date research, stock data, and charting tools.
#4 XTB FR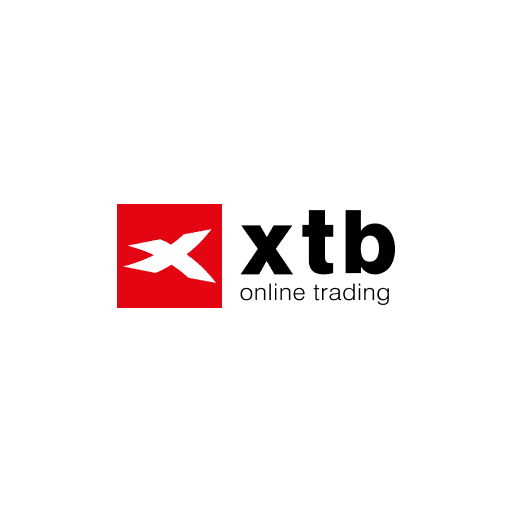 Visit XTB FR
79% of retail CFD account lose money.
XTB FR at a glance
Products available
Stocks, ETFs, CFDs on indices, commodities, forex, cryptocurrency
Deposit methods
Bank transfer, credit/debit card, Paysafe
Fees and commissions
$0 for most stocks (minimum €10 order)
XTB is a Polish company founded in 2002 that offers Canadian investors the ability to trade through its French branch of the XTB Group, XTB FR.
Along with real stocks and ETFs, you can trade various CFDs (forex, equity, indices, crypto commodity) with XTB. However, these are riskier and more complex trading instruments that should only be used by experienced traders.
With lots of investment options and a well-built interface, XTB is a reliable alternative to Robinhood for beginners and advanced traders in Canada. It's a very cheap platform with low fees and no minimum deposit. If you want to learn more about the broker, check our XTB review!
#5 Qtrade
Qtrade at a glance
Products available
Stocks, ETFs, options, mutual funds, fixed income and exchange-traded debentures
Deposit methods
Electronic funds transfer (EFT) or Bill Payment
Fees and commissions
CAD $8.75 on 'Investor' plan; CAD $6.95 on 'Investor Plus' plan
Qtrade is a Canadian brokerage that started back in 2000. You're able to sign up for a 30-day trial account and select between two plans, but the 'Investor' plan is the most accessible to retail investors (unless you make lots of trades/have a large portfolio).
Canadian investors have the ability to trade stocks, ETFs, options, mutual funds, and debentures (a type of bond). It's a flat commission for most trades, apart from some ETFs which are free.
Qtrade is an excellent alternative to Robinhood for Canadian investors because there's no minimum deposit, a free trial account, and it's a solid brokerage with a simple fee structure.
Which platform should you choose?
Some factors you should know when choosing an online broker are the fees charged if it is regulated by top-tier institutions such as the IIROC in Canada, the range of products it allows you to trade (not all platforms allow you to trade Canadian stocks), among others.
The best online broker in your specific case will depend on your profile, preference, and objectives. Explore the websites above and decide for yourself!
A reminder that the above should not be seen as investment advice and should be considered information only. Investors should do their own research and diligence about the best-suited services and opportunities for their risk, returns, and impact strategy.
Hope we helped, and leave your comments below.
Happy investments!
Other FAQs about Robinhood
Can I use Robinhood from Canada with a VPN?
No, Canadian investors cannot use a VPN to open a Robinhood account. Upon account opening, Robinhood requires specific documentation that proves that you are a US citizen.
How exactly does Robinhood make money?
The online broker earns money from interest earned on customers' cash balances (money in your account not invested), by selling order information to third parties (high-frequency traders, for instance), and margin lending.
Regarding the selling of orders, the US Securities and Exchange Commission (SEC) is still investigating Robinhood for not fully disclosing its practice of selling clients' orders to high-speed trading firms.
Until October 2018, Robinhood would not clearly state that it was receiving payments for order flows. By law, any financial company must reveal all the material facts an investor would want to know before making any investment decision.