Hello, fellow investor! This review will give our honest opinion of Interactive Brokers, one of the world's oldest and most reliable online brokers.
We recommend Interactive Brokers for active and sophisticated investors and those who value reputation above all. The trading platform and fee structure are robust yet complex for beginners/intermediates.
Interactive Brokers also launched IBKR GlobalTrader, a modern mobile trading app to trade Stocks, Options, and ETFs, ideal for novice investors.
Founded in 1978, Interactive Brokers has successfully surpassed several major economic crises, such as the Asian Financial crisis of 1997, the dot.com bubble in 2000, and the global financial crisis in 2007-09. It has proven resilience and shown a rigorous risk management process. Interactive Brokers Group is listed on the NASDAQ (Ticker: IBKR), which means you have full access to its annual reports and other relevant figures (more transparency) to help gauge its financial condition.
The highlights of Interactive Brokers include an incredibly detailed dashboard, an enormous range of products (you buy almost anything within the platform), and excellent access to research and tools. On the "not so good" side, the website is quite hard to navigate, the fee structure is rugged to understand completely, and the Desktop version (TWS) is very complex for novices.
Finally, Interactive Brokers differs in the product offering depending on your country of origin. Thus, we will focus this review on Europe and other non-US customers since it is our primary target audience and has fewer nuances.
That's Interactive Brokers in a nutshell! Here's what we'll cover:
1. Interactive Brokers Overview
Interactive Brokers sets itself apart from its competitors. It is one of the few trading platforms where you can have everything in your hands (we really mean it!). You can access over 150 market destinations in 30+ countries and trade any asset you may be looking for: Stocks, Bonds, ETFs, Forex, Funds, Commodities, Options, Futures, CFDs, Cryptos Futures, and even tiny small companies (a.k.a micro caps) with almost no liquidity are available! Plus, are you an owner of a business? You can even use Interactive Brokers business account for your company.
The trading experience is excellent if you know how to digest what is available to you entirely. That's why we mainly endorse Interactive Brokers to advanced traders. Beginners and intermediate investors have educational tools to explore, but the learning curve will be steeper. You have the highest level of customization within the TWS platform (desktop version), including creating advanced conditional order types such as one-cancels-another and one-triggers-another.
Besides the TWS platform, you can invest through the web version and mobile app. These two are more user-friendly, and you do not lose any standard features. In addition to buying/selling any security, it covers alerts, real-time monitoring, watchlist, and much more.
Interactive Brokers also launched IBKR GlobalTrader, a modern mobile trading app to trade Stocks, Options, and ETFs, ideal for beginner investors. Some of the features of IBKR GlobalTrader include automatic currency conversions, fractional shares (ETFs*, European*, and US stocks), and more.
When it comes to customer support, the users' opinions differ widely. You can contact them via phone, e-mail, live chat, and the automated "iBot". From our personal experience (contact via message box), the customer service has taken quite a long time to reply (more than three business days), but when the answer came, it was enlightening, so there was no need to go back and forth.
Also, Interactive Brokers is paying interest on uninvested cash up to 3.435% and 4.83% on EUR and USD cash balances, respectively, for investors with balances >10,000 EUR/USD (as of 8/10/2023).
All these features have attracted many wealthy investors. We can see that on the average account balance, which, as of October 2023, stood at around $152,000, a massive value! To give context, Robinhood has an average account balance per user of $5,000 (the median is even lower: $350).
*Fractional shares trading is eligible to European stocks and ETFs listed on select exchanges, with an average daily volume above $5 million and market cap above $5 billion.
Interactive Brokers Highlights
| | |
| --- | --- |
| 🗺️ Supported Countries | Worldwide |
| 💰 US Stocks and ETFs fees | $0.0035/share (min $0.35; max 1% of the trade value) |
| 💰 Currency Conversion fee | 0.002% (0.20 basis points) |
| 💰 Inactivity fee | €/$/£0 |
| 💰 Withdrawal fee | €/$/£0 |
| 💵 Minimum Deposit | €/$/£0 |
| 📍 Products offered | Stocks, ETFs, Bonds, Forex, Funds, Commodities, Options, Futures and CFDs |
| 🎮 Demo Account | Yes |
| 📜 Regulatory entities | FINRA, SIPC, SEC, CFTC, IIROC, FCA, CBI, AFSL, SFC, SEBI, MAS, MNB |
2. Account Opening
You will be only able to open an account through the IBKR PRO service plan, which will lead to a Fixed or tiered pricing structure for all products. Compared to its low-cost competitors, the fee structure is not straightforward (most brokers don't even give you a choice), so please make sure what you are planning to trade and the respective amounts to see which one is better for you. For example, for stocks and ETFs, the Fixed pricing is 0.005 cents per share with a $1 minimum per order. In reverse, Tiered pricing starts at 0.0035 cents per share with a $0.35 minimum for up to 300,000 shares traded per month.
The sign-up is fully digital, and you just have to follow all the steps required. The entire process is time-consuming since it asks you for personal information and about your trading experience. Both will determine what assets you can trade inside Interactive Brokers (you can change this later if you feel you got too many constraints). As soon as you verify your identity, residency and make a deposit, you will be able to start investing. From our experience, Interactive brokers set up our account in 2 business days.
You can only use bank transfers (Wire/SEPA) for deposits and withdrawals, so no debit/Credit card, PayPal, or any other means of transferring money. By using a Wire transfer, you have one free withdrawal per month. Subsequent withdrawals in that same month will incur a fee of EUR 8.00. With SEPA (transfers only in EUR), you also have one free withdrawal a month, after which a fee of EUR 1.00 is applied.
3. Products and Markets
Interactive Brokers lets you access over 150 market destinations in 30+ countries and trade any asset you may be looking for: Stocks, Bonds, ETFs, Forex, Funds, Commodities, Options, Futures, CFDs, and even tiny small companies (a.k.a micro caps) with almost no liquidity are available! You can trade stock on over 90 stock exchanges in the USA, Canada, Europe, and Asia. Still, Interactive Brokers does not offer cryptocurrencies in Europe (only crypto futures).
Fractional shares are available to US stocks and European stocks and ETFs on all of the Interactive Brokers' powerful trading platforms, including IBKR GlobalTrader.
In case you are looking for active management solutions, mutual funds may be a choice to consider. You have thousands of funds available, including the ones of the biggest asset management firms globally, such as Fidelity, BlackRock, Schroder, and JP Morgan. It requires a minimum initial investment size of $3,000, while the subsequent minimum order size is $100. As a European Investor, you will most likely buy UCITS funds based in Ireland or Luxembourg, so this is the commission that matters to you: 0.10% of the trade value with a minimum commission of €4 and a maximum of €29.
Low commissions on US stock trading (for EUR-based accounts)
No monthly inactivity fee
Interest on uninvested cash: Up to 2.435% and 4.85% for EUR and USD cash balances, respectively, for investors with balances

>10,000 EUR/

USD
The broadest product and market range in the brokerage industry
Demo account
Excellent reputation (founded in 1978)
Extensive research and Education tools
Has a modern mobile trading app to trade Stocks, Options, and ETFs, ideal for novice investors, IBKR GlobalTrader.
Complicated and lengthy account opening process (but fully online)
Steeper learning curve for beginners
Website is difficult to navigate
Interactive Advisors (Robo-advisor feature) is only available for US customers
5. Fees snapshot
As stated earlier, the fee information is rather complex: many tables and small prints. However, it is very transparent, which is a great sign (you pay for what you get). The only investors who can easily navigate the fee structure are those who know beforehand what they will be trading and even those who can be surprised by all the details.
As a non-US investor, you can choose between these two pricing options: tiered or fixed. The choice will depend on what kind of assets you expect to trade and the amounts invested.
Given that, these are the fees for the financial assets you will most likely invest in:
– US stocks/ETFs: $0.0035/share (min $0.35; max 1% of the trade value).
– UK Stocks/ETFs: 0.05% of the trade value (min £1; No max.)
– European Stocks/ETFs*: 0.05% of the trade value (min €1.25; max. €29)
– US stocks/ETFs: $0.005/share (min $1; max 1% of the trade value)
– UK Stocks/ETFs: 0.05% of the trade value (min £3; No max.)
– European Stocks/ETFs*: 0.05% of the trade value (min €3; No max.)
We invite you to review both options to choose the best fit for your investing objectives.
*Belgium, France, Germany, Spain, Italy, and the Netherlands.
Note: The commissions decrease according to the monthly trade value. For more information, consult the Interactive Brokers pricing page.
Besides, you need to consider exchange currency fees since you will, at some point, buy assets in a currency other than your base one. For EUR/USD conversions, this is the pricing structure:

Since July 2021, Interactive Brokers has eradicated the $10 monthly inactivity fee, making it much more competitive with the low-cost brokers. However, with most brokers cutting their commissions to $0 on trading activity, Interactive Brokers still lags on this front.
However, when considering the trading of US stocks, the outcome is very favorable to Interactive Brokers. The cost of investing in US equities includes not only commissions charged for the purchase or sale of a security or the opening or closing of a transaction but also foreign exchange and other fees, such as settlement or clearing fees. Often, the exchange rate may be the fee that makes the most significant difference in the total cost of an investment when we compare the prices charged by different brokers for international stocks.
This was demonstrated recently by Interactive Brokers' analysis of a sample US stock purchase that European investors may commonly make. The comparison is based on understanding other brokers' published rates for trading US shares, as disclosed on their websites in December 2021. Interactive Brokers worked with the premise that the account is based in EUR: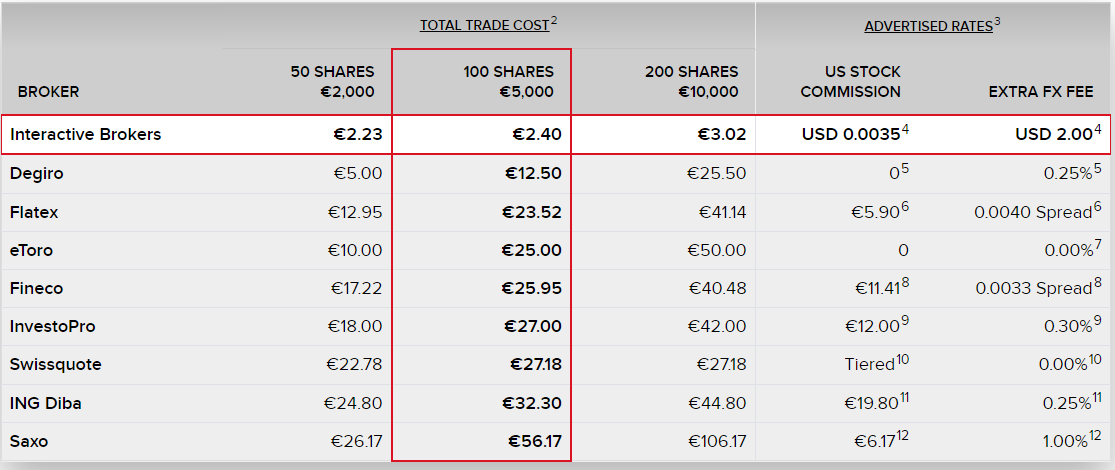 On a final note, Interactive Brokers has also made some improvements to save you money by compensating you in ways other brokers do not apply. Still, it isn't easy to quantify since it depends on several factors. These are two benefits that come to our minds:
The stock loan program: Interactive Brokers splits with you 50/50 the revenues from loaning your stocks to third-party entities (usually for short-selling activities).
Narrower spreads: Interactive Brokers has the smartest order route in the market, meaning that you pay less when buying and receive more when selling. In other words, find the best buyers and sellers at any single moment.
6. Safety and Regulation
Is safety your number one concern? Interactive Brokers might be what you were looking for.
First of all, it is regulated by several top-tier financial authorities, like the US Securities and Exchange Commission (SEC) and the UK Financial Conduct Authority (FCA). By itself, this does not mean that the broker will not go bankrupt, but it is the first vital layer to consider.
As a result, Interactive Brokers must be part of the investor protection scheme demanded by each entity. The company has several subsidiaries, and each one with its own rules. To name a few:
Interactive Brokers UK Limited: As a UK resident, you will be under this legal entity, which gives you a protection amount (cash + assets) of up to £85,000.
Interactive Brokers Ireland Limited: As a Northern and Western Europe resident, you are under the Central Bank of Ireland regulation, meaning that you are protected up to €20,000 for 90% of the amount you have lost (cash + assets) by the ICCL.
Interactive Brokers Central Europe: People residing in Central/Eastern European countries, Cyprus, Malta, and Greece. The Central Bank of Hungary (MNB) is the legal entity in charge of protecting your investment up to €100,000.
As you can see, it is crucial to know the subsidiary you are signing up for. Note: Interactive Brokers Luxembourg has been extinct.
Besides, Interactive Brokers is listed on the NASDAQ, and it must publish quarterly and annual reports regarding its business activity. So, any investor can assess how healthy Interactive Brokers really is. Our analysis concludes that interactive Brokers' financial condition is sound. The company has no long-term debt and shows solid financial strength: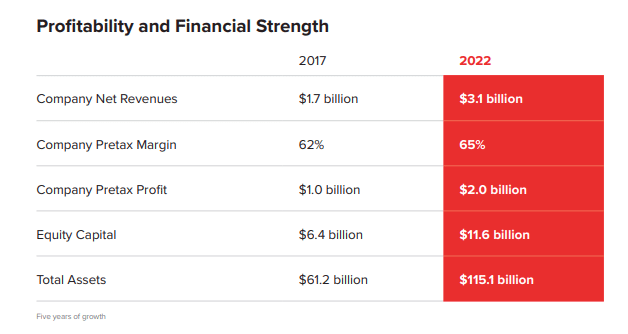 Besides, under the August 2018 restrictions in CFD trading by the European Securities and Markets Authority (ESMA), Interactive Brokers provides negative balance protection for Forex and CFD trading on a per-account basis only to retail clients from the European Union. What does that mean? Imagine that you deposit €1000 in your account and open a position with a 5:1 leverage. This increases your exposure to €5000. If the market dropped 25%, you would lose €1250 (25%*€5000). As you can see, it is above your initial deposit of €1000, meaning that you would owe €250 to your broker. With ESMA regulation, your account balance is automatically readjusted to €0, so you only lose your deposit (more info here). Check out our dedicated article on investment protection (for EU investors)!
Finally, Interactive Brokers has something can no money can buy: reputation. We consider it to be one of the most trusted brokers in existence. Founded in 1978, it went through the most unstable period for the financial industry in modern times, the Global Financial Crises 2007-09, and it even became more robust than before.
In the same way that assets' past performance does not guarantee future performance, we are perfectly aware that things may change. Still, with public scrutiny of its financial statement, rigorous risk management, and supervision from top-tier regulatory bodies, we feel pretty confident with Interactive Brokers going forward.
Want to know more about Interactive Brokers' safety measures? Check our in-depth research on Interactive Brokers' safety.
7. Interactive Brokers supported countries
Interactive Brokers operates in 218 countries, including Australia, United Kingdom, South Africa, Singapore, Hong Kong, India, European countries such as France, Germany, Portugal, Spain, Norway, Sweden, Italy, Denmark, Luxembourg, and the list goes on.
8. The Bottom Line
Interactive Brokers is on a journey of attracting new customers. Since COVID-19, people have been much more involved in their financial decisions than ever, and Interactive Brokers wants to be part of it. We welcome the new developments to increase the ease of using its web and mobile app (the desktop trading platform is still designed in the old-fashioned way).
Though, at this stage, the company is a bit shy of being a comfortable place for a novice. Still, the recent progress shows that the company is in the right direction to fulfill people not familiar enough with investing – the launch of IBKR GlobalTrader comes to reach a different target that includes novice investors!
Was this review helpful? Did it help you make your decision regarding opening an account in Interactive Brokers? Let us know your feedback!
FAQs about Interactive Brokers
Does Interactive Brokers work in Canada? Can Canadians use Interactive Brokers? 🇨🇦
Yes, Interactive Brokers is available in Canada.
Does Interactive Brokers work in Europe and the UK? 🇪🇺🇬🇧
Yes, Interactive Brokers is also available in Europe and the UK.
Is the Interactive Brokers app available in Australia? 🇦🇺
Yes, Interactive Brokers is available in Australia.
Disclaimer: Investing in financial products involves taking risks. Your investments may increase or decrease in value, and losses may exceed the value of your original investment. Past performance is not an indication of future results.