Are you worried about how to buy your stake in Alphabet (Google) or Tesla with their famously high share prices?
This is where fractional shares come in, or partial shares as they are sometimes known. These are relatively new to trading, but once one online broker offered fractional shares, several followed suit.
This article delves into two questions: Does Firstrade offer fractional shares? If not, what are the alternatives for fractional shares trading? Let's get right into it.
What is Fractional Share Trading?
It's as it sounds. Instead of paying the total cost for a full share of, let's say, any blue-chip stock, you first determine the amount you wish to pay. If that's only $50 for now, no problem; you receive $50 worth of Amazon stock, not the full share.
Does Firstrade offer Fractional Shares?
Firstrade does not offer directly fractional shares trading and there is no date for when (or even if) this feature will come in the future.
Firstrade only offers fractional shares within their dividend reinvestment plan (DRIP), an automated method to use the proceeds generated from dividend stocks to purchase more shares of the company. You cannot purchase fractional shares directly.
However, we've got you covered with a list of Firstrade alternatives below.
Best Firstrade Alternatives for Fractional Shares
If your goal is to find an online broker offering the possibility of buying partial shares, here is the breakdown of our top four alternatives:
1# Interactive Brokers
IB at a glance
Known for
Being the globe's default online broker
Products
Stocks, ETFs, Options, Futures, Forex, Commodities, Bonds and Funds.
Supported Countries
Worldwide (exceptions apply)
Founded in 1978 and publicly listed in NASDAQ (ticker: IBKR), Interactive Brokers is a global online broker which surpassed significant financial crises, showing resilience and a rigorous risk management process.
Interactive Brokers provides several different options for traders and brokers to choose from. The platform is designed for individuals and institutions alike, boasting global access to stocks, options, futures, currencies, bonds, and funds from 150 markets. Interactive Brokers makes them all accessible from one streamlined and centralized platform. Their cutting-edge technology ensures more efficient trading speed and performs a more sophisticated portfolio analysis.
Of course, we would be remiss if we failed to mention that users can invest in fractional shares with Interactive Brokers. The company believes that traders should invest in the shares they want to diversify and build upon their portfolios regardless of price. The minimum investment for a fractional share is only $1 for US stocks listed on NYSE, AMEX, NASDAQ, ARCA, BATS, and some OTC Pink US penny stocks. The same applies to European stocks and ETFs, regardless of the share price, listed on select exchanges, with average daily volume above $5 million and market cap above $5 billion.
As an aside, Interactive Brokers owns IBKR Global Trader, a mobile app geared toward newcomers to the investment industry that allows stock, options, and ETF trading. This product offers automatic currency conversions, fractional shares, and a demo version.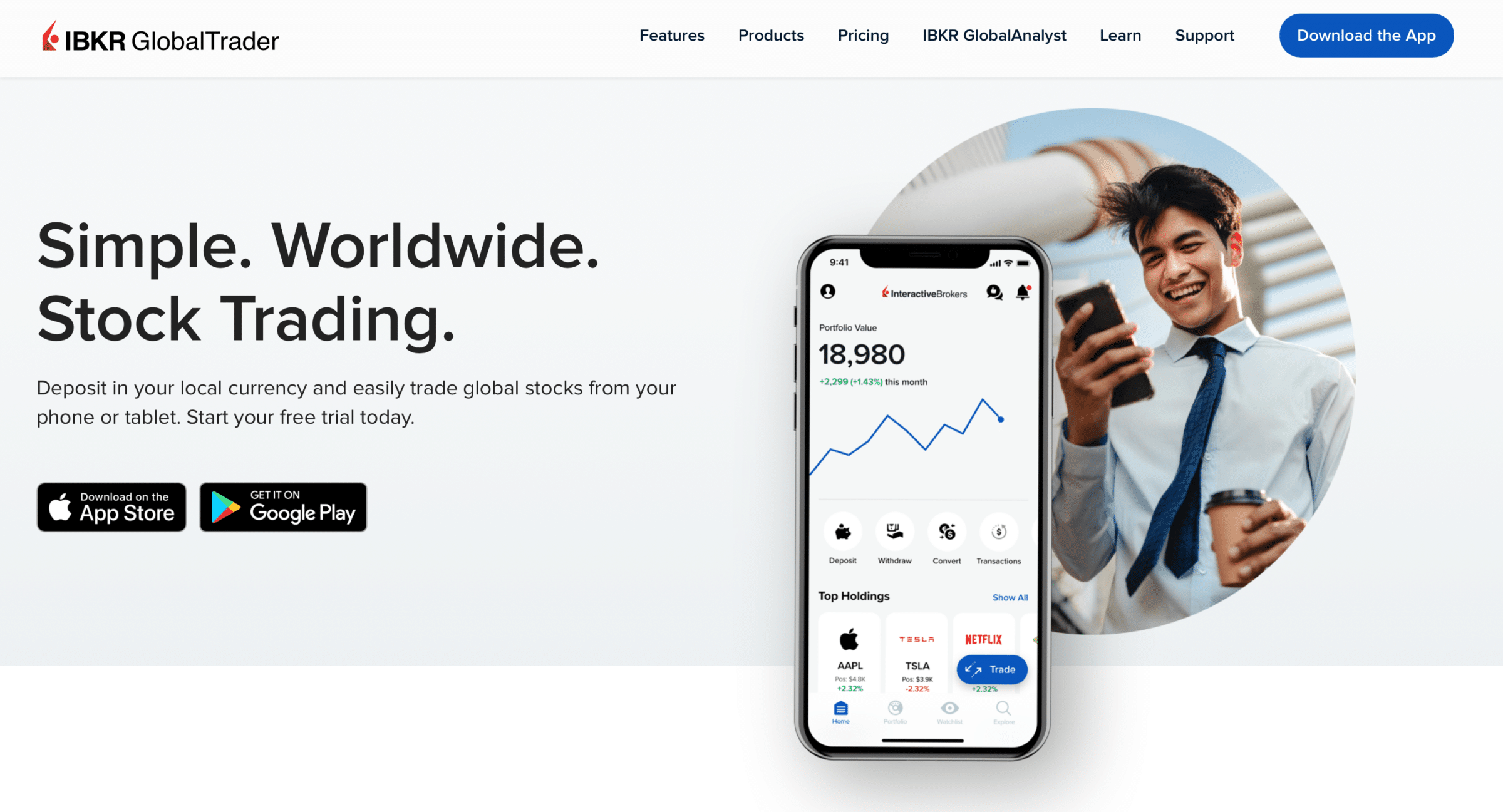 Although a global enterprise, the platform is headquartered in Greenwich, Connecticut, and is a member of FINA and SIPC. It's regulated by the US SEC and other agencies around the world.
Want to know more about Interactive Brokers? Check our Interactive Brokers Review.
Interactive Brokers Pros and Cons
An expansive asset class offering, including fractional shares
Sophisticated platform with a user-friendly interface
One of the largest and most reputable brokers worldwide
Very reasonable fees and low margin rates
Crypto is only available for US customers
Limited crypto selection
Complex fee structure
2# eToro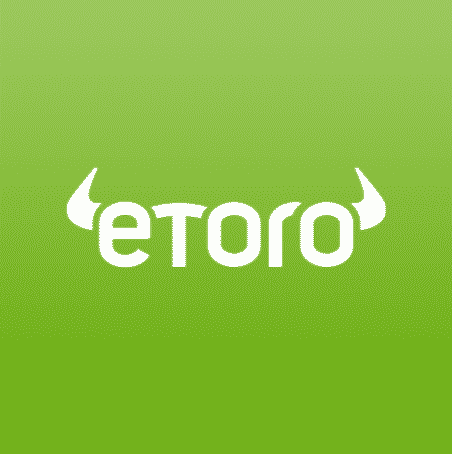 Visit eToro
76% of retail CFD accounts lose money.
eToro at a glance
Known for
Social investing, CFDs, commission-free trading
Minimum Deposit
$10 (it varies between regions)
Products
CFDs, ETFs, Stocks, Commodities, Forex, and Cryptocurrencies
Supported Countries
Worldwide. Exceptions include Canada, Japan, Hong Kong, Russia.
As the world's leading "social investing" platform, eToro offers fractional share trading. In addition, they provide a fantastic resource explaining the benefits of fractional shares on their platform. Yet further below, we've done the work for you of highlighting the key pros and cons of fractional shares.
To buy or sell fractional shares on eToro, follow the same steps you naturally would for whole shares. Instead of specifying the number of shares you wish to transact with, select the option for determining the exact currency amount to trade.
Social investing refers to copying the trades of retail or professional investors. While the platform provides a fantastic learning database with instructional videos and a full-length blog, it prides itself on springboarding your practical learning.
eToro also provides a wide selection for CFD ("Contract for Difference") trading. These enable you to gain exposure to an underlying asset's movements without owning it. This is a risky strategy with most traders losing money, so make sure you know the risks involved. Check out our detailed guide on CFDs vs real shares trading.
eToro remains a solid platform for the most popular asset classes alongside thorough investor education and social investing. The one-stop-shop approach works for new traders and veterans alike.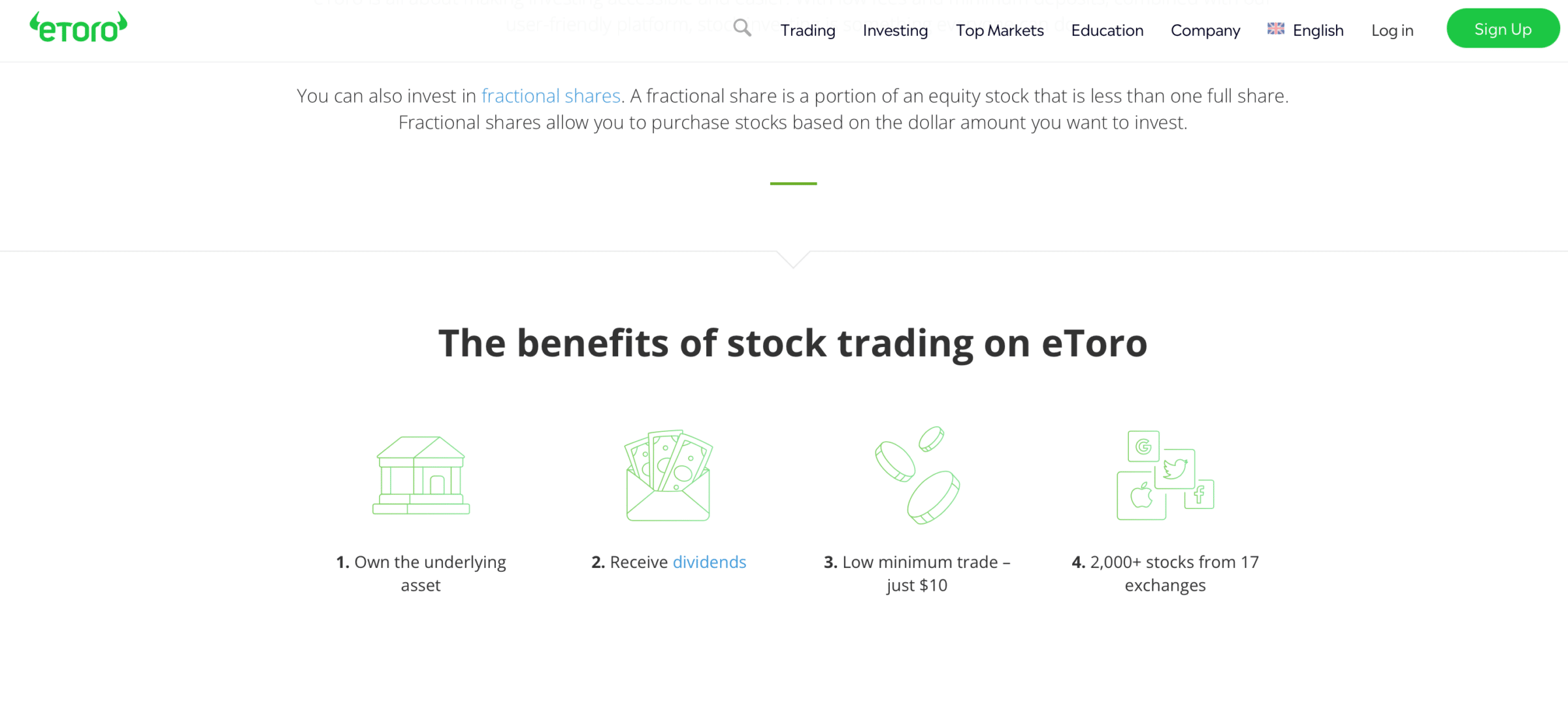 The platform is a member of FINRA and SIPC, and is regulated by the US SEC. Its international equivalents, based in the UK, EU, Australia, or Seychelles, are also regulated.
If you want to learn more, check our eToro Review.
Commission-free stock and ETFs trading (not all ETFs are commission-free)
Slick, modern, and easy for anyone to use

Quick and smooth account opening

Offers a demo version

Covers most popular asset classes, including cryptos, alongside fractional shares
World-leading with social investing
Fees for withdrawal and inactivity

Spread, overnight, inactivity, and currency conversion fees higher than average
Only one currency account (USD)
Certain trading spreads can be high
Options trading is not offered
3# Webull
Webull at a glance
Known for
Fractional shares, IRAs, commission-free trading
Products
Stocks, ETFs, Options, and Cryptocurrencies (only US markets).
Supported Countries
US, Hong Kong, China, Singapore, Japan, the UK, and Australia
Webull provides high-tech financial solutions for traders and the investment industry. A relatively new online brokerage, Webull was founded just a few years ago in 2017.
Fractional share trading is only available for specific stocks and ETFs – You will notice the "F" logo displayed on the detail page of each asset, indicating if a particular security is supported for fractional trading. Besides, the fractional share trading only supports market orders, there is a $5 minimum when purchasing a fractional share position, and the number of shares must be greater than 0.00001. You can check all this information the Webull's guide for fractional shares.
Moreover, if you're looking for a place to get up and running quickly with liquid investments, including margin accounts and options, Webull does its job well. American investors appreciate the inclusion of IRAs and Roth IRAs.
Webull has 0% commissions on trading activities in all its product offerings. The revenue streams come from stock loans, interest on free credit balances, margin interest and payment for order flow.
No commission fees
No deposit minimum

Fractional cryptocurrency trading in multiple cryptocurrencies (Bitcoin, Dogecoin, etc.)

Advanced trading tools for users

Stocks + options + fractional shares
No mutual funds
Weak customer support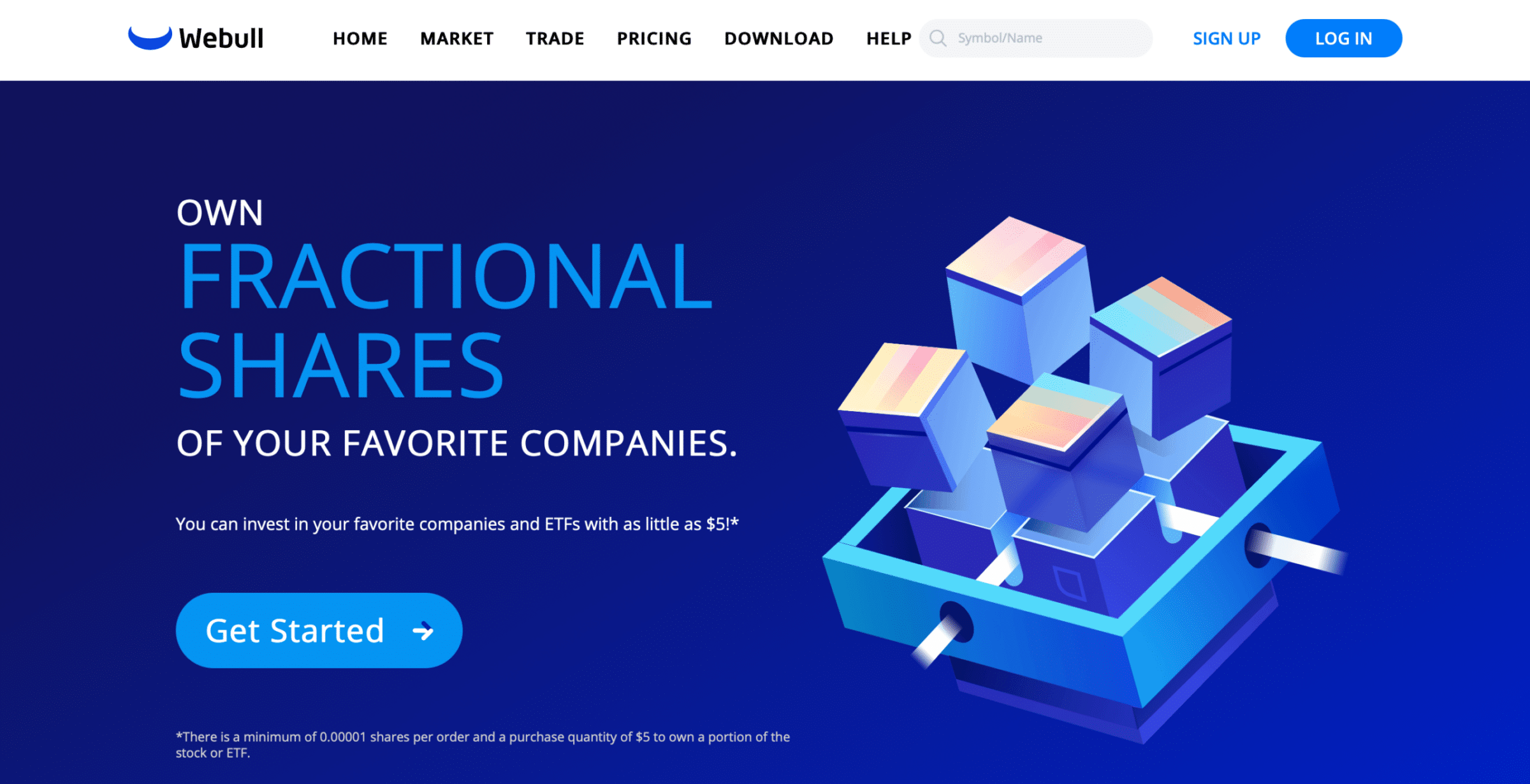 If you are looking for complex products (forex, futures, or others), Webull may not be the right investment platform. It supports several features such as Extended Hours Trading (you can trade in pre and after-hours sessions), a PC version for more advanced customisations (plus mobile and web versions), and customer support 24/7. Essentially, you will find the basics for investing.
Webull is registered with and regulated by the US SEC and FINRA. It's also a member of the SIPC.
4# Public.com
Public at a glance
Products
Stocks, ETFs, and Cryptocurrencies (only US markets).
Supported Countries
US and UK
Public.com gives users the ability to invest in stocks, ETF, and crypto, commission-free. The platform also offers a variety of educational tools for those who are new to or open to exploring more about, the stock market, investing, and beyond.
The platform offers fractional shares for a minimum market order of $1. Keep in mind that not all securities available are eligible for fractional share orders. For more details, please consult Public.com fractional shares disclosure.
The online broker is used by a community of over 3 million members and prioritizes its members' best interests by veering away from selling their trades to market makers or taking money from Payment for Order Flow (PFOF).
Finally, Public.com enables fractional share investing for users, so they can invest in the companies they want while still minding their budget and risk tolerance.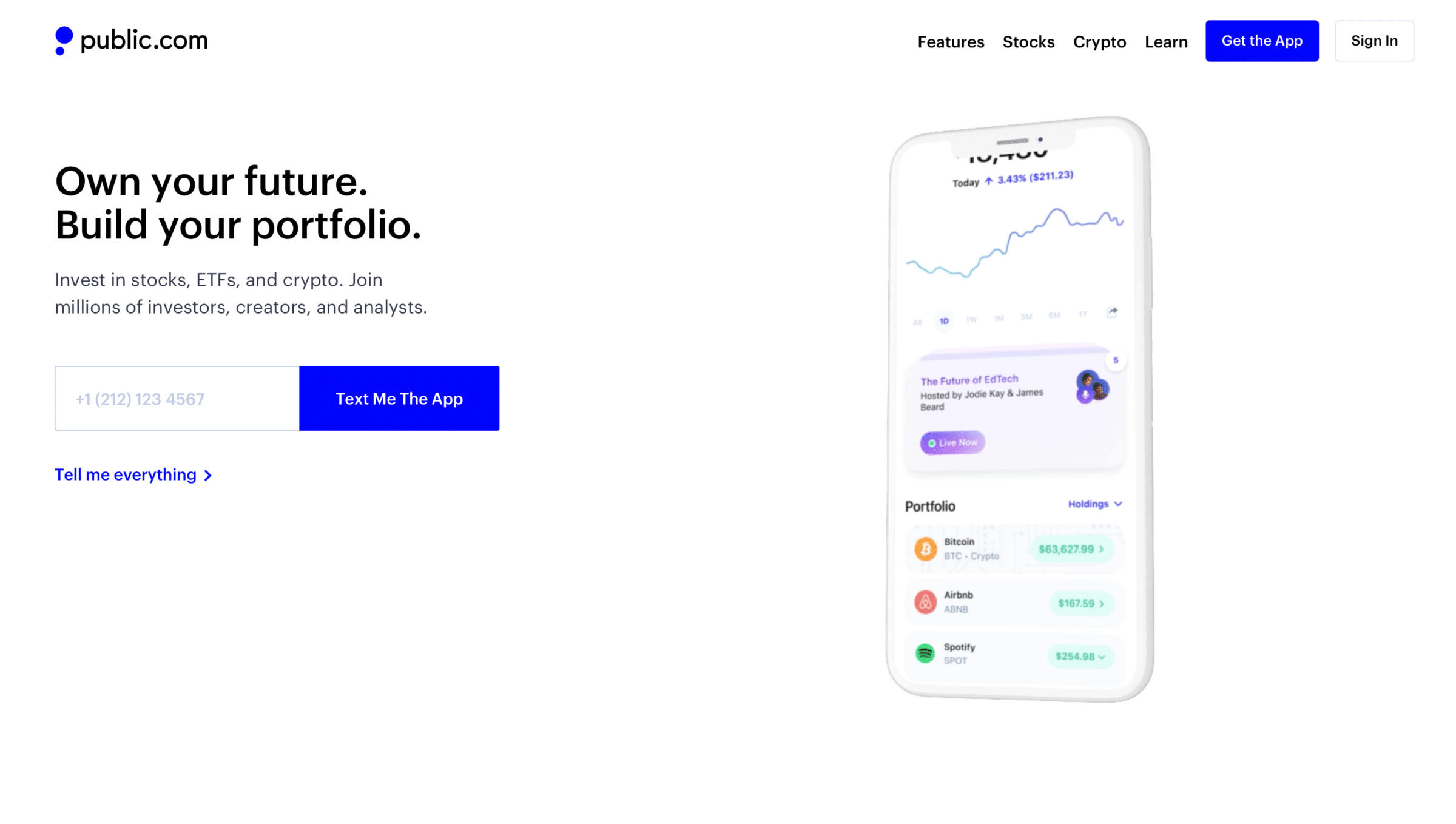 Fractional shares
Offers educational tools
No payment for order flow
Commission-free

No minimum deposit

Strong and intuitive UI
Limited product portfolio – only stocks, ETFs, and crypto

Only available to US and UK investors

Traditional, taxable account types are the only options
Why trade Fractional Shares?
There are key advantages and disadvantages to fractional shares, yet ultimately we feel the benefits are much more significant. We'll break them both down here.
The Advantages of Fractional Shares
First, a great question investors tend to ask is if fractional shares provide fractional dividends. Yes. The essence of the share remains the same, whether 1.00 of a share or 0.01. You do not forfeit your right to a dividend.
Additional benefits include:
Investing with small amounts: with some brokers, for as little as $1.
Being able to invest in companies with high stock prices.
Perfect your stock diversification strategy by using dollar amounts instead of share amounts.
On this note, it feels difficult to say that there are negatives to fractional shares. Previously out-of-reach investments remained so until a stock split (1 into five shares, for example) occurred. Now, this is no longer the case. Yet there are some disadvantages you should consider.
The Disadvantages of Fractional Shares
These mostly have to do with the technical and less noticed aspects of shares, such as:
No voting rights. These are only conferred with whole shares.
Being nontransferable. Technically, a partial or fractional share represents an agreement between yourself and your broker, who retains ownership of the whole share and provides a portion of it for your credit. You cannot transfer fractional shares, nor do you own them.
Cash-only compensation. If a broker defaults, you would only receive in kind to another account your whole shares and the monetary values of your fractional shares.
Over-diversification. Diversification refers to dividing your portfolio's risk, so when one investment's value drops, the other is less affected (or even increases). Over-diversification reduces risk even further (in theory) but siphons off too much of your projected return.
In our view, green or veteran traders should feel excited at the rapid growth of fractional shares. They open new investments and asset classes to retail investors (that's you!) without real downsides.
The critical thinking required has to do with the online brokerage itself. Firstrade fails to offer a competitive offering in this particular context, but the industry provides excellent alternatives for fractional share trading.
With investing, always give yourself a priority. Fractional share capability should be commonplace in the medium-term for American, European, and other international traders.
Did we answer all your questions on Firstrade fractional shares? If not, please let us know your feedback below!