Hello, fellow investor! We will review eToro to help you find out whether it is the right investment platform for you!
We recommend eToro if you want to buy US stocks, cryptocurrencies, and/or follow other people's trades, known as social trading. You can also invest in other products, such as ETFs and CFDs (leveraged positions) on stocks, ETFs, commodities, forex, indices and cryptocurrencies.
eToro USA LLC does not offer CFDs – crypto assets are available. Also, this review is not dedicated to US investors.
eToro is a well-known fintech startup and the leader in the social trading field, with over 30 million users worldwide. Their huge popularity and growth have been facilitated since offering commission-free stock and ETF trading in most regions (not all ETFs are commission-free), social trading, and their intuitive and simple-to-use trading platform both in PC and mobile versions, making it a good choice for all sorts of investors.
Opening an account and depositing is easy, and you can even open a demo account to try it out with $100,000 of virtual money. On the downside, withdrawing money is slow and expensive, and spreads can be high for some products.
That's our eToro review in a nutshell. If you want a more detailed eToro review, keep on reading. Here's what we'll cover:
1. eToro's Overview
eToro is a fintech startup, a social trading broker founded in 2006 in Israel, with the mission to make trading accessible to anyone, anywhere, and reduce dependency on traditional financial institutions. Its platform allows users to trade various financial assets online, such as stocks, ETFs, and thousands of CFD products on stocks, indices, currencies, and commodities. eToro also allows you to buy and sell cryptocurrencies. Here is what the investor's dashboard looks like: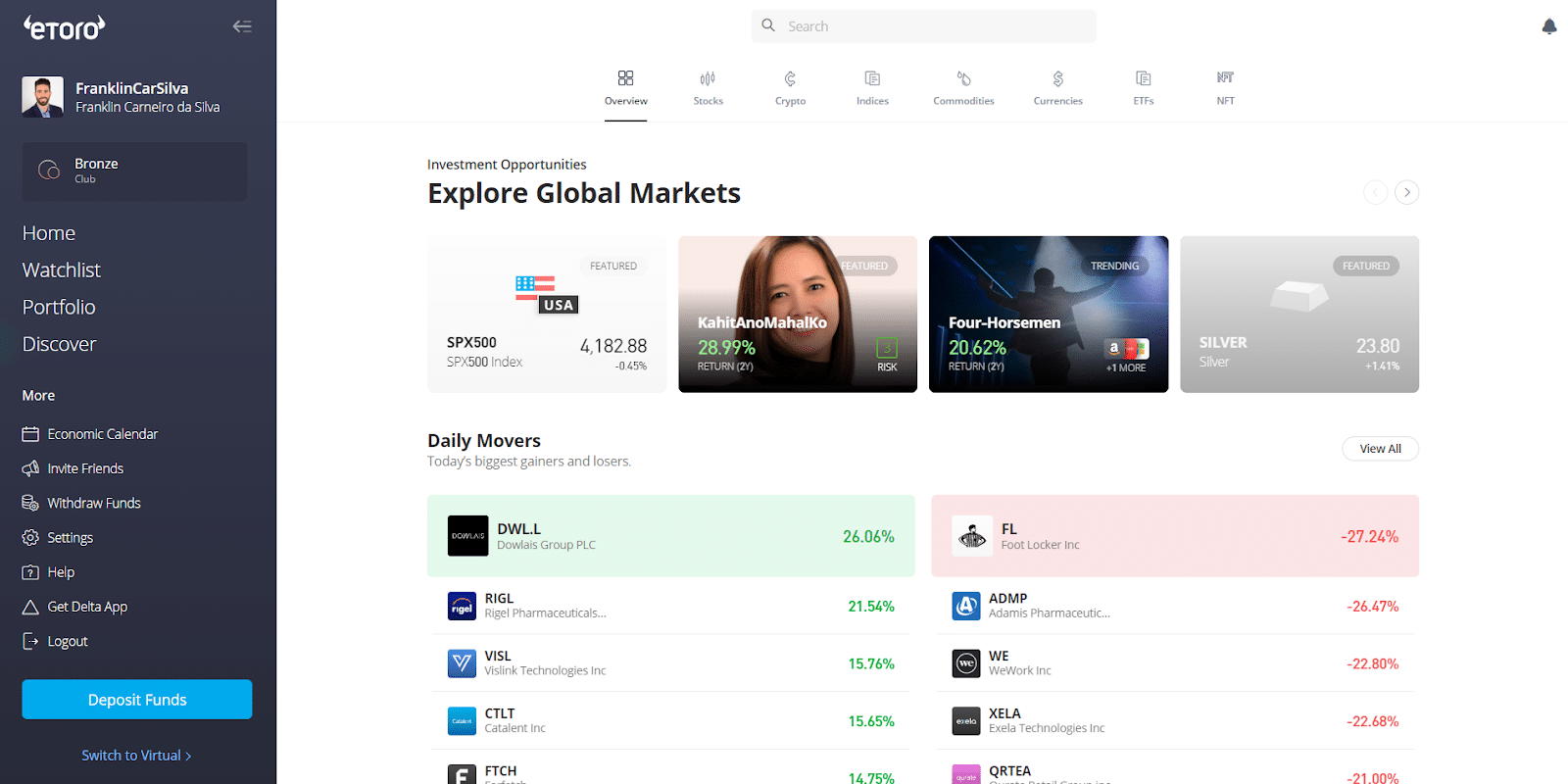 eToro Highlights
| | |
| --- | --- |
| 🗺️ Supported Countries | Worldwide – Exceptions include India and Japan |
| 💰 Stocks and ETFs fees | Free of charge (some ETFs are not free) |
| 💰 Cryptos and CFDs fees | Low-to-medium |
| 💰 Inactivity fee | $10 after 1 year of inactivity |
| 💰 Withdrawal fee | $5 |
| 💵 Minimum Deposit | $50 (it varies between countries) |
| 📍 Products offered | Stocks, ETFs, Cryptos and CFDs on Stocks, ETFs, Commodities, Forex, Indices and Cryptocurrencies |
| 🎮 Demo Account | Yes |
| 📜 Regulatory entities | FCA, CySEC, ASIC |
eToro is known for its product innovations, introducing, throughout the years, several features such as CopyTrader™, which allows any user to follow and automatically replicate other investors' trades, and Smart Portfolios, a brand new long-term thematic investment product designed to manage portfolios of various asset classes or a group of traders, under a predetermined market strategy and constantly monitored by machine-learning algorithms.
In other words, the CopyTrader™ allows you to copy individual traders, whereas the Smart Portfolios enables you to invest in a single portfolio aggregating several securities. For example, you may invest in a Smart Portfolio, which allocates capital to technological companies. Here are some examples:

Past performance is not an indication of future results.

Past performance is not an indication of future results.
Besides, eToro allows you to invest in +70 cryptocurrencies for a 1% spread regardless of the cryptocurrencies you are trading: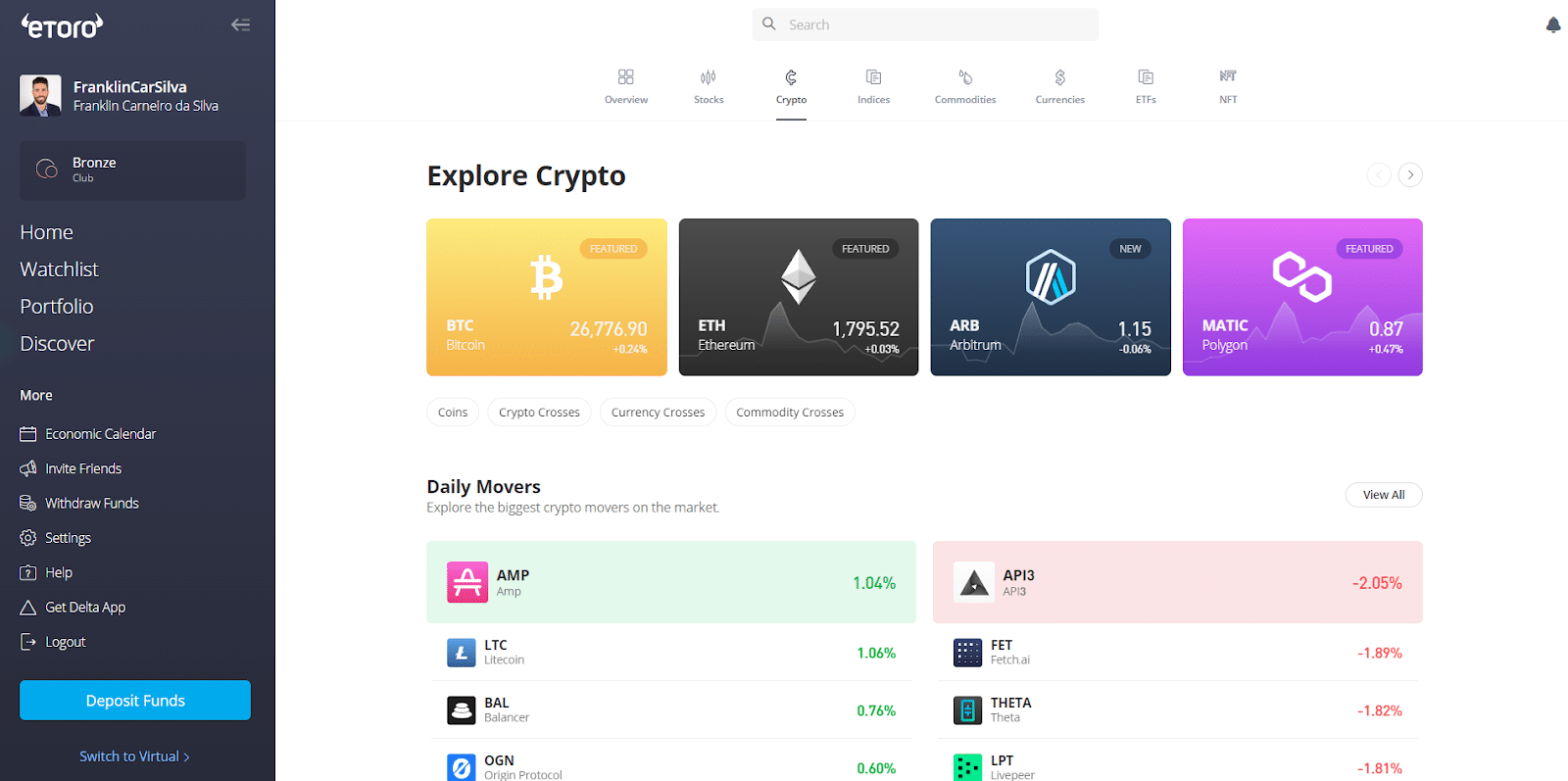 When investing in Cryptos through eToro, you will gain ownership of the asset (like a real stock) if you meet all these three requirements: you are not leveraged (meaning not using CFDs) on your cryptocurrency trade, you are not short-selling it, and you are not a client under the Australian Securities and Investments Commission (ASIC).
eToro also presents valuable education resources: eToro Academy, eToro Plus, News and Analysis and Digest & Invest. You will find videos, podcasts and research articles.
eToro has created an "eToro Club" to value investors with higher amounts. It will give you lower fees and special discounts, complimentary subscriptions and exclusive VIP events, depending on your account balance:

Overall, eToro offers the best platform for investors who want to have an account in a brokerage that provides social trading service, want to benefit from commission-free stock trading, and even gain exposure to cryptocurrencies. You can even open a "Professional Account" if you meet all the requirements and an eToro business account if you have a company.
Commission-free stock and ETF trading (not all ETFs are free)

Social Trading and other innovative products

Wide variety of financial products

Slick, modern, and easy for anyone to use

Education Resources (mainly eToro Academy and eToro Plus)

Top tier regulators
Limited disclosed financial information (eToro is not a public company)

Low number of real ETF offering

Withdraw and inactivity fees

Spread, overnight, inactivity, and currency conversion fees higher than average

Only one currency account (USD), which means that you'll incur in currency conversion fees when depositing in another currency
4. Account Opening
The process of opening an account with eToro is straightforward. You just need to follow an intuitive step-by-step registration procedure. Firstly, click "Starting Investing" on the homepage: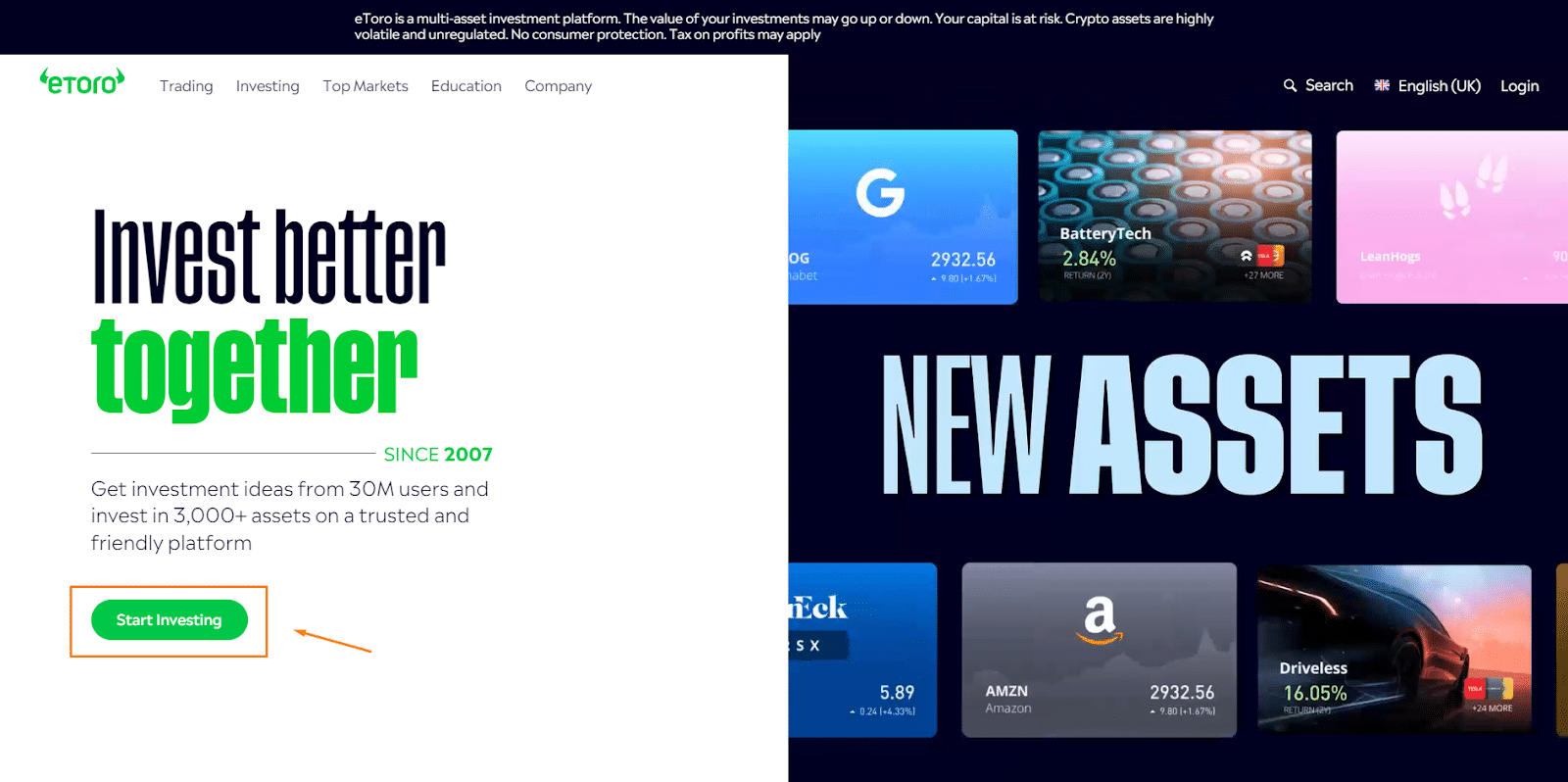 Then, insert your chosen username, email and password (or create an account with a Facebook or Google account). You must select the two terms & conditions that appear below. Keep in mind that the eToro subsidiary will be the one dedicated to your country. Since we are registering from a European Union country, we are under the "eToro Europe Ltd.":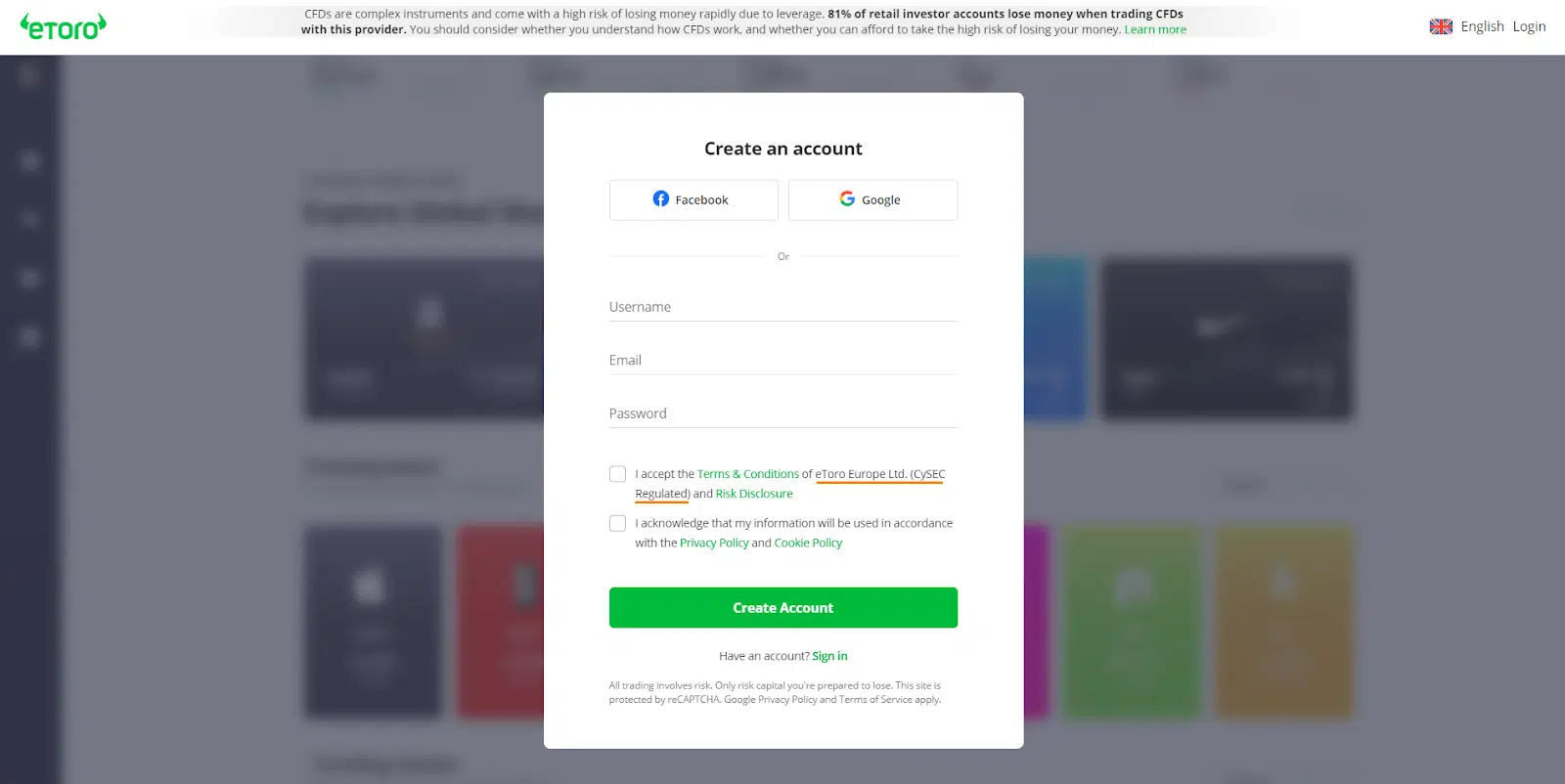 It will immediately ask you to confirm your email: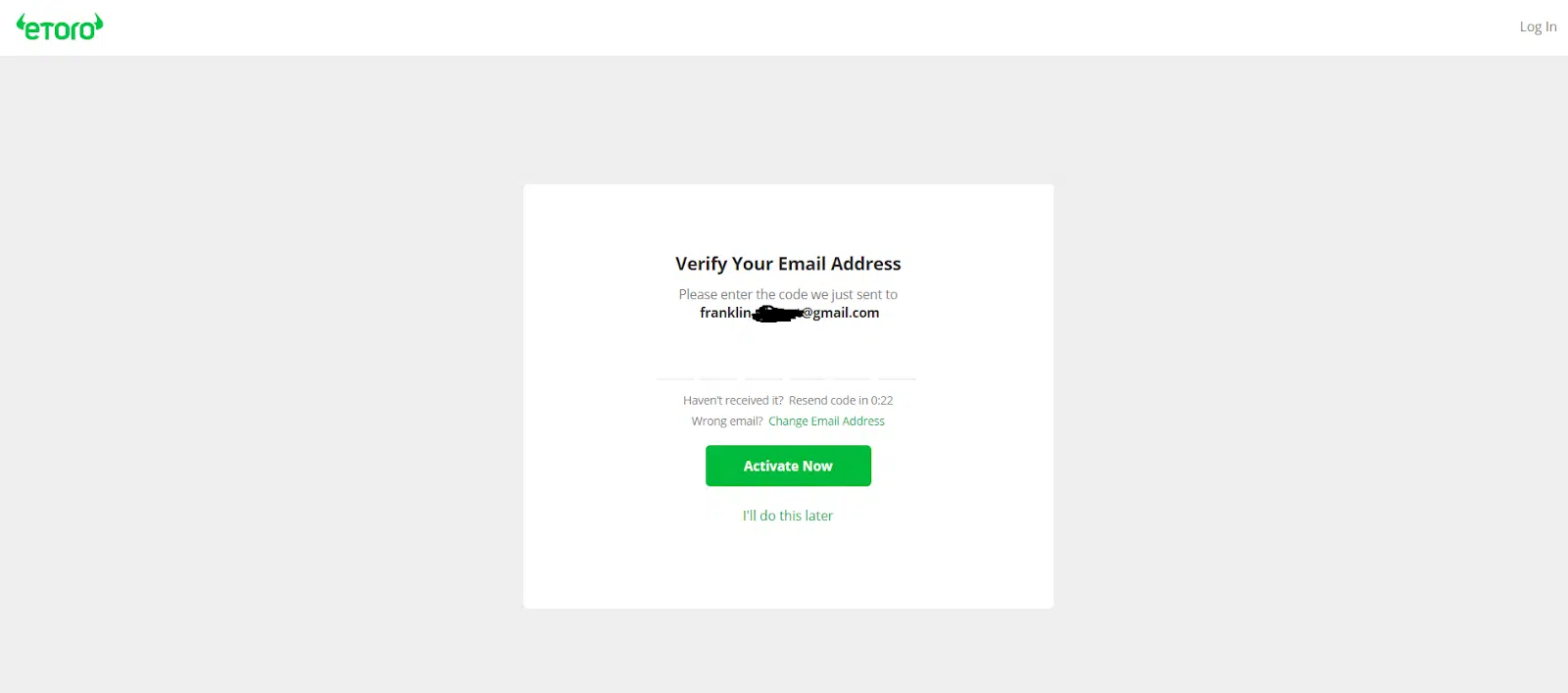 Finally, it will ask you to complete your profile (full name, birthday, trading knowledge,…):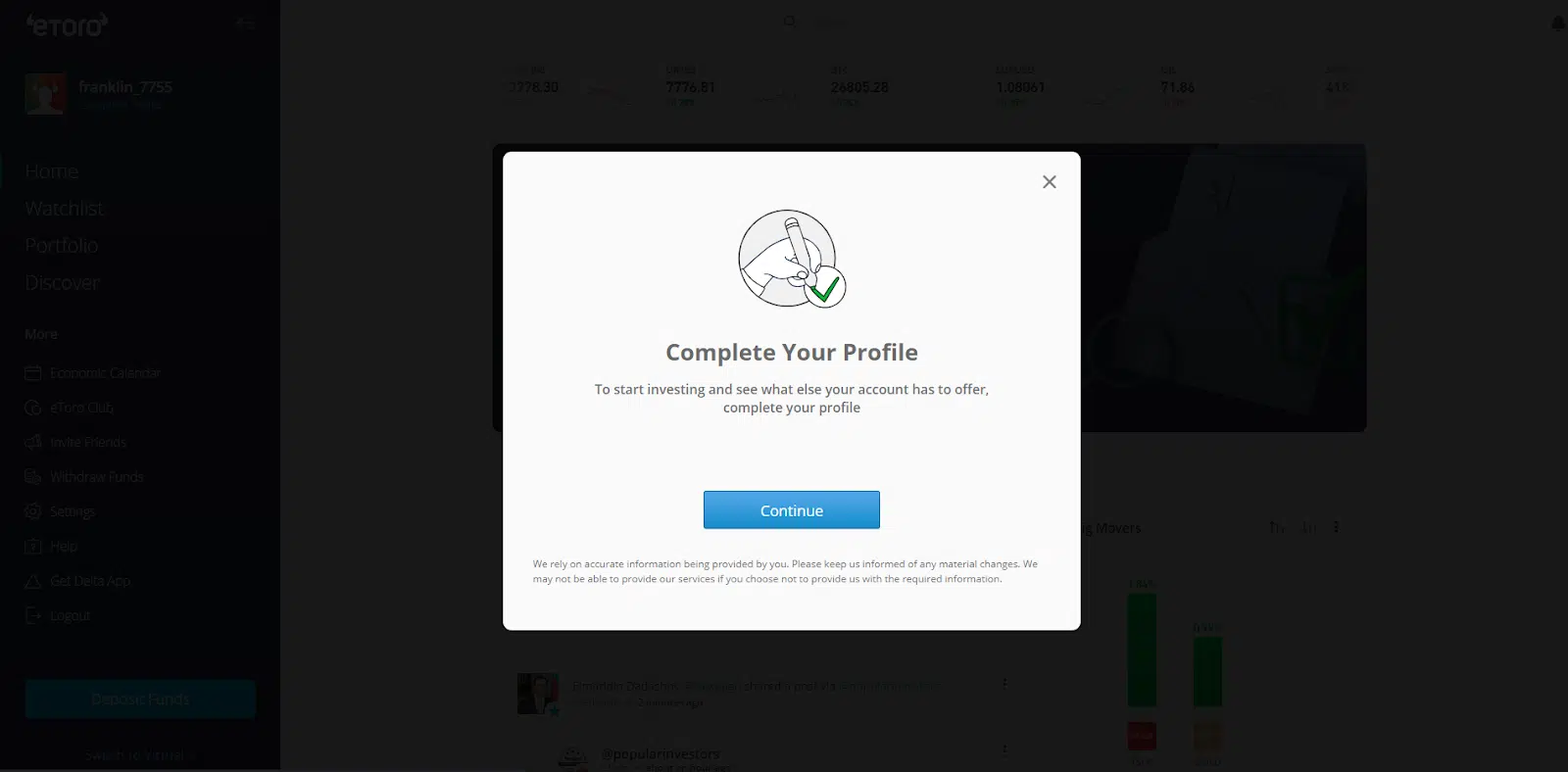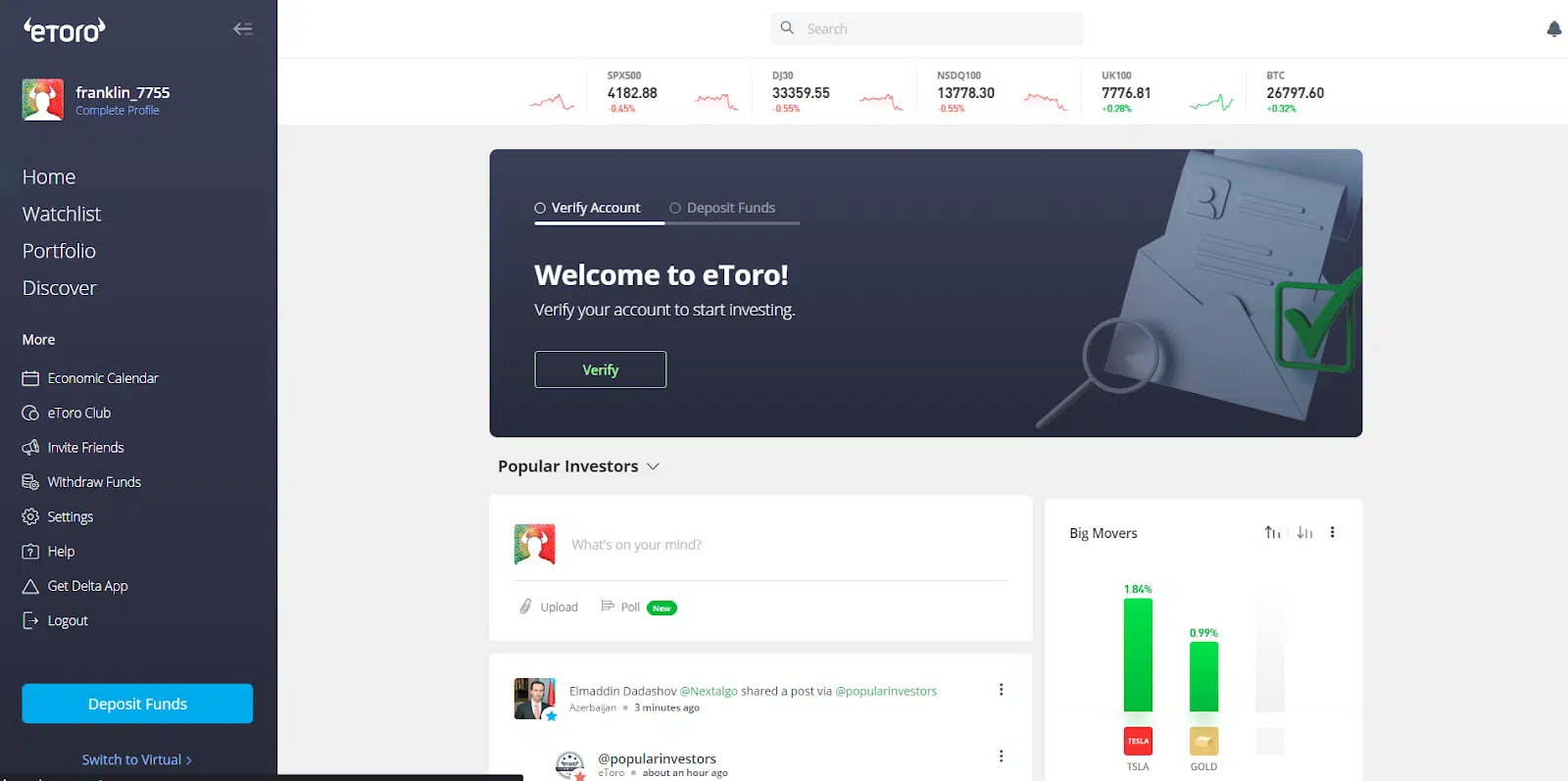 Note: I already have an account in eToro with the user name "FranklinCarSilva." For illustration purposes, I started the registration process again with another email to show you every step. That's why you see the user "franklin_7755" in the image above.
5. Trading Platform
eToro has both a mobile and a web trading platform. Below, we'll help you navigate through eToro's web trading app.
As soon as you are logged in, you have access to a search bar, where you can immediately find the asset you are looking for (it works well!), a clear oversight of what is up or down in the top moving bar (right below the search bar), your portfolio value and the portion in cash and invested: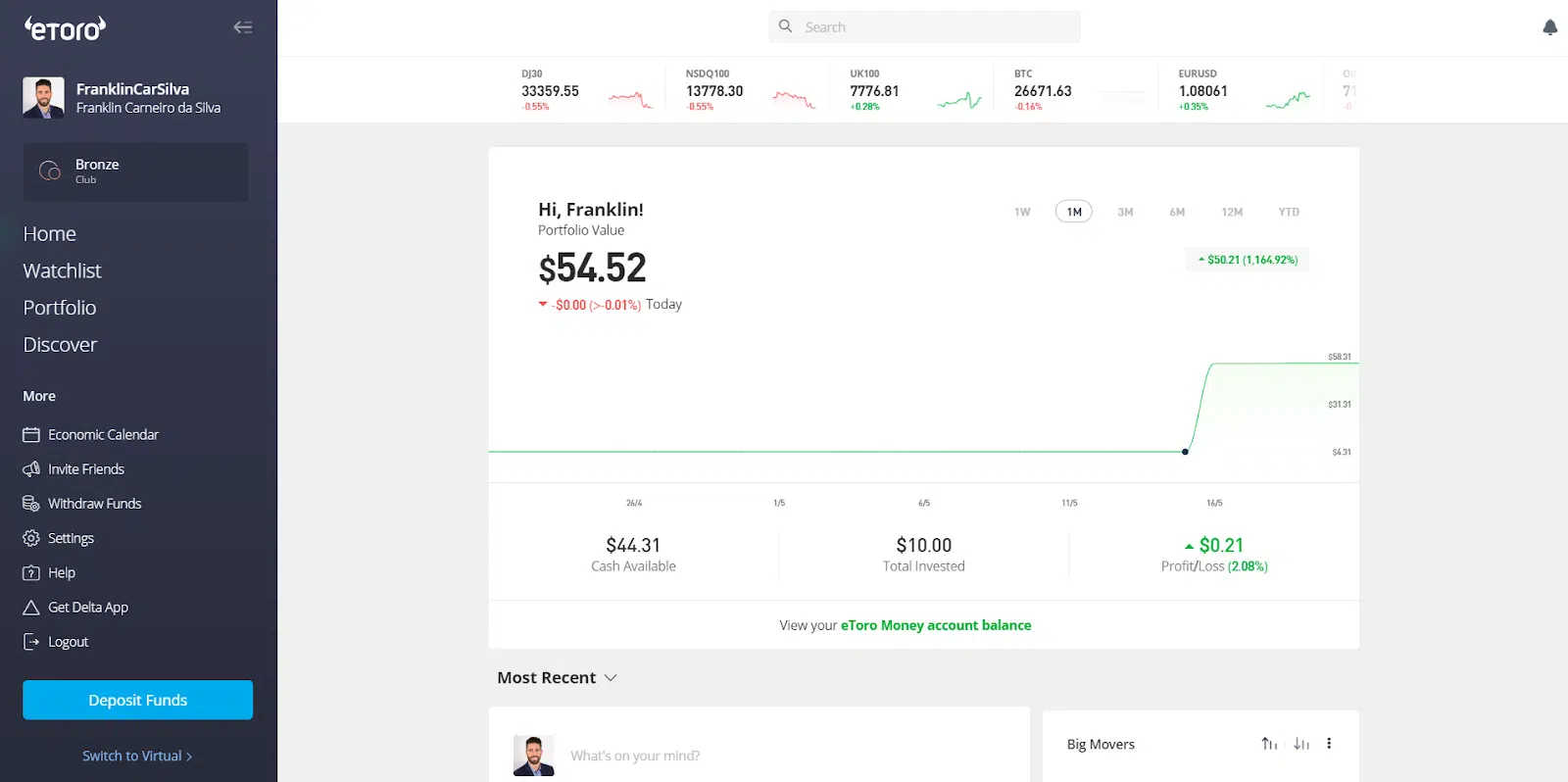 If you scroll down, a feed of posts will appear as you see in Facebook or Instagram. Here, investors will share their thoughts, trades or other information they think is helpful for their current and potential followers: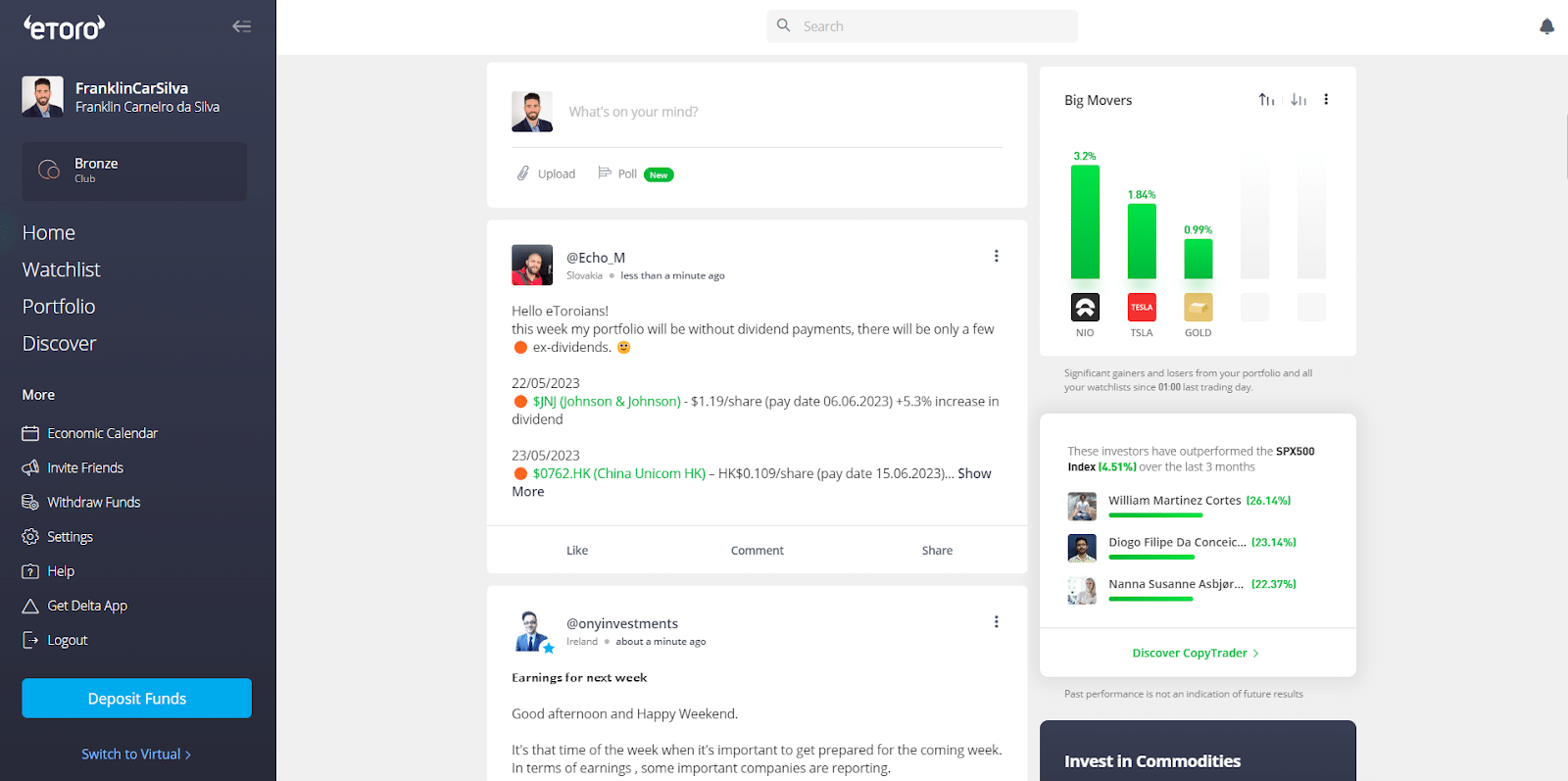 In the left panel, you can navigate to other tabs like a "watchlist," where you can easily add the stocks you are planning to buy or have just bought: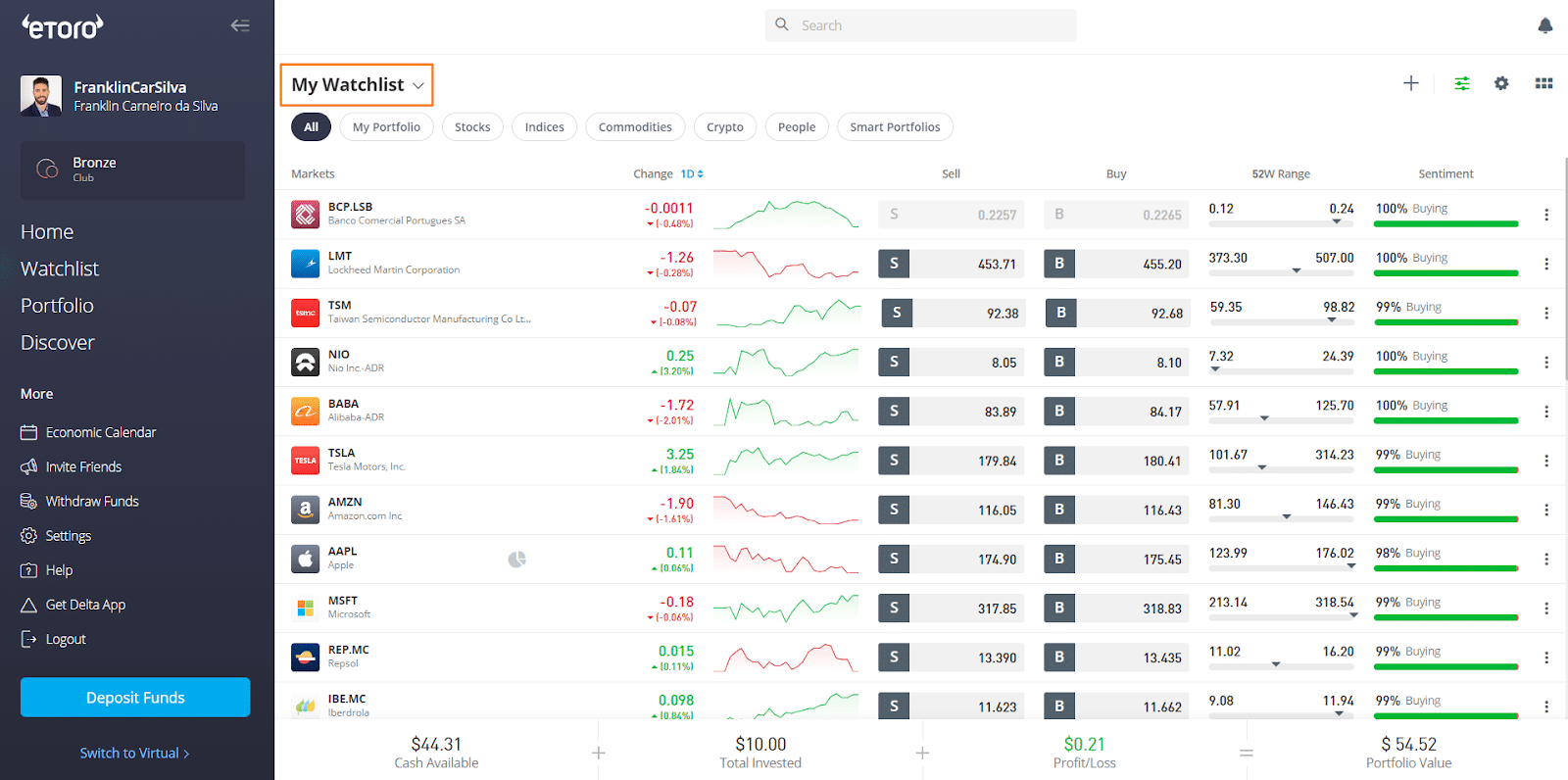 eToro provides a dedicated page to your "Portfolio," where you can see all your investments in a single place. It shows your profit/losses in absolute ($) and relative terms (%). It also separates your money between the "cash available" and "total invested":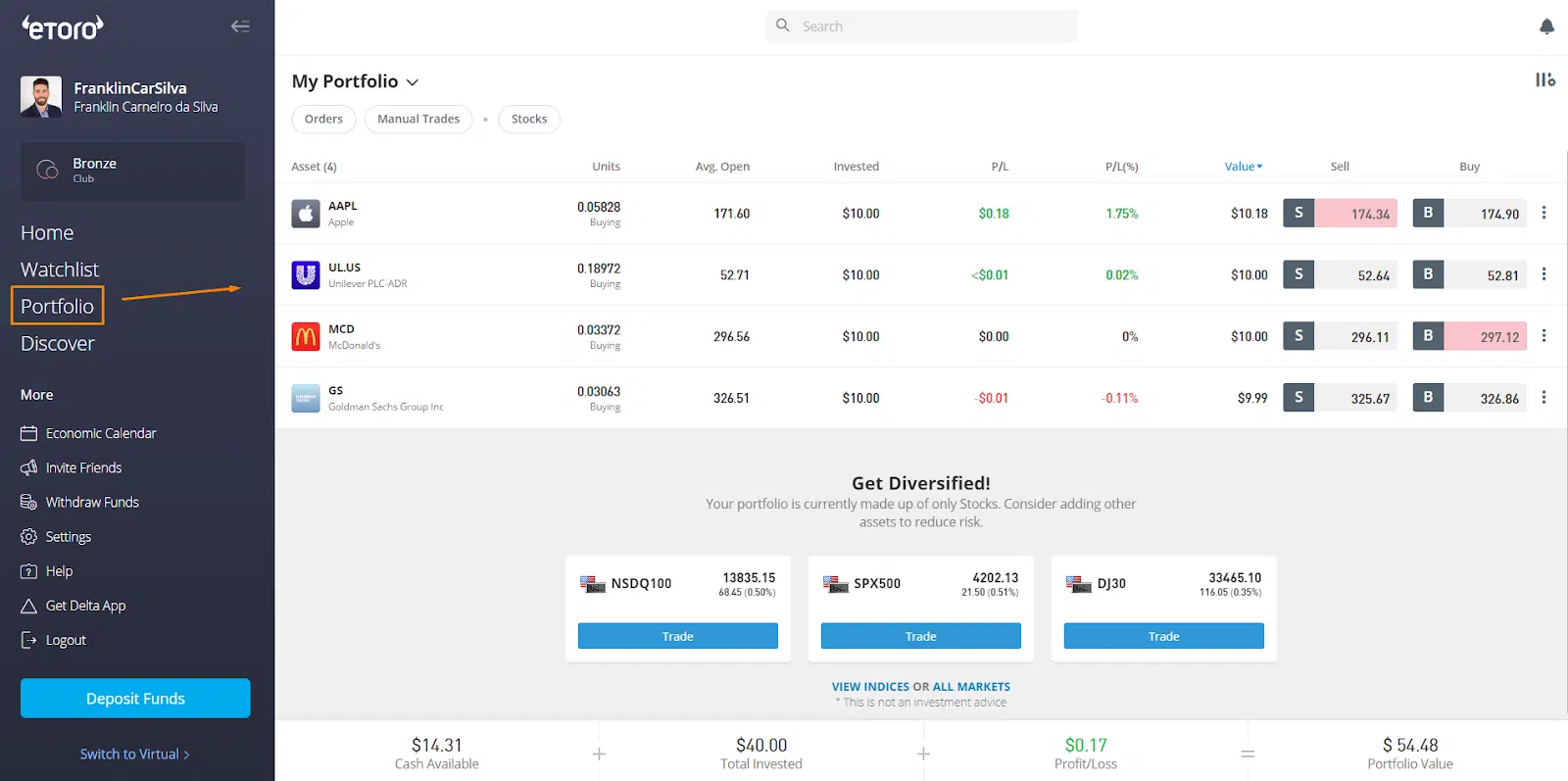 On the "Discover" tab, you will notice a quick overview of all the asset classes available, Investment Opportunities, the Daily Movers, and Trending Assets, among other sections: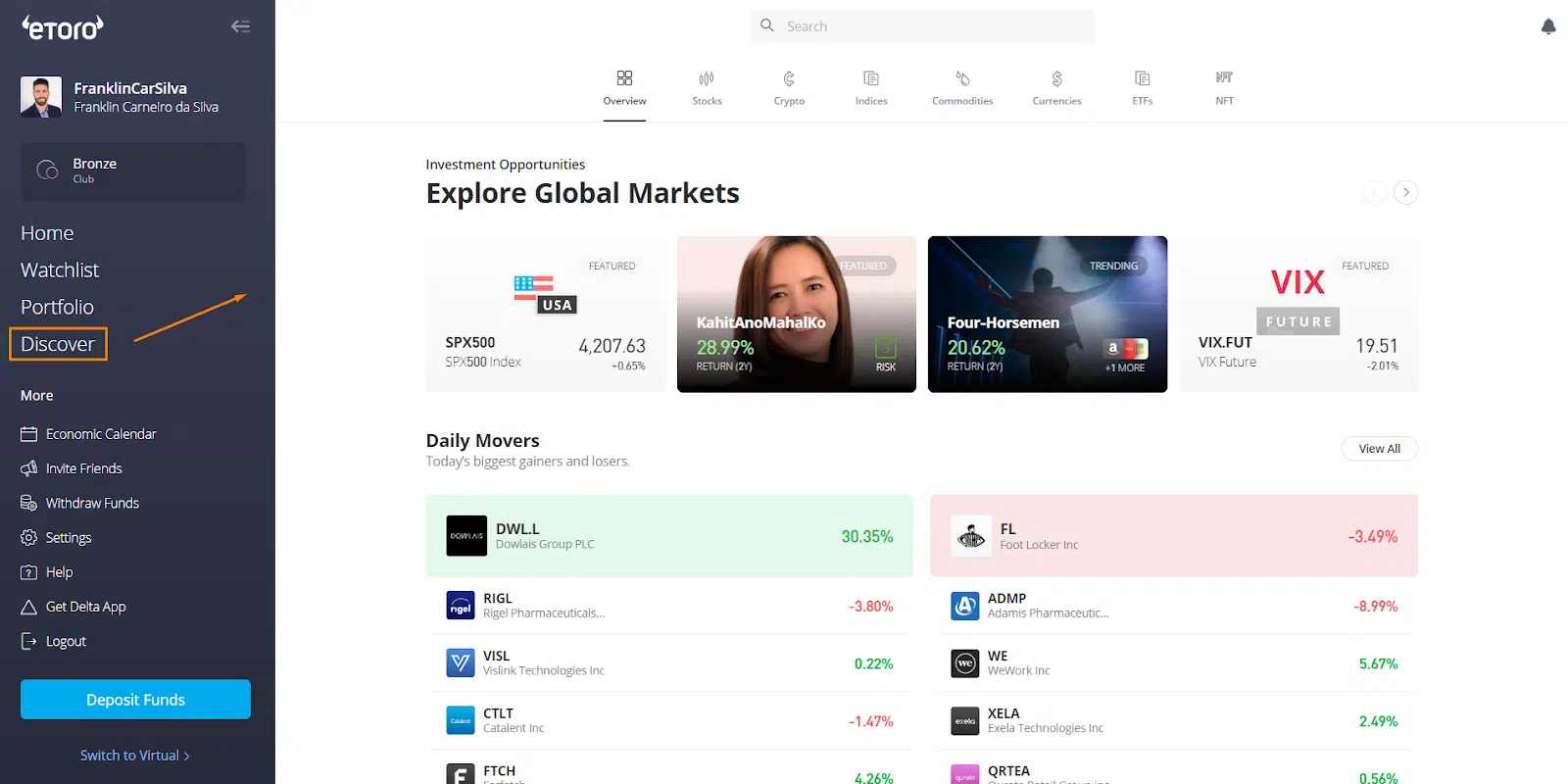 Finally, there are quick access buttons to the economic calendar, deposit/withdraw funds, and getting help from customer support is also at your disposal at all times.
6. Products & Markets
eToro offers Stocks, ETFs, Cryptocurrencies and CFDs on Stocks, ETFs, Commodities, Forex, Indices and Cryptocurrencies. You can buy in bulk or just a fraction, from as little as $10.
Products
Available?

Stocks

✔

ETFs

✔​

Bonds

✘

Funds

✘

Options

✘

Futures

✘

Forex

✔

(CFDs)

Cryptocurrencies

✔​

Commodities

✔ (CFDs)

CFDs

✔

(on stocks, ETFs, cryptos, commodities, forex and indices)

​
Stocks: You can trade +3,000 from over 15 global exchanges, including NASDAQ, NYSE, London, Frankfurt and Amsterdam.
ETFs: eToro offers access to EU-domiciled ETFs like the iShares Core MSCI World UCITS (SWDA) and non-EU-domiciled ETFs like the SPY, the biggest ETF in the world. For non-EU domiciled ETFs, eToro uses contracts-for-difference (CFDs). So, instead of buying the underlying asset, as with the SWDA, you purchase a CFD.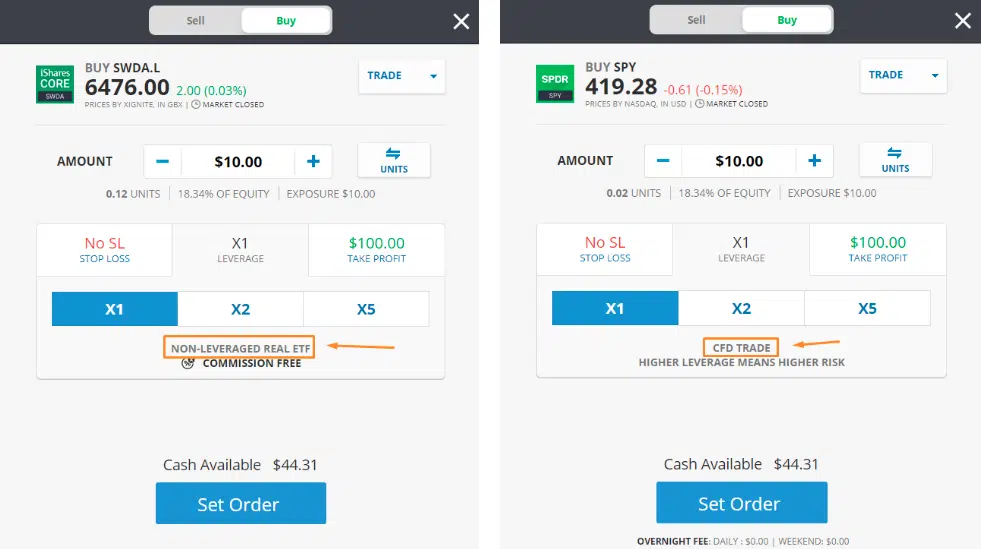 eToro Order Windows – SWDA vs SPY
In addition to the SWDA and SPY example, we found that inside the list of over 300 "ETFs" (image below), most are actually not real ETFs. European investors cannot invest in US-Domiciled ETFs due to European regulation, including the ARK Innovation ETF, the VOO and, again, the SPY. So, eToro decided to offer you exposure to those famous ETFs through CFDs. We believe that eToro should be more clear on this issue.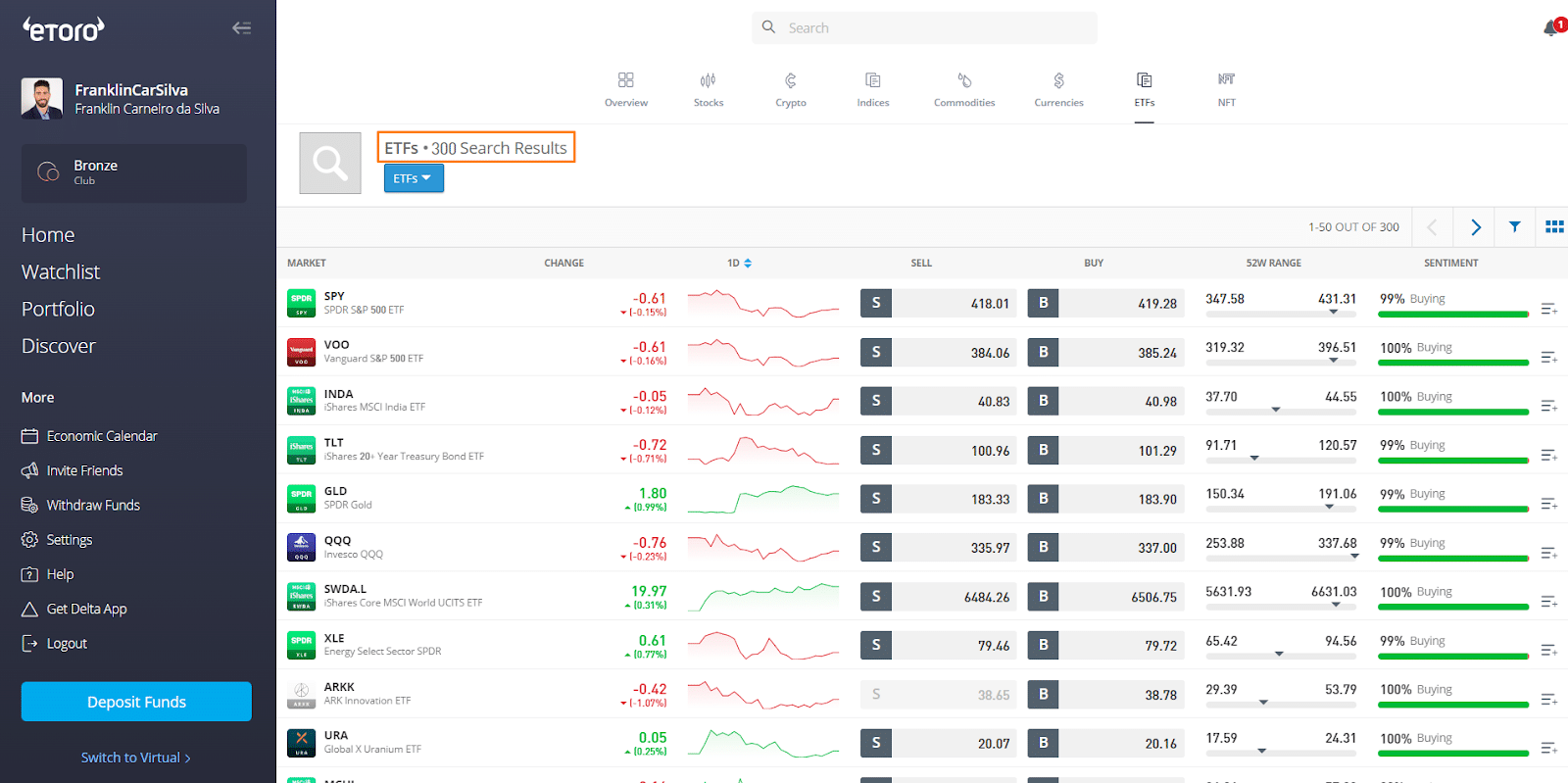 Cryptocurrencies: You have +70 cryptocurrencies available for you, including the more well-known such as Bitcoin, Ethereum and Dogecoin.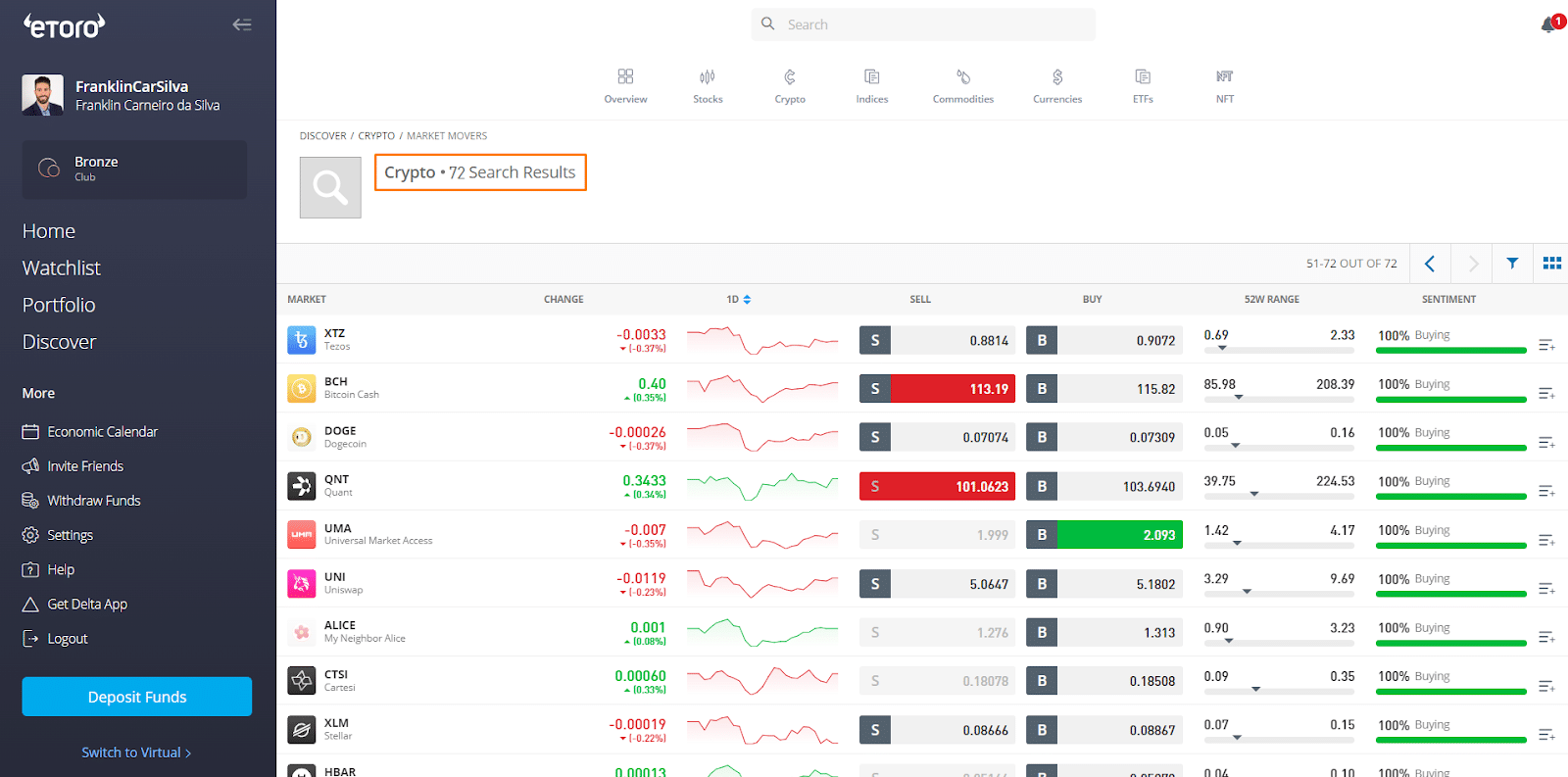 Finally, in the CFD space, eToro gives you access to the widest variety of investment products in stocks, ETFs, commodities, forex, indices and cryptocurrencies from non-leveraged positions up to 30x leverage, depending on the investment product. Leverage levels:
Stocks and ETFs: Up to 5x;

Crypto coins: No leverage;

CFDs: Up to 30x.
7. eToro's fees snapshot
| | |
| --- | --- |
| Fee Type | Classification |
| Stocks and ETFs fees | Commission-free stock and ETFs trading (not all ETFs are commission-free) |
| Forex, Commodity & Index Spreads | Medium-High |
| Inactivity fee | $10 after 1 year of inactivity |
| FX fees on non-USD deposits and withdrawals | Averages 0.5% (bank transfers) |
| Withdraw fee | $5 (minimum withdrawal amount is $30) |
| Overnight and Weekend Costs | Medium-High |
eToro offers commission-free stock and ETF trading. On their website, there is no highlight for the free ETFs offering. However, in the eToro fees PDF, stocks and ETFs appear in the same bucket as "Zero % Commission" – Only the "Real ETFs" are free. To be sure, you need to check that on the trading confirmation window before placing an order: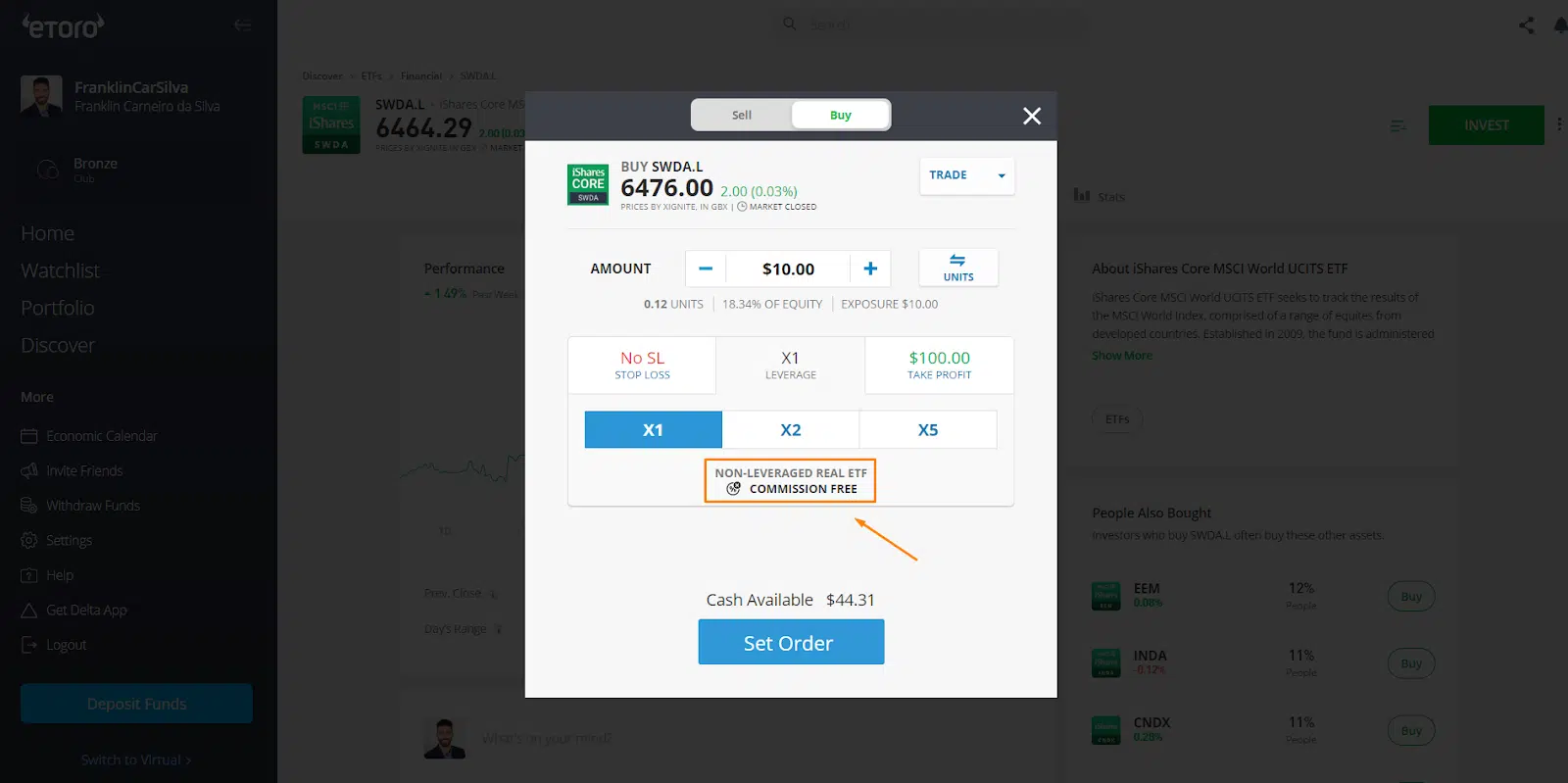 The primary revenue source of eToro is the spread, the difference between the price you pay and the price you sell if you made both trades simultaneously. For the same asset, you see that the spread varies between platforms. Below, we will compare eToro with Interactive Brokers, side by side, in the same asset (Apple stock) on the 22nd of May 2023 at 3.02 pm.
To buy Apple stock in eToro, you would have to pay $174.61. Whereas in Interactive Brokers, the same stock would cost you $174.07. To sell, you would get $173.96 in eToro and $174.05 at Interactive Brokers:


Interactive Brokers Dashboard
On crypto, the fee structure is quite simple: a fee of 1% is calculated for buying or selling crypto assets on eToro. So, if you invest $1,000 in Dogecoin, you buy 5,000 units ($1,000/$0.2000). The value in your account will be ~$975 since ~$25 will be the total cost you will pay: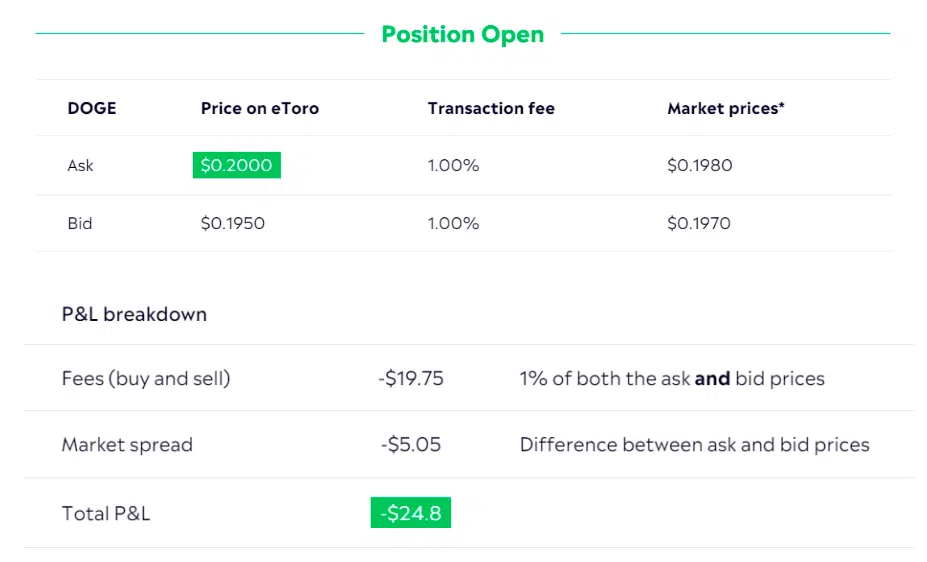 On CFDs, the fees may vary and include spreads and overnight fees. Spreads may be wide in less liquid products and differ within asset classes: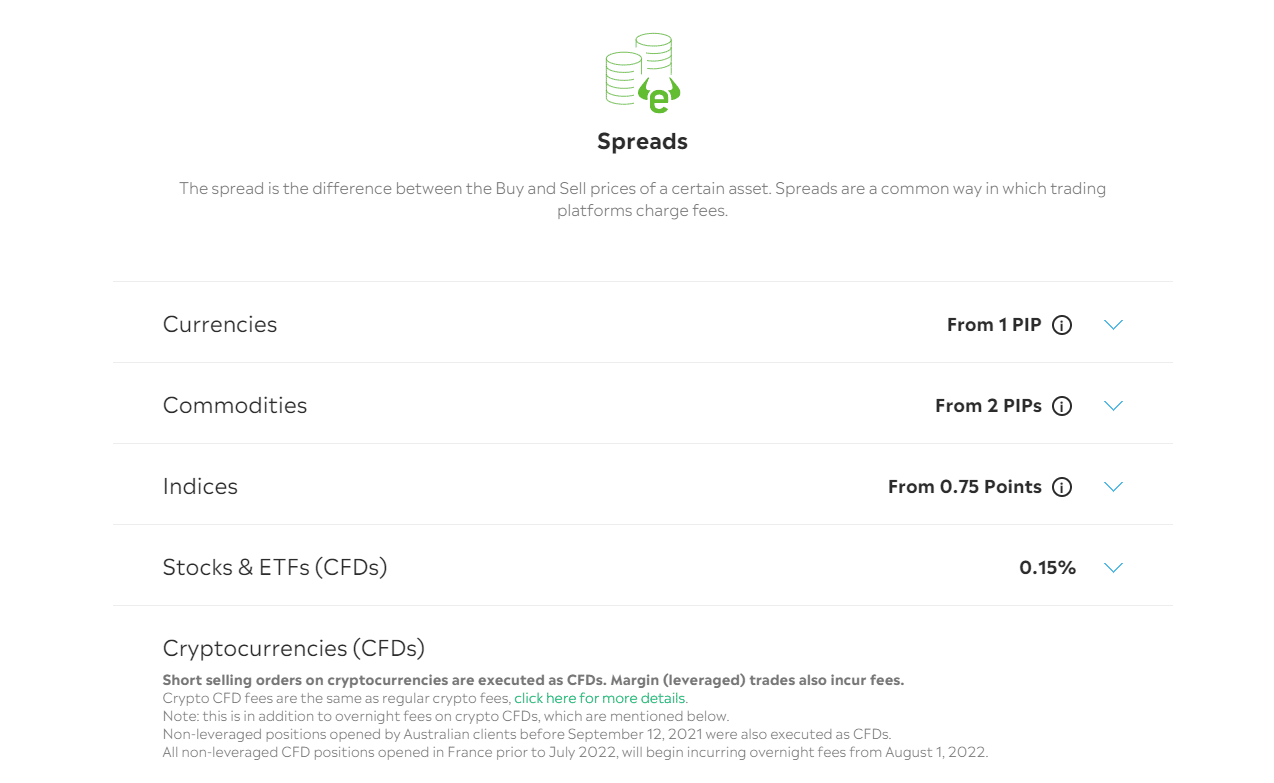 The overnight fee is applied in leverage positions. Since you are using borrowed money, you must make interest payments daily. The interest is based on the size of your exposure to the market and is calculated daily. This cost will be based on the Libor rate + eToro fee.
Concerning the non-trading costs, eToro has a page dedicated to it. In summary, it charges no extra fees for the CopyTrader™ or Smart Portfolios. No deposit fee applies, but if you deposit in EUR, CHF or any non-USD currency, you will be charged a currency conversion fee (depending on the type of deposit – bank transfer, credit card, PayPal, etc.).
There is a withdrawal fee of $5 per withdrawal – a minimum of $30 (Platinum, Platinum + and Diamond Club members are not subject to withdrawal fees). Finally, there is an inactivity fee of $10 per month if you do not log in to your account in the last 12 months.

8. Safety and Regulation
eToro segregates customer funds and maintains this level of protection across all subsidiaries. This means that if it goes bust or insolvent, its client's funds will be separated from the financial institution's funds. In practice, you would only need to transfer your assets from eToro to another broker.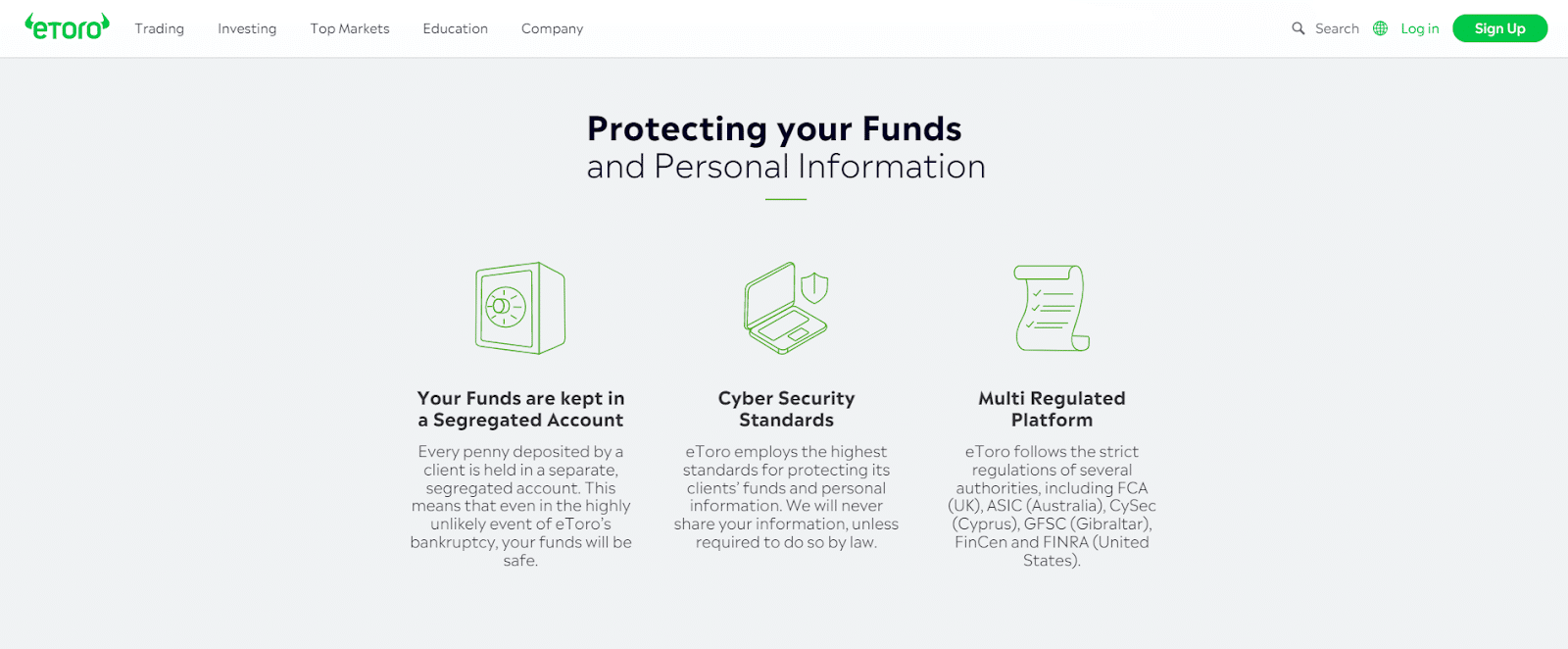 eToro is fully regulated and supervised by top-tier regulators such as the UK's Financial Conduct Authority (FCA) and the Australian Securities and Investments Commission (ASIC) in Australia. The subsidiary in Europe, formerly known as "eToro (Europe) Ltd," is authorised and regulated by the Cyprus Securities Exchange Commission (CySEC).
In addition to CySEC, FCA and ASIC regulations, eToro also maintains membership in the following Investor Compensation Schemes:
eToro (Europe) Ltd

: You are under the Central Bank of Ireland regulation meaning that you are protected up to €20,000 for 90% of the amount you have lost (cash + assets);

eToro (UK) Ltd

: You will be under the FCA jurisdiction which gives you a protection amount (cash + assets) up to £85,000.

eToro AUS Capital Limited

: ASIC does not provide a pre-defined protected investment amount. More info

here

.
Moreover, keep in mind that it is registered in several countries, meaning it must have authorisation from the local financial markets authorities. For instance, in the Netherlands and Germany, eToro is registered with the Netherlands Authority for the Financial Markets (AFM – Autoriteit Financiële Markten) and the Federal Financial Supervisory Authority (BaFin), respectively.
eToro is a private company, meaning there is less transparency in its financial situation compared to a company listed on the stock market. As a private company, it does not need to disclose its annual report on its site, for example. It intended to go public in 2022 through a SPAC, but it called off its plans due to the prevailing market environment.
Finally, besides the mandatory regulatory protections, eToro offers an additional layer of protection: a free insurance program only for Platinum + and Diamond Club customers of eToro (Europe) Ltd. and eToro AUS Capital Limited. Investors can obtain up to €/AUD$ 1,000,000 of protection by being in the program.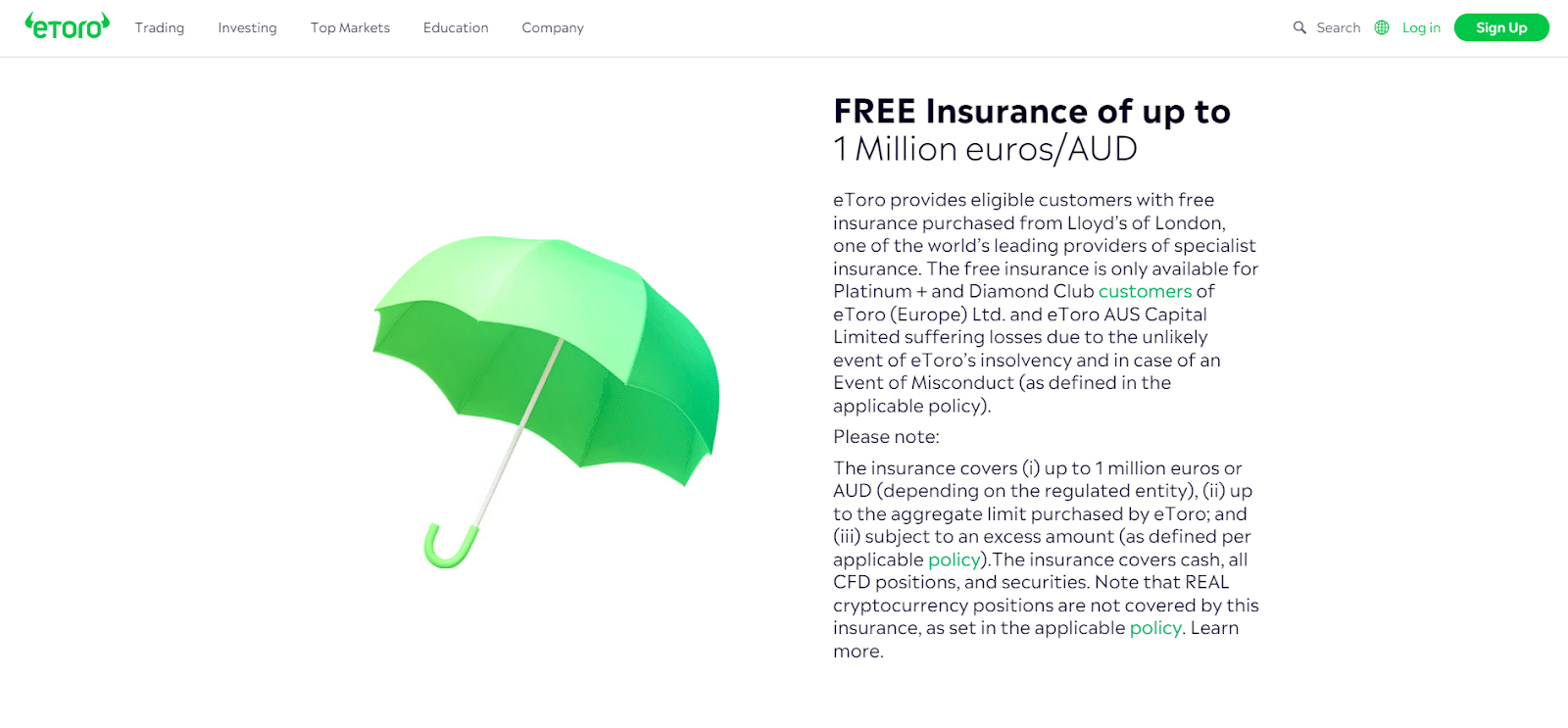 9. eToro's supported countries
eToro accepts clients from over 70 countries, including the United Kingdom, Germany, Netherlands, Canada, Spain, Australia, United Arab Emirates, among others. The complete list of available countries can be found here.
Due to regulation, eToro cannot legally offer its services in several countries. Some notable exceptions include India, Pakistan and Japan. The full list of restricted countries can be found here.
For regulatory reasons, eToro cannot provide its service to US citizens outside the USA.
10. Bottom Line
eToro is a pioneering social trading platform that enables users to follow and copy the strategies of successful traders. Together with commission-free trading in stocks and some ETFs, it tackles all kinds of investors.
This social aspect, combined with a wealth of educational resources, makes eToro a conducive platform for learning and growing as a trader. Furthermore, it's also recognised for its transparency, providing detailed information about each trader's risk score, past performance, and portfolio.
However, it's essential to be aware of some potential downsides. For instance, eToro's fee structure can be complex and may include conversion fees for non-USD deposits and withdrawals and overnight fees for CFD positions.
Let us know in the comments below your experiences with eToro!
_________________
eToro is a multi-asset platform which offers both investing in stocks and cryptoassets, as well as trading CFDs.
CFDs are complex instruments and come with a high risk of losing money rapidly due to leverage. 76% of retail investor accounts lose money when trading CFDs with this provider. You should consider whether you understand how CFDs work and whether you can afford to take the high risk of losing your money.
Past performance is not an indication of future results. Trading history presented is less than 5 complete years and may not suffice as basis for investment decision.
Copy Trading does not amount to investment advice. The value of your investments may go up or down. Your capital is at risk.
Don't invest unless you're prepared to lose all the money you invest. This is a high-risk investment, and you should not expect to be protected if something goes wrong. Take 2 mins to learn more.
eToro USA LLC does not offer CFDs and makes no representation and assumes no liability as to the accuracy or completeness of the content of this publication, which has been prepared by our partner utilizing publicly available non-entity specific information about eToro.