In the dynamic and evolving world of financial markets, having a reliable and efficient platform that caters to your specific needs is crucial. The best trading platform goes beyond providing essential functionalities and offers a range of additional features highly valued by traders. These features include fast and easy execution of orders at optimal prices, the ability to monitor instrument watchlists, instant alerts for important events, and access to real-time news updates.
In Malaysia, where there is a wide range of trading platforms available, finding the one that meets your requirements can be a challenging task. Each platform comes with its own unique features, tools, and services, making the selection process quite complex.
In this article, we will explore and compare the best trading platforms in Malaysia and compare the best options available. We will carefully analyze platform features, trading tools, pricing structures, customer support, and security measures. Continue reading this article to discover our list of the top trading platforms in Malaysia.
Best Trading Platforms in Malaysia
Interactive Brokers | Best for intermediate and advanced investors
Interactive Brokers offers a comprehensive range of trading platforms. Their investment platform, Trader Workstation (TWS), is an advanced desktop platform designed for active investors who engage in multi-product trading. Additionally, IBKR provides an easy-to-use mobile app called IBKR GlobalTrader.
Saxo Bank | Best for powerful trading tools
Saxo offers a range of trading platforms suitable for different needs. From the simple and fast SaxoInvestor platform to the award-winning SaxoTraderGO and the fully customizable SaxoTraderPRO, you can access powerful trading tools tailored to your preferences.
XTB | Best for forex and CFDs
XTB is a reputable online broker known for its xStation 5 trading platform, available on the web, desktop, and mobile. It provides an intuitive interface with access to advanced tools and customization options, making it suitable for Forex and CFD investors.
Pepperstone | Best for MetaTrader4 (MT4) and MetaTrader5 (MT5)
Pepperstone is a popular broker that offers several trading platforms like TradingView, MetaTrader4 (MT4), MetaTrader5 (MT5), and cTrader, which are well-suited for social trading and copy trading features, allowing users to replicate the trades and strategies of successful traders automatically.
Best Trading Platforms in Malaysia compared
Broker
Saxo Bank
Interactive Brokers
XTB
Pepperstone
Products available

Stocks, ETFs, Options, CFDs on Indices, Commodities, Forex, and Cryptocurrencies

Stocks, ETFs, Options, Futures, Forex, Commodities, Bonds, and Funds

CFDs on Stocks, ETFs, Indices, Commodities, Forex, and Cryptocurrencies

CFDs on Stocks, ETFs, Forex, Indices, Commodities and Cryptocurrencies

Minimum deposit

$2,000

$0

$0

$0

Deposit Method

Bank transfer, credit/debit card

Bank transfer

Bank transfer, credit/debit card, Skrill.

Bank transfer, credit/debit cards, PayPal, Neteller, and Skrill, and more.

Fees on stocks

Between $0.01 and $0.02 per US share (minimum between $1 and $5 per order)

Between 0.05% and 0.35% for other markets.

Between $0.0005 and $0.0035 per US share. Between 0.01% and 0.08% for other markets.

$0 on the CFDs on stocks (0.30% markup included on the spread).

$0.02 per side for US CFD shares

Between 0.07% and 0.20% per side for international CFD shares
In the following reviews, we discuss the features of each trading platform, where each broker differs in terms of pricing, accessible markets and instruments, and other special features.
1# Interactive Brokers
Interactive Brokers at a glance
Products available
Stocks, ETFs, Options, Futures, Forex, Commodities, Bonds, and Funds
Maximum Leverage
Up to 40x
Regulators
FINRA, SIPC, SEC, CFTC, IIROC, FCA, CBI, AFSL, SFC, SEBI, MAS, MNB
Founded in 1978, Interactive Brokers is one of the largest international brokers listed on the NASDAQ exchange (Ticker: IBKR) and regulated by many international top-tier regulators no minimum deposit requirement.
Interactive Brokers supports various account base currencies, including USD, EUR, and other major currencies. However, funding these accounts is limited to bank transfers. They offer one of the tightest spreads in the market, ensuring favourable trading conditions, but their commission is tier-based, meaning it varies depending on your monthly trading volume.
Interactive Brokers offers a comprehensive range of trading platforms to cater to the diverse needs of traders. These platforms include the web-based Client Portal, the GlobalTrader Mobile app, and the professional-grade Trader Workstation (TWS), offering a wide array of features and tools to meet the diverse needs of traders.
The web-based Client Portal is designed to be user-friendly, making it accessible to both beginners and experienced investors. It provides real-time monitoring, customizable watchlists, alerts, and a range of advanced features, such as over 120 technical indicators for advanced technical analysis. Traders can create personalized templates, access advanced charting tools, utilize various order types, and benefit from Smart Routing, which selects the optimal trading route for each trade.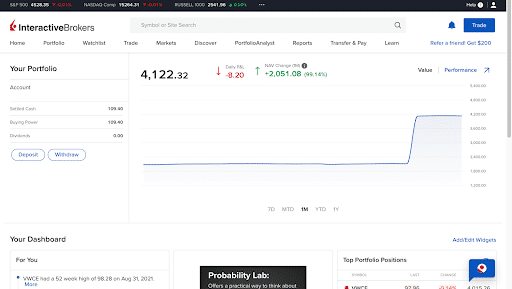 Best Trading Platforms in Malaysia – IBKR Web App
For traders who prefer to trade on the go, Interactive Brokers offers the IBKR Mobile app providing convenience and advanced functionality. A notable feature of IBKR Mobile is the chatbot IBot, which allows users to quickly access basic information and execute or close orders directly through the chat interface. IBot serves as a natural language trading interface, enabling traders to complete key trading tasks in TWS using plain English commands. This feature enhances the user experience and simplifies trading activities.
IBKR GlobalTrader is another mobile trading app offered by Interactive Brokers that allows traders to engage in simple and worldwide trading. The app offers the flexibility to trade in fractions and invest with as little as $1, making trading accessible to traders of all levels. You can also open a simulated trading account to practice trading before opening a live account and gain access to $10,000 in simulated cash to trade in a simulated trading environment.
On the downside, you might be overwhelmed by the number of buttons and features available on each platform, especially if you are new to trading. However, Interactive Brokers offers a lot of educational materials and video tutorials to assist you in navigating and utilizing their platforms effectively. These resources can be beneficial regardless of the specific platform you are trading or using.
We recommend you check out our comprehensive Interactive Brokers review.
Best trading platforms in Malaysia reviewed
2# Saxo Bank
Saxo Bank at a glance
Products available
Stocks, ETFs, Options, CFDs on Indices, Commodities, Forex, and Cryptocurrencies
Maximum Leverage
Up to 400x
Regulators
ASIC, FSA, FCA, SFC, MAS, FINMA, and DFSA
Saxo Bank is a distinguished multi-asset broker renowned for its exceptional trading platform experience and extensive range of over 72,000 tradable instruments. It was founded in 1992 and offers a comprehensive suite of trading tools, in-depth research capabilities, and premium features. They are at the top of our list of best trading platforms in Malaysia.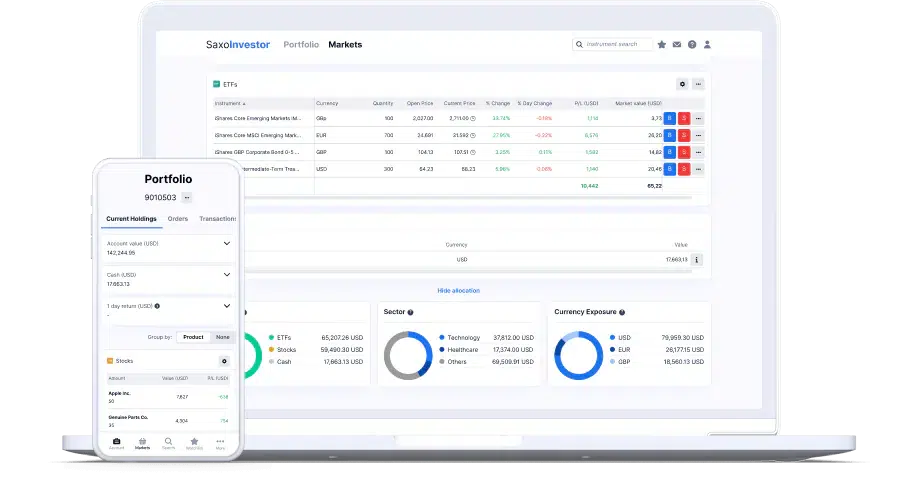 Saxo Investor Trading Platform
Saxo offers a range of trading platforms designed to meet the diverse needs of investors.
SaxoInvestor

, their simple and fast investment platform, is ideal for beginners. It provides curated stock lists, trending investment themes, and easy access to a variety of asset classes such as stocks, mutual funds, ETFs, bonds, and managed portfolios. You can conveniently manage your investments on your phone, tablet, or computer;

For more experienced traders,

SaxoTraderGO

is an award-winning platform with advanced features. It offers enhanced trade tickets, comprehensive charting tools, options chains, performance analysis, fundamental and technical analysis tools, and a detailed account overview. It supports both mobile and desktop access, allowing traders to set up a one-screen layout or utilize a second screen for charting;

SaxoTraderPRO

is their fully customizable, professional-grade platform, equipped with features like algorithmic orders, one-click trading, options chains, and advanced charting packages. You can fully customize the workspace across multiple screens and benefit from advanced workspace management and multi-channel linking between modules.
Saxo also provides connectivity to third-party platforms, allowing you to extend your capabilities through custom tools that suit your specific trading requirements. These tools include asset-specific analysis tools, advanced strategy backtesting, and hyper-responsive charting. Saxo ensures best-in-class execution and competitive pricing across all their platforms, and traders can connect to Saxo's capital markets infrastructure through FIX API or OpenAPI for tailored multi-asset liquidity and seamless access to market data.
Saxo Bank lets you open an account in a wide range of currencies, including USD, EUR, GBP and several other major currencies. However, it is important to note that the minimum initial funding requirement is USD 2,000, which may be higher than some other brokers.
3# XTB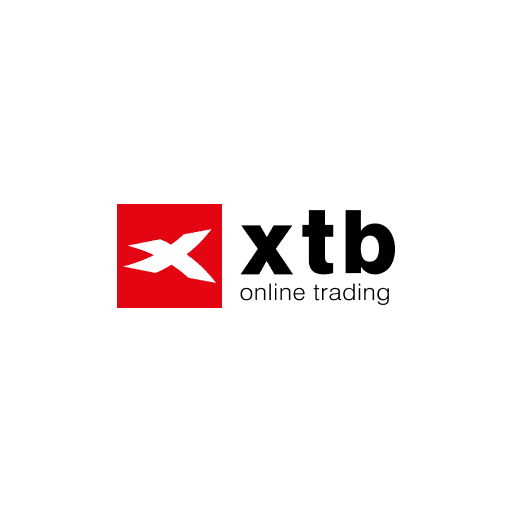 Visit XTB
79% of retail CFD account lose money.
XTB at a glance
Products available
CFDs on Stocks, ETFs, Indices, Commodities, Forex, and Cryptocurrencies
Maximum Leverage
Up to 500x
Regulators
FCA, KNF, CySEC and FSC
XTB, a renowned global CFD broker, has been operating since 2002 and serves over 500,000 clients. The company is publicly listed on the Warsaw stock exchange and is regulated by multiple top regulatory authorities, ensuring compliance with financial standards. XTB gives you access to trade a diverse range of CFD instruments, including Forex, indices, commodities, shares, ETFs, and cryptocurrencies, all offered at competitive pricing with low spreads.
XTB offers beginner and experienced traders a dynamic trading experience with its two trading platforms, xStation5 (desktop-based) and xStation (mobile), which have advanced charting tools and indicators. xStation 5 provides a user-friendly interface and customizable features with several advantageous features, including a trader calculator that facilitates margin and commission calculations for each trade. You can set up alerts and notifications simply and conveniently, allowing you to receive email, SMS, or push notifications for specific events such as margin calls, deposits, or withdrawals.
Additionally, you can generate daily email reports and get regular updates on your account's performance. xStation 5 also offers an extensive array of chart analysis tools with over 34 indicators and the ability to compare charts. Moreover, you have the flexibility to customize the toolbar according to your preferences, allowing you to display only the analytical tools you frequently use.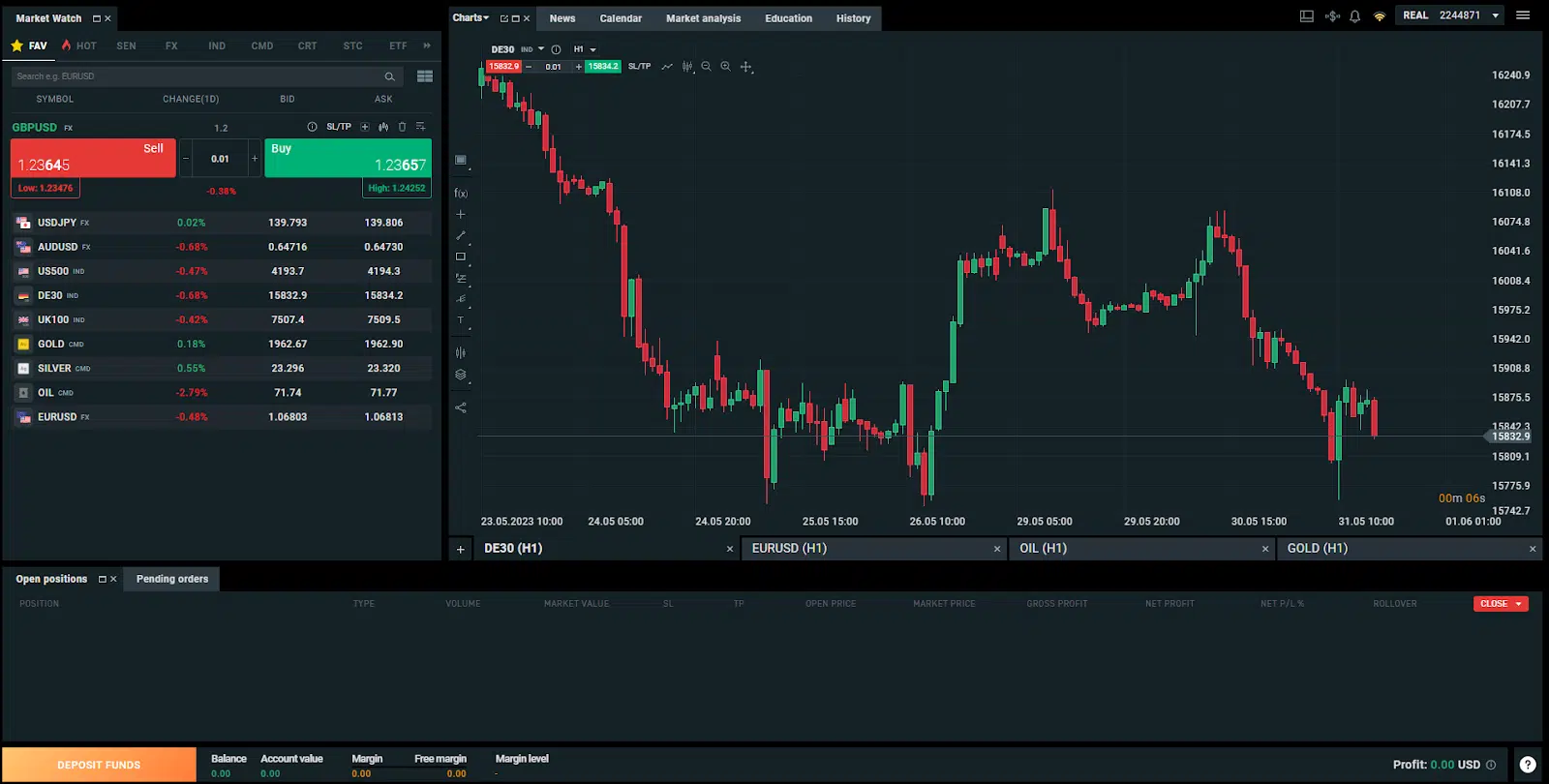 XTB xStation5 – Web portal
XTB stands out among its peers regarding educational materials and client support. It has a comprehensive online library with many videos that help you enhance your trading skills and knowledge. Furthermore, XTB provides excellent customer service via live chat, phone support, and email.
On the down side, XTB charges a $20 fee for withdrawals of less than $100, but they do not impose a fee on withdrawals over that amount. Additionally, they charge a $10 monthly fee after 12 months of inactivity.
Read our XTB review for further insights.
4# Pepperstone
Visit Pepperstone
74-89% of retail CFD accounts lose money.
Pepperstone at a glance
Products available
CFDs on Stocks, ETFs, Forex, Indices, Commodities and Cryptocurrencies
Maximum Leverage
Up to 500x
Regulators
ASIC, SCB, CySEC, FCA, BaFin, and DFSA
Pepperstone was established in 2010 and currently serves more than 300,000 traders across the globe. It is an ideal CFD broker for Malaysians looking to trade on the famous MetaTrader4 and MetaTrader5 platforms while enjoying free deposits and withdrawals. Additionally, Pepperstone provides access to trade CFDs across various asset classes, including shares, indices, commodities, ETFs, and currency indexes. Traders can take advantage of high leverage with a maximum of 1:400, but it's important to remember that higher leverage can also increase risk.
With Pepperstone's range of trading platforms, you can access reliable technology, fast execution, and diverse tools to enhance. In addition to MT4 and MT5, Pepperstone offers cTrader the possibility of integrating TradingView. Here's a brief description highlighting the main features of each platform.
MetaTrader 4 (MT4):

It is the renowned Forex trading platform where you can customize the platform to match your trading style, create and execute expert advisors using MQL4, identify high probability trades with Autochartist, and utilize a wide range of 28 indicators and expert advisors with Smart Trader Tools;

MetaTrader 5 (MT5):

The platform offers enhanced functionality, advanced features and easy coding with MQL5. It provides faster processing, 38 inbuilt indicators, 21 timeframes and advanced customization options;

cTrader: An intuitive and user-friendly trading platform designed to provide advanced features allowing you to control slippage and order fills. You can benefit from FIX API connectivity and coding in C# with cTrader Automate, and it offers powerful charting and extensive customization options. TradingView is easily integrated with Pepperstone through cTrader, where you will get access to the web-based social network for traders. It enables interaction and facilitates the sharing of trading ideas among a large trading community.
What Makes a Good Trading Platform?
A well-designed and efficient trading platform can significantly enhance your trading experience and improve your chances of success in the financial markets. Here are some key factors that make a trading platform stand out:
User-friendly interface:

Intuitive and easy-to-navigate interface that enables smooth and seamless trading with a clear and organized layout;

Order execution:

Fast and efficient order execution with minimal slippage and a platform that supports various order types to suit different trading strategies, including market orders, limit orders, stop orders, and others;

Regulation:

Regulation by reputable financial authorities to ensure compliance with industry standards and protect investor interests;

Customization and personalization:

Ability to save and customize watchlists, create personalized trading templates, and set up custom alerts. If you are a professional trader, you might be looking for a platform that is highly customizable;

Excellent customer support:

Availability of multiple channels of support, such as live chat, email, and phone, with knowledgeable and responsive support representatives;

Products available: A diverse selection of assets allows you to explore various markets, diversify your portfolio, and take advantage of different investment opportunities. You might want to consider a trading platform that includes the main products you want to trade.
The Bottom Line
Identifying the best trading platforms in Malaysia can be challenging, given the numerous options available. In this review, we have highlighted the key features of the top trading platforms in Malaysia, which are summarized below:
Best Trading Platforms in Malaysia
To discover the most suitable broker for your needs, our "Help Me Choose" tool is at your disposal. Additionally, you can refer to our comprehensive comparison table, which offers an in-depth analysis of the essential features provided by different global brokers. Additionally, you can check our reviews for an in-depth analysis of each broker and its platform
Whether you are a new investor or a seasoned professional, we hope this article helped answer a few of your concerns. When choosing a trading platform, we recommend opening a demo account and testing the features before making the final decision. Please let us know in the comments section if you have any feedback.
Is online trading legal in Malaysia?
Yes, online trading is legal in Malaysia, and the Securities Commission Malaysia supervises the financial markets. Although the Securities Commission Malaysia does not regulate some brokers, you can open an account with an international broker and engage in online trading.
What is the minimum balance to start trading in Malaysia?
Many brokers do not have any minimum balance requirement, so you can start trading with as low as $1.
Can I trade Forex in Malaysia?
Yes, you can trade Forex in Malaysia. You can check our article on the best Forex brokers in Malaysia which provides an in-depth comparison and analysis of various Forex brokers.
Can I trade multiple asset classes on trading platforms in Malaysia?
Yes, many trading platforms in Malaysia offer access to multiple asset classes, including stocks, bonds, commodities, and Forex.
Can I use demo accounts on trading platforms in Malaysia to practice trading before investing real money?
Yes, many trading platforms offer demo accounts that allow you to practice trading strategies and familiarize yourself with the platform without risking real money. All the trading platforms mentioned in this article offer demo accounts.