Navigating the world of trading while upholding Islamic principles can pose a challenge. However, with the right trading platform, you can seamlessly manage your investments while adhering to Halal guidelines. Choosing one of the best Halal trading apps or platforms enables you to streamline your trading activities and adhere to your religious and ethical beliefs.
Besides, the best trading platforms offer other features highly valued by traders, such as placing orders quickly, easily, and at the best possible price, tracking a watchlist of instruments, sending alerts instantly on pre-specified events, and providing news streaming and updates.
In this article, we delve into the leading Halal trading apps and platforms. Our detailed comparison, curated through extensive research, empowers you to make an informed decision that aligns with your unique trading preferences and religious convictions.
Best Halal Trading Apps & Platforms in 2023
76% of retail CFD accounts lose money.
77% of retail CFD account lose money.
Best Halal Trading Apps & Platforms Compared
| | | | | | |
| --- | --- | --- | --- | --- | --- |
| Platform | Products available | Minimum deposit | Regulators | Demo account | Countries |
| eToro | ETFs, Stocks, Cryptocurrencies and CFDs on Stocks, ETFs, Commodities, Forex, Indices and Cryptocurrencies | $1,000 | FCA, ASIC, CySEC | Yes | International, exceptions apply |
| XTB | CFDs on Stocks, ETFs, Indices, Commodities, Forex, and Cryptocurrencies | $0 | FCA, KNF, CySEC, and FSC | Yes | MENA region |
| Sarwa | ETFs, Stocks, and Cryptocurrencies | $1 for Sarwa Trade; $500 for Halal portfolios | FSRA | No | International, exceptions apply |
| Interactive Brokers | Stocks, ETFs, Options, Futures, Forex, Commodities, Bonds, and Funds | $0 | FINRA, SIPC, SEC, CFTC, IIROC, FCA, CBI, AFSL, SFC, SEBI, MAS, MNB | Yes | International, few exceptions apply |
| Wealthsimple | Stocks, ETFs, and Cryptocurrencies. | $0 | IIROC | No | Canada |
| Robinhood | Stocks, ETFs, Cryptocurrencies and Options | $0 | SEC and FINRA | No | US |
| Wahed Invest | ETF portfolios | $100 | FCA, SEC, FSRA, and SC | No | International |
Best Halal Trading Apps & Platforms Reviewed
#1 eToro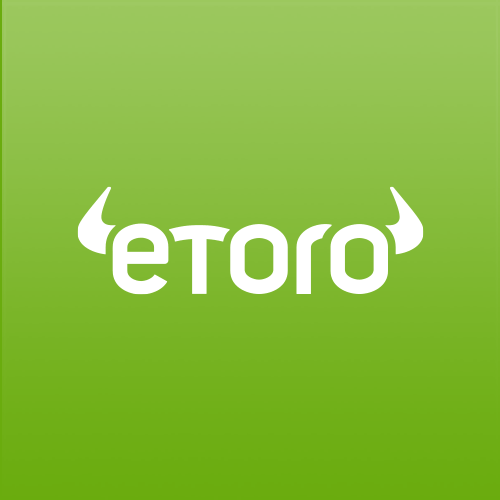 Visit eToro
76% of retail CFD accounts lose money.
eToro at a glance
Products available
ETFs, Stocks, Cryptocurrencies and CFDs on Stocks, ETFs, Commodities, Forex, Indices and Cryptocurrencies
Regulators
FCA, ASIC, CySEC
Founded in 2007, eToro is a leading online trading platform that offers users access to various financial instruments, including stocks, ETFs, cryptocurrencies, and commodities. The platform's user-friendly interface has made it a popular choice for both new and experienced investors worldwide. Notably, eToro's copy trading and social trading capabilities enable users to follow successful traders, copy their trades, and engage in market discussions within a community of over 30 million users.
eToro offers Islamic accounts that comply with Sharia law. The Islamic account ensures a Riba-free environment throughout the contract.It offers benefits such as no rollover commissions for contracts lasting over 24 hours, zero charges for account management, and interest-free leverage. To open an eToro Islamic account, you need to register for a real account, invest a minimum of $1,000, provide identification documents for account verification, and contact customer support for confirmation.
eToro provides an extensive selection of more than 5,000 financial instruments, including stocks, ETFs, CFDs on commodities, Forex, and cryptocurrencies. The platform also offers the opportunity to invest in pre-made investment portfolios known as Smart Portfolios, which group together multiple assets or traders based on specific themes or strategies. Additionally, you can choose the most suitable verified trader to follow and copy, considering factors such as past Return on Investment (ROI), risk profile, and other relevant criteria.
The user-friendly web platform caters to beginners with an intuitive layout and various features to enhance the trading experience, including one-click trading, limit orders, and advanced charting tools. The eToro Research Tab, powered by TipRanks, aids users in making informed investment decisions by providing valuable insights and analysis.
For a detailed analysis, explore our comprehensive eToro review.
#2 XTB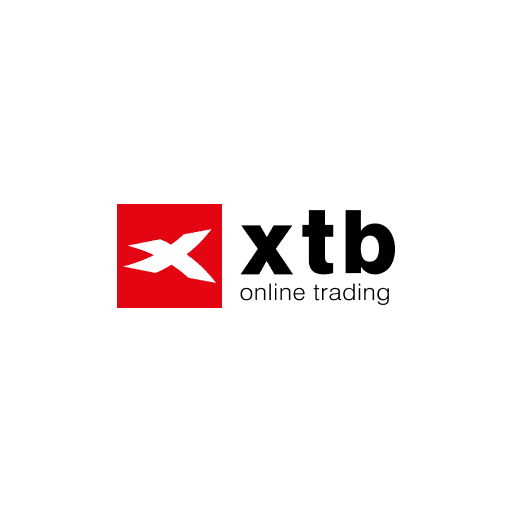 Visit XTB
77% of retail CFD account lose money.
XTB at a glance
Products available
CFDs on Stocks, ETFs, Indices, Commodities, Forex, and Cryptocurrencies
Regulators
FCA, KNF, CySEC, and FSC
XTB, a renowned global CFD broker, has been operating since 2002 and serves over 800,000 clients. The company is publicly listed on the Warsaw stock exchange and is regulated by multiple top regulatory authorities, ensuring compliance with financial standards. XTB offers Islamic trading accounts compliant with Islamic principles, providing traders with swap-free options and cashback opportunities.
The XTB Islamic account is available through XTB International and is accessible to clients from specific countries, including the UAE, Saudi Arabia, Kuwait, Oman, Qatar, Jordan, Bahrain, Lebanon, Egypt, Algeria, Morocco, Tunisia, and Malaysia. The platform offers access to an extensive range of CFD instruments, including Forex, indices, commodities, shares, ETFs, and cryptocurrencies, all at competitive pricing with minimal spreads. They give you access to over 1,500 markets at a leverage of up to 200x without charging swaps or interest.
XTB offers beginner and experienced traders a dynamic trading experience with its two trading platforms, xStation5 (desktop-based) and xStation (mobile), which have advanced charting tools and indicators. xStation 5 provides a user-friendly interface and customisable features with several advantageous features, including a trader calculator that facilitates margin and commission calculations for each trade. You can conveniently set up alerts and notifications to receive updates on specific events through email, SMS, or push notifications, such as margin calls, deposits, or withdrawals.
Furthermore, XTB distinguishes itself with its extensive educational materials and robust customer support. The platform offers a comprehensive online library featuring numerous videos to enhance traders' skills and knowledge. Additionally, users can access reliable customer service through various channels, including live chat, phone support, and email.
For more detailed insights, you can read our XTB review.
#3 Sarwa
Sarwa at a glance
Products available
ETFs, Stocks, and Cryptocurrencies
Minimum Deposit
$1 for Sarwa Trade; $500 for Halal portfolios
Sarwa, a UAE-based fintech company established in 2017, offers two distinct investment services: Sarwa Invest and Sarwa Trade. Sarwa Invest functions as a Robo-advisor, providing a selection of low-cost, automated portfolios, including a Halal portfolio, while Sarwa Trade serves as a trading platform where you can trade thousands of stocks and Exchange-Traded Funds.
Sarwa's Halal portfolios include companies that adhere to Islamic laws and principles of investing and abstain from activities such as alcohol, gambling, tobacco, pork, interest, and others. These portfolios include Sharia-compliant ETFs from various asset classes, such as fixed income, commodities, US equities, global developed world equity, and global emerging markets equity. They offer seven different risk levels, from very conservative to aggressive, and the minimum investment required to access their Halal portfolios is $500. They charge a small fee ranging between 0.50% and 0.85%, depending on how much money you invest.
If you want to do your own investing or trading, you can use Sarwa Trade, which is regulated by the Financial Services Regulatory Authority (FSRA) in the Abu Dhabi Global Markets (ADGM). They offer fast deposits without any minimum deposit requirement, where you can start with as little as $1. You can access over 4,000 US stocks and ETFs with a commission of $1 or 0.25% of the traded value.
Sarwa also extends a Sharia-compliant Sarwa Save Halal feature, enabling users to park their savings and potentially earn an annual return rate of up to 3%. The underlying assets for this feature include the Emirates Islamic Money Market Fund, with an associated management fee of 0.5% per year.
Also, if you sign up with the promo code GHEF9ED9, you'll get a $50 bonus.
#4 Interactive Brokers
Interactive Brokers at a glance
Products available
Stocks, ETFs, Options, Futures, Forex, Commodities, Bonds, and Funds
Regulators
FINRA, SIPC, SEC, CFTC, IIROC, FCA, CBI, AFSL, SFC, SEBI, MAS, MNB
Founded in 1978, Interactive Brokers is one of the largest international brokers listed on the NASDAQ exchange (Ticker: IBKR) and is regulated by many international top-tier regulators with no minimum deposit requirement. Interactive Brokers does not explicitly have an Islamic account; however, if you trade using a cash account, you won't be charged any interest.
The Interactive Brokers cash account requires you to maintain enough cash in the account to cover the cost of a transaction plus commissions. It is a Sharia-compliant account since it follows the following rules:
No shorting of stock or futures day trading benefits

Limited purchase and sale of options, and multi-currency trading is allowed through Forex conversions.

Cash from the sale of stock, options and futures becomes available when the transaction settles. Accordingly, you won't be able to trade until the money is available. Hence, no interest will be charged.
Interactive Brokers supports various account base currencies, including GBP, USD, EUR, and other major currencies. However, funding these accounts is limited to bank transfers. They offer one of the tightest spreads in the market, ensuring favourable trading conditions, but their commission is tier-based, meaning it varies depending on your monthly trading volume.
Interactive Brokers offers a comprehensive range of trading platforms to cater to the diverse needs of traders. These platforms include the web-based Client Portal, the GlobalTrader Mobile app, and the professional-grade Trader Workstation (TWS), offering a wide array of features and tools to meet the diverse needs of traders.
The web-based Client Portal is designed to be user-friendly, making it accessible to both beginners and experienced investors. It provides real-time monitoring, customisable watchlists, alerts, and advanced features, such as over 120 technical indicators for advanced technical analysis. Traders can create personalised templates, access advanced charting tools, utilise various order types, and benefit from Smart Routing, which selects the optimal trading route for each trade.
For traders who prefer to trade on the go, Interactive Brokers offers the IBKR Mobile app, providing convenience and advanced functionality. IBKR GlobalTrader is another mobile trading app offered by Interactive Brokers that allows traders to engage in simple and worldwide trading. The app offers the flexibility to trade in fractions and invest with as little as $1, making trading accessible to traders of all levels. You can also open a simulated trading account to practice trading before opening a live account and gain access to $10,000 in simulated cash to trade in a simulated trading environment.
On the downside, you might be overwhelmed by the number of buttons and features available on each platform, especially if you are new to trading. However, Interactive Brokers offers a lot of educational materials and video tutorials to assist you in navigating and utilising their platforms effectively. These resources can be beneficial regardless of the specific platform you are trading or using.
We recommend you check out our comprehensive Interactive Brokers review.
#5 Wealthsimple
Wealthsimple at a glance
Products available
Stocks, ETFs, and Cryptocurrencies
Founded in 2014, Wealthsimple is one of Canada's leading commission-free investment platforms. It is regulated by the Investment Industry Regulatory Organization of Canada (IIROC) and offers three smart wealth management solutions that are available for investors:
Wealthsimple Invest:

A Robo-advising service enabling investment in automatically managed portfolios, facilitating automatic deposits of additional funds, reinvestment of dividends, and access to financial advisors. Wealthsimple Invest provides halal portfolios compliant with Islamic law;

Wealthsimple Cash:

A debit card for daily purchases that offers 1% back in cash, stock, or crypto;

Wealthsimple Trade:

A commission-free stock and ETF trading application.
A board of Islamic researchers certifies and audits semi-annually the halal portfolio. This audit yields a certificate approving the ETF's structure, which is then reviewed and signed by a committee of Sharia scholars. They conduct quarterly reviews to exclude non-compliant companies and include new ones that adhere to Sharia principles. Additionally, dividend purification details are calculated by a third party and published on a quarterly basis.
If you are looking for self-directed investing, they offer the Wealthsimple Self-directed Investing account, which lets you buy and sell stocks and ETFs without trading commissions. You can access thousands of stocks and ETFs across the TSX, NYSE, NASDAQ, NEO, BATS, and CSE.
You can sign up and begin trading with as little as $1. Managed investing fees range from 0.20% to 0.50% per year, depending on your assets under management. Moreover, no fees are incurred when trading Canadian stocks. However, each trade involving US stocks incurs a 1.50% currency conversion fee when converting CAD to USD.
#6 Robinhood
Robinhood at a glance
Products available
Stocks, ETFs, Cryptocurrencies and Options
Robinhood is a widely recognised commission-free trading platform that has gained substantial popularity since its establishment in 2013. The platform's user-friendly interface and accessibility have attracted a large number of new and young investors. Although not explicitly labelled as a halal trading platform, Robinhood offers a diverse range of investment options and features aligned with Islamic investors' preferences.
The platform allows users to trade various assets, including stocks, options, ETFs, and cryptocurrencies, without incurring commission fees. Additionally, it provides a cash management account, offering users a debit card and a high-yield savings feature. It is important to note that Robinhood exclusively accepts clients from the United States.
While utilising Robinhood as a halal investing app, conducting due diligence is crucial to ensure investments are made in halal businesses, as the app does not conduct this assessment for you. However, Robinhood enables clients to use third-party screening services to identify companies that adhere to Sharia rules, allowing for the platform's use as a Shariah-compliant investment platform. Through this approach, Robinhood users can invest in securities that fully align with the basic principles of Shariah.
Robinhood's trading platform has been praised for its advanced charting features, enabling customers to view technical indicators such as moving averages. Moreover, it grants investors access to OTC stocks and IPOs. Robinhood does not charge commissions or impose annual, inactivity, or ACH transfer fees. You can open a Robinhood account through this Robinhood referral link (built-in referral code), and upon meeting the qualifying criteria, you will receive a free stock valued at up to $200. For further details, refer to our article on how to obtain the Robinhood bonus.
#7 Wahed Invest
Wahed Invest at a glance
Products available
ETF portfolios
Regulators
FCA, SEC, FSRA, and SC
Wahed Invest is a Robo-advisor founded in 2015 known for its exclusive offering of halal investing portfolios that operate in strict adherence to Sharia principles. With a global presence, including offices in 10 countries such as the US, UK, and UAE, Wahed caters to a diverse clientele, serving over 300,000 customers across more than 100 countries.
The platform employs rigorous screenings for every potential asset, ensuring that all investments align with Islamic principles by avoiding tobacco-related businesses, excess debt, alcohol, firearms, gambling, adult entertainment, impure food stocks, and usurious institutions. They have a dedicated Sharia board that ensures all returns are halal.
Wahed provides a diverse range of risk profiles, spanning from very conservative to very aggressive. These profiles comprise a mix of holdings, including US equities, international equities, Sukuk, REITs, and Gold. To begin your journey with Wahed, you start by filling out a comprehensive risk assessment questionnaire. Then, they will provide you with a tailored portfolio recommendation that aligns with your risk assessment, ensuring it suits your specific investment preferences. After that, you can proceed to complete the necessary registration forms and transfer funds into your Wahed account.
Wahed follows a straightforward annual fee structure, charging 0.79% per year for investments below $100,000 and 0.49% per year for investments of $100,000 and above. A minimum investment of $100 is required to activate your Wahed account and start your investment journey.
Identifying Halal Investment Apps
Ensuring the compliance of an investment app with Islamic principles depends largely on its usage. Most traditional investment services can be considered halal investment apps if utilised without incurring excessive debt, profiting from interests, or investing in prohibited businesses. It is crucial for investors to carefully examine the investment products and practices offered by these platforms to ensure they align with Islamic finance principles before they start investing in these products. Additionally, the app's transparency regarding its investment process, fees, and compliance checks is crucial.
How to know if my investment is Sharia-compliant?
Determining whether an investment is Sharia-compliant involves a careful assessment of the underlying company's activities and financial practices to ensure they align with Islamic principles. Some key factors to consider when evaluating the compliance of a stock include:
Business Activities:

Assess whether the company's primary business activities involve industries such as alcohol, tobacco, gambling, or adult entertainment, which are considered non-compliant with Islamic principles.

Financial Practices:

Evaluate the company's financial practices, such as the use of interest-bearing instruments or excessive debt, as these are generally not in line with Sharia finance principles.

Revenue Sources:

Examine the sources of the company's revenue to ensure they do not originate from prohibited activities, such as interest income or unethical business practices.

Debt Levels:

Verify that the company's debt levels are within acceptable limits according to Sharia standards, as excessive debt can render a stock non-compliant.

Sharia Board Approval:

Look for stocks that have received approval from Sharia boards or scholars who specialise in Islamic finance and can provide guidance on the compliance of a company's operations.
While individual investors can perform some basic research, consulting with third-party providers or using specialised screening tools that focus on Sharia-compliant investing can help in the thorough analysis of a stock's compliance with Islamic principles. One such tool is Zoya, which takes the guesswork out of halal investing by providing reliable Sharia compliance reports for over 20,000 global stocks. Zoya's features include a portfolio tracker, the ability to buy and sell stocks, and access to ETF and mutual fund screeners based on their Shariah compliance status. Additionally, the platform offers smart alerts to monitor changes in compliance and facilitates precise Zakat calculations for users to fulfil their religious obligations seamlessly. For instance, you can link your Robinhood account to Zoya and start investing directly from the app.
In conclusion, the growing demand for halal investment solutions has paved the way for the emergence of several reputable trading apps and platforms tailored to the needs of Islamic investors. In this review, we have highlighted the key features of the top halal trading platforms and apps, which are summarised below:
Throughout this comprehensive analysis, we have highlighted the essential features and benefits of these top halal trading apps and platforms in 2023. Whether you are a new investor or an experienced professional seeking to align your financial strategies with Sharia principles, we hope this article has provided valuable insights. When selecting a trading platform, we recommend opening a demo account to test the features before making your final decision. We welcome any feedback or questions you may have in the comments section.
What is Halal investing?
In Islamic finance, investing can be considered halal if it adheres to the principles outlined in Sharia law. This includes avoiding investments in businesses considered haram, such as those related to alcohol, gambling, or unethical financial practices. Halal investing focuses on ethical and responsible investment strategies that align with Islamic values and principles.
What is a Halal trading platform?
A halal trading platform is a financial platform that enables users to invest in a manner compliant with Islamic finance principles.
What is the minimum balance to start trading with a Halal trading platform?
Many Halal trading platforms do not have any minimum balance requirements, so you can start trading with as little as $1.
Can I use demo accounts on Halal trading platforms to practice trading before investing real money?
Yes, many Halal trading platforms offer demo accounts that allow you to practice trading strategies and familiarise yourself with the platform without risking real money.