As the demand for online trading continues to rise, brokers and financial institutions are constantly seeking innovative solutions to establish their presence in the market.
The MT5 white label platform is one such solution that has acquired great popularity and is a viable alternative for businesses looking to enter the trading industry. The MT5 platform is already one of the most popular choices for retail and institutional Forex and CFD traders worldwide, offering advanced features, flexibility, and customisability. It has become a go-to choice for brokers looking to establish their own branded trading environment.
In this article, we will explore the best MT5 white label platforms available, providing you with a comprehensive overview of the leading providers and their offerings. Whether you're a startup brokerage or an established financial institution looking to enhance your trading services, understanding the benefits and features of MT5 white label solutions is essential.
But first, let's delve into what exactly the MT5 white label entails.
What is a MetaTrader 5 (MT5) White Label Broker?
An MT5 white label solution allows businesses to establish their own branded trading environment by partnering with a technology provider.
This solution allows you to customise the platform with your own branding elements, including logos, colours, and company information.
By choosing an MT5 white label solution, you can leverage the platform's advanced features, functionality, and infrastructure without investing in establishing and maintaining your own trading platform. This allows you to concentrate on your core business activities, such as client acquisition, customer service, and risk management, while providing your users with a powerful and dependable trading platform.
MT5 was developed by MetaQuotes Software and launched following the success of the earlier MetaTrader 4 (MT4) platform. MT5 is designed to provide traders with advanced features, enhanced functionality, and improved performance. Some key features of MT5 include:

Advanced charting:

MT5 offers a wide range of charting tools, indicators, and timeframes, allowing traders to perform in-depth technical analysis.

Multiple order types:

Traders can place different types of orders, including market orders, pending orders, stop orders, and limit orders, to execute trades according to their specific strategies.

Algorithmic trading:

MT5 supports automated trading using Expert Advisors (EAs) and trading robots. Traders can develop their own EAs or choose from a vast library of pre-built ones.

Market depth:

MT5 provides access to market depth information, allowing traders to see the liquidity and volume levels at different price levels. This helps in making more informed trading decisions.

Mobile and web trading:

MT5 is available as a desktop application but also offers mobile and web versions.

Backtesting and optimisation:

Traders can test and optimise their trading strategies using historical data within the MT5 platform, helping them evaluate the potential performance of their strategies before deploying them in live markets.

Support for more financial instruments: MT5 supports a wider range of financial instruments than MT4, including stocks and ETFs.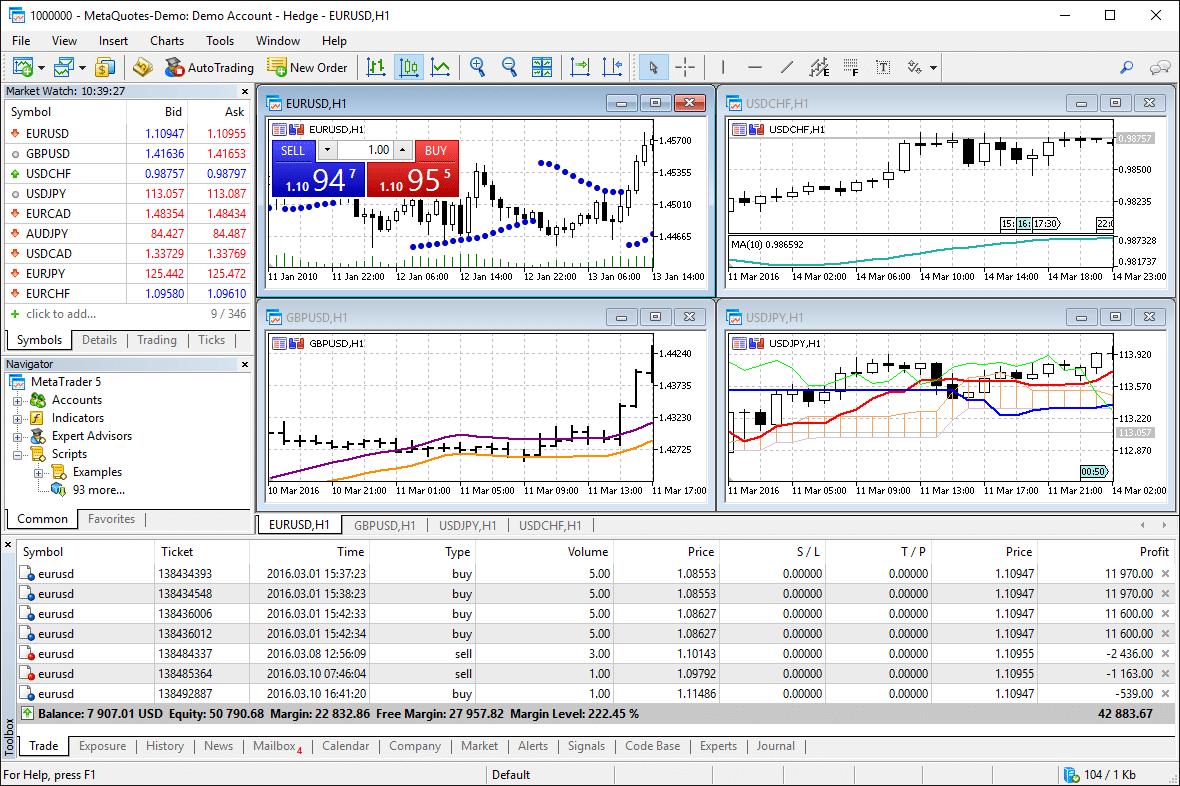 Best MT5 White Label Brokers and Providers
Match-Trade Technologies offers MT5 white label trading platforms in three packages, integrating a Client Office/CRM system. They also help with legal and regulatory requirements for Forex or crypto entities in Europe, Asia, or Africa.
Tools for Brokers is a technology provider for retail brokers and hedge funds. It offers a robust MT5 white label platform with features like easy access to liquidity providers, multiple asset classes, flexible settings, and 24/7 support. It has two package options: Standard and Extended.
Admirals is a global Forex and CFD broker that offers the MT5 white label solution with customisable spreads, low-latency execution, flexible risk tools, and several business models. Your trading platform can be launched in just two weeks.
A technology and services provider offering a complete suite of solutions for Forex, CFDs, crypto, and social trading. The MT5 white label solution is available as a standalone package or as part of the LXSuite package, and other legal and liquidity support offerings can be added.
Best MT5 White Label Brokers and Providers Compared
| | | | | |
| --- | --- | --- | --- | --- |
| White label provider | Deployment time | White branding fee | Liquidity provider | Instruments available |
| Match-Trade | Few weeks depending on the package and the features requested | Undisclosed, but three packages are available | Yes | 390+ |
| Tools for Brokers (TFB) | Few weeks | Undisclosed, but two packages are available | Yes | 500+ (depending on package) |
| Admirals | 2 weeks | Undisclosed, but depends on your requirements | No | 500+ |
| Leverate | Few weeks depending on the package and the features requested | Undisclosed, but the fee is fixed | Yes | 2,000+ (depending on package) |
#1 Match-Trade
Match-Trade at a glance
Deployment time
Few weeks depending on the package and the features requested
White branding fee
Undisclosed, but the three packages are available
Instruments available
390+
Match-Trade Technologies is a one-stop shop for Forex and brokerage technology solutions. With over 10 years of experience in the trading industry, Match-Trade helps brokers optimise their businesses and increase profitability.

Match-Trade has a team of 150 highly skilled experts from seven offices across the USA, Europe, and Asia.Match-Trade provides comprehensive MT4 and MT5 white label solutions that allow brokers to either start a new white label or transfer their existing one to accelerate business growth.
Some key features of their MT5 white label offering include:
Customisation:

You can fully customise the platform interface, branding, and localisation to create a seamless experience for your clients.

Functionality:

In addition to core trading, they offer features like social trading, PAMM/MAM accounts, bonuses/cashback, crypto payments, and an integrated client office with CRM.

Support:

Dedicated technical support is available 24/7 from the Match-Trade team to ensure optimum uptime and quick resolutions of any operational issues.

Extensive documentation:

Match-Trade offers a comprehensive library containing all the documentation needed to manage your MT5 trading platform efficiently. This documentation covers everything from basic platform setup to advanced platform management. The documentation is written in clear, concise language and is easy to follow with videos and screenshots.

A-Book and B-Book Executions:

Match-Trade offers A-Book and B-Book execution options, ensuring the finest execution quality that is fully automated and reliable. Integration is made easier by connecting to your partner liquidity provider for free.
Match-Trade Technologies provides a variety of comprehensive packages as part of their MT5 white label solutions, designed to meet the specific needs of brokers of all sizes and provide them with the essential tools and features they need to succeed. The package you choose will determine the number of account managers, groups, availability of a Crypto Payment Gateway, PAMM accounts, and other features.

Additionally, their pricing and cost structure are very competitive. Pricing is transparent, with no hidden fees. Unique perks like $0 B-Book turnover fees and volume-based discounts make it even more competitive.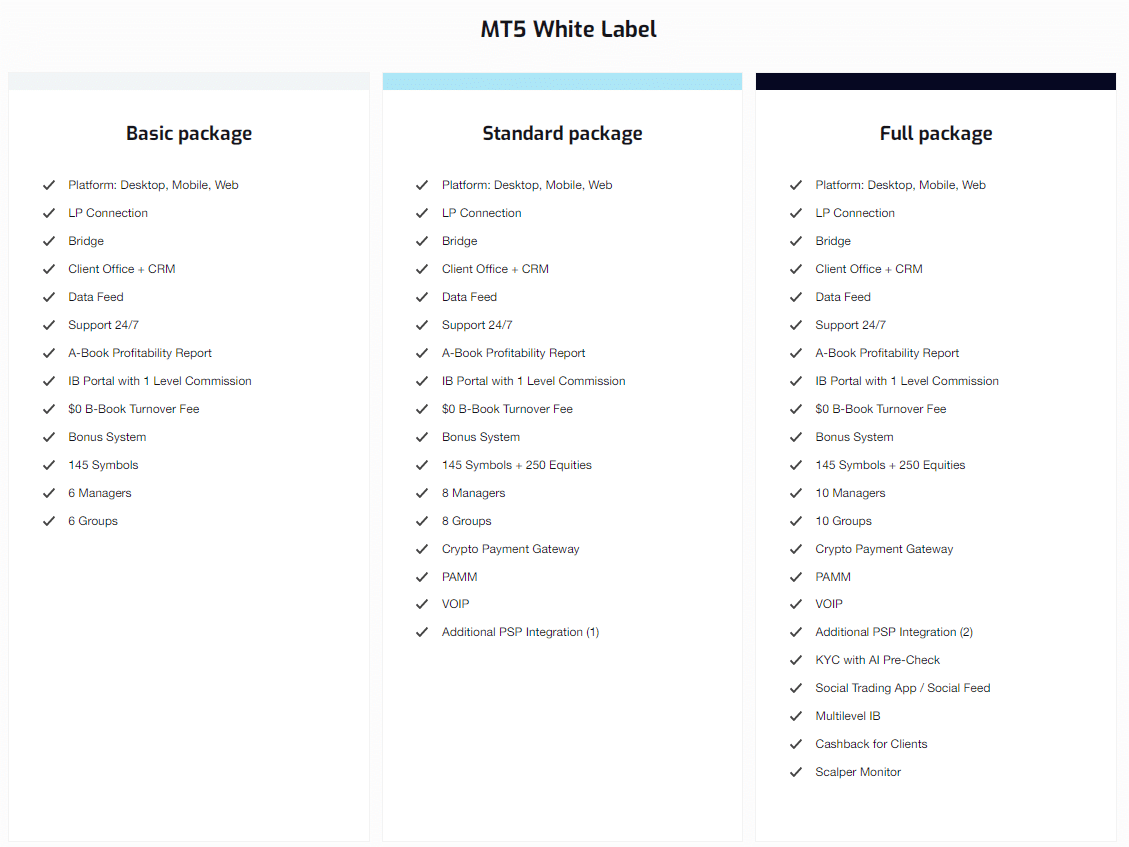 Match-Trade also offers bridge liquidity services for MT5, a powerful set of features to help brokers manage risk and improve profitability. With multi-LP connectivity, you can aggregate pricing from multiple sources, while real-time risk controls allow you to set limits at the account, group, or instrument level. They also provide comprehensive technical support, including software maintenance, IT support, and hosting.
Finally, it is worth noting that Match-Trade provides comprehensive assistance to brokers at every stage of launching their brokerage business. They can help you navigate the legal and regulatory requirements to establish a Forex or crypto-licensed entity in Europe, Asia, or Africa. Additional services include ready-made professional websites and marketing materials.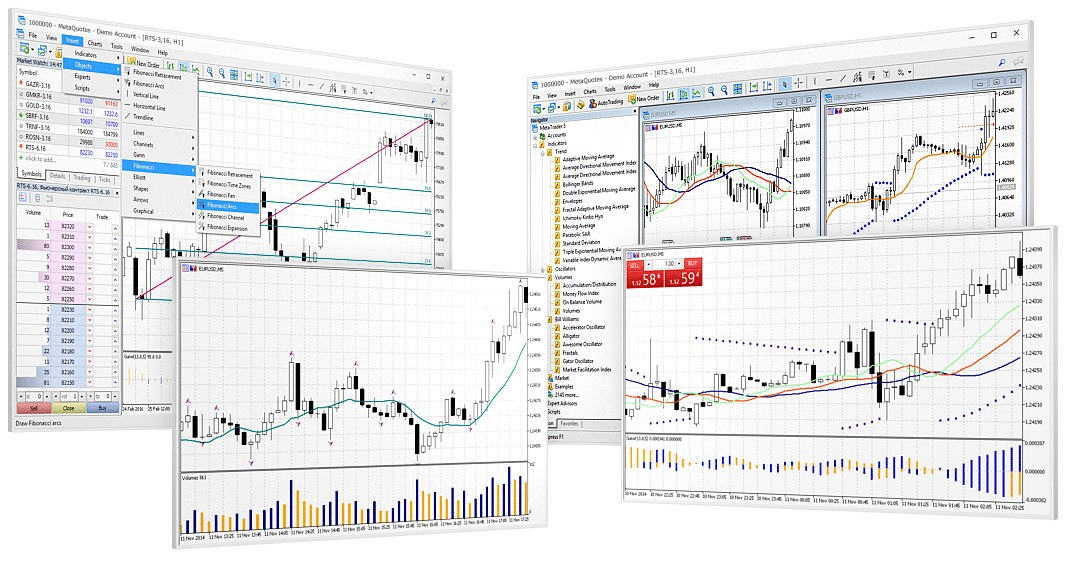 #2 Tools for Brokers (TFB)
Tools for Brokers (TFB) at a glance
White branding fee
Undisclosed, but two packages are available
Instruments available
500+
Founded in 2010, Tools for Brokers (TFB) is a multiplatform technology provider for retail brokers and hedge funds with solutions operating on MetaTrader, Match-Trader, and cTrader. The company provides a robust MT5 white label platform solution with a range of powerful features, including:
Easy access to over 60 liquidity providers through their Trade Processor liquidity bridge

Multiple asset classes supported: Forex, CFDs, and futures

Flexible settings tailored to your dealing conditions

Access to all TFB solutions (TFB PAMM, copy trading, bonus system, and risk management)

Trading over the weekend with Weekend FX, a new add-on application that enables access to LMAX Global liquidity

24/7 professional technical support and consultancy
Tools for Brokers offers two package options for brokers seeking an MT5 white label solution:
Standard Package:

Provides you with the essentials for launching a white label platform. It includes a Trade Processor instance for bridged connectivity to multiple liquidity partners, full 24/7 technical support, five days per week of consultancy services, and a free basic data feed. The data feed includes market data for 250 tradable Forex, CFDs, and futures symbols.

Extended Package: It builds upon the standard feature set. Most notably, it increases the number of supported symbols from 250 to 500. Additional features include access to Binance spot pairs, additional bridge connections for enhanced liquidity aggregation, and a prop trading offer allowing brokers to trade their own accounts.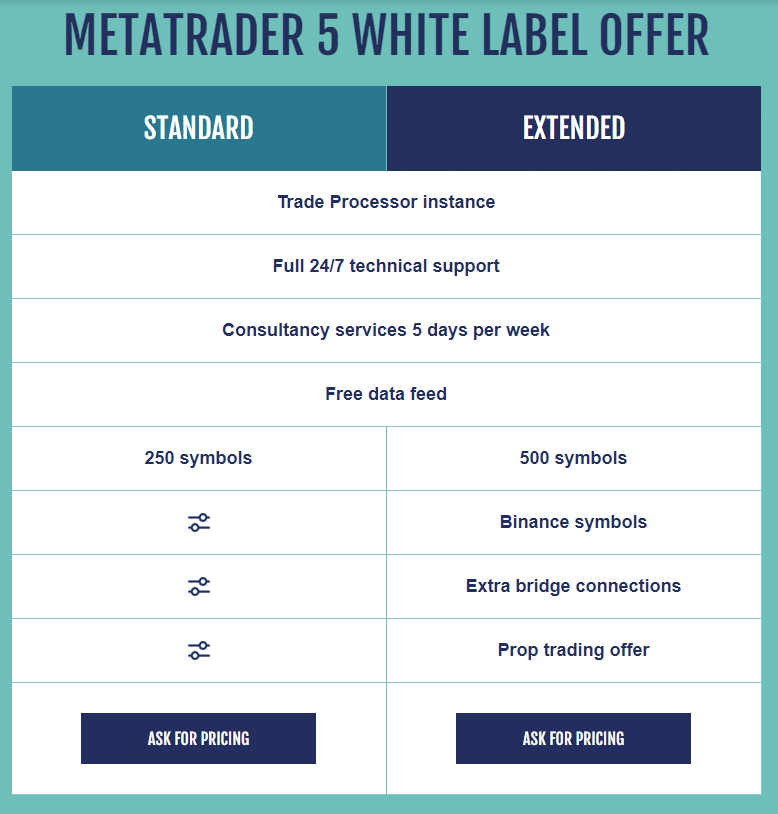 Tools for Brokers also offers discounted migration services for brokers seeking to transition from other providers. This allows existing firms to retain customers while gaining access to T4B's advanced platform technologies and solutions. The TFB team provides comprehensive onboarding support, introduces you to MetaQuotes, and assists in preparing all documentation required for KYC. They also handle the entire process of setting up and hosting the server.
In addition to providing the MT5 trading platform, Tools for Brokers provides you with other value-added integrated solutions:
Monitoring:

A comprehensive pre-installed monitoring tool that includes alert systems, trade activity oversight, and the generation of regulatory reports.

Risk Management:

Advanced risk controls like leverage configuration, optionalities for A/B book exposure switching, and per-account risk limits.

Client Relations: Infrastructure to support affiliate/IB structures via preferential commission tiers or bonuses and facilitate copy trading strategies.
#3 Admirals
Admirals at a glance
White branding fee
Undisclosed, but depends on your requirements
Instruments available
500+
Admirals is a global Forex and CFD broker that was founded in 2001 and is regulated in several jurisdictions. The company has a successful history and extensive infrastructure, which it leverages to help other financial institutions establish their own brands through its MT5 white label solution. They provide access to over 500 tradable instruments, including Forex, CFDs on indices, commodities, stocks, and ETFs.
The Admirals MT5 white label solution includes:

MetaTrader 5 trading platforms: Desktop, Mobile, and WebTrader.

Customisable spreads start at 0.0 pips, allowing clients to optimise their trading strategies. Moreover, you have the option to set your own trading conditions, such as spreads, commissions, and currencies.

Low-latency execution infrastructure with servers in LD4 London for ultra-fast execution and the best possible prices on trades.

Transparent breakdown of service fees and a full description of the technical setup, instruments, leverage, spreads, markups, client groups, and account currencies.

Flexible risk tools and account configurations to adapt to changing market conditions and individual preferences.
Admirals also provides several business models to cater to different client needs. For instance, you have the option to make no trades and pay only execution fees and the ability to fully or partially externalise exposure risks using an institutional trading account.
The partnership lets you expand your business or launch your new customisable Forex and CFD trading platform in just two weeks. They also offer continuous support and monitoring tools. As such, you only focus on attracting new users while leaving infrastructure and back-office operations to Admirals' expertise.

When partnering with Admirals, you will incur several one-time fees and other recurring monthly fees that make up the white label cost structure. The fees include:
Platform fees:

You can select individual MT5 platforms or full access packages, with pricing varying based on configuration.

Market data fees:

Real-time data for Forex, indices, and commodities CFDs is complimentary, but equities/ETFs require a monthly subscription plus sub-licensing charges.

Execution fees:

Calculated as a percentage of total monthly trading volume settled through Admirals, ranging from $3 to 10 per $1 million based on the hedging procedures employed.
Admirals' representatives provide customised fee proposals outlining net costs based on the specific instruments, volumes, and features required. Additionally, Admirals can advise on local licensing regulations depending on a firm's country of operation.
#4 Leverate
Leverate at a glance
Deployment time
Few weeks, depending on the package and the features requested
White branding fee
Undisclosed, but the fee is fixed
Instruments available
2,000+ (depending on package)
Leverate, an established technology provider in the brokerage industry, has been delivering innovative solutions for Forex, CFD, and crypto brokers since its founding in 2008. While their flagship product is LXSuite, an all-in-one platform encompassing web and mobile trading, CRM, and other tools, Leverate stands out among the few providers offering MT5 white label solutions.
Leverate is known for its prompt customer service, which is provided by a team of over 150 employees around the clock. They have earned the trust of over 200 brokers and serve more than 65,000 traders worldwide.
As part of its LXSuite package, Leverate offers the MT5 white label solution, offering the following features:
Branded website and mobile apps:

Customisable platforms that showcase your brand and provide a seamless user experience across devices.

Robust data security:

Ensuring the safety and confidentiality of client information and transactions.

Social trading via Sirix Social:

Enhancing client engagement and retention through a social trading platform.

Sirix Web Trader white label:

A web-based trading solution that can be branded to match your identity.

Top-tier liquidity access:

Access to a wide range of liquidity providers for competitive pricing and trade execution.

Payment Solution:

Provides access to the best Payment Service Provider (PSP) connections. This ensures that your clients can enjoy a wide range of convenient and secure payment options..

CRM optimised for brokerages:

A comprehensive customer relationship management system designed specifically for brokerage operations.

Automated trading capabilities:

Enabling clients to automate their trading strategies through expert advisors and algorithmic trading.

Lead generation:

Tools and features to help you generate leads and expand your client base.
Leverate provides comprehensive training and offers services such as affiliate marketing, payment solutions, and website development to further support brokers in growing their businesses.
In addition, Leverate's back-office solution gives you complete control over your trading environment. You can assign role-based managers, create client groups and market segments, and customise every platform element using dedicated APIs.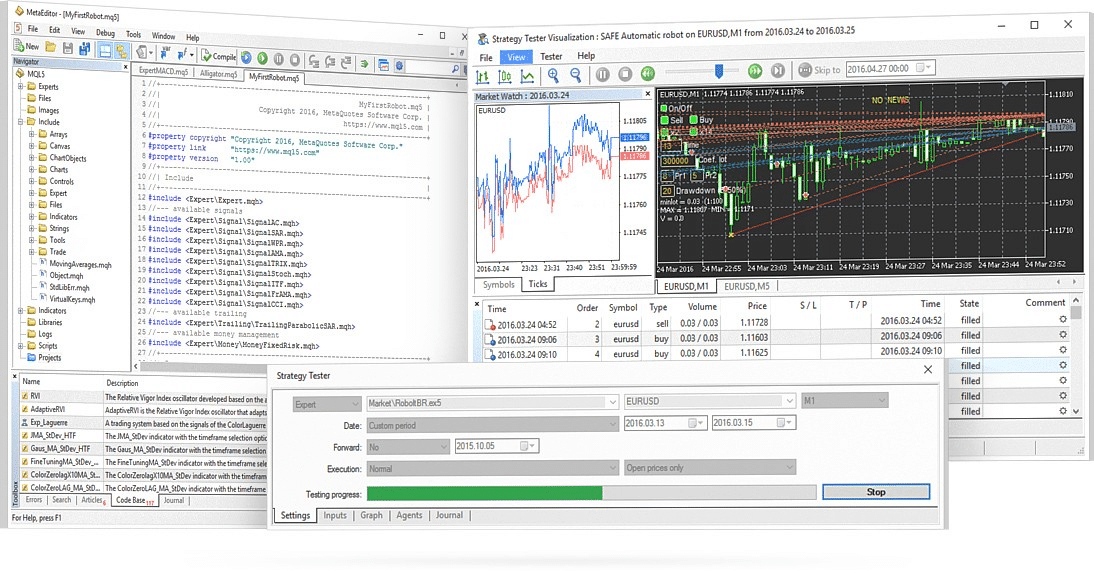 Requirements for an MT5 White Label Solution
The requirements for an MT5 white label solution can vary depending on the specific provider and your needs. However, here are some common requirements by MetaQuotes to consider when seeking an MT5 white label solution:
Certificate of Incorporation:

The white label provider is only permitted to provide services to companies that are engaged in activities such as investment services, trading of financial instruments, online Forex services, brokerage, and other financial services. So, a company must be registered before obtaining an MT5 white label platform, and a brokerage license may be required depending on your jurisdiction.

Register of directors and register of shareholders:

Recent and certified documents, including a copy of the director's passport and a selfie of the director with their passport, are required. Identity verification through video recording with the passport/ID may also be necessary.

Registered and physical address:

A registered address is provided in the standard set of documents, but proof of a physical address is also required. A certified utility bill for landline, water, gas, or electricity can serve as proof. If the company is older than 6 months, a recent certificate of good standing may be necessary.

Domain ownership confirmation:

The domain ownership needs to be registered under the full company name.

Corporate account verification: A certified reference letter or statement issued by the bank is needed to verify the existence of an active bank account. The letter should include the company's registration number and registered address.
Pros and Cons of White Label MT5 Brokers
Well-known platform:

White label MT5 brokers leverage the MetaTrader 5 platform, which is a widely recognised and trusted trading platform in the industry. It comes with a range of features and tools that are highly regarded by traders.

Branding opportunities:

You have the flexibility of branding the platform with your own logo, colours, and other visual elements.

Customisation options:

You can customise various aspects of the platform to align with your specific business needs. This includes setting trading conditions, spreads, commissions, and other parameters to create a tailored trading environment.

Wide range of tradable instruments:

MT5 offers diverse tradable instruments, including Forex, stocks, commodities, and cryptocurrencies.

Access to liquidity providers:

You can benefit from established relationships with liquidity providers, ensuring competitive pricing and reliable trade execution for your clients.

Advanced technical analysis tools:

The MT5 platform is equipped with advanced charting capabilities, indicators, and analytical tools. Traders can perform in-depth technical analysis with back-testing features.

Multi-device accessibility:

MT5 is available on various devices, including desktop computers, smartphones, and tablets.

Community support:

The MT5 platform has a large and active community of traders and developers providing support and guidance on a variety of issues, from technical problems to marketing strategies.

Cost considerations: White label solutions can be more cost-effective than developing a proprietary trading platform. There can still be associated costs, such as licensing fees, setup fees, and revenue-sharing agreements with the platform provider.
Limited control over platform development:

As you rely on the platform provider for ongoing updates and improvements, you have limited control over the development roadmap and may need to wait for platform updates to address specific requirements.

Dependence on the provider's server:

You have to rely on your tech provider for ongoing support, updates, and maintenance. Any issues or delays on the provider's end can directly impact your operations and client satisfaction.

Limited brand differentiation:

While branding opportunities exist, building brand recognition as a white label MT5 broker can be challenging, as the platform itself is more prominently associated with the MetaTrader brand. Moreover, white label brokers face challenges in differentiating themselves from other brokers offering similar platforms.

Limited scalability:

As your business grows, scalability can become a challenge. The platform provider may have limitations on the number of clients, trading volume, or customisation options, requiring additional negotiations or migration to a different solution.

Revenue Sharing: Some white label MT5 providers enter into revenue-sharing agreements with brokers. This means that you will share a portion of the revenue generated, which can impact profitability.
Factors to Consider When Choosing an MT5 White Label Provider
While MT5 is a standard platform, some providers offer additional features, customisation levels, or other services that can make your brokerage firm more efficient. Here are some key factors to consider when choosing a MT5 provider:
Features:

Evaluate the features and functionality offered. Ensure the provider offers all the features you need, such as charting, order types, automated trading, and market analysis tools.

Customisation:

Evaluate the level of customisation available. For example, determine whether you can customise trading conditions, spreads, commissions, swaps, dividends, markups, and other parameters to align with your business strategy and meet your client's needs.

Support and Training:

Look for providers that offer responsive 24/7 customer support via multiple channels, technical assistance, and comprehensive training resources. A reliable support system can help you address any issues promptly and ensure smooth operations.

Reputation:

Look for a provider with a good reputation in the industry. Check reviews and testimonials, and ask for referrals to get a sense of their performance and reliability.

Regulatory compliance:

Verify the regulatory compliance of the white label provider. Check if they are regulated by reputable financial authorities and adhere to compliance standards. This is crucial to ensure the safety of client funds and maintain the integrity of your brokerage.

Additional services:

Assess if they provide additional services such as marketing support, lead generation, and payment solutions that can help you expand your client base and increase revenue.

Pricing:

Evaluate the cost structure and revenue-sharing model the provider offers. Understand the pricing details, setup fees, ongoing costs, and the revenue-sharing percentage. Ensure the financial terms align with your business goals and profitability expectations.

Integration with third-party providers:

Consider the provider's ability to integrate with third-party providers such as payment processors, liquidity providers, and risk management systems. This can help streamline your trading operations and improve efficiency.
By considering these factors, you can choose an MT5 provider that will help you run your brokerage firm more efficiently.
In conclusion, MT5 is a widely recognised and popular trading platform known for its robust features, intuitive interface, and extensive range of tradable instruments. While acquiring an MT5 license can be costly, utilising a white label solution offers a cost-effective alternative, relieving businesses of hosting and IT infrastructure maintenance burdens.
Throughout this article, we have highlighted several reputable MT5 white label providers that offer high-quality services. However, the ultimate choice of the best provider depends on your specific needs and requirements. Consider factors such as the provider's reputation, platform functionality, level of support, and pricing structure when making your decision.
We hope this article has provided valuable insights to aid you in your search for the ideal MT5 white label provider.
Starting a White Label MT5 brokerage FAQs
How does the White label process work for MT5?
The White label process involves partnering with an MT5 platform provider who grants you the right to use their platform under your own brand. You typically sign an agreement, customise the platform with your branding, set up trading conditions, and start offering trading services to your clients.
What are the costs associated with starting a white label MT5 brokerage?
The costs associated with starting a white label MT5 brokerage can vary depending on the platform provider and the specific services included in the package. Common costs may include setup fees, licensing fees, customisation expenses, ongoing fees, and marketing or promotional costs.
Is there a minimum capital requirement to establish a white label MT5 brokerage?
The minimum capital requirement may vary depending on regulatory requirements in your jurisdiction. It's important to research and comply with the financial regulations applicable to your brokerage.
How long does it take to set up a white label MT5 brokerage?
The setup time can vary depending on factors such as the platform provider's processes, customisation requirements, regulatory approvals (if applicable), and the readiness of your infrastructure. It can range from a few weeks to a couple of months.
What level of support will I receive from the MT5 platform provider?
MT5 platform providers generally offer technical support and assistance to white label partners. The level of support can vary, so it's recommended to inquire about the support channels, response times, and availability of training or educational resources.
Do UpTrader and B2Broker offer MT5 white label solutions?
UpTrader and B2Broker are well-known providers of white label solutions in the financial industry. They both used to offer MT5 as a white label solution, but currently, they are not offering it anymore. If you're specifically looking for MT5 white label solutions, we suggest exploring alternative providers mentioned in this article.
Are MT4 white label solutions available?
Although MetaQuotes no longer provides new MT4 licenses, there are still multiple providers on the market that offer MT4 as a white label solution. If you're interested in exploring the options available, refer to our article on the best MT4 white label providers.