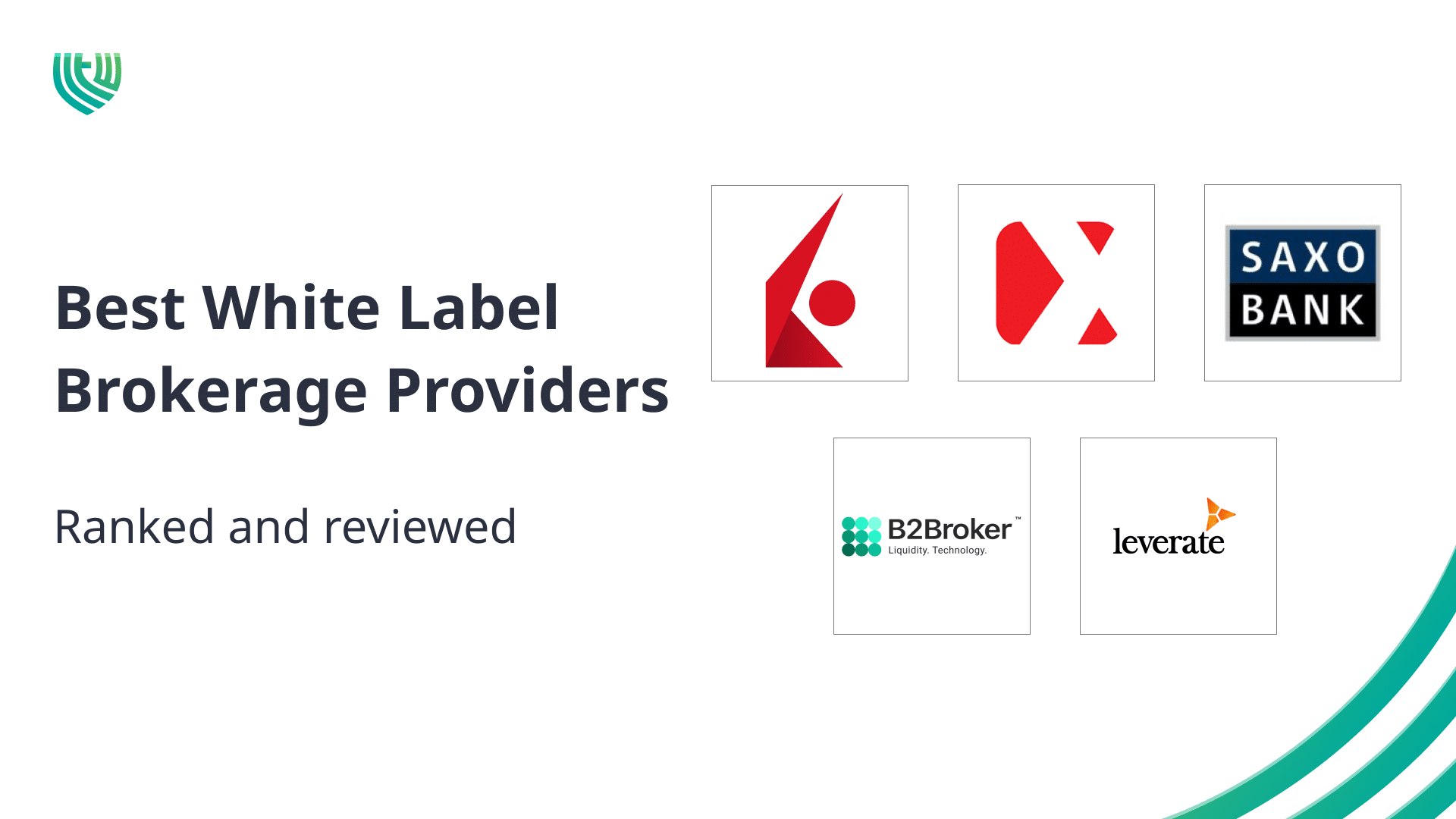 Best White Label Brokerage Providers 2023
Starting a brokerage service in today's fast-paced world can be challenging, especially with the high competition in the market. Brokers must provide their clients with a range of services and solutions that meet their requirements to achieve success. One option for achieving this is to employ a White Label brokerage solution.
In this article, we will provide a comprehensive guide to help you create your brokerage service with a white-label solution. We will explore the top white-label brokerage providers, guide you on selecting the right broker, evaluate available market solutions, and examine the benefits and drawbacks of white label brokerage. Whether you're looking for information or references, or want to learn more about white label brokerage, keep reading to find out more.
What is White Label Brokerage?
Before diving into the details of the best White Label brokerage companies, it's important first to define White Label brokerage. White Label brokerage is a business model in which a company uses the services of a third-party brokerage firm to provide trading and investing services to their clients while maintaining their branding. The third-party brokerage firm offers the technology and services, while the company utilizing the service is responsible for modifying and rebranding the platform as its own.
This enables businesses to begin providing brokerage services without requiring considerable capital investment or technological skills. It allows them to focus on growing their business while leaving the technical aspects of the platform to the third-party brokerage firm.
For instance, do you think that Tradestation, the popular online brokerage, developed its own trading platform? Well, actually, it has a white label agreement with Interactive Brokers. Tradestation focuses on building its brand and attracting new clients, while Interactive Brokers handles the technical aspects of the platform.
Best White Label Brokerage Providers
1# Interactive Brokers
Interactive Brokers at a glance
Trading platforms offered
Trader Workstation (TWS)
Asset classes available
Stocks, ETFs, Options, Futures, Forex, Commodities, Bonds and Funds
White Labeling services available for
Registered advisors, fully disclosed brokers and non-disclosed brokers
Deployment time
Generally between 2 to 3 weeks
White branding fee
Not disclosed
Interactive Brokers (IBKR) provides a valuable opportunity to brokers and professional advisors with its white branding program, where they can establish their brand identity while utilizing powerful tools and resources. They can customize the Trader Workstation (TWS) platform, one of the best trading platforms, Client Portal, registration system, statements, portfolio analyst, and other tools with their logos, company names, and contact information. The white branding program enables brokers and professional advisors to market their businesses and establish a strong brand identity using the IBKR platform.
The white branding program is available to three types of users: Registered Advisors, Fully Disclosed Brokers and Non-disclosed Brokers, with some variations depending on the type of user. For instance, advisors can white brand emails that are sent to customers from the registration system, Client Portal, and customer service. They can also white brand the TWS Users' Guide and the contract database on the IBKR website. However, some footnotes or legal notes cannot be deleted or changed, and the IBKR Customer Agreement or any other agreement cannot be white branded. On the other hand, Fully Disclosed Brokers and Non-disclosed Brokers have more flexibility.
Advisors can easily access white branding through the Advisor portal and configure the settings to fit their needs. Interactive Brokers offers comprehensive instructions on how to set up white branding on their website, as well as a dedicated team available for further information about the program. The IBKR white branding process usually takes no more than two hours, except for statements, which may take up to 24 hours. However, the initial TWS white branding can take up to 48 hours to take effect.
This is a short video about White branding for advisors by IBKR:
Similarly, for brokers, Interactive Brokers offers a turnkey solution providing access to powerful trading technology and advanced trading tools for trading on over 150 markets in 33 countries and 26 currencies. IBKR's services include pre-trade compliance, real-time market-risk management and monitoring, lower costs with no ticket charges or minimums, and a suite of advanced trading technologies called IBKR BestX.
IBKR offers free client relationship management tools, full white branding and custom website creation services, flexible client management, and reliable client onboarding processes. Brokers can also manage user access rights and implement flexible fee structures, automate fee administration, and provide dynamic fee management with electronic invoicing.
While the cost of the white branding fee is not disclosed, it can vary depending on the level of customization required and the specific needs of the broker. To get an accurate quote for the white branding fee, you need to contact IBKR directly and discuss your specific requirements with them. The application review generally takes 2-3 weeks, and we noted that they require $10,000 to be funded into your account, which will be applied towards your first five months of commissions.
2# X Open Hub
X Open Hub at a glance
Trading platforms offered
XOH Trader platform, XOH Mobile, MT4 White Label
Asset classes available
Forex, indices, commodities, stocks, ETFs, and crypto
White Labeling services available for
Brokers and financial institutions
Deployment time
Depending on the solution required
X Open Hub is the institutional division of XTB SA, the parent company of the well-known broker XTB. With over 12 years of experience in White Labeling solutions and a team of over 250 IT professionals working on the system, X Open Hub provides a comprehensive white-label solution for brokers looking to differentiate themselves and meet their clients' needs. They have formed over 100 partnerships and are dedicated to providing high-quality services to their clients.
With the XOH Trader platform, brokers can access a modern and cutting-edge environment designed for every type of brokerage. The platform is equipped with advanced technical tools such as templates, overlay charts, personalized chart views, detached and floated charts. The branded platforms are available on both the web and mobile, with advanced branding possibilities enabling their partners to start a new line of business immediately.
The front-end office system offers superior trade execution, a fully customizable interface, advanced charting tools, a strong regulatory framework, built-in economics news, heat maps, market sentiment, and full open front-end access through xAPI. The back-office system, xManager, allows partners to create new clients, execute deposits and withdrawals, observe the live trading activity of clients, and view overall portfolio performance. Partners can set different trading groups and spread markups, commissions, and users, which is suitable for offering different pricing tiers. Partners can access over 5,000 global instruments, including Forex, indices, commodities, stocks, ETFs, and crypto.
In addition to the desktop trading platform, X Open Hub offers a mobile app called XOH Mobile that offers complete account management, graphs, and other vital tools required for real-time financial trading.
X Open Hub's complete outsourcing solution offers a cost-effective way for brokers to offload expensive costs associated with licensing, ownership, IT infrastructure, maintenance, and additional staff. Their pricing packages are designed to be flexible and scalable, starting at $1,000 per month and increasing depending on the features and services requested. This allows partners to customize their solutions to meet their specific needs while keeping costs under control.
3# Saxo Bank
Saxo Bank at a glance
Trading platforms offered
SaxoTraderGO, SaxoTraderPRO, and SaxoInvestor
Asset classes available
Stocks, bonds, CFDs, Forex, futures, and options
White Labeling services available for
Banks, brokers, fintechs, insurance companies and wealth managers
Deployment time
Depending on the solution required
Saxo Bank is a leading provider of white-label trading solutions, offering a range of products and services for banks, brokers, fintechs, insurance companies, and wealth managers. The bank's white-label offering is known as Saxo Markets, which provides a turnkey solution for businesses looking to offer trading and investment services under their brand. Currently, they serve over 120 banks and brokers and 300+ financial intermediaries.
Saxo Bank assists its partners with a pre-launch project management team, including design and architecture experts who can configure and implement the white-label solution. They offer both off-the-shelf solutions and tailored packages to meet specific business needs.
Saxo Bank's white-label solution covers the full value chain of trading and investment, from execution to post-trade services. They also provide daily account management and operational support through prime services and 24/7 IT maintenance to ensure that their partners can rely on the platform to be up and running without technical issues.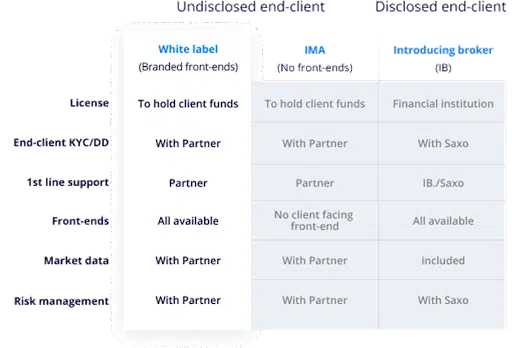 Saxo Bank offers a range of services for white labeling, including client management, execution and trading, post-trade services, and a scalable platform for financial institutions. These services enable partners to integrate with the capital markets infrastructure, handle client authentication, access multi-asset liquidity with back-office services, and manage their accounts effectively. The platform also includes Microsoft Cloud for full scalability and security, real-time redundancy set, and incident management.
Saxo Bank also publishes case studies of the solutions it has provided to its clients. These case studies are available online and offer insight into how Saxo Bank has helped its clients with their specific needs.
4# B2Broker
B2Broker at a glance
Trading platforms offered
cTrader, MetaTrader 4, MetaTrader 5, B2Trader, Match-Trader, and B2Margin
Asset classes available
Forex, Crypto Derivatives/CFD, Metals, Indices, Energy, Equities CFD, and ETFs CFD
White Labeling services available for
Corporate, professional and institutional clients
Deployment time
Between 2 and 8 weeks
B2Broker, established in 2014, is a global company that helps brokerages and exchange firms worldwide to achieve their business goals. It provides an extensive range of products and services, including its own trading platform, that can be customized to meet the unique needs of any fintech project spanning diverse industries such as Forex, crypto, payment providers, liquidity providers, market makers, securities brokers, exchanges, and OTC brokers and financial institutions. With over 380 employees, B2Broker has served more than 500 clients, including 298 corporate clients, 170 professional clients, and 32 institutional clients.
B2Broker provides turnkey solutions for Forex and crypto brokers, offering a comprehensive selection of over 1,000 financial instruments across 7 asset classes, including Forex, Crypto Derivatives/CFD, Metals, Indices, Energy, Equities CFD, and ETFs CFD. Their offering includes:
Trading Platforms:

B2Broker offers several trading platforms, including cTrader, MetaTrader 4, MetaTrader 5, B2Trader (Crypto Spot Exchange), Match-Trader White Label, and B2Margin (Margin Exchange).

Liquidity Solutions:

They provide access to deep liquidity pools from Tier 1 banks, ECNs, and exchanges, allowing brokers to offer competitive pricing to their clients.

Risk Management:

B2Broker offers a range of risk management tools, including access to multiple liquidity providers, flexible margin requirements, and risk management software.

Compliance and Legal Support:

B2Broker provides compliance and legal support services, including obtaining regulatory licenses, compliance reviews, and risk assessments.

Payment Solutions:

They provide payment processing solutions, including a range of payment gateways, merchant accounts, and e-wallets.

Website Development: B2Broker provides website development services, including custom website creation, trading platform integration, hosting, and maintenance.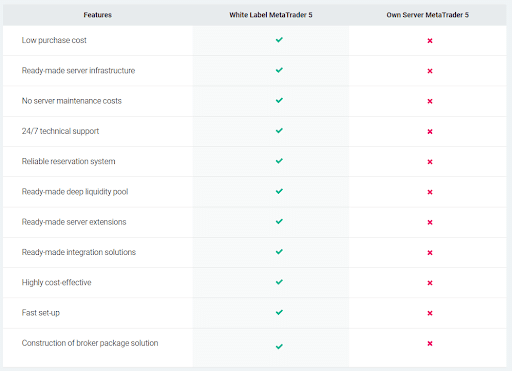 The solution is highly customizable, which allows for a quick and easy setup of the broker's business. This not only saves time but also reduces operational costs. Furthermore, the white label service includes detailed documentation for each feature and transparent pricing.
The one-time setup fee for the service is $5,000, and the monthly support fee is $2,000. However, the monthly fees can vary depending on the services requested and the level of customization needed to offer the desired services to clients.
5# Leverate
Leverate at a glance
Trading platforms offered
SIRIX, MetaTrader4, MetaTrader5
Asset classes available
Forex, CFDs, and cryptocurrencies
White Labeling services available for
Brokers
Deployment time
Depending on the package and the features requested
Leverate is a technology provider for the online trading industry that offers a wide range of products and services to brokers. One of their most popular offerings is their white label solution, which allows brokers to offer trading services under their brand name. This solution is fully customizable and comprehensive, providing brokers with a set of trading platforms that enables them to compete effectively in the online trading industry. On the White Label end, Leverate offers two packages:
SIRIX-VENTURE
Sirix Venture provides a complete suite of back-end tools to help Forex brokers build their business. The package includes the Sirix server, Sirix broker, and Sirix trading platform, which are available for Forex, CFD, and crypto trading on the web, desktop, and mobile.
Sirix trading platform offers a user-friendly interface with one-click execution and advanced charting. It can be customized with a broker's own logo and design scheme to maintain a consistent brand identity. The platform also includes a visually effective dashboard that provides comprehensive information about traders' accounts.
In addition to the trading platform, Sirix Broker provides a back-office solution that allows brokers to segment their traders into groups and adjust their trading conditions according to their needs. Brokers can also control what traders see, view their activity on a rich dashboard with real-time reporting, and engage traders with notifications. Sirix Social empowers traders with an integrated copy trading feature, and Sirix Crypto allows brokers to add crypto CFDs to their offering.
The package also includes payment solutions, such as a broad network of global PSPs and additional payment solutions, as well as a CRM system. Brokers can also benefit from tailor-made website-building services with a talented team of developers and designers at their disposal.
LXSuite with MetaTrade4 & MetaTrade5 White Label
Leverate offers a white-label solution for both MT4 and MT5 trading platforms. This allows new brokers to offer this popular Forex trading platform to their own traders without having to purchase a full MetaTrader server license. Some benefits of the platform include access to a wide variety of signals and indicators, easy segmentation of traders into groups, integrated economic calendar and financial news, customization options, and availability on desktop, web, and mobile devices.
In addition to these features, Leverate's platform provides comprehensive customer relationship management, detailed analytics, customer support experts, IB management, IT support, and educational services. With LXSuite's LXRisk, brokers can efficiently manage their risk exposure in real-time and generate customized reports to keep themselves informed about their business. The management panel displays the risk level at any given moment and allows brokers to configure their settings for different groups of traders or market conditions.
While Leverate doesn't provide exact pricing information on its website, it's worth noting that the company offers a special pricing plan for startup brokers. This plan features a fixed monthly price, which is particularly advantageous for new brokerages because it enables them to build their clientele and revenue without paying for each new client.
Factors to Consider When Choosing a White Label Provider
When starting a White Label brokerage, choosing the right service provider and technical features is critical to success. It's essential to do your due diligence and choose a reputable and reliable provider to ensure a successful partnership. Here are some key considerations when choosing a White Label broker:
Regulatory compliance

: This is one of the most important factors to consider when choosing a White Label brokerage provider. Check that the provider is licensed and supervised by recognized regulatory authorities to ensure compliance with all applicable laws and regulations.

Reputation:

Check the provider's market reputation by evaluating client feedback, testimonials, and online reviews. A provider with a poor reputation could negatively impact your own reputation.

Range of products and services

: It's important to choose a provider that offers a comprehensive range of products and services that meet your clients' needs. This includes various trading instruments, access to global markets, and different account types.

Customer Support:

The quality of customer support is critical to ensuring a positive customer experience. Ensure that the provider offers excellent customer support, with various channels available for communication.

Pricing:

Compare the pricing of different providers and choose one that offers a competitive pricing structure. Ensure that the pricing is suitable for your business plan and feasibility study, as excessive costs can impact your ability to operate profitably.
After carefully selecting a set of service providers based on those factors, the next step is to examine the technical features they offer. By evaluating these features, you can choose a provider that best suits the needs of your potential customer base. Here are some key technical considerations to keep in mind when selecting a White Label provider:
Trading platform:

Choose a reliable, user-friendly trading platform that offers a wide range of trading tools and features, including charting tools, order types, and real-time market data.

Display customization:

Look for a provider that offers a high degree of customization, allowing you to brand the trading platform with your own logo, colors, and other visual elements.

Customizable trading conditions:

Choose a provider that allows you to create your own trading conditions with commissions, markups, swaps, margin, and risk settings. Also, make sure you can adjust swaps, dividends, markups, and spreads to meet your client's needs.

Back-office management:

A comprehensive and intuitive back-office management system is crucial for managing clients, monitoring trades, and accessing reporting and analytics.

Risk management and exposure monitoring tools:

Look for a provider that offers full position breakdowns and easy access to data in accordance with predefined profiles. You should also have the ability to work with risk management and export data easily to monitor the positions effectively opened.

Connectivity:

Choose a provider that offers reliable and fast connectivity to global markets, with low-latency execution and access to multiple liquidity providers.

Security:

Ensure that the White Label provider you choose takes security seriously and offers robust security measures, including SSL encryption, two-factor authentication, and secure servers.

Account setup:

Look for a provider that offers various denominations for accounts based on any currency from the liquidity list with up to 2 decimals precision. Additionally, you might offer different leverage levels from 1:1 to 1:20 (for European users) and reaching 1:100 or even 1:500 for international users.
By choosing a platform that offers these features, you can provide your clients with a top-notch trading experience that meets their needs and helps you build a successful brokerage business. Now let's check some of the best White Label brokerage providers.
What is the cost of establishing a White Label brokerage?
Starting a white label brokerage firm can be expensive. Still, it's important to remember that the costs will vary depending on the platform provider and the services that are included in the package. Here are some expected costs associated with a white label brokerage firm:
Platform provider fees:

The cost of using a white label brokerage platform will depend on the provider. Some providers may charge a flat fee, while others may take a percentage of each trade made on the platform.

Set-up fees:

Most white label providers will charge a one-time set-up fee. This fee covers the cost of customizing the platform to your brand, designing your website, and integrating the platform with your website.

Marketing and advertising costs:

To attract clients, you will need to invest in marketing and advertising. This may include paid advertising on social media, email marketing campaigns, and content marketing.

Regulatory costs:

Depending on your location, you may need to register with regulatory bodies and comply with certain regulations. This can include fees for licenses, compliance costs, and ongoing regulatory fees.

Ongoing operational costs: Once your platform is up and running, you will need to cover ongoing operational costs, such as server fees, employee salaries, and customer support.
In summary, choosing the right White Label provider is essential for the success of any brokerage. By partnering with a reputable and reliable provider, brokers can leverage the provider's expertise, technology, and resources to establish a competitive presence in the market quickly.
In this article, we have reviewed some of the top White Label providers in the industry, offering a wide range of products and services to suit brokers of all sizes and levels of expertise. With their cutting-edge technology, personalized support, and flexible pricing plans, these providers can help you build and grow a new brokerage business while providing traders with a seamless and secure trading experience.
In the end, it's important to choose a provider that offers transparent pricing and comprehensive services to help you manage costs. When evaluating different white label providers, make sure to ask about all of the fees and services included in the package, as well as any additional costs that may arise.
Starting a White Label brokerage FAQ
What is a white label provider?
In simple terms, a White Label solution is a product or service created by one company but can be sold and rebranded by another company as their own. This approach enables businesses to provide a more diverse range of offerings to their customers without the need to create their own products or services from scratch. White label solutions are widely used in different industries, including finance, technology, and marketing.
What are the benefits of using a White Label provider?
Using a White Label provider has several benefits. One of the most significant benefits is the ability to quickly broaden the product or service range without the need for extensive research and development or extra staff. Companies can focus on their core strengths by avoiding the expenses and uncertainties of developing products. Furthermore, White Label solutions enable businesses to strengthen their brand and boost customer loyalty by providing a wider array of products and services. Finally, it is the easiest way for new businesses to enter a new industry.
What are the drawbacks of using a White Label solution?
Potential downsides when using a White Label solution include the lack of control over product development. Sometimes there is limited customization available, and potential conflicts may arise with the provider that might affect the services. Additionally, white labeling may not provide a competitive advantage in industries where differentiation is required.