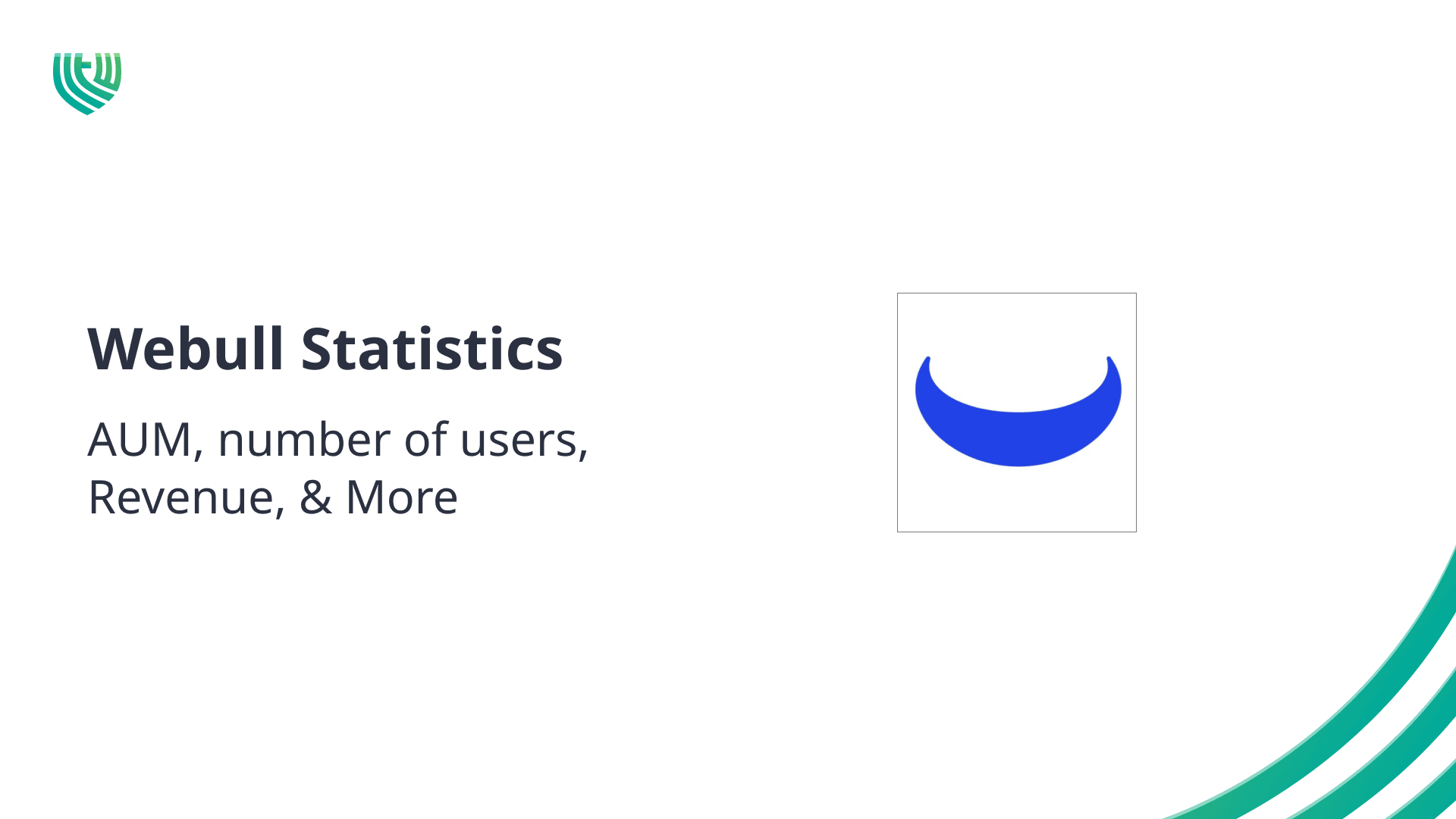 Webull has emerged as a major player in the brokerage industry, offering commission-free trading, advanced features, and a user-friendly platform. The platform has gained a significant customer base in the US, attracting both novice and experienced investors.
In this article, we'll take a closer look at Webull's most important statistics, including its assets under management (AUM), user base, revenue, and other key metrics. Additionally, we will explore the importance of understanding Webull's business model and how it generates revenue to sustain its services. These insights will provide a deeper understanding of the company's growth and success, as well as its impact on the investing landscape.
Whether you're a seasoned investor or simply curious about Webull's performance, read on to learn more about the latest 2023 statistics.
Webull Financial LLC is the legal name of the famous online trading platform Webull that offers commission-free services and a variety of investment products, including stocks, options, ETFs, and cryptocurrencies. The company was founded in 2017 by Wang Anquan, a former employee of the Alibaba Group and smartphone manufacturer Xiaomi. Webull is registered with the Securities and Exchange Commission (SEC) and the Financial Industry Regulatory Authority (FINRA) and is classified as a limited liability company.
Webull has gained a reputation for its user-friendly interface and advanced trading tools, making it a popular choice for both novice and experienced investors. The company's mission is to provide its users with an excellent investment platform that offers intelligent tools and services. Although the holding company of Webull is Chinese, the company is registered in New York and operates under the laws of the United States. This allows investors to access the US markets easily and in compliance with US regulations.
Here are some key corporate facts about Webull:
Founded in: 2017
Headquarters: Wall Street, New York, US
IPO date: Privately held company, Webull's IPO date is not disclosed yet
Sector: Financials
Industry: Investment Banking and Brokerage
Founder: Wang Anquan
Number of employees: 283 employees (Based on the company's LinkedIn May 2023)
According to Webull's latest filing, Webull Financial LLC is owned by its holding company, Webull Holdings (US) Inc., which possesses a 75%+ ownership interest in the firm. The holding company, in turn, is owned by a foreign entity named "Webull Corporation," thereby creating an indirect ownership structure for Webull Financial LLC.
The remaining ownership of the firm is attributed to its executive officers, including the Chief Executive Officer, Anthony Michael Denier, the Chief Financial Officer, Moshe Binyamin Engelsohn, the Chief Compliance Officer, John Keating, and the Chief Operating Officer, Shen Lu. They each own less than 5% of the company.
Webull ownership structure
| | |
| --- | --- |
| Owner | % Ownership |
| Webull Holdings (US) Inc. | >75% |
| Anthony Michael Denier (Chief Executive Officer) | <5% |
| Moshe Binyamin Engelsohn (Chief Financial Officer) | <5% |
| John Keating (Chief Compliance Office) | <5% |
| Shen Lu (Chief Operating Officer) | <5% |
Webull has experienced significant growth in its user base over the years. Although it does not disclose official numbers on its website or in public filings, public information reveals that the platform had over 2 million users as of December 2020, and this figure had surged to over 7 million by December 2021. Based on online information and various news articles, we can estimate that the number of Webull's registered accounts is over 13 million, indicating a sustained increase in the platform's popularity. Moreover, the number of app downloads on Google Play Store alone is over 10 million, which provides further evidence to suggest the number of Webull's registered accounts is beyond 13 million.
Moreover, a study published on Statista shows that the monthly active users on Webull have increased from 73,140 in January 2017 to 2,691,040 in July 2021. It's worth noting that the number of monthly active users is typically lower than the number of registered accounts, as some users may not use the platform regularly. Nonetheless, the significant growth in monthly active users suggests that Webull is becoming an increasingly popular platform for investors.
Webull Monthly Active Users (MAU)
| | |
| --- | --- |
| Date | MAU |
| Jan 2017 | 73,140 |
| Dec 2017 | 455,480 |
| Dec 2018 | 370,820 |
| Dec 2019 | 294,050 |
| Dec 2020 | 790,860 |
| Jul 2021 | 2,691,040 |
Unfortunately, Webull does not disclose any information about its assets under management (AUM). However, during an interview with CNBC, Webull CEO Anthony Denier mentioned that the average account size on the platform was around $4,000 in 2021. If we apply this number to the estimated registered accounts of over 7 million (mentioned earlier), we can assume that Webull's AUM was around $28 billion in 2021. It is worth noting that in 2022, the largest brokers experienced a decrease in AUM due to poor market performance. As such, if we apply an estimated decrease similar to the decrease experienced by Robinhood AUM in 2022, and based on the assumption of 13 million registered accounts, we can estimate that Webull's AUM was over $31 billion.
Webull Assets Under Management
| | |
| --- | --- |
| Date | AUM |
| Dec 2021 | $28 billion |
| Dec 2022 | $31 billion |
*These figures are only estimations and have not been officially disclosed by Webull.
Webull's revenue is not publicly disclosed due to the company being privately held and not required to release detailed financial statements. However, according to the 2019 notes filed with the SEC, Webull experienced a loss of $2,468,080 for the year ended December 31, 2019, and the company's members made capital contributions of $4,850,000 to fund expenses and maintain compliance with the net capital rule. For 2020, although there was no mention of a loss, it is unclear if the company did experience any losses that year.
To understand how the company generates revenue, let's take a closer look at Webull's business model. Despite offering commission-free trading, Webull makes money in several ways, including:
Margin lending:

Webull offers margin lending services to investors who want to trade more than they can afford.

Securities lending (Short selling):

Webull charges a fee for short selling, which involves lending out shares of stocks to investors, and those investors pay a fee to borrow shares.

Premium subscriptions:

Webull offers a paid subscription service that provides users with additional features and data, such as real-time market data, research reports, and Level 2 market data.

Payment for order flow:

Similar to other online brokers, Webull generates revenue by directing order flow to market makers. For instance, when a user places a trade, the market maker pays Webull (a very small fraction) for the right to execute the order.

Other fees: Webull charges miscellaneous trading-related fees, such as transfer fees and deposit and withdrawal fees (depending on the method used).
In summary, Webull has quickly established itself as a strong competitor in the online brokerage industry by providing commission-free trading services to investors. Despite being founded years after Robinhood, Webull has managed to capture a significant market share and emerge as a direct competitor to Robinhood. This was mainly due to its user-friendly platform and focus on providing a range of investment options that attracted both new and professional investors.
As Webull continues to expand its assets under management (AUM) and user base, it has the potential to become one of the largest brokers in the industry, capitalizing on the growing demand for commission-free trading.
Who Is the CEO of Webull?
Webull's CEO is Anthony Denier
Is Webull Safe? Is my money with Webull protected?
Webull is a member of SIPC, which protects securities customers of its members up to $500,000 ($250,000 of cash) in the event of a financially troubled SIPC-member brokerage firm. Webull's clearing firm, Apex Clearing, has purchased an additional insurance policy that provides protection for securities and cash up to an aggregate of $150 million, subject to maximum limits of $37.5 million for any one customer's securities and $900,000 for any one customer's cash. However, it's important to note that this insurance does not protect against a loss in the market value of securities.
Is Webull regulated?
Webull Financial LLC is registered with the Securities and Exchange Commission (SEC) and is also a member of several other regulatory organizations such as FINRA, SIPC, NYSE, NASDAQ, and Cboe EDGX Exchange (CBOE EDGX).
What is the Webull referral program and how does it work?
Webull offers a referral program where users can receive up to 12 free stocks by meeting certain criteria. For more information, you can read our Webull referral bonus article.
Is Webull available in my country?
Webull is currently only available in the United States, and very few other countries, for a list of alternatives you can check our list of Webull alternatives.