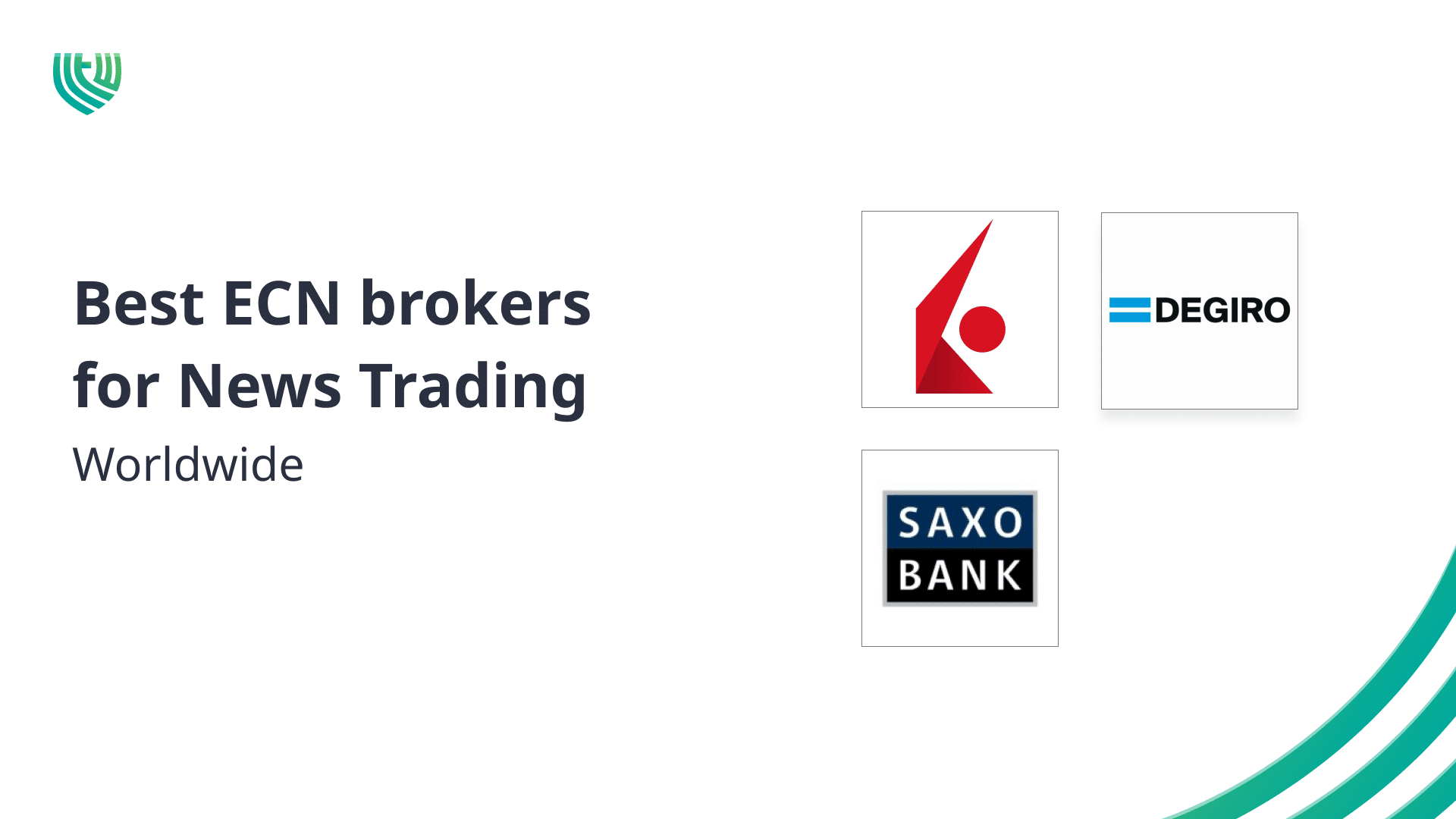 Selecting an ECN broker presents a unique but incredibly rewarding challenge, if done right. An ECN broker utilizes an Electronic Communications Network to match buy and sell orders in the global forex (foreign exchange) or stock markets without a third party. In other words, a highly advanced, computerized, matchmaking system.
ECN brokers enable trading to occur outside traditional trading hours. Active traders utilize ECNs for "news trading", as they retain the ability to react to global news alerts at any time. The best ECN brokers for news trading facilitate daily trading, and also include the following characteristics:
Global reach across multiple regions;

Many currency pairs, including emerging markets;

Low fees and commissions;

Advanced desktop trading platforms and apps.
Yet the truly best ECN broker for news trading will have all of the above, and more, to suit a global portfolio and a global trader. Forex or after-hours trading can feel daunting with several uncertainties in an extremely volatile asset class, but the right broker cuts away those concerns instantly.
This article presents our take on the top four, "best" ECN brokers for news trading. Let's get to it.
Best Brokers for ECN News Trading
With news trading, you should have what the investing world calls a "full-service broker." Alongside providing basic access to global markets, they provide a number of other perks, such as advice, research, and foreign market access. ECN brokers by default should have access to foreign currencies and international markets.
Interactive Brokers | Best overall ECN broker for news trading
Interactive Brokers (IBKR) is a global online broker known for blending beginner and advanced trading tools across sophisticated web and mobile platforms. Founded in 1978, it offers a wide array of products ranging from stocks to futures to forex, and access to over 150 different markets. A gold standard for ECN news trading.
Saxo Bank | Best for research
Saxo Bank is a Danish online broker known for its significant international reach and sophisticated trading platform. Founded in 1992, it offers a large scope of available products, award-winning trading platforms, and superb research, yet with relatively higher fees.
DEGIRO | Best for zero-commission ETF trading
Degiro is one of the leading online brokers in Europe (available in 15 European countries), with over 2.5 million users. It has a low-cost structure and offers commission-free ETF trading (External costs apply).
#1 Interactive Brokers
Interactive Brokers at a glance
Products
Forex, Stocks, ETFs, Options, Futures, Commodities, Bonds and Funds
Commission
$0.005 per US share ($1.00 per order); €/£3.00 per order in the EU
Forex Commission
Variable, starting at 0.08 basis points
Regulators
FINRA, SIPC, SEC, CFTC, IIROC, FCA, CBI, AFSL, SFC, SEBI, MAS, MNB
Interactive Brokers (IBKR) leads the industry as the most trusted broker available with a global, 24/7 reach. For this reason it earns first place in our list on the best ECN broker for news trading.
Founded in 1978, its track record spans over 40 years and through several financial crises. It's known for offering virtually every product a beginner or an advanced trader might want, alongside mobile apps tailored to experience level. In particular, its new app IBKR GlobalTrader feels incredible with its ease-of-use and breadth of features.
IBKR is primarily a "one-stop-shop" broker for the globe, meaning it offers after-hours trading, in addition to currency trading with the added advantage of exceptionally low interbank quotes. Over 100 currency pairs are available, with bid-ask spreads averaging 0.08 to 0.20 basis points (1/100 of 1%). IBKR's minimum deposit is zero, regardless of currency.
Interactive Brokers Group remains one of the most trustworthy names in the business and is publicly listed on NASDAQ. In addition, the broker is regulated by several leading financial authorities.
Please check out our in-depth IBKR review to find out more one why we consider IBKR to be the world's best ECN broker for news trading.
#2 Saxo Bank
Saxo Bank at a glance
Products available
Forex, Stocks, ETFs, CFDs, Options, Futures, Bonds and Funds
Commission
Variable, stocks start at $3 per trade
Forex commission
Variable, staring at 0.07 basis points
Regulators
FSA, FCA, MAS, FINMA, ACPR, AMF, DNB, FSMA, NBB, SFC, ASIC
For our runner-up, Saxo Bank takes the spot with flying colors. The research-oriented broker touts a track record of 30 years and through multiple financial crises. In addition, Saxo offers a premium feel and design to be desired by active traders utilizing ECN brokers.
Founded in 1992, it provides a solid product range (forex included), an incredible trading platform, leading research reports, and low forex and fund fees. It provides major forex pairs at 0.60 basis points with leading liquidity and execution. Its mobile app, SaxoTraderGO, provides trading alerts and access to over 190 currency pairs.
But, there are some points to consider: the minimum deposit is higher than the usual $0 at $10, forex margin rates start 3.33% for most Saxo clients, inactivity fees apply, and stock trading fees are also high. Saxo is not a discount broker. Instead, it focuses on providing a tech-heavy trading platform alongside in-depth research.
Alongside SaxoTraderGO, it features two other platforms: SaxoInvestor and SaxoTraderPRO. The former represents the "light" choice suiting most casual traders or investors, while PRO provides the necessary trading tools, technical indicators, and alerts for those who trade at all hours.
The company is regulated by many authorities, including UK's FCA and Switzerland's FINMA.
#3 DEGIRO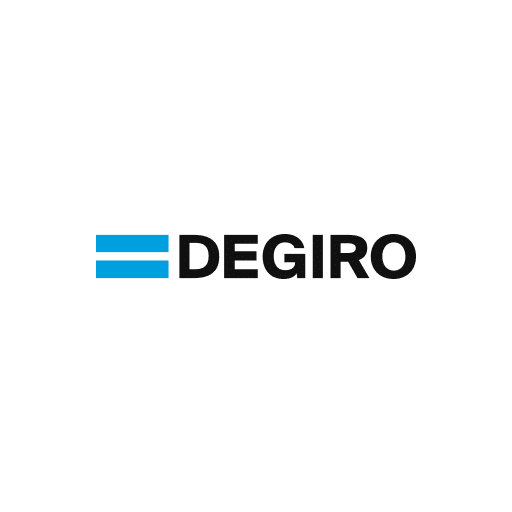 Visit DEGIRO
Investing involves risk of loss.
DEGIRO at a glance
Products available
Stocks, ETFs, Mutual Funds, Bonds, Futures, and Options
Commission
€/£0 for certain ETFs (+ €/£1 handling fee)
Forex commission
25 basis points
Founded in 2008, DEGIRO continues to be the best trading app in Europe for traders specializing in equities, options, and ETFs. It's the discount broker for over 2.5 million Europeans, including beginners and more advanced users. It features low fees all-around, no inactivity fees, a €/£1 commission per trade for US stock trading (+ €/£1 of external costs), select commission-free ETFs (+ €/£1 of external costs) and no minimum deposit.
The platform affords these low fees by providing the necessary tools to trade equities and options often, even after-hours, but without the premium tools of IBKR or Saxo. The products on offer include futures, warrants, funds, bonds, and leveraged products. DEGIRO is a winner for traders who prefer a streamlined, low-cost shop given its lack of fees for custody and inactivity.
When it comes to the best ECN brokers for news trading, we rank DEGIRO third for its lack of access to foreign currencies, and its lack of trading alerts. However, it's a great provider for after-hours stock and ETF trading via the Tradegate exchange. Transactions occurring on Tradegate exchange take on a high €3.90 flat fee.
If low fees remain your primary concern, please check out our comprehensive DEGIRO review.
What Makes a Good ECN Broker for News Trading
Earlier, we touched upon the key aspects a "best" ECN broker for news trading should have. Let's expand on that list, understanding that the core of an ECN network is a cutting out of the middleman:
Many currency pairs

. The leading ECN brokers facilitate forex trading in addition to after-hours trading: at least 100 currency pairs should be on offer;

Reasonable fees

. Forex and after-hours trading often brings with it higher fees through either commissions or margin (borrowing) rates. These increases should be understandable and in line with market expectations;

Advanced trading tools

. The best ECN brokers for news trading remember their core goal–to serve active trading who need to-the-minute event alerts and technical trading tools;

Low monthly or minimum deposit requirements

. While the fees for forex or after-hours trading suggest to start with greater base amounts, the industry standard remains to have zero or minimal requirements;

Safe

. A top-tier regulator such as BaFin or SEC is necessary.
Overall, our ranking on the best ECN brokers for news trading is:
Best ECN Broker for News Trading
Venturing into news, or after-hours, trading feels daunting at first–we've done it ourselves–but it is one constantly with new opportunities. Before registering with a new broker, take the time to evaluate your priorities.
Are you most interested in lower fees? DEGIRO. Do you value research? Saxo. Not sure, but do you simply want to get started today with a great app and trusted name? Interactive Brokers.
We hope you've found this article helpful and feel confident in your next trading journey, whether you're new to the game or getting back in. If you have any feedback, feel free to let us know down in the comments section.
What is ECN Trading?
ECN trading can be colloquially referred to as "news trading," or valuing the timing and impact of news far beyond the standard fundamentals attributed to investment analysis. ECN trading utilizes an Electronic Communications Network that cuts out all middleman in the transaction.
Taking the foreign exchange market as an example, we typically have STP or "straight-through" processing, which is referring to a middleman passing orders between liquidity providers (dealers) and you. With ECN trading, the system itself connects you to sellers at the expense of higher fees or margins.
What are the benefits of ECNs?
ECNs primarily serve to connect two market actors at any one time, anytime. Depending on a middleman can limit (1) liquidity, (2) trading hours, and (3) service, or execution, quality. The best ECN brokers for news trading are always just that–ECN brokers.
What is news trading?
News trading refers to trading on the news, such as by responding to the latest inflation or unemployment statistics. News traders often utilize technical indicators and consumer sentiment surveys to make tactical, short-term decisions, alongside many other possible strategies.
News trading capitalizes upon momentum, but can lead to significant losses if a trader is not yet well acquainted with timing and technical indicators.
Should a beginner adopt the news trading method?
An absolute beginner should not start with news trading. Instead, consider the more common styles of "value" or "growth" investing. It's also important to study the fundamental basics espoused by Ben Graham and Warren Buffet. Once you have that down, give news trading a shot!