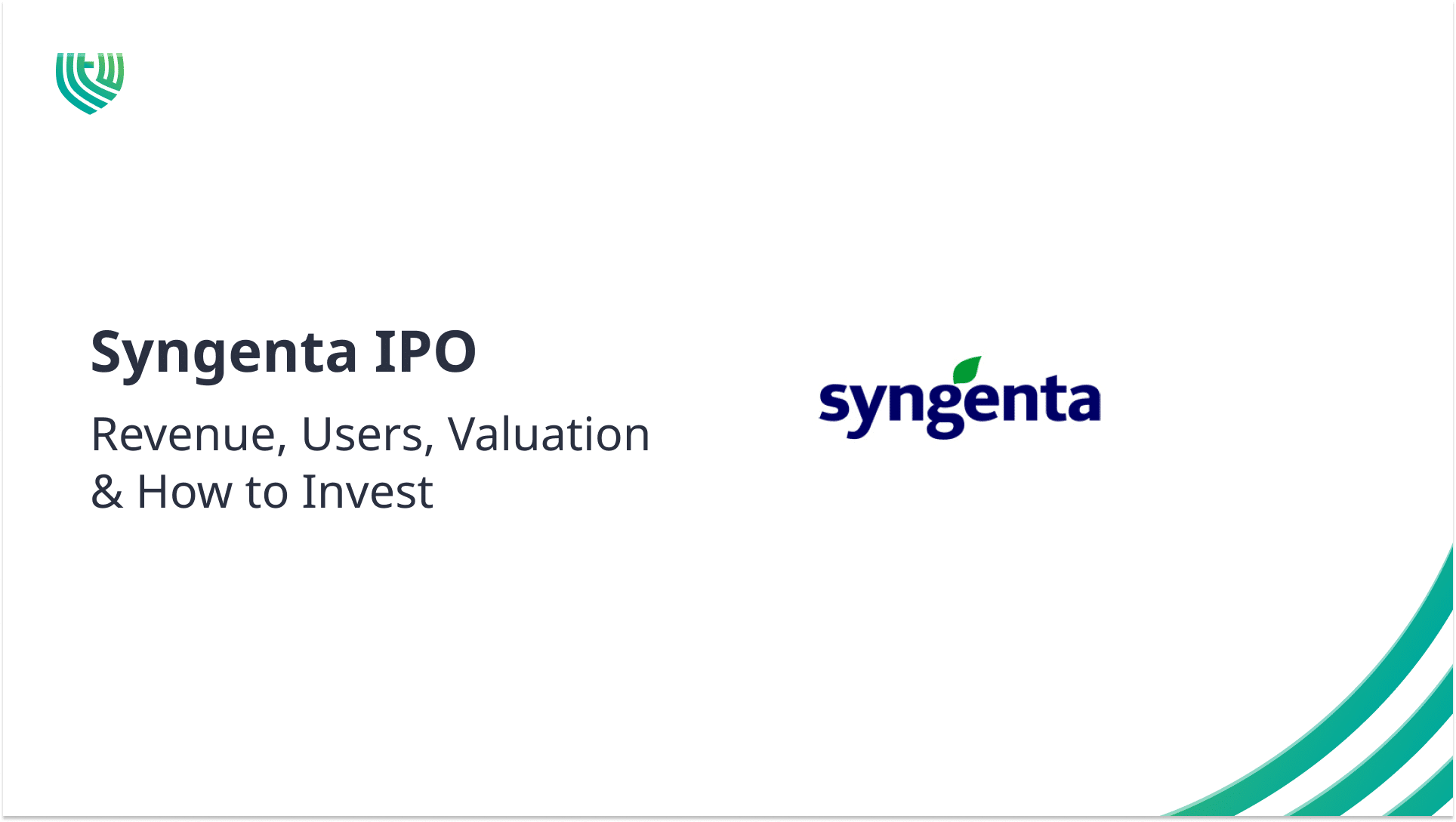 With an increasing global population, food production has become a key area of discussion. The issues largely relate to feeding an ever-growing number of people, and how we can do so sustainably. One company attempting to revolutionise food production is Syngenta. The firm looks for ways to implement technology and science into agricultural processes, sometimes called 'AgTech'. Investors are getting pretty excited about Syngenta because it could be an opportunity to invest in the future of food (and farming), solving problems that are essential to our very existence.
Throughout this article, we're going to take a look at the most important details relating to this science-based AgTech stock so that you can decide whether you'd like to invest in Syngenta. We'll dive into all the key areas, such as the company statistics, sales revenue, profit, valuation, key competitors, and everything you need to know about the Syngenta IPO (initial public offering).
Syngenta is a science-based AgTech firm that provides farmers across the world with advanced solutions for protecting crops and improving crop productivity to create more efficient and sustainable agriculture businesses.
What's particularly interesting about Syngenta is that it is no small, bootstrapped start-up. The firm was initially created through a merger between Novartis Agribusiness and Zeneca Agrochemicals in 2000. This allowed Syngenta to hit the ground running and operate at the necessary scale to make the business viable.
The company was already listed on the New York Stock Exchange (NYSE) and the SIX Swiss Exchange, but was taken private after being acquired by Chinese firm ChemChina (a state-owned enterprise) in 2017 for an eye-watering $43 billion USD. The shares were delisted from the US and Swiss stock exchanges when this happened.
This is a company with a relatively long history of operating and making money, with past financials being available (unlike most private companies). Today, Syngenta is still a multi-billion dollar business operating in over 90 countries with over 30,0000 employees.
Syngenta Key Company Facts
| | |
| --- | --- |
| Founded | 2000 |
| Headquarters | Basel, Switzerland |
| Sector | Agriculture |
| Industry | AgTech (farming, biotechnology) |
| CEO | Jon Erik Fyrwald |
| Number of employees | 32,446 (LinkedIn April 2023) |
| IPO Date | 2023 (expected) |
| Valuation estimate | $50 billion USD |
Syngenta Company Statistics
Below is a breakdown of some key information, including Syngenta's sales figures, profit, and top competitors.
Below is a breakdown of Syngenta's two primary sources of sales revenue: crop protection and seed sales. There are some additional sales pipelines, but they only account for a small portion of the firm's total sales.
| | | |
| --- | --- | --- |
| Year | Crop protection sales (USD) | Seeds sales (USD) |
| 2013 | $10.9 billion | $3.2 billion |
| 2014 | $11.4 billion | $3.2 billion |
| 2015 | $10 billion | $2.8 billion |
| 2016 | $9.6 billion | $2.7 billion |
| 2017 | $9.7 billion | $2.8 billion |
| 2018 | $10.4 billion | $3 billion |
| 2019 | $10.6 billion | $3 billion |
| 2020 | $11.2 billion | $3.2 billion |
| 2021 | $13.3 billion | $3.6 billion |
| 2022 | $16.1 billion | $4 billion |
Syngenta Profit (net income)
| | |
| --- | --- |
| Year | Profit (net income) USD |
| 2013 | $1.644 billion |
| 2014 | $1.619 billion |
| 2015 | $1.339 billion |
| 2016 | $1.178 billion |
| 2017 | -$98 million |
| 2018 | $1.451 billion |
| 2019 | $1.456 billion |
| 2020 | $1.422 billion |
| 2021 | $1.442 billion |
| 2022 | $1.907 billion |
Few companies can do what Syngenta does on such scale, making it hard to compete. However, these are the firms who could be viewed as key competitors to Syngenta:
Monsanto

Corteva

DuPont

Agrium

BASF

ADAMA

Bayer CropScience

AgroFresh

AgReliant Genetics

Synagri
When is the Syngenta IPO?
No exact date is set, but it will likely be soon. Some reports estimate that around June 2023 could be when the flotation takes place. Syngenta has been planning another IPO (initial public offering) to take place over the last few years.
The main obstacle right now is that the company needs to appear before a panel for a hearing before it can be listed on the Shanghai Stock Exchange (SSE). However, a planned hearing for the end of March 2023 was cancelled with no reasons given for the cancellation.
So, although an IPO looks close for Syngenta, there may be additional regulatory hurdles to pass before the firm can go ahead with its listing. Unlike other companies, Syngenta's financial performance has looked strong because it has the pricing power to cover higher costs due to inflation and supply-chain issues.
The current economic climate won't deter Syngenta from going public, and the conditions may even work in its favour. It's unknown why there has been a delay in the process, but this could be an IPO taking place in the near future. I'm sure plenty of investors will be excited about adding Syngenta shares (once again) into their portfolios.
How to invest and buy shares after the Syngenta IPO
After the Syngenta IPO date, you can freely buy the newly listed stock. Interactive Brokers and eToro are two top-rated brokers where you can access Syngenta shares and buy the stock with low fees after the IPO. Take a look at both these brokerage options below:
Interactive Brokers at a glance
Products available
Stocks, ETFs, Options, Futures, Forex, Commodities, Bonds and Funds
Regulators
FINRA, SIPC, SEC, CFTC, IIROC, FCA, CBI, AFSL, SFC, SEBI, MAS, MNB
Countries Supported
218 countries globally
Founded in 1978, the IBKR platform lets you access over 150 market destinations in 33 countries and trade any asset you may be looking for: Stocks, Bonds, ETFs, Forex, Funds, Commodities, Options, Futures, CFDs, Cryptos Futures, and even tiny small companies (a.k.a micro caps).
If you want to buy Syngenta stock after the IPO, here's how you can buy shares using Interactive Brokers:
Deposit funds into your account.

Once it's available, search for the Syngenta stock, there is no confirmed ticker symbol right now.

Place the type of order you wish to use (e.g. market, limit, stop etc.).

Once you've bought your desired number of Syngenta shares, continue to monitor performance.
If you'd like to learn more about the IBKR platform, check out our full-length Interactive Brokers review.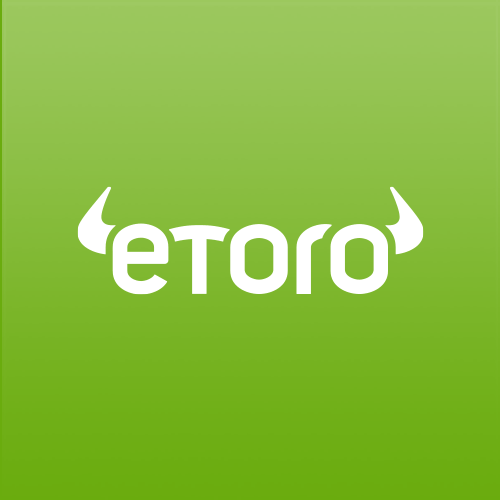 Visit eToro
76% of retail CFD accounts lose money.
eToro at a glance
Minimum deposit
$10 (varies between countries)
Products available
ETFs, Stocks and CFDs on Commodities, Forex, and Cryptocurrencies
Regulators
FCA, CySEC, ASIC
Countries Supported
64 countries globally
Founded in 2006 in Israel, eToro now has over 30 million customers worldwide. The platform is widely known for its social and copy trading features. It allows users to trade stocks, forex, commodities, cryptocurrencies, CFDs, and ETFs.
If you're planning to buy Syngenta stock after the IPO, here's how you can buy shares using eToro:
Head to the 'Markets' page, and select 'Stocks'.

Search for the Syngenta stock and select 'Trade'.

Next, hit 'BUY'.

Choose how much you want to invest in Syngenta or the number of shares you want to buy.

Select your leverage (or ensure that leverage is set to X1).

Decide on a take-profit parameter if you want to automate a future sale of your Syngenta stock.

Finally, hit 'Open Trade'.
If you'd like to learn more about eToro, check out our in-depth eToro review.
Bottom line on investing in the Syngenta IPO
In the past, investors could own Syngenta shares (before the company was taken private after its acquisition by ChemChina in 2017). It's likely that even more investors will be looking to buy shares once the refreshed Syngenta goes through the IPO process shortly.
Unlike other IPOs, we have the benefit of being able to look at past financials for Syngenta and have a deeper understanding of the business. This makes investing somewhat less risky compared to other private companies that are complete unknowns. Syngenta has a proven business model that solves a problem and is already making billions of dollars in revenue and profit.
The only hesitation some investors are likely to have is that a big chunk of Syngenta will remain Chinese state-owned after the initial public offering. Syngenta has put wheels in motion for its IPO, but it's not yet known why the Shanghai Stock Exchange has postponed the necessary hearing for the company to become listed. This could be either good or bad news.
From a business and financial perspective, investing in Syngenta looks extremely attractive. The only question marks surrounding this highly-anticipated IPO are to do with the Chinese government. So, we'll have to see how everything plays out. But, providing any regulatory issues are sorted, the Syngenta IPO will potentially be one of the biggest initial public offerings of the year, with the company looking to raise roughly $9.5 billion in the flotation.
Let us know in the comments below if you plan on investing in the Syngenta IPO!
What is an IPO?
The acronym stands for 'Initial Public Offering', it's a process used by large private companies to raise additional capital. This is done to further invest in the growth of the business or even pay off debt. An IPO creates public awareness, putting the company under the spotlight. Timing of an IPO is crucial for a company if it wants to maximise its capital-raising potential and increase its valuation due to demand from investors and the market.
Is Syngenta public or private?
Private. The company was publicly listed in the past, but for now, it's privately owned.
Is Syngenta Chinese owned?
Yes. The company is owned by ChemChina, which is a state-owned enterprise.
Is Syngenta going to IPO?
Yes, it sounds very likely, but the main question is when. The company is in the process of getting approval to list on the Shanghai Stock Exchange (SSE), but there's no confirmed timeline. The firm was hoping for June 2023, yet this may be delayed.
Who owns Syngenta?
It's now a private company owned by ChemChina.
Is Syngenta publicly traded?
Not right now. Syngenta is still a private company. But after the Syngenta IPO, it will once again become a listed company, and shares will be publicly traded on a stock exchange.
What is the Syngenta current valuation?
It's estimated the current valuation is roughly $50 billion. It was bought for $43 billion in 2017 and has since grown and improved its sales and profit figures.
What is the stock ticker for Syngenta?
It used to go under the stock ticker symbol 'SYT', but it's unknown if this will be the ticker after the next IPO.
Is Syngenta profitable?
Yes, by the looks of Syngenta's company financial records. Unlike other private companies, Syngenta was publicly listed. So we're able to see some history and the firm has continued releasing most of its financial records in the period since it was taken private.
Can you invest in Syngenta now?
Not at the moment. After the company is once again listed on a stock exchange after its IPO, you will be able to buy Syngenta stock (providing your stock broker lets you access the Shanghai Stock Exchange).
What is the IPO price for Syngenta?
This won't be known until very close to the initial public offering, when the underwriters and investment banks will agree on a price.