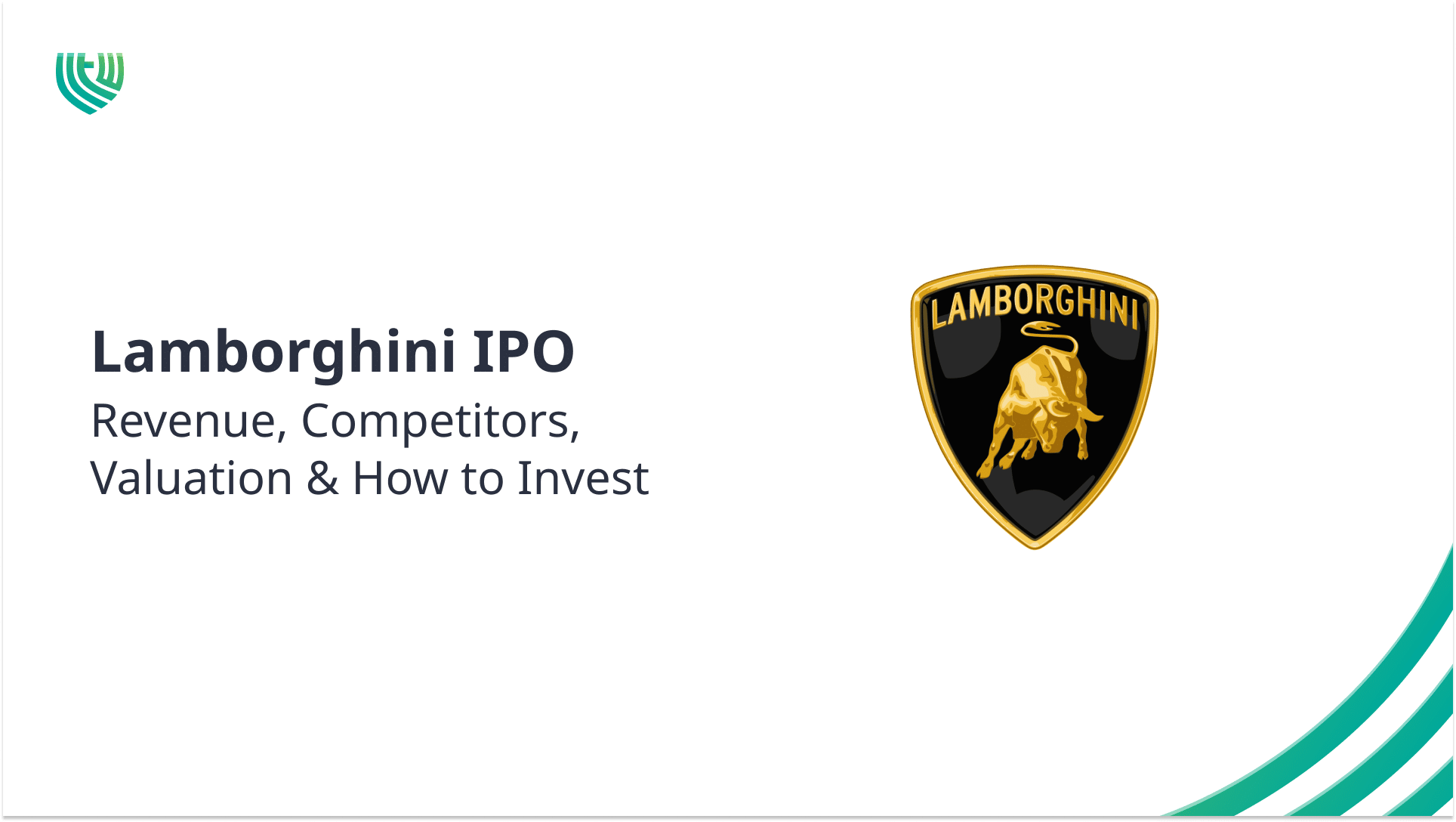 When it comes to luxury and performance, there are not many brands that can compete with Italian car manufacturer Lamborghini. For the wealthy, both old and young, Lamborghinis have been a staple of any car lover's garage. There's been talk for years about a potential Lamborghini stock flotation, separating the company from its current owners Volkswagen, and this might take place shortly.
Throughout this article, we're going to take a look at the most important details relating to this European car stock so that you can decide whether you'd like to invest in Lamborghini. We'll dive into all the key areas, such as the company statistics, current valuation, key competitors, and everything you need to know about the Lamborghini IPO (initial public offering).
Lamborghini is a luxury Italian car manufacturer. The company's roots stretch back to 1948 when Italian automobile designer, engineer, mechanic, and inventor – Ferruccio Lamborghini created Lamborghini Trattoria (a tractor company). He went on to set up Automobili Lamborghini in 1963 and switched his focus to high-end sports cars.
The company had some immediate success but then struggled during the economic conditions and oil crisis of the 1970s. Ferruccio Lamborghini sold the company and retired in 1974, after which the company went bankrupt in 1978. Lamborghini was bought out again in 1980 by Claude and Patrick Mimran who spent years investing and expanding the business.
Eventually, the company was sold to the Chrysler Corporation in 1987. Then, sold once again in 1994 to Malaysian and Indonesian investment companies before it was finally acquired by the Volkswagen Group in 1998. So, the firm has gone through plenty of hands over its history but still resides under VW ownership today (within the Audi division).
As a luxury carmaker, Lamborghini's sales performance is closely tied to broader economic conditions. When the world is prospering, Lamborghini does well and sells more cars. But, when times are tough, people are less likely to buy expensive, high-end vehicles. These tough periods tend to directly impact Lamborghini's ability to market and sell its cars.
Lamborghini Key Company Facts
| | |
| --- | --- |
| Founded | 1963 |
| Headquarters | Sant'Agata Bolognese, Italy |
| Sector | Transport |
| Industry | Car Manufacturer |
| Founder | Ferruccio Lamborghini |
| CEO | Stephan Winkelmann |
| Number of employees | +4,000 (LinkedIn November 2023) |
| IPO Date | 2023/2024 (expected) |
| Valuation estimate | €20 billion euros |
Lamborghini Company Statistics
Below is a breakdown of some key information, including Lamborghini's estimated company and brand value, revenue, operating profit, cars delivered, and top competitors.
Lamborghini estimated company valuation
| | |
| --- | --- |
| Year | Estimated valuation (EUR) |
| 2019 | €10 billion |
| 2022 | €15 billion |
| 2023 | €20 billion |
Source: Bloomberg, Seeking Alpha
Lamborghini estimated brand valuation
| | |
| --- | --- |
| Year | Estimated brand value (EUR) |
| 2018 | €107 million |
| 2019 | €112 million |
| 2020 | €119 million |
| 2021 | €248 million |
| 2022 | €282 million |
| | |
| --- | --- |
| Year | Revenue (EUR) |
| 2019 | €1.79 billion |
| 2020 | €1.61 billion |
| 2021 | €1.96 billion |
| 2022 | €2.38 billion |
Source: Lamborghini, Audi
Lamborghini operating profit
| | |
| --- | --- |
| Year | Operating profit (EUR) |
| 2021 | €393 million |
| 2022 | €614 million |
Lamborghini cars delivered
| | |
| --- | --- |
| Year | Cars delivered |
| 2019 | 8,205 |
| 2020 | 7,430 |
| 2021 | 8,405 |
| 2022 | 9,223 |
Source: Lamborghini, Audi
Lamborghini's competitors
Below are some examples of car manufacturing competitors to Lamborghini (although some of these brands are also part of the VW Group).
Porsche

Ferrari

Rolls-Royce

Mercedes Benz

Bugatti

Aston Martin

Maserati

Lexus

BMW

Jaguar
When is the Lamborghini IPO?
There's no exact date set right now. Reports suggested that in 2020, Volkswagen had drawn up IPO (initial public offering) plans for Lamborghini and had begun speaking to investment bankers and investors.
However, there have been plenty of mixed reports, with some spokespeople at VW stating there were no plans for a Lamborghini IPO or to sell the company. It may be the case that VW is keeping its cards close to its chest and needs to make Lamborghini more independent before it can follow through on a stock flotation.
There have been few updates lately, but Lamborghini has been performing well and breaking company records. But, the current economic climate is likely to lead to lower future sales (at least in the short-term) while people are more careful about spending and the markets are in a slump.
We might have to wait a while before any more news about the Lamborghini IPO, but VW may press ahead before things get any worse and the company is at peak value.
How to invest and buy shares after the Lamborghini IPO
After the Lamborghini IPO date, you can freely buy the newly listed stock. Interactive Brokers and eToro are two top-rated brokers where you can access Lamborghini shares and buy the stock with low fees after the IPO. Take a look at both these brokerage options below:
Interactive Brokers at a glance
Products available
Stocks, ETFs, Options, Futures, Forex, Commodities, Bonds and Funds
Regulators
FINRA, SIPC, SEC, CFTC, IIROC, FCA, CBI, AFSL, SFC, SEBI, MAS, MNB
Countries Supported
218 countries globally
Founded in 1978, the IBKR platform lets you access over 150 market destinations in 33 countries and trade any asset you may be looking for: Stocks, Bonds, ETFs, Forex, Funds, Commodities, Options, Futures, CFDs, Cryptos Futures, and even tiny small companies (a.k.a micro caps).
If you want to buy Lamborghini stock after the IPO, here's how you can buy shares using Interactive Brokers:
Deposit funds into your account.

Once it's available, search for the Lamborghini stock, there is no confirmed ticker symbol right now.

Place the type of order you wish to use (e.g. market, limit, stop etc.).

Once you've bought your desired number of Lamborghini shares, continue to monitor performance.
If you'd like to learn more about the IBKR platform, check out our full-length Interactive Brokers review.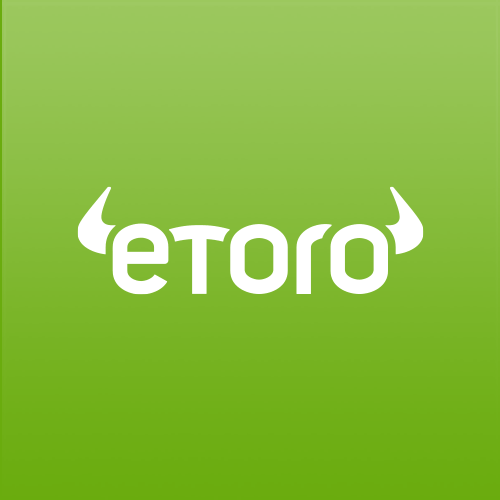 Visit eToro
76% of retail CFD accounts lose money.
eToro at a glance
Minimum deposit
$10 (varies between countries)
Products available
ETFs, Stocks and CFDs on Commodities, Forex, and Cryptocurrencies
Regulators
FCA, CySEC, ASIC
Countries Supported
64 countries globally
Founded in 2006 in Israel, eToro now has over 30 million customers worldwide. The platform is widely known for its social and copy trading features. It allows users to trade stocks, forex, commodities, cryptocurrencies, CFDs, and ETFs.
If you're planning to buy Lamborghini stock after the IPO, here's how you can buy shares using eToro:
Head to the 'Markets' page, and select 'Stocks'.

Search for the Lamborghini stock and select 'Trade'.

Next, hit 'BUY'.

Choose how much you want to invest in Lamborghini or the number of shares you want to buy.

Select your leverage (or ensure that leverage is set to X1).

Decide on a take-profit parameter if you want to automate a future sale of your Lamborghini stock.

Finally, hit 'Open Trade'.
If you'd like to learn more about eToro, check out our in-depth eToro review.
Bottom line on investing in the Lamborghini IPO
Investing in Lamborghini will be an exciting prospect for investors around the world. However, Volkswagen has been relatively tight-lipped about Lamborghini IPO (initial public offering) plans. There's no timeline set out currently, but VW might go ahead with a Lamborghini stock flotation before the economic situation potentially deteriorates further.
Buying Lamborghini shares will definitely be an interesting opportunity that could see some excellent long-term gains. Yet, as the sales of 'Lambos' are heavily tied to overall economic prosperity, you might have to wait a few years before the luxury car maker is back on a smoother road.
Like most companies, Lamborghini will be facing increasing costs and lower demand. Falling under the control of VW should give the business stability as it has been successfully steered through the last few economic downturns. If you want to buy Lamborghini stock, you may have to wait until markets pick up again before VW is willing to list the firm on a stock exchange.
Let us know in the comments below if you plan on investing in the Lamborghini IPO!
What is an IPO?
The acronym stands for 'Initial Public Offering', it's a process used by large private companies to raise additional capital. This is done to further invest in the growth of the business or even pay off debt. An IPO creates public awareness, putting the company under the spotlight. Timing of an IPO is crucial for a company if it wants to maximise its capital-raising potential and increase its valuation due to demand from investors and the market.
Does VW still own Lamborghini?
Yes, the Volkswagen Group owns Lamborghini and it falls under the control of Audi.
Who owns Lamborghini?
Volkswagen owns the business.
Is Lamborghini public or private?
Right now, it's private.
Where is Lamborghini located?
The company has headquarters in Sant'Agata Bolognese, Northern Italy.
Is Lamborghini going to IPO?
Hopefully, but VW has not confirmed any plans to list the company.
Is Lamborghini publicly traded?
Not right now. Lamborghini is still a private company and part of VW. But after the Lamborghini IPO, it will become a listed company, and shares will be publicly traded on a stock exchange.
What is the stock ticker for Lamborghini?
There's no confirmed stock ticker for Lamborghini right now.
Can you invest in Lamborghini now?
Not at the moment. After the company is listed on a stock exchange after its IPO, you will be able to buy Lamborghini stock.
What is the IPO price for Lamborghini?
This won't be known until very close to the initial public offering, when the underwriters and investment banks agree on a price.