Porsche's newly issued shares are already trading on the Frankfurt Stock Exchange under the name Porsche AG and ticker P911.DE (not to be confused with ticker PAH3.DE – Porsche Automobil Holding SE)!
In this article, we'll explain everything you need to know about the Porsche AG IPO, including how to buy the newly issued Porsche AG stocks, and the stock itself.
When Was the Porsche AG's IPO Date?
Porsche's IPO date was on the 29th of September, 2022. The offering period commenced on 20th September 2022 and ended on 28 September 2022. It was one of the biggest IPOs in the German stock market history and started trading at €82.50 valuing Porsche AG at €75 billion. Porsche AG's revenues reached €33.1 billion in 2021, and expected revenue between €38 billion and €39 billion in 2022, despite the business environment headwinds.
How to Order Porsche AG Stock?
We will present you with the trading platforms that allow you to invest in Porsche AG stock! Our criteria included fees, trading platform, regulation, customer support, among others! Here our top pick:
Founded in 1978, Interactive Brokers is a global online broker that provides advanced web and mobile trading platforms, and offers a vast array of financial products (stocks, options, mutual funds, ETFs, futures, bonds, and currencies) from over 150 markets.
Established in 2007, eToro is one of the leading online brokers known for its social trading platform, with over 30 million users. It gives access to different products such as CFDs, ETFs, stocks, commodities, Forex, and cryptocurrencies.
Disclaimer: Your capital is at risk. Other fees apply. For more information, visit etoro.com/trading/fees.
In the following reviews, we discuss the features of each trading platform, where each broker differs in terms of pricing, accessible markets and instruments, and other special features.
#1 Interactive Brokers
Interactive Brokers at a glance
Products available
Stocks, ETFs, Options, Futures, Forex, Commodities, Bonds and Funds
Regulators
FINRA, SIPC, SEC, CFTC, IIROC, FCA, CBI, AFSL, SFC, SEBI, MAS, MNB
Fees
$0.0035 per US stock (min. $0.35 per order)
Interactive Brokers caters both to beginners and professional investors looking for educational materials and an easy-to-use platform and advanced technical and fundamental trading tools, and for in-depth research. Investors can use Interactive Brokers' web-based Client Portal trading platform, as well as the IBKR GlobalTrader Mobile app and the professional Trader Workstation platform.
The TWS platform is easy to use and includes many standard features such as watchlists, alerts, and real-time monitoring, in addition to advanced tools, such as the volatility lab, which is a brief overview of a stock's past and future volatility parameters, as well as its industry peers and the broader market. In addition, it has advanced technical analysis tools with over 120 indicators and many other highly customizable features.
IBKR is a great option for retail investors interested in trading international stocks, ETFs, bonds, futures, options, and even penny stocks. It is ideal for beginners or professionals looking for a large number of instruments and a secure broker. Nearly all Europeans can open an account at IBKR.
On the downside, if you are new to investing, you might find the platform a bit complicated with too many buttons and features. You can read our IBKR review for more information.
#2 eToro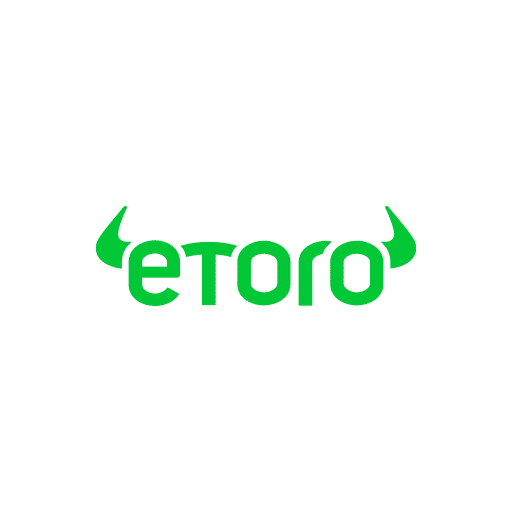 Visit eToro
74% of retail CFD accounts lose money.
eToro at a glance
Products available
ETFs, Stocks and CFDs on Commodities, Forex, and Cryptocurrencies
Minimum Deposit
$10 in the UK (it varies between countries)
Regulators
FCA, CySEC, ASIC
Fees
$0 for stocks and ETFs
eToro is an international online broker with over 25 million users who trade stocks, forex, commodities, cryptocurrencies, CFDs, and ETFs. It is known for its social trading feature, where you can copy the trades of other experienced traders. There are thousands of verified traders on eToro, and you can pick the best trader based on past Return on Investment (ROI), risk profile, or other factors.
The eToro platform gives users access to over 3,000 financial instruments and offers commission-free trades on stocks and ETFs. Additionally, users can invest in ready-made investment portfolios (Smart Portfolios), a group of several assets or traders combined together based on a theme or strategy.
The web platform has an easy-to-use and intuitive interface that is beginner-friendly while offering advanced features for experienced traders. Among those features is one-click trading, which lets traders open a new position while using pre-determined parameters with just a click.
Additionally, it offers a stop loss feature that lets you keep a position open as long as the market price moves in the right direction. Another feature is the eToro Research Tab, powered by TipRanks, which helps you enhance your knowledge to make better-informed investment decisions.
Although the platform is attractive for beginners, it is not the ideal platform for day traders or experienced investors as spreads are high for some products. Additionally, withdrawing money is somewhat expensive compared to other brokers ($5 per withdrawal request). For a full assessment, read our comprehensive eToro review.
Is Porsche AG a Good Investment?
With respect to Porsche AG, the below estimates are currently available, noting it is in EUR:
Revenue (2021): €33.1 billion, a 15% increase over 2020 (€28.7 billion)

Operating profit (2021): €5.3 billion, a 27% increase over 2020 (€4.2 billion)

Vehicles sold (2021): 301,915 compared to 272,162 vehicles in 2020

Investors include: Volkswagen AG and Porsche SE, please see above

A close parallel is Snowflake, which already went public in September 2020
We only mentioned a few of the metrics that are currently available; for more details about the company, you can visit the Porsche Newsroom website, where they regularly publish their financials, deliveries, new model release, and other news.
Porsche AG will definitely grab the attention of many investors across the world. The sports car manufacturer proved that it can operate in a highly challenging business environment and keep growing.
While focusing on high-quality products, Porsche has set sustainability-related ambitions that will redefine the concept of modern luxury and are expected to boost its growth over the upcoming years.
Porsche might provide the +50% return you're looking for, but we suggest you conduct your own research or sit down with a professional advisor.
Is Porsche AG a public company?
Yes! It became one on the 29th of September 2022, and it is trading under the ticker P911.DE (not to be confused with ticker PAH3.DE for Porsche Automobil Holding SE).
What is the difference between Porsche AG and Porsche SE?
Porsche SE is just a business holding company with a stake in Volkswagen AG and is not an automobile manufacturer. Porsche AG, wholly owned by Volkswagen AG, is the actual manufacturer of the Porsche automobile brand.
When was the Porsche AG's IPO?
Porsche's newly issued (preferred) shares started trading on the Frankfurt Stock Exchange on the 29th September 2022. The offering period commenced on 20th September 2022 and ended on 28 September 2022.
What other IPOs are coming soon?
Some upcoming IPOs include the Reddit IPO, Discord IPO, Netskope IPO, Stripe IPO, Databricks IPO, and Instacart IPO.