With 2 million funded accounts and 14 million app downloads, Trading 212 has become one of the world's most popular brokers. An easy-to-use platform, simple account opening, commission-free stock & ETF trading, Auto Invest & Pies automated investing feature, and the availability of fractional shares make it a natural choice for many beginner investors.
Some of the main cons of the platform include a limited offer of financial products, the lack of advanced trading tools, and the practice of share lending, potentially adding another layer of risk. In this article, we will explore bond availability on Trading 212 and offer you a choice of some alternatives.
Can you buy bonds on Trading 212?
Sadly, Trading 212 does not offer investing in individual bonds. It only offers the possibility to invest in bond ETFs. That means you can buy a passive fund (ETF) consisting of many bonds but not individual ones.
Each approach has pros and cons, with ETFs being an excellent risk diversifier but carrying a small management fee (contained in TER – Total Expense Ratio) and being sensitive to future interest rate changes.
Buying individual bonds gives you a stable and predictable income. Still, there is always the risk of the bond issuer defaulting and/or price drops if selling the bond before maturity.
If you are looking for an alternative platform that would allow you to buy individual bonds, we got you covered. Below we will go through our top picks of brokers that offer individual bonds, among other products:
Best Trading 212 alternatives for investing in bonds
It was founded in 1978; it is one of the world's most trustworthy brokers. It offers a wide selection of financial products, including bonds from the U.S., Canadian, U.K., European, and Hong Kong markets. The bond trading fees are reasonable but rise with larger trading volumes. Its IBKR GlobalTrader mobile app is a welcome option for beginners.
DEGIRO | Best European broker for commission-free ETFs
DEGIRO is one of the leading online brokers in Europe (available in 18 European countries), with over 2.5 million users. It has become popular primarily due to its low-cost structure and commission-free trading for selected ETFs (with a €1 handling fee). Apart from ETFs, they offer stocks, bonds, futures, options, and funds. The bond selection is limited, with only bonds from Belgium, France, Germany, Netherlands, and Portugal, but with reasonable fees.

Saxo Bank | Best broker for experienced traders
This Danish broker offers experienced traders access to exchanges worldwide. It has a broad financial product selection, including stocks, bonds, options, forex options, commodities, futures, and more. Their bond offering is not an exception, coming in at over 5,900+ global bonds. A high minimum bond trading fee makes their offer geared towards mostly professional investors.
Broker
Minimum deposit
Supported Products
Currency conversion fee
Available in
Bonds Trading fees

Interactive Brokers

$/€/£0

Stocks, ETFs, bonds, mutual funds, currencies, options, warrants, and futures

0.08-0.20 basis points x Trade Value per order ($1-$2 minimum per order)

Internationally (exceptions apply)

$1 (corporate, municipal) to $5 (treasuries) minimum (could be more with larger volume)

DEGIRO

€/

£

1

Stocks, ETFs, bonds, options, futures, warrants, investment funds

0.25%

Europe (14 countries)

€2 commission + €1 handling fee (only European bonds)

Saxo Bank

$/€/£2,000

(depending on your residency)

Stocks, ETFs, bonds, currencies, futures, options, mutual funds, CFDs

0.45% to 0.75%

Internationally (exceptions apply)

0.2% with a €20 minimum (Classic account)
#1 Interactive Brokers
Interactive Brokers at a glance
Products
Stocks, Bonds, ETFs, Mutual Funds, Currencies, Options, Warrants, and Futures
Regulators
FINRA, SIPC, SEC, CFTC, IIROC, FCA, CBI, AFSL, SFC, SEBI, MAS, MNB
Having been around since 1978 and surviving multiple financial crises, the Interactive Brokers' major advantage is its reputation. It is also publicly listed on the NASDAQ exchange (ticker: IBKR), making it more regulated than some other platforms.
Other significant advantages of using Interactive Brokers are its wide selection of financial products from over 150 markets, solid trade execution (IB SmartRouting), and supporting 24 currencies in its account. There are also 100+ currency pairs available for exchange.
Some downsides of using Interactive Brokers are its somewhat complex fee structure, lengthier than average registration and fund deposit processes, and limited commission-free trading (only available for US investors). However, the last point is largely mitigated using narrower spreads and lower FX fees than most competitors.
Speaking of the fee structure, there are two distinct plans to choose from – Tiered and Fixed, with the former fees depending on the trade volume. The fees also vary across different markets. You can see the full fee structure here.
Bond selection is wide, with U.S., Canadian, U.K., European, and Hong Kong bonds to choose from. The bond trading fees range from $1 (corporate, municipal) to $5 (treasuries) minimum for U.S. bonds, although this number rises with larger trading volumes. Bonds from other markets have their own fee structure, which you can check out here.
The Interactive Brokers Trader Workstation (TWS) platform offers many basic and advanced features, such as a demo account, watch lists, alerts and monitoring in real-time, advanced technical analysis tools, and more. One of the downsides of the platform is that the learning curve can be steep for beginners, even with the provided educational materials.
The IBKR GlobalTrader mobile app is a much more intuitive choice for beginner investors, offering stocks, ETFs, and options trading in a more user-friendly format. Other app features include automatic currency conversions, fractional shares (only for US stocks), and more.
Overall, Interactive Brokers is a good choice for beginners and advanced investors looking for a secure broker and access to various financial instruments, including bonds. If you need more info, feel free to check out our more detailed review of Interactive Brokers.
#2 DEGIRO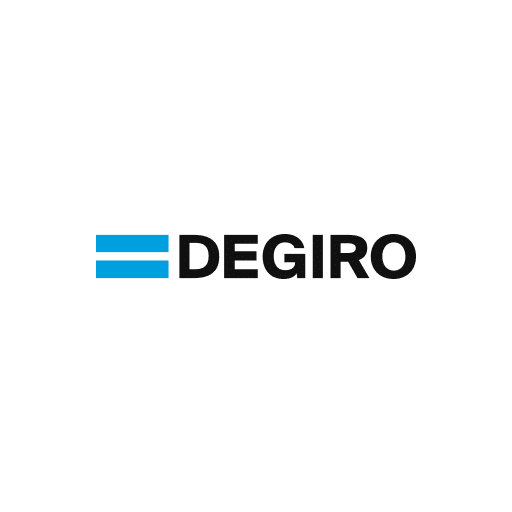 Visit DEGIRO
Investing involves risk of loss.
DEGIRO at a glance
0% Commission
(for selected ETFs; a €1 handling fee applies)
Products
Stocks, ETFs, Bonds, Options, Futures, Warrants, Investment Funds
Regulators
AFM, DNB, BaFin
Founded in 2013 in the Netherlands, DEGIRO became one of the most popular European brokers, with over 2.5 million customers. It is also amongst Germany's largest publicly traded companies and even secured a banking license. That means that, as a part of flatexDEGIRO Bank, your cash is protected up to €100,000 (considerably higher than many competitors).
DEGIRO is perhaps best known for its low fees and wide selection of financial products. Some cons of using DEGIRO are that the platform is only available in 14 European countries and that bank transfers are the only deposit method available.
When it comes to DEGIRO's fee structure, they are keeping it fairly simple. There are no deposit or withdrawal fees, as well as inactivity fees.
Keep in mind that they are currently only offering individual bonds from selected markets such as Belgium, France, Germany, Netherlands, and Portugal. They all come with a €2 commission + €1 handling fee.
Commission-free trading is also available for selected ETFs on this list, but remember that there is a €1 handling fee. ETFs not found on this list also have a €2 commission fee.
Commission fees for stocks on different exchanges include:
US/Canada exchanges: €1.00 commission;

UK exchange: £1.75 commission;

Irish exchange: €2.00 commission;

Other EU, U.K., and Turkish exchanges: €3.90;

Australian, Hong Kong, Japanese, and Singapore exchanges: €5.00.
Some of the most common additional fees include:

A €1 handling fee for nearly all products;

A €2.50 connectivity fee per exchange per year;

Fixed currency conversion fee of 0.25%.
If you need more info, pleasecheck out our more detailed review of DEGIRO.
#3 Saxo Bank
Saxo Bank at a glance
Products
Stocks, Forex, ETFs, Commodities, Indices, CFDs, Options, Bonds, and Futures
Minimum deposit
$/€2,000 (depending on your residency)
Regulators
FCA, FSA, FINMA, ACPR, ASIC, MAS
Founded in 1992, Saxo Bank is one of the longest-existing global brokers. It is known for its wide variety of financial products (over 60,000), access to a large number of market exchanges (over 120), and a large number of base currencies (18).
Saxo Bank has, more than anything, been trying to appeal to professional investors. It has done so by offering advanced tools, such as its integration with the Trading View charting platform. The apps SaxoTraderGO and SaxoTraderPRO have also been tailored to the professional user, both by the number of their features and their relative complexity.
Those are probably some reasons why Saxo Bank has one of the highest initial deposit requirements in the industry. These can vary depending on your residency, starting from £500 for UK investors and €2,000 for most European countries. It is important to note that Saxo Bank is unavailable in some big global markets outside Europe, such as the US.
Three distinct account levels are available: Classic, Platinum ($200,000 minimum), and VIP ($1,000,000 minimum), each with its fee structure.
Speaking of fees, they are one of the biggest cons of using Saxo Bank. Fees for trading US stocks and ETFs start at just $1, but only for VIP accounts. These fees will be much higher for Platinum and Classic accounts, starting at $4 and $5, respectively.
The bond selection is impressive, coming in at over 5,900+ bonds worldwide. Bond trading fees depend mostly on your account level, with the basic account offering a 0.2% fee for bonds but with a minimum of 20 EUR for all account levels. This shows that Saxo Bank is geared more toward professional users with higher trading volumes.
The fee structure is fairly complex, and there are also some additional fees to be aware of. Just to name a few most common ones:

Minimum monthly custody fee:

€5;

Inactivity fee (after not logging in for 6 months):

€100;

Currency conversion fees: between 0.45% and 0.75%.
It is probably best to select the desired financial product from their website to see its full fee structure.
In a nutshell, Saxo Bank is tailored to professional investors because of its advanced tools, higher-than-average fees, and complex interface. Those are also reasons why it may not suit beginner or even intermediate investors.
What to look for in a broker that's offering bond trading?
There are several key factors that go into the decision to choose a brokerage platform that offers bond trading:

Platform's overall experience and user interface:

You want to ensure you are confident using the platform from start to finish. Factors like account opening, minimum deposit, user experience, available tools, etc., all come into play.

The range of available bonds:

Not all brokers offer bonds from a wide range of global markets. Make sure that the broker you choose has access to the bond markets that you're interested in.

Commissions:

They say fees are the only 100% certain thing in investing. Needless to say, they can eat away at a large portion of our profits and it is important to keep them under control.

Currency exchange fees: Bonds on different markets are denominated in different (most often local currencies). If you are not buying bonds in your domestic currency, you are exposing yourself to currency risk and currency exchange fees.
Bonds have become a more popular asset class with high-interest rates in the current market environment. Current bond yields make them attractive as an asset class with relatively limited risk and stable returns.
However, not all brokers (including Trading 212) offer access to individual bonds. In this article, we have highlighted some of the best alternatives, in our opinion.
Hopefully, we helped with your choice. Feel free to give us your thoughts in the comments below!