Nearly every investor knows about Bitcoin (BTC), the world's largest currency by market capitalization. Its rapid rise to fame overshadows its humble and anonymous origins even as its creator Satoshi Nakamoto refuses to reveal its true self. And a single bitcoin almost always costs tens of thousands of dollars. 
Enter Bitcoin's fractional shares. A minimum bitcoin investment is nowhere near $10,000. It's possible to invest $10 in bitcoin, or $100 if you're feeling confident, through the option of fractional shares. These are sometimes referred to as partial shares, but both terms refer to trading decimals of a whole.
Yes, it's possible to receive fractional shares of Bitcoin or buy "partial bitcoins" with a minimum bitcoin investment of $10 or less. The absolute minimum is defined by your online brokerage. We'll get to this further in the article. 
What is a satoshi, or a fraction of a bitcoin?
The average BTC investor owns approximately 0.2 BTC or less. The smallest unit of value with BTC is a satoshi, or a "sat" for short. There are 100,000,000 sats in a single bitcoin.
Taking a hypothetical example, one sat is worth $0.001 if one bitcoin is worth $100,000. This is how you can invest $100 in bitcoin or even $10. Fractional shares of Bitcoin sustain the initial guiding ethos of Mr. Nakamoto–decentralized finance for all. 
What is the minimum amount of Bitcoin you can buy?
The satoshi remains the true, theoretical minimum of Bitcoin you can buy. However, since this amount is lower than a single penny, online brokerages have implemented their own arbitrary minimums. 
For example, Coinbase requires at least two full units (i.e, whole dollars) of your local currency. eToro requires $10 for US-based customers. Different brokerages set different rules. 
Best Platforms for Bitcoin Fractional Shares
1# eToro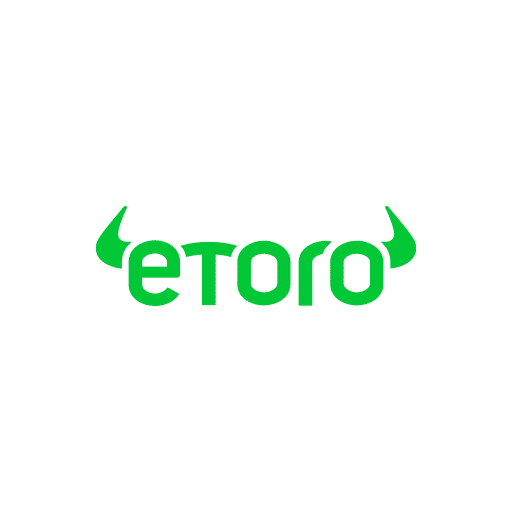 Visit eToro
78% of retail CFD account lose money.
eToro at a glance
Nº of cryptocurrencies
60+
Minimum Deposit
Varies by countries
Regulators
CySEC, FCA, ASIC
Fees
1% (on buy and sell positions - other fees may apply)
eToro is the leading social trading platform in the world. The platform allows you to discuss the world of crypto by sharing your view and reading comments from other investors about investments. It is also possible to copy other traders' strategies, leading to rewards for traders who can attract followers.
They currently offer 60+ options of cryptocurrencies, and the platform is intuitive and easy to use. When buying cryptocurrencies, you will gain the ownership of the asset if you fulfil three requirements:
There was no leverage on the position through CFDs;
You did not short sell the crypto asset;
You are not a client under the supervision of the Australian Securities and Investments Commission (ASIC).
If you are a client of eToro Europe, you can withdraw some of the cryptocurrencies from the platform to the eToro money crypto wallet and transfer them somewhere else if you wish.
The platform also allows you to leverage your cryptocurrency position through a Contract for Difference (CFD). This financial instrument is a derivative that lets you open a position without owning the underlying asset, benefiting from a higher rate of return than what you could gain initially, but exposing yourself to higher losses. Note that this is a complex financial instrument, and eToro reports that approximately 78% of the retail investors that use CFDs lose money with their investments.
Read our in-depth eToro review for more details.
2# Coinbase
Coinbase at a glance
Nº of cryptocurrencies
100+
Regulators
New York State Department of Financial Services and others.
Fees
Between 0.50% and 1.50% (3.99% for credit card purchases)
Coinbase is one of the biggest cryptocurrency exchanges in the world, with more than 80 million users. The platform combines a user-friendly interface with a large offer of cryptocurrencies for the user to buy and sell. It also provides a massive library of information about cryptocurrencies, focusing on beginner education. Any user with limited knowledge of computers can use both the online website and the apps for Android or iOS.
For more advanced traders, the exchange enables the Coinbase Pro, which any retail investor can use to have more advanced types of trades such as limit and stop orders, which are unavailable on the central platform.
While Coinbase is known for its simplicity, the platform has higher transaction fees than its competitors. Users also tend to complain about its customer service, saying that it is hard to contact other humans, with the service being primarily automated. Finally, Coinbase Europe is not a regulated financial service provider for digital currency services.
3# Binance
Binance at a glance
Nº of cryptocurrencies
600+
Fees
Between 0.10% and 0.50%
Binance is arguably the largest cryptocurrency exchange in the world. With more than 600 pairs of cryptocurrencies for you to exchange and fees lower than most of its competitors, it is one of the best crypto platforms in Europe.
The platform allows you to access sophisticated tools and instruments such as derivatives. You can also deposit your assets in liquidity pools, deposit your crypto to earn interest rates, and use your crypto as collateral to take on small loans, among other complex features.
This sophistication comes with a price: the platform may be overwhelming to users, and it may not be the easiest one to navigate, even if you are an experienced trader.
The exchange used to worry its users due to the lack of regulation in Europe. But recently, the app has finally gained regulatory approval from AMF, the Regulation authority in France. The company is also planning to gain regulatory approval from the German regulator.
4# Crypto.com
Crypto.com at a glance
Nº of cryptocurrencies
250+
Regulators
Malta Financial Services Authority (MFSA)
Fees
Between 0.04% and 0.40% (2.99% for credit card purchases)
Crypto.com is a platform that is suitable for investors with some experience. With more than 10 million users from 90 different countries, the highlights of this platform are its cheap fees, the possibility to earn interest on crypto holdings at a high rate and its visa card that allows you to spend your cryptocurrencies and earn rewards for it.
The platform is also famous for its NFT market, which is easy to navigate and suitable for investors that want to start investing in this specific market.
If you hold the platform's native utility token Cronos (CRO), you can lower your fees and earn higher rewards when using your crypto debit card. It is possible to get between 1% and 8% cashback when acquiring certain goods or services.
If you are beginning to invest, you may be overwhelmed by this platform's interface and opt for other exchanges that are more user-friendly, even though they have higher fees for trading. If you have some experience and want to access a platform with low fees and an extensive list of assets, Crypto.com might suit your needs.
Is there a downside to buying fractional shares of Bitcoin?
Yes, there is one key downside to fractional shares: fees. Online brokerages tend to charge flat rates for small crypto transactions, in addition to any variable spreads between dealer prices and prices you receive. 
So if you trade $5.00 worth of sats, your brokerage may charge a flat $0.99 trading fee (like a service charge) in addition to a hypothetical spread of 2.00% and other service fees. A spread manifests through the difference in the bitcoin price you receive against what your broker receives. Since they're offering a slightly higher price to purchase than the market, you receive fewer bitcoins. 
The core problem: you lose a significant percentage, in this example at least 20%, of your investment to fees due to fractional share trading.
To sum it up, these are our top picks:
Best platforms for Bitcoin fractional shares
| | | |
| --- | --- | --- |
| #1 | eToro | Best Overall |
| #2 | Coinbase | Best for beginners |
| #3 | Binance | Best for the widest range of cryptos offered |
| #4 | Crypto.com | Best for rewards and crypto card |
Fractional shares of Bitcoin remain a core necessity for all crypto traders and investors worldwide. Otherwise, many would be left out of the market due to Bitcoin's supply cap of 21 million coins and its price going into the tens of thousands. 
The minimum amount of fractional shares you can buy is determined by your brokerage since a single satoshi still holds a value of less than a single US penny. Further, trading fees consume significant portions of small crypto investments–making the task of choosing the right broker all the more critical. 
This is why we have included an in-depth review of the best platforms above for you. We want you to make the right choice for you, and turn a profit from your first Bitcoin trade!
Did we help answer all of your questions? If not, please let us know your feedback in the comments below. 
What do fractional shares of Bitcoin mean?
The term fractional shares refer to fractions of an equity share and most commonly is associated with traditional equities. In the context of Bitcoin, it technically refers to those satoshis you would own, but whose value is still less than a single bitcoin.
Is it good to buy fractional shares of Bitcoin?
So long as you're aware of your online brokerage's fees and are comfortable with purchasing Bitcoin, then fractional shares offer a fantastic opportunity for making a small investment.
How do Bitcoin fractional shares work?
Bitcoin fractional shares are defined as satoshis. A single satoshi worth less than $0.01 is all you need to get started, but most online brokers require an arbitrary minimum investment, such as $10 or €10.