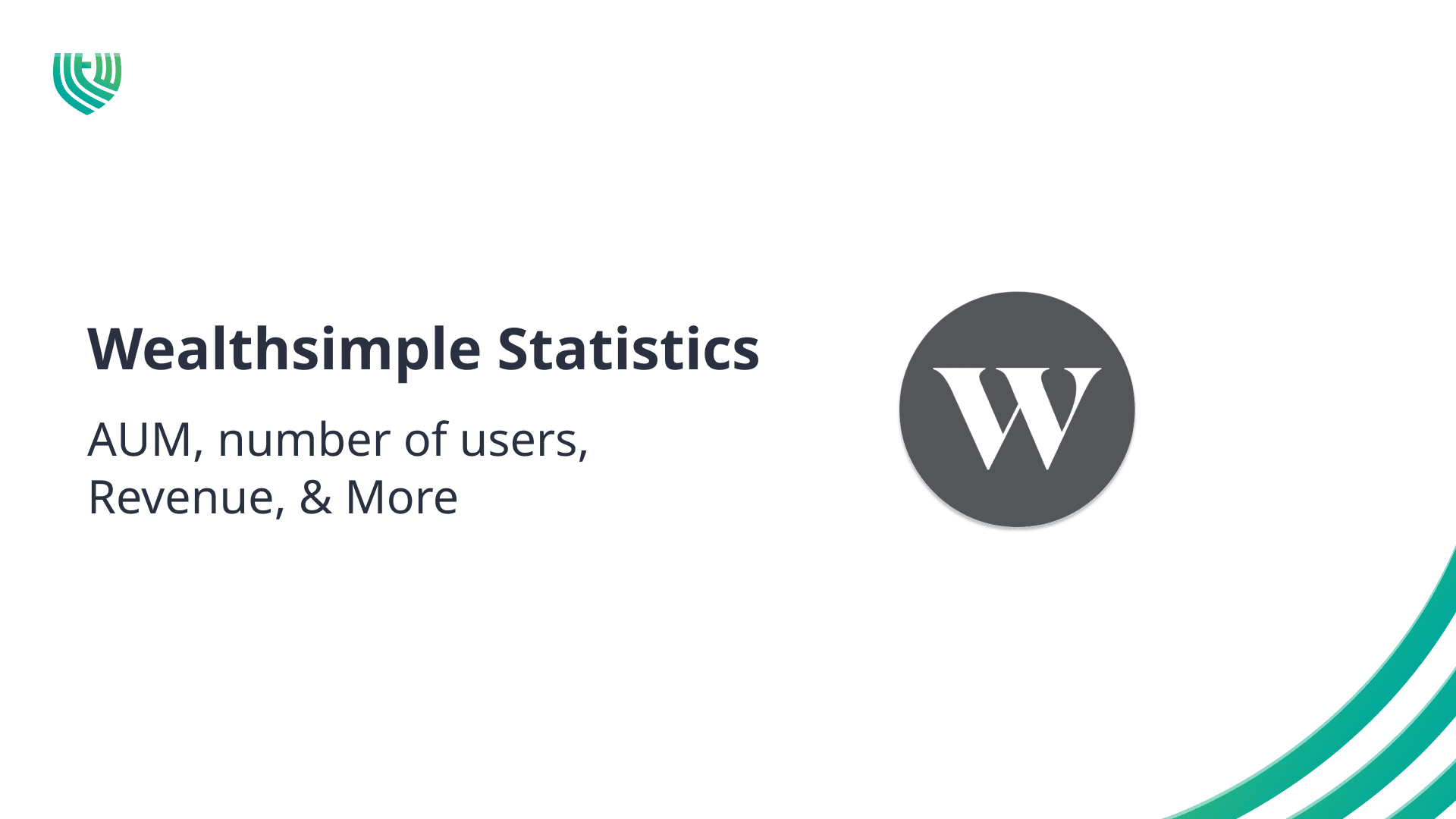 Founded in 2014, Wealthsimple has quickly become one of Canada's best robo-advisors. With its intuitive interface and dedication to making investing more accessible, Wealthsimple has built a wide and diverse user base, gaining popularity among Canadian investors seeking a low-fee, user-friendly investment option.
In this article, we'll explore Wealthsimple's latest statistics for 2023. We will examine the platform's assets under management (AUM), number of users, revenue, and other relevant data, which showcase Wealthsimple's growth and impact on the investment industry. This information will provide valuable insights into Wealthsimple's performance and its potential as a game-changer in the investment management space.
Whether you're a current or potential Wealthsimple user or simply interested in the investment management industry, read on to discover the latest Wealthsimple statistics for 2023.
Wealthsimple began with a mission to provide smart, simple investing that is accessible to everyone. Their focus on low fees without an account minimum has made investing possible for those who may have been excluded by traditional investment management services. It offers three main services:
Wealthsimple Invest

: a Robo-advisory platform that offers a variety of investment options with automated portfolios that are globally diversified and optimized for tax efficiency, and it also offers socially responsible portfolios and halal portfolios compliant with Islamic law.

Wealthsimple Cash

: a debit card that offers cashback rewards on purchases and is linked to a high-interest savings account.

Wealthsimple Trade

: a commission-free stock and ETF trading app that allows users to buy and sell stocks and ETFs on Canadian and US exchanges.
Here are some key corporate facts about Wealthsimple:
Founded in: 2014
Headquarters: Toronto, Ontario
IPO date: Privately held company, Wealthsimple's IPO date is not disclosed yet
Sector: Financials
Industry: Investment Banking and Brokerage
Founder: Michael Katchen, Rudy Adler
Number of employees: 600+
Wealthsimple is a privately held Canadian company that has raised over CA$1.1B in funding through 9 rounds. The company is backed by over 30 investors and is majority-owned by Power Corporation, a Canadian multinational corporation in the financial services industry. As of September 30, 2022, Power Corporation indirectly held 54.4% of Wealthsimple through investments made through their holdings in Power Financial, IGM Financial, and Portag3.
Here is a list of the major investors:
Wealthsimple Investors
| | | | |
| --- | --- | --- | --- |
| Power Corporation | Alkeon Capital Management | Aubrey Graham (Drake) | Allianz X |
| Dragoneer Investment Group | DST Global | Dwight Powell | TCV |
| Max Motschwiller | Meritech Capital Partners | David Thacker | Rhombuz VC |
| ICONIQ Capital | Inovia Capital | Base10 Partners | Plus Capital |
Source: Pitchbook, Crunchbase
Since Wealthsimple is a private company, its ownership structure is not publicly disclosed and may have changed over time.
Wealthsimple has experienced impressive growth since its inception in 2014. As of May 2023, the platform boasts more than three million users across Canada. Wealthsimple aims to make its platform accessible to everyone, regardless of income or investment experience. This has made it particularly popular among younger investors who may have been priced out of traditional investment management services.
In December 2015, Wealthsimple had only 10,000 users, but between 2019 and 2022, there was an exponential increase in users from 150,000 to 2 million, indicating a diverse and rapidly growing user base as the company continues to expand its offerings.
Although Wealthsimple does not disclose its number of users publicly, we have gathered some insights from articles and interviews with the company's CEO. Based on this information, we have compiled the following data:
Wealthsimple users by year
According to Wealthsimple's CEO Michael Katchen, the user base ranges from 18 to 102 years old, however the majority of clients are young professionals in their 20s, 30s, and 40s. Moreover, in 2017, Wealthsimple mentioned that the majority of its clients were male (67%), while 33% were female.
Wealthsimple has experienced a remarkable evolution in terms of assets under management (AUM) since its inception in 2014. The company quickly gained popularity and the trust of thousands of clients who were attracted to its accessible platform and low fees. Although Wealthsimple does not regularly disclose its AUM, here is a breakdown by year based on information gathered from reliable sources:
Wealthsimple AUM
Wealthsimple's remarkable growth is also evident in its increasing valuation, which has surged over the years. Despite this impressive growth, Wealthsimple has not gone public and continues to rely on private funding. The company was valued at 5 billion CAD in 2021, up from 1.4 billion CAD in 2020. However, its major investor, Power Corporation, reduced the fair value of Wealthsimple's valuation by over 50% in 2022. As of September 30, 2022, they reported a fair value of $0.9 billion, down from $2.1 billion at December 31, 2021. If we apply a similar decrease of 57% to the 5 billion CAD valuation, we can estimate the valuation of Wealthsimple to be CAD 2.1 billion as of September 2022.
Wealthsimple Valuation
Wealthsimple generates revenues primarily through management fees charged to its clients, which range from 0.4% to 0.5% of assets under management per year. In addition, the company earns money through its premium services, such as Wealthsimple Black, which charges a higher fee and offers additional features.
Being a private company, Wealthsimple is not required to publicly disclose its financial statements, and Power Corporation, as the majority shareholder, has not revealed any details on the company's revenue. Nonetheless, considering the substantial growth in Wealthsimple's assets under management and valuation, it is reasonable to assume that the company generates substantial revenue.
In conclusion, Wealthsimple has been able to establish itself as a major player in the Canadian financial industry and it is currently among the largest Robo-advisors by AUM. The company's commitment to providing low-fee, accessible investment services has attracted thousands of clients, leading to a significant increase in assets under management over the years.
While Wealthsimple's valuation has fluctuated due to changes in private funding, it remains a trusted and popular choice for those seeking to invest their money in a safe and secure manner. As the company continues to expand its services and reach, it is likely to remain a key player in Canada's financial landscape in the upcoming years.
Is Wealthsimple Safe? Is my money with Wealthsimple protected?
Yes, Wealthsimple is safe. Wealthsimple Investments Inc. is a member of the Investment Industry Regulatory Organization of Canada (IIROC), which regulates all investment dealers in Canada. Additionally, customer accounts are protected by the Canadian Investor Protection Fund (CIPF) within specified limits for up to $1 million in the event of insolvency.
Can I open an account with Wealthsimple if I'm not Canadian?
Unfortunately, Wealthsimple is only available to clients residing in Canada. However, there are other Robo-advisors that may be suitable for your needs. You can check out our "Help Me Choose" feature for recommendations.
What is the minimum amount to open an account at Wealthsimple?
There is no minimum amount required to open an account at Wealthsimple.