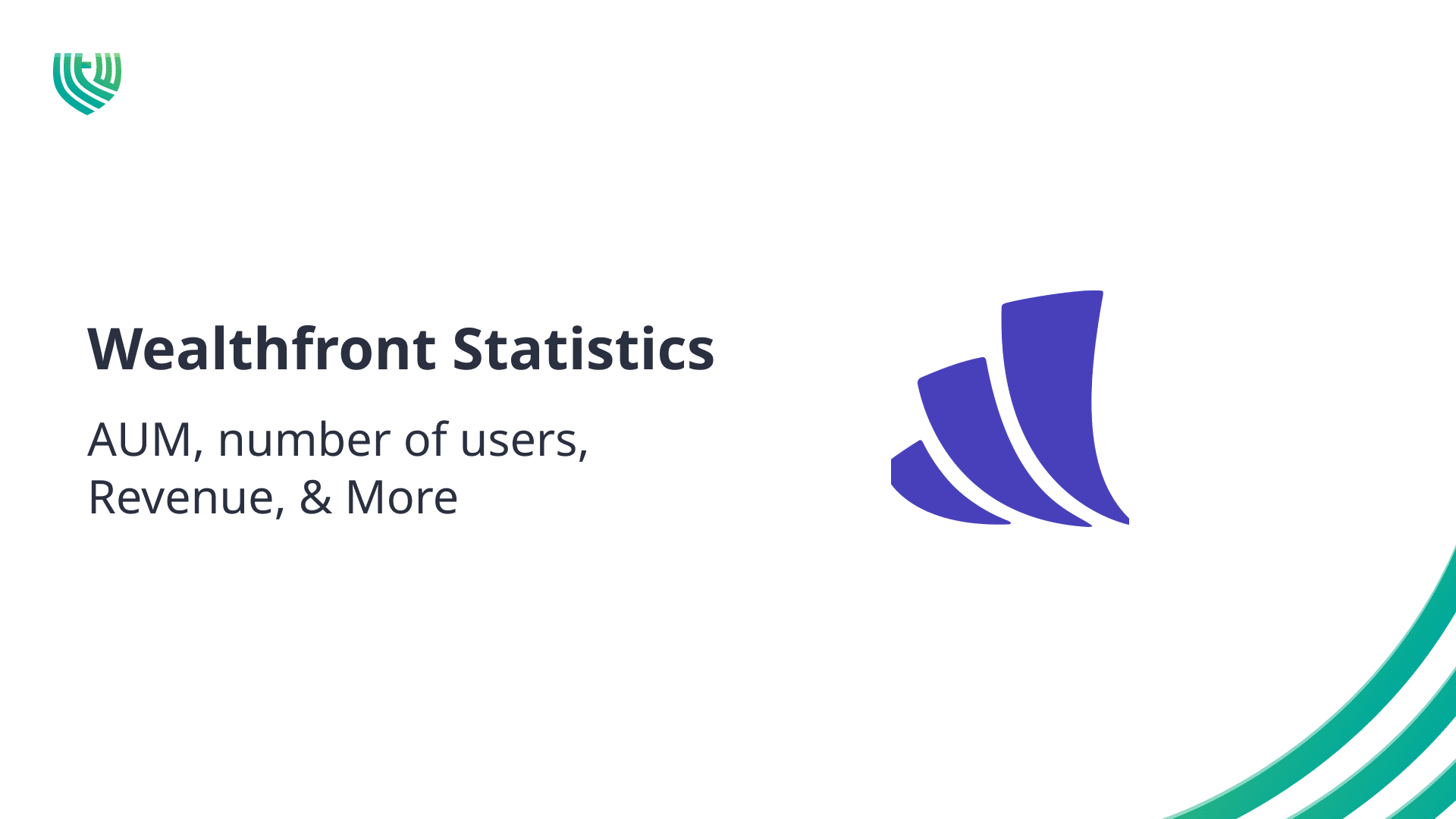 Founded in 2008, Wealthfront is a US-based fintech offering Robo-advisory and financial management services. Wealthfront has gained popularity over the years for its user-friendly platform and low management fees. Its services are designed to cater to investors of all types, regardless of their experience level or investment goals.
In this article, we will delve into Wealthfront's latest statistics. We will explore the platform's assets under management (AUM), number of users, revenue, and other relevant data, which highlight the growth and success of Wealthfront over the years. This information will provide valuable insights into Wealthfront's performance and impact on the Robo-advisory industry.
Whether you are a current Wealthfront user, thinking about using the platform, or just interested in the Robo-advisory industry, keep reading to discover the latest Wealthfront statistics for 2023.
Wealthfront is a Robo-advisor firm that provides various investment solutions to clients seeking automated and easy portfolio management. Its automated investment management service invests clients' funds in a diversified portfolio of low-cost ETFs based on their risk tolerance and financial objectives. In addition to its investment services, Wealthfront offers other financial products and services tools, such as cash management and borrowing as well as free financial planning tools.
Investors are attracted to Wealthfront's low management fees of 0.25% per year and the convenience of managing all banking, savings, and trading operations from a single account. The financial planning and cash account do not require a minimum deposit, while the investment accounts require a minimum deposit of $500.
Here are some key corporate facts about Wealthfront:
Founded in:

2008

Headquarters:

California, United States

IPO date:

Wealthfront has not yet gone public

Sector:

Financials

Industry:

Robo-advisor, Investment Management

Founders:

Andy Rachleff and Dan Carroll

Number of employees: 280+ (May 2023)
Wealthfront is privately held, and the percentage ownership is not publicly disclosed. Since its establishment in 2008, the company has raised funds from several investors through various funding rounds. On January 26, 2022, UBS announced its acquisition agreement with Wealthfront in an all-cash transaction valued at $1.4 billion. However, in September 2022, both parties mutually agreed to terminate the merger agreement, and UBS purchased a USD 69.7 million note convertible into Wealthfront shares instead.
Below is a list of notable investors who have invested in Wealthfront:
Wealthfront Investors
| | | | |
| --- | --- | --- | --- |
| Benchmark Capital | DAG Ventures | Greylock Partners, | Index Ventures |
| Ribbit Capital | Social Capital | Spark Capital Growth | Tiger Global Management |
| UBS | PEAK6 Strategic Capital | Divide by Zero | Defy Partners Management |
Source: Wealthfront
Wealthfront's innovative investing and financial planning approach has made it a popular choice among millennials and experienced investors. Its automated investment management service, low fees, and diverse range of financial products have attracted younger investors seeking convenience and simplicity.
In comparison, its cash management and borrowing features have appealed to older investors looking for a comprehensive platform to manage their finances. The company's user-friendly mobile app and free financial planning tools have also helped it gain traction among tech-savvy consumers.
Over the years, Wealthfront's user base has steadily increased, from just 703 users in February 2012 to over 590,000 users in May 2023. The number of users doubled yearly from 2012 to 2014 and continued to grow steadily. This steady growth can be attributed to Wealthfront's ability to meet the evolving needs of investors and offer innovative solutions to help them achieve their financial goals.
Wealthfront users per year
| | |
| --- | --- |
| Year | Number of users |
| 2012 | 1.4K+ |
| 2013 | 5.5K+ |
| 2014 | 21.5K+ |
| 2015 | 42.3K+ |
| 2016 | 89.6K+ |
| 2017 | 194.2K+ |
| 2018 | 281.4K+ |
| 2019 | 315.6K+ |
| 2020 | 357.4K+ |
| 2021 | 422.2K+ |
| 2022 | 443.1K+ |
| 2023/05 | 590K+ |
Source: Wealthfront filings, Radient Analytics; Wealthfront website
Wealthfront's assets under management (AUM) have been growing steadily similar to the increase in its user base. As more investors turned to digital platforms to manage their assets due to their convenience and low fees, Wealthfront has been well-positioned to benefit from this trend.
Wealthfront's AUM has grown significantly over the years, starting from $33.73 million in February 2012. While Betterment was the first independent online financial advisor to reach $10 billion in AUM in 2017, Wealthfront accomplished this milestone a year later in 2018. As of May 2023, Wealthfront's AUM increased and reached over $35 billion.
Wealthfront AUM
| | |
| --- | --- |
| Year | Assets Under Management (in USD) |
| 2012 | 67.3M+ |
| 2013 | 427.7M+ |
| 2014 | 1.70B+ |
| 2015 | 2.61B+ |
| 2016 | 4.35B+ |
| 2017 | 8.22B+ |
| 2018 | 11.45B+ |
| 2019 | 13.59B+ |
| 2020 | 15.85B+ |
| 2021 | 24.87B+ |
| 2022 | 23.08B+ |
| 2023/05 | 35.00B+ |
Source: SEC Wealthfront filings; Wealthfront.com
Wealthfront average account size
Although Wealthfront does not publicly disclose the average account size of its users, it is possible to estimate this figure based on available data. For instance, as of May 2023, Wealthfront manages over $35 billion in AUM with over 590,000 users. Using these figures, we can estimate the average account size to be approximately $59,000.
Here is the breakdown of the estimated average account size of Wealthfront by year:
Wealthfront average account size
| | |
| --- | --- |
| Year | Average account size (in thousands USD) |
| 2012 | 48.4+ |
| 2013 | 78.0+ |
| 2014 | 79.4+ |
| 2015 | 61.7+ |
| 2016 | 48.5+ |
| 2017 | 42.3+ |
| 2018 | 40.7+ |
| 2019 | 43.1+ |
| 2020 | 44.3+ |
| 2021 | 58.9+ |
| 2022 | 52.1+ |
| 2023/05 | 59.3+ |
Wealthfront's impressive valuations over the years can be attributed to the significant investments it has been able to attract from venture capitalists. By 2014, the company had secured over $65 million in funding, leading to a valuation of over $700 million. The company continued to receive funding and reached over $120 million in funding by the end of 2015. This valuation remained valid until 2018 when it was decreased to around $500 million.
More recently, UBS announced its intention to acquire Wealthfront in a deal worth $1.4 billion. However, the deal was later terminated in September 2022.
Wealthfront valuation
Wealthfront generates revenue through various sources. The company's primary revenue source is the annual management fee charged on AUM, which is only 0.25%. In addition, Wealthfront generates revenue through its lending program, "Portfolio Line of Credit" which allows clients to borrow against their investment accounts at a borrowing rate of 7.40% – 8.65% APR. The company also generates revenue through its debit card.
Wealthfront is a privately held company and is not required to disclose its financial statements publicly. However, we can estimate the company's revenue by calculating its portfolio management fees. Based on the company's AUM of $35 billion and the annual management fee of 0.25%, Wealthfront's revenue from portfolio management fees alone could be over $87 million. Therefore, it is reasonable to estimate that Wealthfront's overall revenue exceeds $107 or $117 million after including the other revenue segments.
In summary, Wealthfront has become a major player in the digital wealth management industry, providing its users with low-cost, advanced investment strategies and a user-friendly platform.
With its AUM reaching $35 billion as of May 2023, it is now among the largest Robo-advisors by AUM. This growth proves that Wealthfront was capable of attracting and retaining investors with its innovative investment management services and diverse range of financial products.
Despite the failed UBS acquisition, the company remains poised for continued growth and expansion, thanks to its continued innovation and improvement. As more investors turn to digital platforms to manage their wealth, Wealthfront is well-positioned to benefit from this trend and continue to significantly impact the financial industry.
Is Wealthfront safe and insured?
Yes, Wealthfront is safe and insured. Your investments are insured by the Securities Investor Protection Corporation (SIPC), which protects assets up to $500,000. Wealthfront also provides FDIC insurance for Cash Accounts by allocating your money across up to eight unaffiliated partner banks, providing you with up to $2 million in FDIC insurance
Is Wealthfront regulated?
Yes, Wealthfront is a registered investment advisor with the U.S. Securities and Exchange Commission (SEC) and is regulated by FINRA.