Vanguard, the world's second-largest investment company (after BlackRock), has been providing a direct investment platform called Vanguard Invest for clients in Germany.
However, in a recent update, Vanguard announced the suspension of Vanguard Invest in Germany. This news has left many German investors searching for new options to continue investing.
If you're a German investor facing uncertainty during this transition, there's no need to worry. We have prepared a comprehensive article to guide you through the process, especially if you're a beginner facing doubts about your next moves.
Want to know what is happening with Vanguard Invest in Germany and the alternatives available? We've got you covered!
Is Vanguard still available in Germany?
Unfortunately, Vanguard Invest is no longer available in Germany. In a significant announcement on November 7th, 2023, Vanguard revealed its decision to discontinue its Vanguard Invest division for German private investors.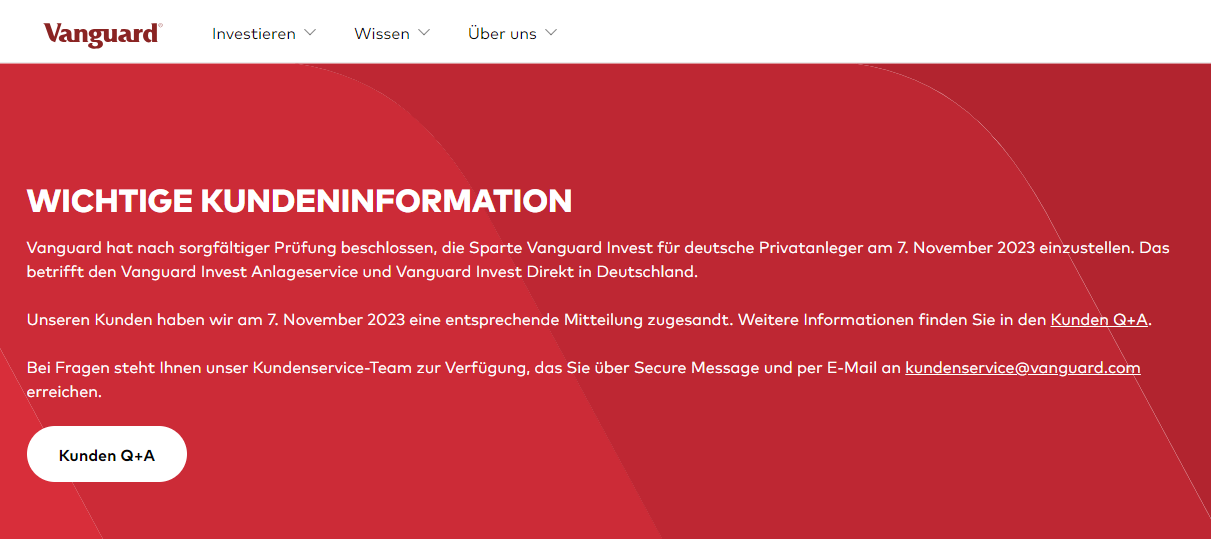 Vanguard has justified its decision by stating that the Vanguard Invest division did not fulfil its intended purpose. The division aimed to provide greater access to investment markets for people in Germany and assist them in achieving their financial goals. However, Vanguard does not believe that the platform's user numbers indicate the successful attainment of this objective.
Also, Vanguard has introduced a dedicated Q&A section for questions and answers to assist customers in dealing with this change more easily.

What's Next for Vanguard Invest Clients?
If you are a German Investor who is a current client of the Vanguard Invest division, there are two viable options to consider for managing your investment portfolio:
You can either choose to

close out your current positions on the Vanguard Invest portal

, withdraw the resulting funds to your bank account and then transfer those funds to another broker,

or explore the alternative of transferring your assets from Vanguard Invest to another brokerage.
If you're a Vanguard Invest client, deciding on your course of action is crucial by December 8, 2023. Keep in mind that the portfolio transfer process to another brokerage may take up to three weeks, as Vanguard mentioned in their QA section.
It's worth noting that savings plans are no longer available and were promptly cancelled after November 7, 2023. On the other hand, if you're a Vanguard Invest Investment Service client, your portfolio will continue to be rebalanced until December 8. However, Vanguard advises clients to consider one of the aforementioned actions beforehand.
The Vanguard Invest portal will remain open until April 2024.Vanguard will still be responsible for issuing tax certificates for client accounts for the entire year of 2023, whether you choose to transfer or sell your holdings.

Is Vanguard UK an option?
No, if you intend to transfer your funds to Vanguard's platform for private investors in the UK, you won't be able to do so. As explicitly stated on the Vanguard website, access to the platform is restricted to individuals with a UK address.
Then, if you're looking to move your funds from your Vanguard Invest account, choosing a brokerage that supports this transfer is essential.

How to invest in Vanguard products from Germany?
German investors can invest in Vanguard products as they did before the introduction of Vanguard Invest in Germany. This means investors will still have access to their products through distribution partners, online brokers, and direct banks.
Vanguard Invest Alternatives in Germany
Despite the discontinuation of Vanguard Invest in Germany, the good news is that you can still access Vanguard's investment products through other online brokers. Here are our top picks:
76% of retail CFD accounts lose money.
77% of retail CFD account lose money.
Investing involves risk of loss.
Brokers' comparison table
Broker
Minimum deposit
Supported Products
Does the Broker offer Vanguard products?
Does the Broker allow Funds Transfer?

Interactive Brokers

€0

Stocks, ETFs, bonds, mutual funds, currencies, options, warrants, and futures

Yes

Yes

eToro

$50

Stocks, ETFs, bonds, Forex, funds, commodities, options, futures and CFDs

Yes

Yes (however,

only for US clients and from US brokers

)

Scalable Capital

€1 (€1,000 for robo-advisor)

Stocks, ETFs, funds, derivatives, commodities and crypto ETPs

Yes

Yes

XTB

€0

Stocks, ETFs, and CFDs on stocks, Forex, indices, commodities, and cryptocurrencies

Yes

Yes

DEGIRO

€1

Stocks, funds, ETFs, futures, leveraged products, bonds, and warrants

Yes

Yes
Vanguard recently announced the suspension of its service, Vanguard Invest, in Germany. This means that German investors now need to liquidate all their positions by December 8, 2023, or transfer their funds to another broker. It's important to note that Vanguard advises that fund transfers may take up to three weeks to complete.
If you have a portfolio in Vanguard Invest Investment Service, it will continue to be rebalanced until December 8. However, Vanguard encourages investors to take action as soon as possible. Additionally, it's worth noting that Vanguard will be responsible for issuing tax certificates for client accounts in 2023.
While the platform remains open until April 2024, its use will be significantly restricted after December 8, 2023. In this article, we've highlighted some of the best alternatives to Vanguard Incest, in our opinion, all of them offering Vanguard products. Each platform has pros and cons, so it is important to choose wisely the one that best suits our needs.