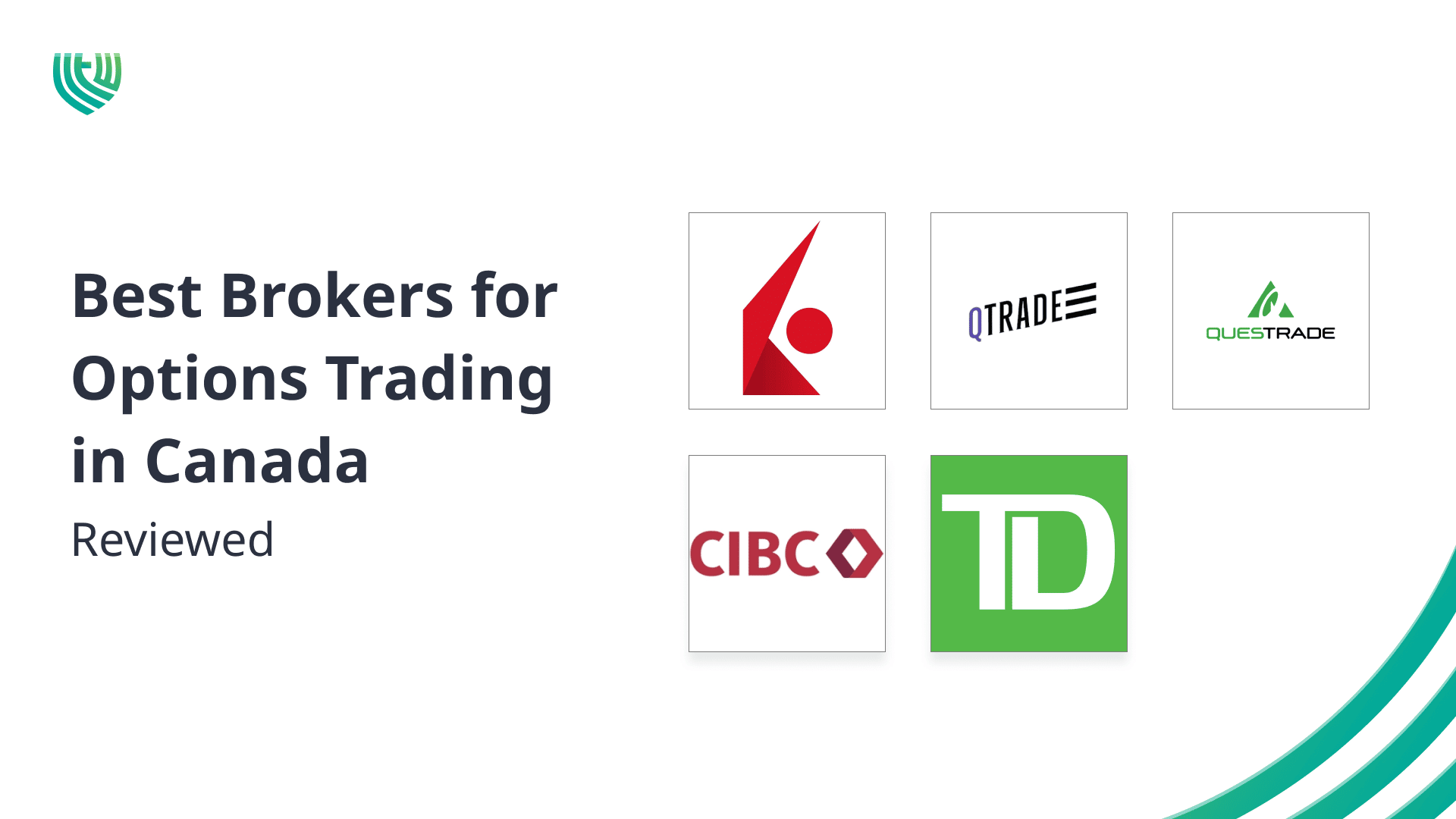 Since the start of the coronavirus pandemic, Canada's S&P/TSX 60 VIX Index has been consistently elevated. America's northern neighbor is in the middle of a new boom in options trading.
As a leading G-7 economy with a robust financial services sector, many articles and guides discuss which options and options brokers are the best in Canada. At the same time, Statista forecasts globally persistent increases in online trading through 2028!
We saw the need for a clear guide on options trading in Canada: to summarize its leading brokers, their merits, and where they fall short. This article delves into our top five picks and why. Let's get to it.
What Makes a Good Broker for Options Trading in Canada?
Options brokers in Canada keep up with the global standards set by the US, the world's most active financial marketplace. Good brokers in Canada have these six virtues in common:
Low account or trading minimums

Competitive and transparent fees

Many product options

Multiple trading and analytic tools

Support for news alerts

Ample learning material
Not every options broker will make our list, but it helps us determine the truly best brokers out there.
Note: Most options brokers in Canada charge commissions and account fees in the currency of the respective asset or account. For example, trading US options will incur fees in USD, and similarly CAD for Canadian options. The amounts do not change, only the currencies.
The Best Options Brokers in Canada
1# Interactive Brokers
IB at a glance
Options Commission
CAD 1.00 per contract
Regulators
FINRA, SIPC, SEC, CFTC, IIROC, FCA, CBI, AFSL, SFC, SEBI, MAS, MNB
Publicly listed on the NASDAQ, IBKR continues to show world-leading strength in navigating financial crises, including the novel coronavirus. They earn the trust of options traders and the top spot on our list of the best options brokers in Canada through their commitment to global access and risk management.
The platform serves both institutions and individuals, beginners and professionals, by marrying global access to nearly all available asset classes–options included–with an accessible web platform and streamlined mobile apps. In particular, IBKR GlobalTrader leads the global industry in simplified stock and options, including Canada.
They charge a leading commission rate of CAD 1.00 (up to 1.25) per contract for Canadian markets or up to USD 0.65 for American markets. They provide zero account opening fees and no minimum activity fees.
Interested? Read our comprehensive IBKR review.
2# Qtrade
Qtrade at a glance
Options Commission
CAD 8.75 + 1.25 per contract
Founded in 2001, Qtrade is a Canadian online broker providing a standard range of stocks, ETFs, bonds, and mutual funds alongside advanced trading tools and an award-winning platform. It is straightforward to open an account in minutes and caters to all levels of experience. Their educational library covers everything from the basics of option trading to the unique risks of emerging markets.
Qtrade earns second place on our list of the best brokers for options trading in Canada despite an average fee of CAD 8.75 + 1.25 per contract since it offers everything a professional trader needs to excel. Charting tools, portfolio risk assessments, and Morningstar recommendations are all there, to name a few.
However, their options trading remains centered on the US or Canadian markets. They lack the global reach of IBKR.
3# Questrade
Questrade at a glance
Options Commission
CAD 9.95 + 1.00 per contract
A close competitor to Qtrade, Questrade is a leading options broker in Canada through its wide range of asset classes including options, foreign currencies, and precious metals. Relative to Qtrade, it is much more of a "DIY" options broker that provides advanced trading charts and tools through its IQ Edge platform.
Further, Questrade does not have any restrictions on what kinds of stocks you can buy. IPOs, penny stocks, and mature "large caps" are all fair game. It's up to you to learn and appreciate the unique risks of each. To that end, Questrade does have great tutorials and insight material.
The account opening process for international clients feels clunky and slow. Similar to Qtrade, this platform is most suited to Canadian traders seeking to access US or Canadian options markets.
4# CIBC Investor's Edge
CIBC Investor's Edge at a glance
Options Commission
CAD 6.95 + 1.25 per contract
In Canada, options trading occurs through one of two groups: digital online brokers, such as Qtrade or Questrade, or bank-based brokers, such as CIBC. Bank-based brokers tend to charge higher fees while catering to investors who also bank with them for their savings or tax-advantaged retirement plans.
CIBC Investor's Edge provides options trading in Canada for CAD 6.95 + 1.25 per contract alongside a TFSA, RRSP, or RESP. While they do offer technical indicators and some charting tools, their focus remains squarely on options within an overall portfolio.
This is a great choice for a beginning or intermediate investor with a full portfolio in mind. However, it takes our third spot due to a lack of competitive research, insights, and trading tools focused on options trading for Canadians.
5# TD Direct Investing
TD Direct Investing at a glance
Options Commission
CAD 9.99 + 1.25 per contract
Regulators
SEC, FINRA, IIROC
TD Direct Investing represents by far the most expensive option on our list of the best options brokers in Canada, with a flat rate of nearly CAD 10 for options, stocks, and ETF–not including the CAD 1.25 per option contract. However, TD offers the most bonuses and tools needed to boost your options trading.
They provide real-time market data, analyst research reports, unlimited streaming education, Dividend Reinvestment Plans, and commission-free mutual fund trades–in addition to the option of acquiring a personal wealth advisor. In return, they also charge a "maintenance fee" of CAD 25 per quarter.
This platform makes sense if you're absolutely serious about options trading, whether as a time-intensive hobby or second job and have the means to qualify for their "Household Program." This is surprisingly easy to achieve, such as by holding CAD 15,000 or more in assets or completing three or more trades in a quarter.
However, we must rank this 5th given the high fees and an offering that only makes sense for advanced traders.
Options trading is only set to grow in Canada. Selecting the best options broker as a Canadian resident is going to be a difficult choice as the interest in retail trading has exploded since the mass onset of remote working. We've narrowed down the selection to five leading choices based on our criteria.
Canada is unique in that the fees charged to very casual traders are generally high. However, maintaining at least CAD 10 to 15 thousand in an account or completing a handful of trades qualifies for account fee waivers and possibly commission reductions.
Each of our recommended options brokers in Canada excels at certain aspects. Do you already know what you're doing and want to trade a wide options range? Questrade. Do you prefer an established, global platform known for its reliability and for offering low fees? IBKR.Need more recommendations? Check out our platform finder.
Can you buy options in Canada?
Absolutely! Canada is a growing country with a robust and proven financial services sector. Please review our top five picks above for the leading options brokers in Canada.
What is an options broker?
Usually related to "full-service brokers" that try to provide all the necessary tools for an intermediate or professional trader, an options broker is an online intermediary between you and the exchanges that enables the trading of options. The best options brokers in Canada at least offer dual access to US and Canadian stocks.
How do you open an options trading account?
While the process changes per options broker, it remains relatively straightforward. Simply be ready to provide digital copies of official IDs (i.e., passport, driving license, etc.) and proof of address, and transfer an opening sum through ACH or wire, for example. The options broker, like IBKR, may want to verify your age as well.
How do you buy options?
Thanks to advances in web and mobile trading platforms, trading options remains largely intuitive. Almost all mobile apps guide you through the purchase (opening) process and the selling (closing) process. Web platforms may have a learning curve and require an introductory tutorial. This is the case for some users who use IBKR, for example.
However, we recommend at least a beginner options course to walk you through calls, puts, strategies, opening, closing, and margin trading.
What are the risks of buying, trading, and selling options?
Since options trading almost always includes the use of margin or borrowed funds, the risks generally are much greater than trading stocks or commodities with only the cash you own. This is referred to as leverage. Again, we recommend completing a basic course in options trading, which is almost always provided by brokers serving Canada.