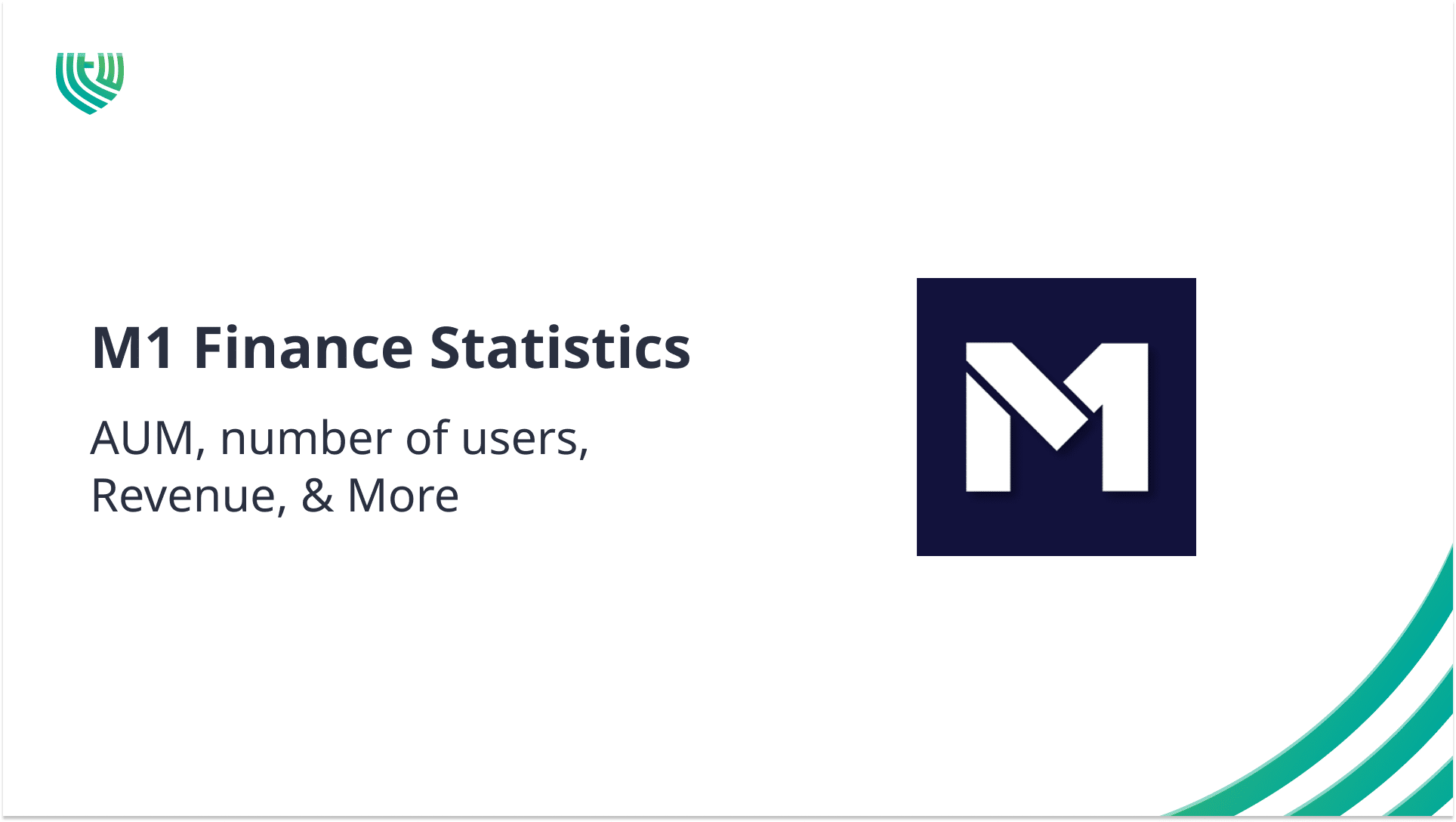 M1 Finance is a comprehensive digital investment platform that has gained significant popularity in recent years. It offers investors a unique combination of automation and customization, allowing them to invest, borrow, manage their checking accounts, and obtain credit in one place. This comprehensive approach has appealed to many investors seeking digital means to take control of their investments.
In this article, we will provide an overview of M1 Finance's key statistics for 2023, including its Assets Under Management (AUM), number of users, revenue, and more. We'll explore how M1 Finance has performed over the years and what sets it apart from other investing platforms.
Whether you're a seasoned investor or just starting out, this article will give you valuable insights into one of the most innovative and successful investing platforms in the market today.
M1 Finance is a cutting-edge digital investing platform that was established in 2015 to provide a comprehensive suite of financial tools to empower investors to take control of their finances. What sets M1 Finance apart is its ability to provide a unique approach to investing which is automated with a high degree of customization in a user-friendly interface.
Its Robo-advisory service is offered via an intuitive interface that presents client portfolios as pies divided into slices, making it easy for users to identify the allocation for each investment. Users can build a fully customized portfolio that aligns with their unique financial objectives and preferences or choose from a set of pre-built pies. In addition to automated, commission-free investing portfolios, M1 Finance offers a wide range of financial services, including investing, borrowing, and banking. Additionally, M1 Finance Plus subscribers can unlock premium features such as high yield on cash, cashback on purchases, and access to a credit line.
Here are some key corporate facts about M1 Finance:
Founded:

2015

Headquarters:

Illinois, United States

IPO date:

M1 Finance has not yet gone public

Sector:

Financials

Industry:

Robo-advisor, Investment Management

Founder:

Brian Barnes

Number of employees: 450+
M1 Finance is a privately-owned company founded by Brian Barnes, who currently serves as the company's CEO. The company has raised several rounds of funding from over 10 investors supporting its mission to provide a comprehensive suite of financial tools for investors. Here is a list of the major investors of M1 Finance:
M1 Finance Investors
| | | | |
| --- | --- | --- | --- |
| SoftBank Vision Fund | Coatue | Clocktower Technology Ventures | Chaifetz Group |
| Left Lane Capital | Jump Capital | Toba Capital | AMK Investment Office |
Source: Crunchbase, Pitchbook
M1 Finance's user base has grown significantly since its launch in 2015, due to its combination of automation and customization appealing to investors looking for a digital solution for managing their investments. As M1 Finance is exempted from reporting parts of Form ADV as an internet-based investment adviser, we have relied on public information and press releases to estimate their user base. The table below summarizes the estimated number of M1 Finance users.
M1 Finance users
Moreover, the number of app downloads on Google Play Store alone is over 500,000, indicating continued growth in the number of M1 Finance users.
Although M1 Finance is not required to report its assets under management (AUM) regularly due to its exemption as an internet-based investment adviser, we have compiled a list of its estimated AUM based on public information and press releases. The table below summarizes the estimated AUM for M1 Finance over the past few years.
M1 Finance AUM
It is worth noting that these numbers are estimates based on public information, and may not reflect the current AUM of M1 Finance. Nonetheless, they provide a general idea of the company's growth in terms of AUM.
M1 Finance has several revenue streams that enable it to provide its services without charging management fees. The Invest feature generates revenue through interest on brokerage cash, interest on lending securities, and payment for order flow. Through Borrow, investors can access a low-cost line of credit using their portfolio as collateral, and M1 generates revenue by charging interest on the loans. With Spend, M1 earns revenue from interest on the cash balances held in the checking account and from interchange fees when clients use their debit cards. In addition, M1 Finance also offers a Plus membership, which costs $125 per year and is another way to generate revenue.
M1 Finance aims to generate approximately 1% of its AUM in revenue each year, which was confirmed by CEO Brian Barnes in an interview with TechCrunch back in 2020. Based on this data and assuming that the company reached its revenue target, it is estimated that M1 Finance generated $25 million in revenue in 2020, $30 million in 2021, and may potentially reach $60 million in revenue in 2022. However, it's important to bear in mind that these figures are based on estimations, and the actual revenue may differ.
M1 Finance has experienced rapid growth and has attracted significant investor interest. In July 2021, the company raised $150 million in a Series E funding round, which increased its valuation to $1.45 billion. As a privately held company, it can be challenging to estimate a fair valuation for the company, however, using information from sources such as Pitchbook and Upmarket, we have compiled the below valuation summary for M1 Finance:
M1 Finance Valuation
| | |
| --- | --- |
| Year | Valuation (in USD) |
| Jul-2018 | 56.2M |
| Jun-2020 | 143.0M |
| Nov-2020 | 463.8M |
| Mar-2021 | 805.0M |
| Jul-2021 | 1.45B |
| 2023 | 952.7M |
Source: Pitchbook, UpMarket, M1 Finance Press Releases
In conclusion, M1 Finance has established itself as a leader in the online investment and financial services industry with a unique approach to managing its clients' portfolios. It has grown steadily over the years, has established itself as a major player in the financial services market, and is now among the largest Robo-advisors by AUM.
M1 Finance's innovative products, including its Invest, Borrow, and Spend features, have helped it build a loyal customer base that trusts the platform to manage its financial needs. As the company continues to expand its offerings and adapt to changing market conditions, it will likely maintain its position as a top player in the industry for years to come.
Is M1 Finance safe and insured?
Yes, M1 Finance is a member of the Securities Investor Protection Corporation (SIPC), which means that securities in customers' accounts are protected up to $500,000.
Is M1 Finance regulated?
Yes, M1 Finance is regulated by the U.S. Securities and Exchange Commission (SEC) and the Financial Industry Regulatory Authority (FINRA).
Is M1 Finance available outside the United States?
No, M1 Finance is currently only available to residents of the United States. However, there are other Robo-advisors that may be suitable for your needs. You can check out our "Help Me Choose" feature for recommendations or check out the M1 Finance alternatives article. Additionally, our comparison table makes it easy to compare the leading investment platforms and find the one that's right for you.