Investors looking to buy and sell stocks will often first look towards recognisable names and brands. Charles Schwab is an investment company that's well-known and respected around the world, so it's no surprise that investors in India want to know if it's possible to invest using the platform!
Keep on reading if you're keen to find out if the Charles Schwab platform is available to investors in India. We're going to uncover everything you need to know about opening an account in Charles Schwab and other relevant alternatives in India.
Is Charles Schwab available in India?
Yes, it is possible to sign up for the 'Schwab One International' brokerage account in India. However, there are some important factors that investors should be aware of when using the platform in India.
Charles Schwab primarily operates in the United States, but it provides an 'international' service accessible to applicants from India. However, Charles Schwab has some restrictions that may make you ineligible to create an account (more on that below).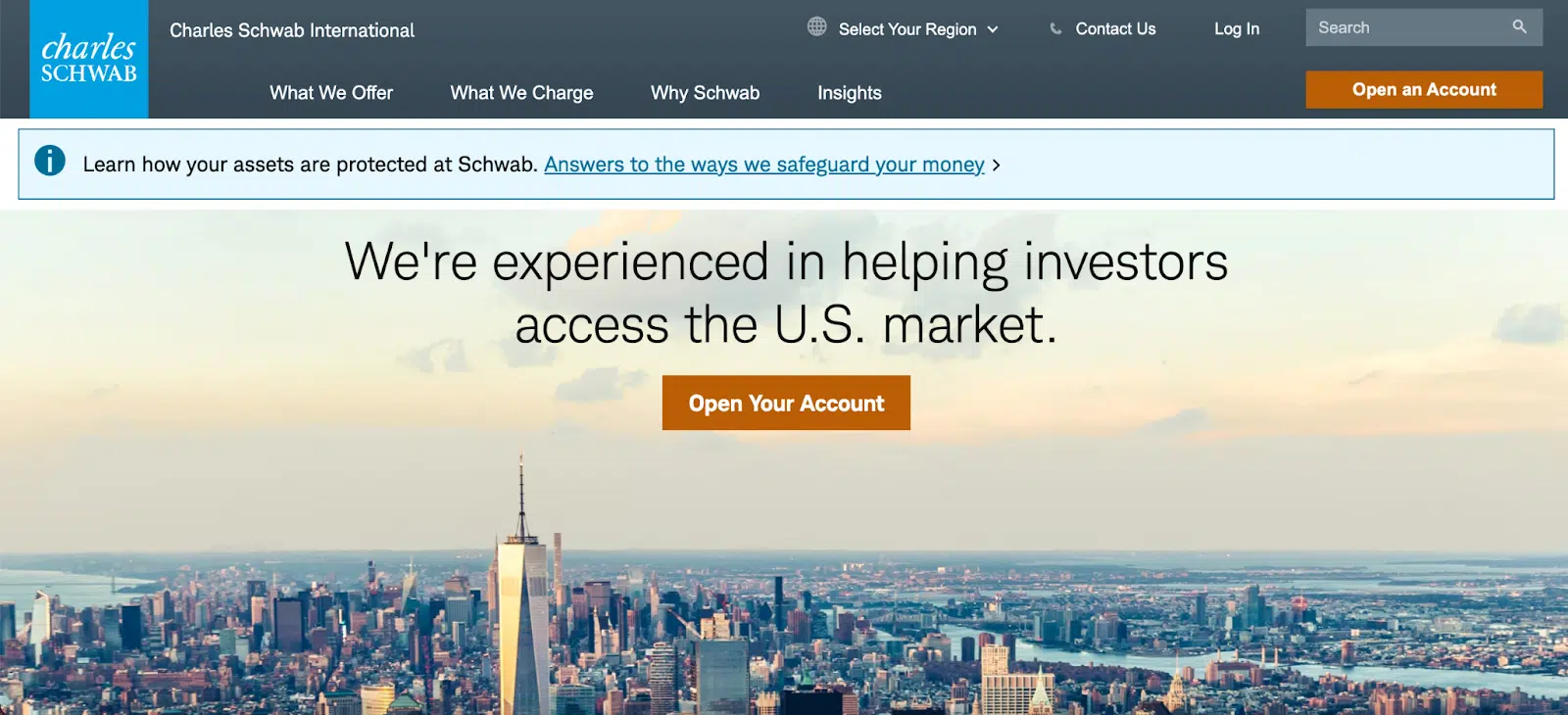 How to use Charles Schwab in India?
In India, it is possible to open a Charles Schwab account. However, it is necessary to be aware of some restrictions that may leave some investors out.
To open a Charles Schwab account in India, you must have the following documents:
Your tax ID or social security number – In India, TIN is officially called Permanent Account Number (PAN).

Current ID – this will need to be your passport or another suitable form of identification (depending on where you're based).

Proof of residence – you'll need a recent utility bill or some other proof of address (containing your full name, address, and date).

Employment details – you have to provide the name and mailing address of your current employer.

Access to a scanner – to upload all your documents with Charles Schwab, you'll need a printer and a scanner.
It's important to remember that Charles Schwab imposes specific rules on investors in India, so keep that in mind when creating a Schwab One International brokerage account.
Some important things to know to open a Charles Schwab account in India
Some points you need to consider about opening an India Charles Schwab account:
There's a $25,000 minimum deposit to open an account.

You can only trade in US dollars.

Only using one currency means that if you use the INR or any other currency, you'll have to pay a currency conversion fee to invest.

For most US stocks, you don't have a commission, but your investment choice is limited. For example, you can't buy US ETFs.
Charles Schwab alternatives in India
Although it is possible to create a Charles Schwab account in India, it may not be the best option for many investors, especially those looking for more flexibility and choices, and even for those just starting out in investing.
Below, we list some of the best brokers available in India, which can best meet your needs:
IBKR, one of the most reliable brokers in the world, was established in 1978. It provides a wide variety of financial products (stocks, ETFs, options, etc.) and inexpensive foreign exchange (FX) expenses. Additionally, IBKR GlobalTrader was released and a cutting-edge mobile trading program for trading stocks, ETFs, and options. This tool is great for new investors.
Zerodha | Most used platform in India and best app
ZERODHA is the largest broker in India, having overtaken ICICI Direct (the platform below). It was founded in August 2010 with the aim of breaking all the barriers that traders and investors face in India in terms of cost, support, and technology.
ICICI Direct | Best for professional investors
ICICI Direct is one of India's leading brokers that allows you to invest in several assets like US stocks, ETFs and Indian stocks. They give you great tools to trade, and they have smart people doing their research to help you. This is a great choice if you are a serious investor looking for a comprehensive platform for all your investments.
Vested | Best for beginners
Vested is an easy-to-use platform for people in India who want to invest in stocks from the United States. It provides many different options for investing, helpful learning materials, and ready-made portfolios that are great for beginners who want to start investing in the US stock market.
Groww | Best for low fees
Groww is a well-liked app for investing that offers many different types of financial products, such as stocks and ETFs from the United States. It is a great choice for people who want to save money because it only charges $0.02 per sell transaction, which is very affordable compared to other options for investing in US stocks.
INDmoney | Best for financial management features
INDmoney is a popular mobile app in India known for its amazing tools to help manage your finances. It offers a wide range of services like investment options, tools to help you save money, and personalised financial planning. The app also allows you to invest in stocks from the United States and gives you access to expert financial advice.
| | | |
| --- | --- | --- |
| Broker | Minimum Deposit | US Stock Fees |
| Interactive Brokers | $500 (or equivalent in INR) | Between $0.0005 and $0.0035 per US share (min. $0.35) |
| ZERODHA | ₹0 | Between 0% and 0,03% per order, depending on the product |
| ICICI Direct | ₹0 | Between $0 and $2.75 per trade depending on your subscription plan |
| Vested | ₹0 | $0 (Account fees apply based on plan) |
| Groww | ₹0 | $0.02 per trade charged by exchange |
| INDmoney | ₹0 | $0 (Deposit fees apply) |
#1 Interactive Brokers
Interactive Brokers at a glance
Products available
Stocks, futures, options, Forex, commodities, bonds, mutual funds, hedge funds, ETFs, CFDs
Minimum Deposit
$500 (or equivalent in INR)
Deposit Methods
Wire bank transfer
Fees and Commissions
Between $0.0005 and $0.0035 per US share (min. $0.35)
Regulators
FINRA, SIPC, SEC, CFTC, IIROC, FCA, CBI, AFSL, SFC, SEBI, MAS, MNB
Founded in 1978, Interactive Brokers is one of the leading international brokers registered on the NASDAQ exchange (Ticker: IBKR) and is at the top of our list of the best apps to invest in US equities from India. You can trade stocks, options, futures, currencies, bonds, and funds and access over 90 global market centres.
The broker offers robust trading apps with cutting-edge features, over 100 different order types, and smart trading tools. Thanks to extensive reporting capabilities, real-time trade confirmations, and portfolio analysis tools, you can efficiently monitor and manage your investments.
The user-friendly IBKR GlobalTrader app is ideal for beginners because it offers simplified investing without sacrificing the broker's sophisticated tools. The IBKR Mobile app provides a comprehensive and complex trading experience for stocks, ETFs, and options for experienced traders looking for more sophisticated features.
It's simple and free to open an account with Interactive Brokers, and there are no minimum activity restrictions. Additionally, you gain access to a free DEMAT account and competitive interest rates on sums of immediately usable cash. For residents of India, the minimum deposit is $500, or the equivalent of INR, and you can fund your account with a bank wire transfer. With a minimum of $0.35 per transaction, commissions for US stocks and ETFs range from USD 0.0005 to USD 0.0035 per share.
Please check our Interactive Brokers review to find out more about the broker.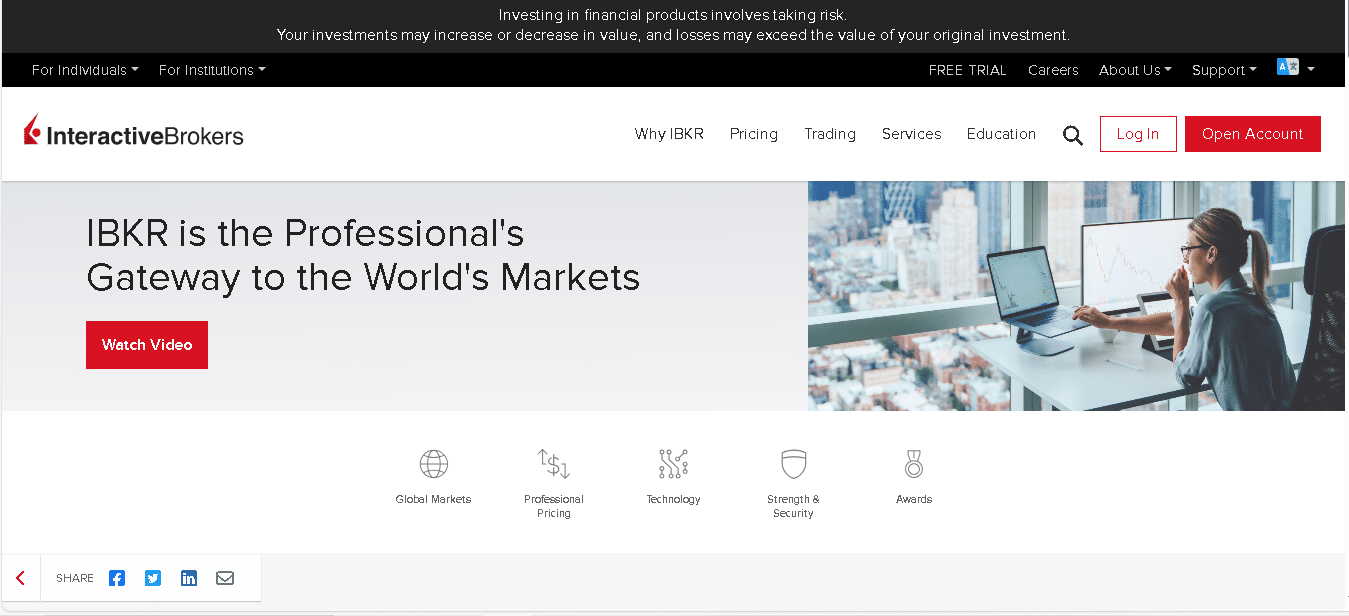 #2 Zerodha
Zerodha at a glance
Products available
ETFs, mutual funds, bonds, stocks, futures & options
Deposit Methods
Wire bank transfer
Fees and Commissions
Between 0% and 0,03% per order, depends on the product
Regulators
SEBI, RBI, NSE, BSE
Zerodha has more than one crore active clients contributing almost 15% of all Indian retail trading volumes. This app is recommended for beginners as well as advanced traders and investors owing to its robust technology platform.
Zerodha Kite is an in-house flagship mobile trading software app of the company. At present, Kite 3.0 web platform offers market watch, advanced charting with more than 100 indicators, advanced order types like cover order, good till triggered (GTT) order, fast order placements, among other features.
Moreover, a user can use Zerodha Kite in the form of a Chrome extension where features, such as order placement stock tracking, can be availed.
When using this trading platform, you can enjoy a range of useful features. You'll experience high-speed streaming of market data and get access to advanced charts with a user-friendly interface. They've introduced a "sticky order window" that allows you to keep the order window open, making it effortless to place multiple orders with the same input.
For those looking to manage risk and understand their trades better, a "leverage indicator" helps you check the amount of leverage you're getting for a particular trade compared to your equity stocks. If you prefer long-term investing, you can benefit from free equity delivery trading without any brokerage fees.
Investors can also directly invest in mutual funds (MF) without worrying about commission charges. If you're inclined towards more aggressive trading, the platform provides up to 20x leverage for intraday trading.
What's more, you have the option to consolidate your accounts into a convenient 3-in-1 setup, including a demat account, a trading account, and a bank account with IDFC First Bank. Additionally, you can apply for Initial Public Offerings (IPOs) directly through the app, making the investment process even more streamlined and accessible.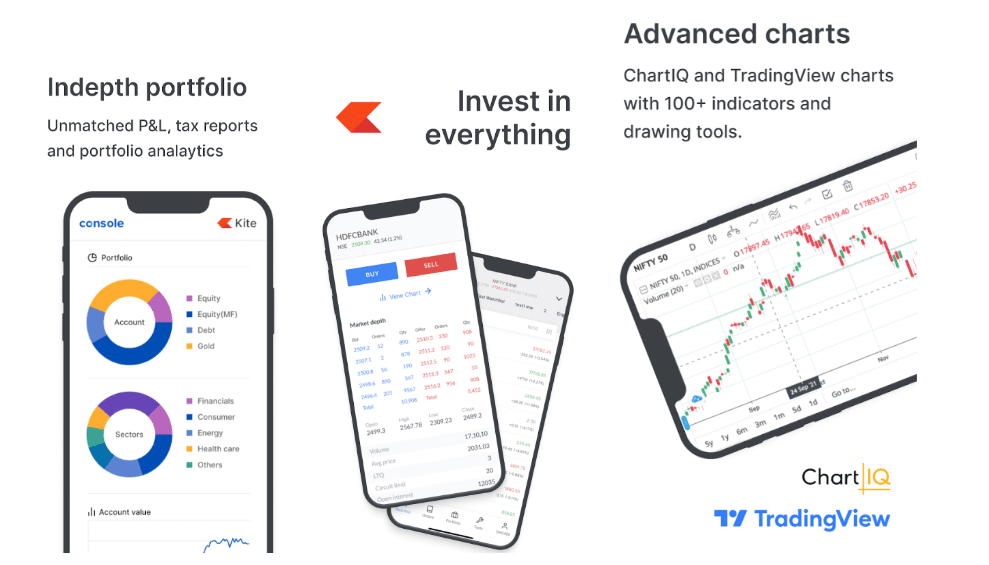 #3 ICICI Direct
ICICI Direct at a glance
Products available
Stocks, OTC, Mutual Funds, Bonds, IPOs, ETFs, commodities, NPS, insurance
Deposit methods
Wire bank transfer
Fees and Commissions
Between $0 and $2.75 per trade, depending on your subscription plan
Regulators
SEBI, RBI, BSE, NSE
ICICI Direct is a trusted company founded in 1995. It allows you to open an ICICI Direct Global account, which allows you to invest in six major markets around the world:
the United States, United Kingdom, Germany, Japan, Singapore, and Hong Kong.
It is very easy to open an ICICI Direct Global account. You can do everything online in just a few clicks. You don't need any paper documents. The cool thing is that you can only buy a small portion of stocks in the US market, so you don't need a lot of money to get started. Additionally, there are no rules that require you to keep a certain amount of money in your account. You have the freedom to invest as you wish.
ICICI Direct partners with another company called Interactive Brokers LLC (the company mentioned above) to manage its digital platform. This company helps buy and sell stocks. Additionally, they offer more than 80 investment portfolios managed by experts in different regions of the world. This means you can follow their knowledge to make investments.
This app makes it easy to track your investment progress. You can check all your different investments in one place and log in with your fingerprint or face.
Managing your investments is easy because you can create lists of things you want to watch. There are also pre-made lists and tools to help you buy and sell stocks. If you like dark backgrounds on apps, the app has a "dark mode" to make it easier on your eyes. You can also use a feature called "Flash Trade" to buy and sell quickly.
When it comes to cost, ICICI Direct has some good options. You can choose a plan with no registration fee or no brokerage fee. They have three projects:
Global Classic (no subscription fee and $2.75 per transaction), Global Select (₹999 per year and $1.99 per transaction), and Global Advantage (₹9,999 per year and no fee for each trade).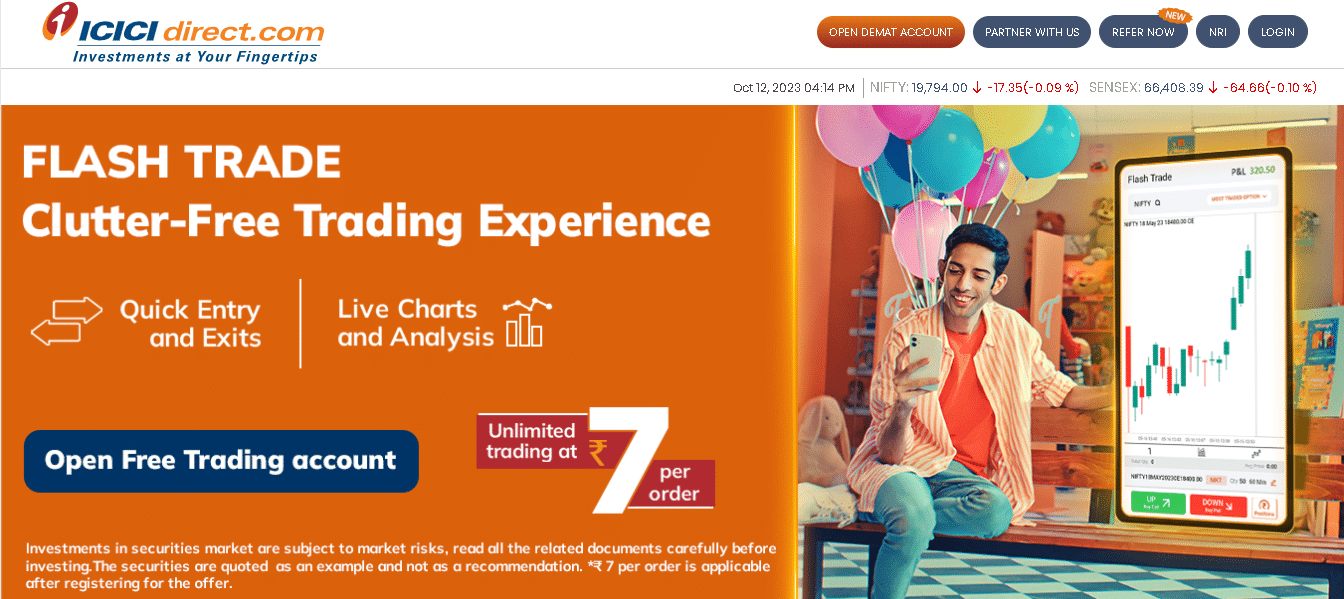 #4 Vested
Vested at a glance
Products available
stocks, ETFs, options, IPOs, bonds
Deposit methods
Wire bank transfer
Fees and Commissions
$0, but account fees apply based on plan
Vested Finance is an online platform that helps people in India invest in stocks and ETFs from the United States. They have an app that makes it easy to trade over 5,000 different stocks and ETFs. One cool feature is that you can buy a small portion of popular companies like Amazon or Google for as little as $1.
The app is designed to be user-friendly, so both beginners and experienced investors can use it easily. You can check real-time stock prices, get news updates, and see interactive charts and other data right on the app. This gives you the information you need to make smart investment decisions. Vested also provides research content and insights about the US markets so you can stay informed and find potential investment opportunities.
Vested has different investment options to suit your preferences. They offer ready-made portfolios called "Vests" that are curated with specific goals in mind. These Vests offer a diversified mix of stocks and ETFs that align with different themes or strategies. It's quick and easy to get started with Vested. You can open an account within minutes through their fully digital onboarding process. They partnered with a US-regulated broker, DriveWealth LLC, allowing Indian investors to access the US stock market.
Vested has two types of subscription plans: Basic and Premium. These plans are made to meet the different needs of investors. The Basic plan costs a one-time fee of ₹250 and gives you important features like no brokerage charges, easy money transfers, access to curated Vests ( ready-made portfolios), and basic research tools called AlphaScreener Basic.
On the other hand, the Premium plan is priced at a monthly fee of ₹375.00 and offers even more benefits. With the Premium plan, you can make unlimited free withdrawals using a feature called Vested Direct. You also get access to advanced research tools called AlphaScreener Plus, priority support, exclusive Vests and premium content that are not available with the Basic plan.
These subscription plans give you options to choose from based on how much you want to pay and the features you need. It's important to pick the plan that suits you best and helps you make the most of your investments.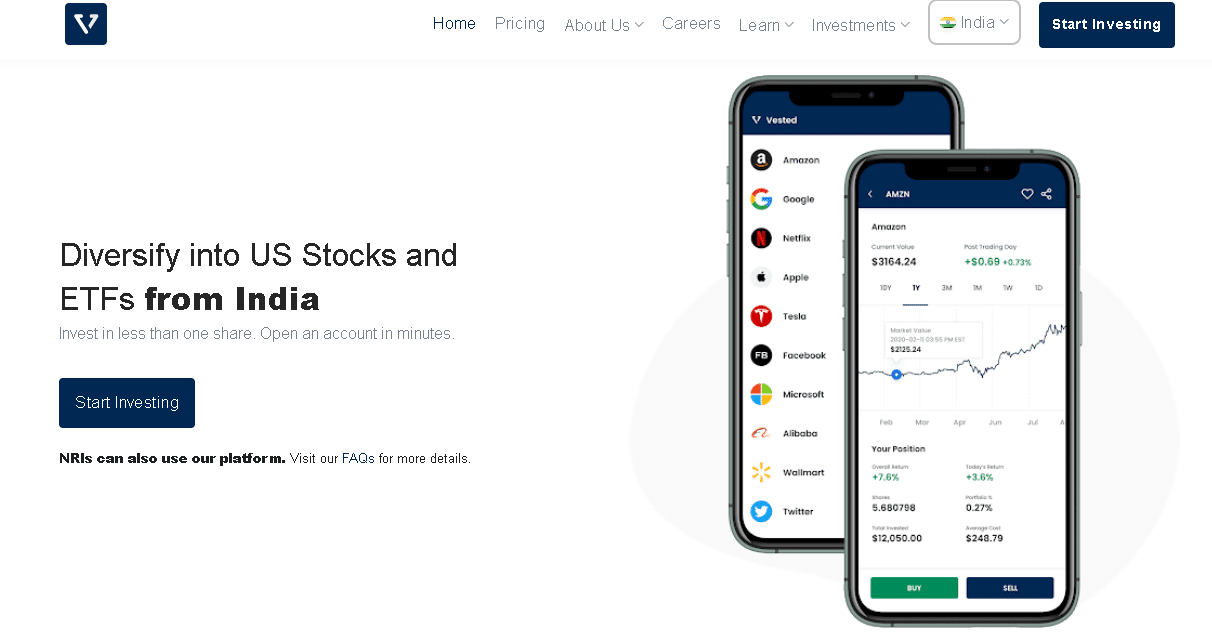 #5 Groww
Groww at a glance
Products available
Stocks, NPS, mutual fund, FDs, PIFs, bonds, commodities, ETFs, SIPs, IPOs, insurance
Deposit Methods
Wire bank transfer
Fees and Commissions on Stocks
$0.02 per trade charged by exchange
Regulators
SEBI, RBI, AMFI
Groww is an investment platform that offers a range of features to its users. These features are divided into basic and premium subscriptions.
The basic features include the ability to buy and sell stocks, mutual funds, and ETFs seamlessly. Users can track their portfolio performance, view historical data, and analyse stocks and mutual funds using comprehensive charts and indicators.
In addition to the basic functionalities, Groww offers premium features to enhance the investment experience. Investors can export and import trade data, search for shareholders of a particular company, and access the latest company announcements, news, and events. This helps users make informed decisions and stay updated about their investments.
Groww stands out by providing a combination of appealing features, distinctive screening procedures, and popular investing topics. With cutting-edge screening tools, users can find investments that match their goals based on parameters like market capitalisation, industry preferences, and financial ratios.
There are several advantages to using Groww. The platform has a user-friendly interface suitable for investors of all levels. It provides comprehensive data and analytics, empowering users with insights for informed decision-making. Groww has received positive feedback from users and experts, who appreciate its design, customer support, investment options, and efforts to simplify the investment process.
Some additional benefits of Groww include commission-free investing in mutual funds, a quick and simple account opening process for trading and Demat accounts, and the ability to buy digital gold, US FDs, US ETFs, and US stocks.
Overall, Groww offers a user-friendly platform with extensive features, making it accessible for investors and providing them with the tools and information needed for successful investing.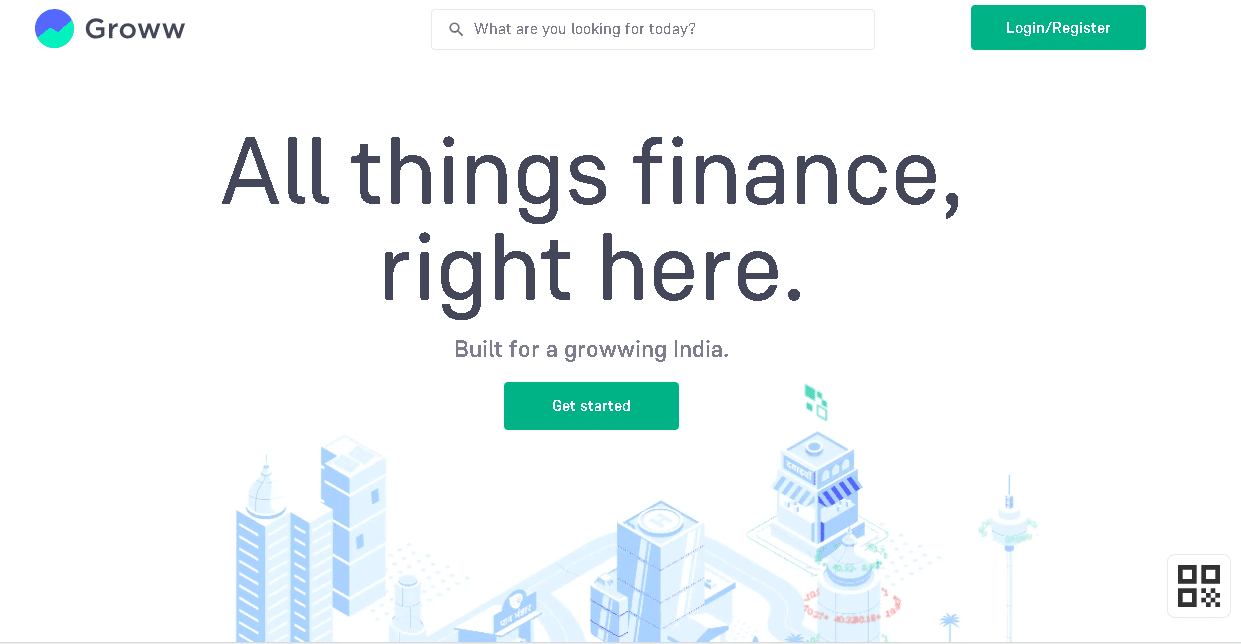 #6 INDmoney
INDmoney at a glance
Products available
Stocks, mutual funds, insurance, SIP, ETFs, FDs
Deposit Methods
Wire bank transfer
Fees and Commissions on Stocks
$0 (Deposit fees apply)
Regulators
RBI, IRDAI, PFRDA
INDmoney is a popular investment platform in India. This makes it easier for Indians to invest in US stocks from places like NASDAQ and NYSE. They launched the platform in 2019, and the cool thing is that there are no fees to buy US stocks through them.
Opening an account with INDmoney is quick and easy. This will only take a few minutes. Additionally, INDmoney is safe because they have partnered with trusted US brokers like Drivewealth, LLC and Alpaca Securities LLC to ensure that Indian investors can trade safely and legally.
Their Super Money app has lots of features to help you manage your money wisely. You can have a Demat & Trading account, automatically track your money, invest in mutual funds, use a calculator to plan your investments, buy insurance, access an IPO centre, view expense report details, use INsta Cash, and even track your credit. These tools can help you achieve your financial goals and make informed financial choices.
Regarding the smallest amount you can invest, INDmoney makes it easy for you. With their US Stocks account, you can invest as little as $1 in companies like Apple, Netflix, and Tesla. You can do all your transactions directly on the INDmoney platform, and it's hassle-free.
If you're unsure which stocks to choose, refer to available lists or talk to your asset manager. They can provide you with a personalised plan for your investment.
Here's how the fees are calculated: There are no fees to open an account or buy US stocks. But there is a small fee of 0.75% of the amount you invest, and they will not charge you more than ₹1,000. If you want to withdraw money from your US stock account and deposit it in an Indian bank, you will have to pay a fee of $5 per request.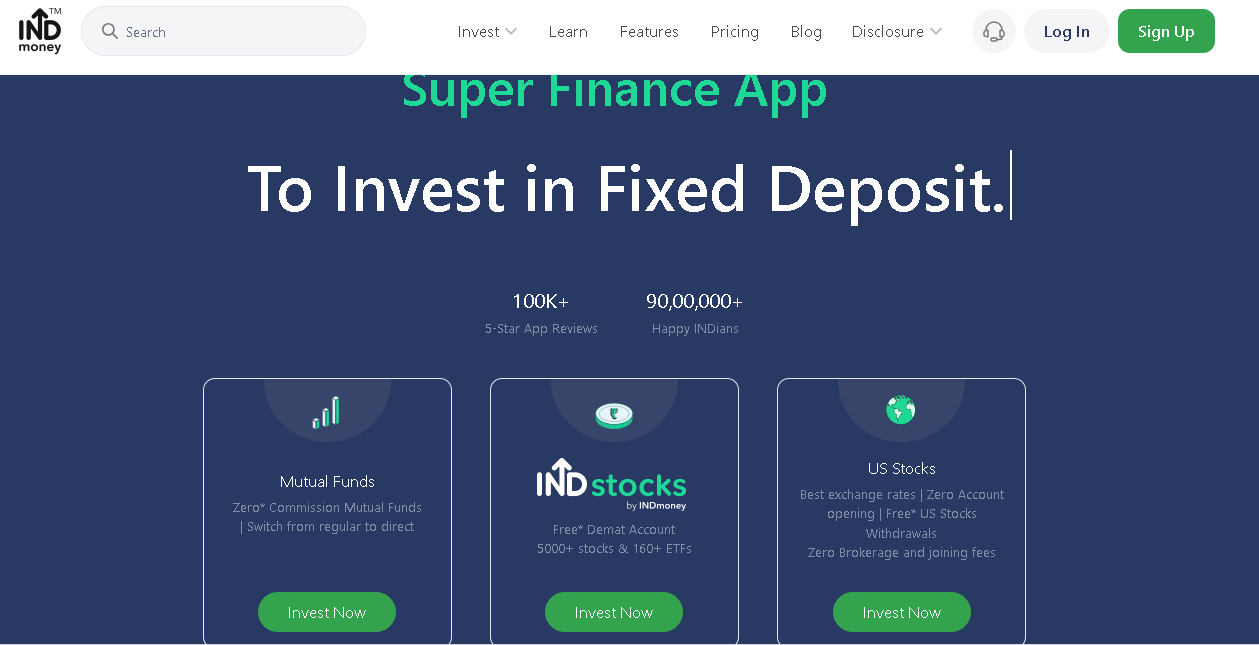 The Bottom Line on Charles Schwab in India
This brings us to the conclusion that Charles Schwab operates in several Asian countries, including India, with the possibility of creating a Schwab One International Account.
However, it may not be the ideal option for you, as it requires a considerable minimum deposit and doesn't offer all the investment options, unlike other brokers.
Fortunately, Indian investors have several options available to build their portfolios, such as brokers exclusive to India (Zerodha) or brokers that operate globally (Interactive Brokers), so they have a wide range of choices when making their investments.