Investing is an excellent way for businesses to grow capital and reach financial goals. Especially in times of high inflation, which effectively eats away cash surpluses. However, with so many different business investment accounts and brokers available, it can be challenging to know where to start.
Not all brokers are created equal. Some may offer better pricing, platforms, features, and customer service. To help you make an informed decision, we have compared some of Australia's best business investment accounts.
In this article, we present you a list of proposed brokers and answer the question of what a business investment account is and which Australian entrepreneurs can establish it.
Best Business Investment Accounts for Australian Companies
Founded in 1978, IBKR is a global online broker known for its resilience and rigorous risk management process. It supports business accounts with a minimum deposit of AUD 10,000 and offers a wide range of products and markets.
A Danish online broker founded in 1992, requires a minimum deposit of AUD 10,000. It offers access to over 40,000 financial instruments and has a high reputation among its peers.
An online broker with over 30 million users worldwide. To open a business trading account, you'll need to contact customer service and deposit a minimum of $10,000.
Founded in 1974, IG Group is a robust trading platform with access to a wide variety of markets. It's known for its competitive spreads and excellent customer service.
#2 Saxo Bank
Saxo Bank Corporate Accounts at a glance
Minimum Deposit
AUD 10,000
Products
Stocks, ETFs, Options, Futures, Forex, Commodities, Bonds and Funds
Regulation
ASIC, FCA, FSA and other local regulators
Saxo Bank stands out as a robust financial institution in the brokerage field, boasting a consistent record of achievement. The bank offers trading in over 40,000 financial instruments via its platforms: SaxoTraderPRO (for PC) and SaxoTraderGO (for mobile devices).
Saxo Bank's corporate account levels are described below:
Classic

: Requires a minimum deposit of AUD 10,000, granting access to competitive spreads and 24/5 customer and technical support.

Platinum

: With a minimum deposit of AUD 300,000, this tier includes Classic features and reduces trading costs by up to 30%, prioritising local language support.

VIP

: A minimum deposit of AUD 1,500,000 is needed for this tier, offering the best prices, access to trading specialists, and exclusive event invitations.
Saxo Bank typically takes a week to approve a business investment account, provided they receive clear copies of specific documents, including the Memorandum and Article of Association, Certificate of Incorporation, proof of the company's business address, the latest financial statement, and a group structure diagram (if applicable).
Furthermore, every beneficial owner with a 25% or more company holding and each company director must submit additional documents, such as a passport and proof of residency (e.g., a recent utility bill).
You can visit the dedicated landing page for corporate investment accounts for more comprehensive information regarding Saxo Bank's offering.
#3 eToro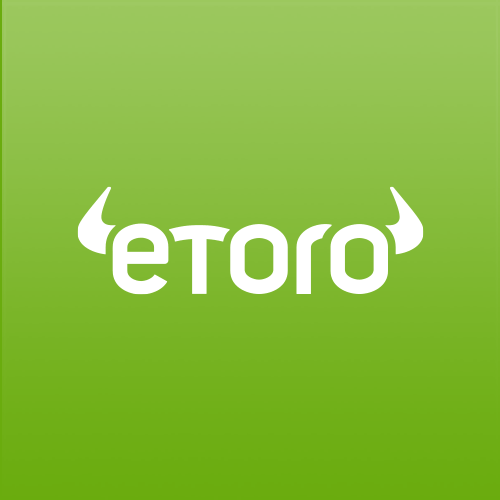 Visit eToro
74% of retail CFD accounts lose money.
eToro Corporate Accounts at a glance
Products
ETFs, Stocks and CFDs on Commodities, Forex, and Cryptocurrencies
Regulation
ASIC, FCA, and CySEC
Established in 2006, eToro is a well-known worldwide fintech startup and the leader in social trading (following other people's trades), with over 30 million users worldwide. You can also invest in other products through their platform, which is intuitive and simple to use, making it a good choice for beginners. Plus, they offer commission-free stock trading in the UK.
Opening an account and depositing is easy; you can even try it out with virtual money. On the downside, spreads can be high for some products. The only currency accepted is USD, so you'll be charged currency conversion fees upon deposit and withdrawal if you deposit in GBP.
Social trading allows users to observe and learn from experienced traders in real time. New traders can follow the strategies of successful investors, understand their decision-making processes, and gain insights into market trends and trading techniques.
eToro's social trading feed is super intuitive. You quickly filter your feed and engage with other users on companies and other investment opportunities that interest you most.
#4 IG
Visit IG
75% of retail CFD accounts lose money.
IG Corporate Accounts at a glance
Products
Indices, Forex, Shares, Commodities, Cryptocurrencies, ETFs, Options, Bonds
Regulation
ASIC, FCA, BaFin, FINMA, FMA, MAS, FSA, FSCA, DFSA
Founded in 1974, IG Group is a leading global trading and investments provider, operating in over 15 countries with a vast client base. As a multi-faceted financial institution, IG Group offers opportunities to trade in various instruments such as forex, indices, shares, commodities, and more.
The broker's offer includes institutional corporate accounts aimed at regulated entities, banks, brokerage firms, and retail corporate accounts intended for businesses and entrepreneurs.
If you want to apply for a corporate account, you must follow these three steps:
Review the Terms

– You consent to IG's rules and regulations by obtaining the PDF application form.

Complete the Application Form

– Once you're prepared to proceed, fill out one of the available corporate account forms.

Submit Your Application

– Forward your completed application to the following email address: accountopening.en@ig.com.
You can find all the necessary information and documents to apply on IG Group's official website.
What is a Business Investment Account?
A Business (or corporate) investment account in Australia is a specialised financial account designed for businesses, including small to large enterprises and entrepreneurs. It functions as an investment tool that allows companies to invest surplus funds in various financial instruments, such as bonds, stocks, or mutual funds.
The primary advantage of a business investment account is that it can provide a higher return on investment compared to traditional savings accounts. It offers flexibility in investment choices and can be tailored to meet the business's specific financial goals and risk tolerance.
Any company and entrepreneur in Australia can establish this type of investment account. However, remember that regulations and tax implications may vary depending on the scale and type of business.
In the ever-changing landscape of business investment, Australian companies and entrepreneurs have many options to choose from. Investing through a particular broker should align with the business's financial goals, risk tolerance, and investment preferences.
Each broker presents unique advantages, from Interactive Brokers' comprehensive offerings to Saxo Bank's tiered account levels and eToro's global reach to IG's robust platform.
Your business can find the investment account that best suits your needs by carefully considering factors such as minimum deposit, supported products, fees, and currency support.
We trust that this article has answered your questions. Don't hesitate to share your thoughts, questions, or feedback in the comments section below!