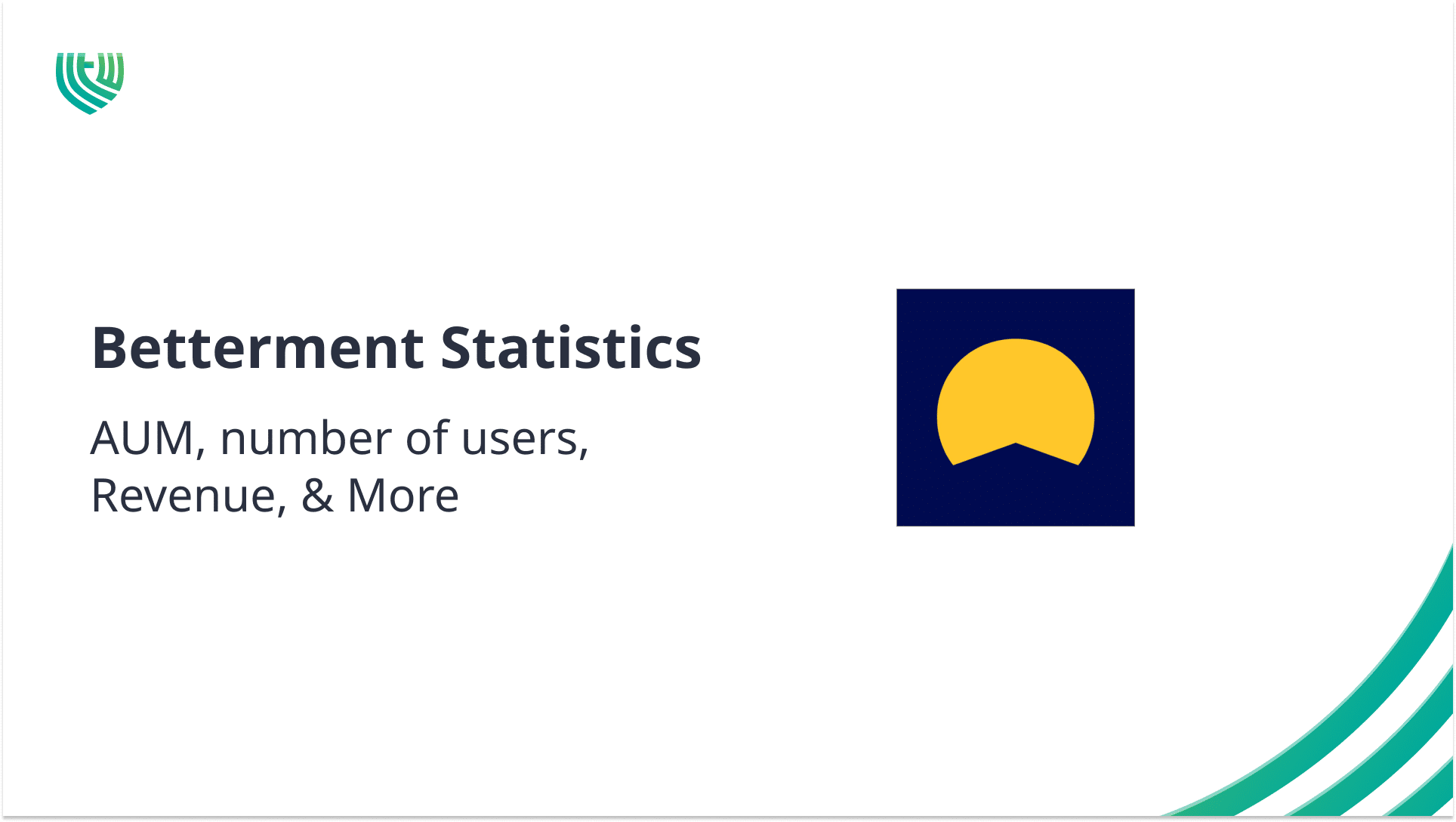 Betterment is one of the leading Robo-advisors in the United States, offering fully automated investment management services. The company was established in 2008 and has gained significant popularity among investors due to its innovative platform that provides diversified low-cost investment portfolios.
In this article, we will explore the latest statistics related to Betterment, such as its assets under management (AUM), number of users, revenue, and other related aspects. These statistics provide valuable insights into the company's growth and performance and its progress over the years.
Whether you are currently using Betterment, considering using the platform, or just interested in the Robo-advisory industry, this article will provide you with the latest Betterment statistics.
Betterment is a US-based Robo-advisor that offers automatically managed portfolios, which are built using a mix of low-cost ETFs (exchange-traded funds) and designed to provide investors with a diversified, passive investment strategy. Its features include socially responsible investing options, automatic rebalancing, tax-loss harvesting, access to financial advisors for an additional cost, and a personalized retirement plan. Moreover, it offers Betterment Premium, which caters to High Net Worth Investors (HNWI) with over $100,000.
Additionally, Betterment has expanded its product offerings over the years and has recently acquired Makara, a company that offers automated cryptocurrency portfolios. Betterment also offers cash management features through a high-yield cash account that is FDIC-insured and Checking, an everyday spending account that comes with rewards and benefits, and a debit card.
Here are some key corporate facts about Betterment:
Founded:

2008

Headquarters:

New York, United States

IPO date:

Betterment has not yet gone public

Sector:

Financials

Industry:

Robo-advisor, Investment Management

Founders:

Jon Stein, Eli Broverman

Number of employees: 450+ (August 2022)
Betterment is a privately-owned company backed by over 30 investors, including its founders and a number of venture capital firms, who followed several rounds of financing. Although some saw the step-down of its founder Jon Stein as CEO and the appointment of Sarah Levy as a possible step toward an IPO in 2020, the company did not disclose any information about it, and the IPO has not taken place yet. Here is a list of the major investors of Betterment:
Betterment Investors
| | | | |
| --- | --- | --- | --- |
| Kinnevik | Bessemer Venture Partners | Francisco Partners | Menlo Ventures |
| The Private Shares Fund | Anthemis Group | Globespan Capital Partners | Citi Ventures |
| Sukna Ventures | Aflac Ventures | ID8 Investments | Inertia Ventures |
Source: Betterment
Betterment's assets under management (AUM) have experienced significant growth throughout the years. By 2014, the company had managed to cross the $1 billion AUM threshold, and in 2017 it became the first independent online financial advisor to reach $10 billion in AUM, due in part to its low minimum balance that attracted a significant number of users to its platform. As of April 30, 2023, Betterment boasts over $36 billion in assets managed on behalf of its clients.
Betterment AUM
| | |
| --- | --- |
| Year | Assets Under Management (in USD) |
| 2011 | 4.9M+ |
| 2012 | 36M+ |
| 2013 | 303M+ |
| 2014 | 1.10B+ |
| 2015 | 3.0B+ |
| 2016 | 6.11B+ |
| 2017 | 11.85B+ |
| 2018 | 14.14B+ |
| 2019 | 16.40B+ |
| 2020 | 18.06B+ |
| 2021 | 28.27B+ |
| 2022 | 33.84B+ |
| April 2023 | 36B+ |
Source: SEC Betterment filings
As Betterment continues to expand its product offerings and attract new clients, it's expected that its AUM growth will continue to rise.
Betterment average account size
While Betterment does not publicly disclose the average account size of its users, it is possible to estimate this figure based on available data. According to Betterment's SEC filings, the company had 910,000 accounts with $33.84 billion in assets under management as of December 31, 2022. This gives an average account size of approximately over $37,000. By following the same calculation, we get the following breakdown by year:
Betterment average account size
| | |
| --- | --- |
| Year | Average account size (in thousands USD) |
| 2012 | 3.4+ |
| 2013 | 12.1+ |
| 2014 | 17.5+ |
| 2015 | 21.1+ |
| 2016 | 24.6+ |
| 2017 | 30.2+ |
| 2018 | 30.5+ |
| 2019 | 30.3+ |
| 2020 | 27.4+ |
| 2021 | 35.1+ |
| 2022 | 37.2+ |
It is important to note that this is an estimated calculation. It may not accurately reflect the true average account size. The actual average account size could be higher or lower, depending on the reporting date and fluctuations in market conditions during the year. Nevertheless, this estimated average account size gives us some insight into the typical account size of a Betterment user.
Betterment's valuation has steadily increased since its inception, with a significant jump in valuation occurring between 2014 and 2015. Betterment has completed 10 funding rounds over the years, including its most recent round in September 2021, which raised $160 million in growth capital leading to a valuation of $1.3 billion.
Additionally, Kinnevik, which owns a 13% stake in Betterment, valued the company at SEK 1.4 billion ($134.35 million) in December 2022, implying that currently, Betterment is approximately valued at $1.03 billion. Here is a breakdown of Betterment's valuation evolution:
Betterment valuation
It is uncertain if the company plans to go public through an IPO in the near future, as it has not made any official announcements regarding this matter. However, given its steady growth and increasing valuation, an IPO may be possible in the coming years.
Betterment generates revenue through multiple sources, with portfolio management fees being the largest contributor. The management fee charged by Betterment ranges from 0.25% to 0.40%, depending on the client's balance. In addition to portfolio management fees, Betterment also earns an interchange fee every time its debit cards are used. The company's cash reserve product generates revenue as well, as it deposits funds with partner banks for which it earns a commission. Betterment also offers phone consultations with investment professionals for a fee and provides a 401(k) product to SMBs for their employees, which also generates revenue for the company.
While Betterment is privately held and is not required to file its financial statements with the SEC, analysts estimated that the company's revenue reached $50 million in 2018. However, a rough calculation based on the company's fee structure suggests that its revenue from portfolio management fees alone could exceed $90 million (based on recent filing and assuming a 0.25% fee for individual accounts and 0.40% for high net worth individual accounts). When factoring in revenue from these sources, it is likely that the company's overall revenue exceeds $100 million.
To summarize, Betterment has become one of the most successful Robo-advisors with over $30 billion in assets under management and is currently among the largest Robo-advisors by AUM. It is trusted by thousands of U.S. investors who are seeking affordable, low-cost portfolio management services. Despite being privately held and not required to disclose much information, we tried in this article to gather all the relevant statistics for Betterment.
With the recent addition of cryptocurrency investing and other services, Betterment appears well-positioned to maintain its leadership in the investment industry for the foreseeable future.
Is Betterment safe and insured?
Yes, Betterment is safe. It is a member of the Securities Investor Protection Corporation (SIPC), which protects funds held in a brokerage account in case of brokerage failure, covering up to $500,000 of missing assets. Additionally, Deposits into Betterment's cash account, Cash Reserve, are covered by Federal Deposit Insurance Corporation (FDIC) insurance up to $1 million per individual account.
Is Betterment regulated?
Yes, Betterment is regulated by the Securities and Exchange Commission (SEC) as well as the Financial Industry Regulatory Authority (FINRA).
Is Betterment available outside the U.S.?
Unfortunately, Betterment is only available to clients residing in the U.S. However, there are other Robo-advisors that may be suitable for your needs. You can check out our "Help Me Choose" feature for recommendations or check out the Betterment alternatives article.