Investing with a purpose has gained significant popularity in recent years as more and more investors strive to align their financial goals with their values. This has led to a higher focus on Environmental, Social, and Governance (ESG) and Impact investing.
Many apps have recognized this growing trend and incorporated sustainable options into their offerings. Depending on the platform you choose, you can directly invest in socially responsible investment (SRI) portfolios, trading ESG funds, or in stocks of sustainable companies.
In this article, we will delve into the wide range of investment options offered by these apps and explore the features and benefits of these platforms. Whether you're new to investing or an experienced investor, there is an investing platform tailored to meet your specific needs.
Let's dive in and discover the possibilities for investing with purpose!
Best ESG and Impact Investing Apps
IMPACT by Interactive Brokers | Best overall
The IMPACT app by IBKR provides a user-friendly interface and a wide array of investment options, enabling you to align your investments with your values. With its 13 Impact Values encompassing various ESG issues, you can customize your portfolio according to your specific values and create a positive impact through your investment choices.
M1 Finance | Best ESG Robo-advisor
M1 Finance is a flexible investment app that offers investing through "Pies," allowing you to create personalized portfolios or choose from its pre-built options, including ESG-focused pies. It's a top choice for investors seeking control over their portfolios with added convenience.
Betterment | Best for ESG and cash management features
Betterment is an investment and cash management app that promotes socially responsible investing through its three impact-focused portfolios: Broad Impact, Climate Impact, and Social Impact. These portfolios are constructed using low-cost ETFs and tailored to different sustainability criteria.
Ellevest | Best for women's empowerment
Ellevest is a digital wealth management company prioritising empowering women in their financial journeys. They provide personalized investment portfolios that aim to make a positive impact, such as investing in companies with more women leaders, supporting funds for affordable housing and community services, and selecting companies with high sustainability and ethical standards.
Wealthfront | Best for self-directed ESG investing
Wealthfront is a US-based fintech company offering various wealth management services. They provide personalized investment portfolios, including socially responsible options that prioritise ESG measures. Additionally, Wealthfront allows users to invest in individual stocks that align with their values for a more hands-on approach.
Wealthsimple | Best for Canadian investors
Wealthsimple is a Canadian investment platform known for its user-friendly interface and offers a variety of investment options, including socially responsible portfolios that align with strict sustainability standards. These portfolios prioritize excluding top carbon-emitters, promoting gender diversity on company boards, and aligning with temperature-change goals.
eToro | Best for international investors
eToro is a leading social trading and investment platform offering a wide range of products. It prioritizes ESG investing by offering ESG scores for over 2,700 assets. The platform's user-friendly "traffic light" colour scheme makes it easier for users to invest responsibly and align their portfolios with their values.
Disclaimer: eToro is a multi-asset investment platform. The value of your investments may go up or down. Your capital is at risk.

Best ESG and Impact Investing Apps reviewed
#1 IMPACT by Interactive Brokers
IMPACT by Interactive Brokers at a glance
Fees
Free of charge (for US customers); Up to USD 0.0035 per share – min. USD 0.35 (for non-US customers)
The IMPACT app is a powerful platform designed and backed by Interactive Brokers, a trusted name in the financial industry. It helps investors align their values with their investment choices with a core focus on ESG factors allowing users to invest in companies that prioritize sustainability and social responsibility. It categorizes values into 13 key areas, including Ocean Life, Land Health, Gender Equality, Racial Equality, and more.
The app stands out for its wide range of investment options with the ability to filter out companies engaged in harmful practices. You can choose from stocks, ETFs, mutual funds, options, cryptocurrencies (only available to US customers), and even carbon offsets.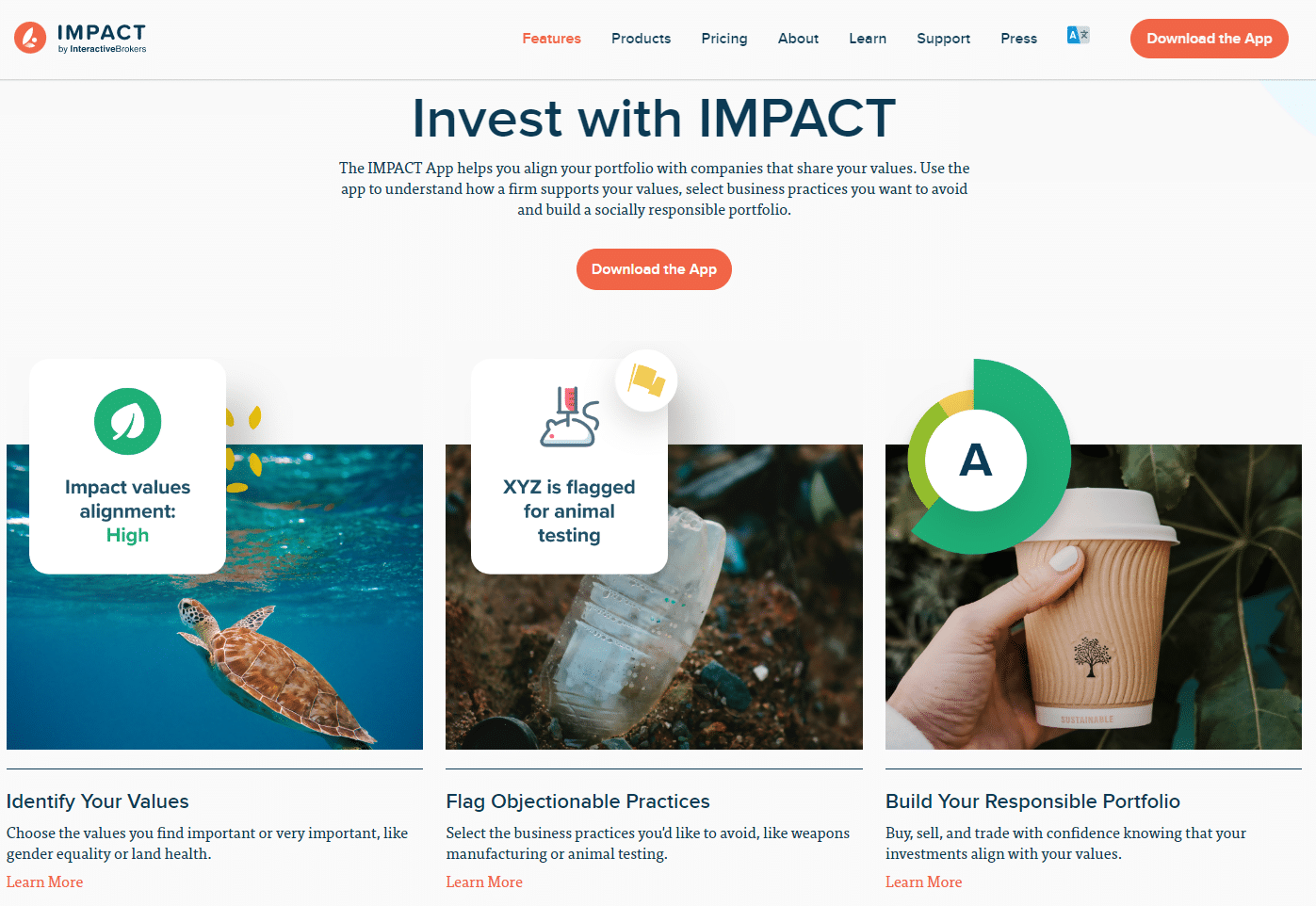 IMPACT is a cost-effective investment platform offering commission-free trades for US users. However, for non-US users, the fees applied are relatively low, with rates of up to USD 0.0035 per share (minimum USD 0.35) for stocks and ETFs. Additionally, it charges a fee of 1.00% of the offset value for Carbon Offsets, providing investors with an opportunity to align their investments with their sustainability goals.
Navigating the app is intuitive, especially for those familiar with Interactive Brokers' other applications. One notable feature is the inclusion of an Impact score, which assesses the sustainability of each investment position. You can also delve into performance details, analyze the impact lens of your positions, and create personalized watchlists to monitor your preferred companies. Another advantageous feature is the ability to easily swap a position that does not align with your responsible investing values for one that aligns with your sustainability objectives. This flexibility empowers you to manage your portfolio based on your values and objectives actively.
We encourage you to check our comprehensive IMPACT review for more insights.
#2 M1 Finance
M1 Finance at a glance
Fees
$0 ($125 for M1 Plus)
M1 Finance is a popular fintech company known for its automated, commission-free investing portfolios. It combines do-it-yourself (DIY) investing with automated portfolio management. It also offers other financial services like investing, borrowing, and banking services, making it an ideal platform for investors looking to manage all their finances in one place.
One of the key features of M1 Finance is its customizable investment portfolios, known as "Pies." You can create your Pies by selecting individual stocks, ETFs, and other investment assets and assigning specific weightings to each holding. This allows you to customize your portfolio to your preferences and values, whether it's focusing on a specific sector, asset class, or investment theme or avoiding certain sectors and companies altogether.
Another feature of M1 Finance is their pre-built pie portfolios designed by financial experts that cover a range of investment strategies, including ESG-focused portfolios. This feature proves invaluable for investors who may need more time or expertise to construct their portfolios from scratch.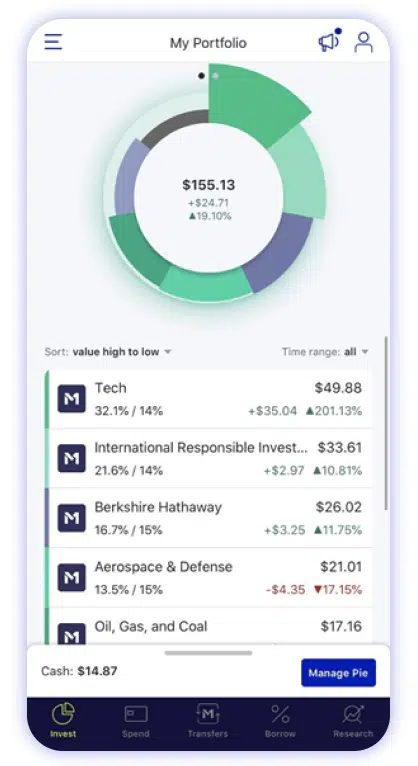 M1 Finance caters to various types of investors, offering a comprehensive selection of account types such as individual taxable accounts, joint accounts, retirement accounts (Traditional and Roth IRAs), and trust accounts. Therefore, you can select the account structure that aligns best with your financial goals and tax considerations.
In terms of fees, M1 Finance offers commission-free trading so you can build your portfolio without worrying about transaction costs. Additionally, you can subscribe to their premium service, M1 Plus, to unlock additional benefits, including higher interest rates on cash balances, cashback rewards on debit card purchases, and access to a credit line.
Not a US resident? Here are our M1 Finance alternatives.
#3 Betterment
Betterment at a glance
Fees
$4 monthly fee or 0.25% per year
Founded in 2008, Betterment is another leading investment platform that prioritises responsible investing. As one of the largest Robo-advisors in terms of Assets Under Management (AUM), Betterment stands as a key player in the industry. It offers socially responsible investing portfolios and provides additional features like cash management and financial planning tools, making it a comprehensive platform for investors seeking to align their investments with their values.
Betterment promotes Socially Responsible Investing (SRI) by offering impact-focused SRI portfolios designed for investors looking to align their investments with their values. These portfolios include Broad Impact, Climate Impact, and Social Impact, each tailored to different sustainability criteria. The portfolios incorporate low-cost ETFs that prioritize companies with strong ESG practices, diversification, and cost considerations.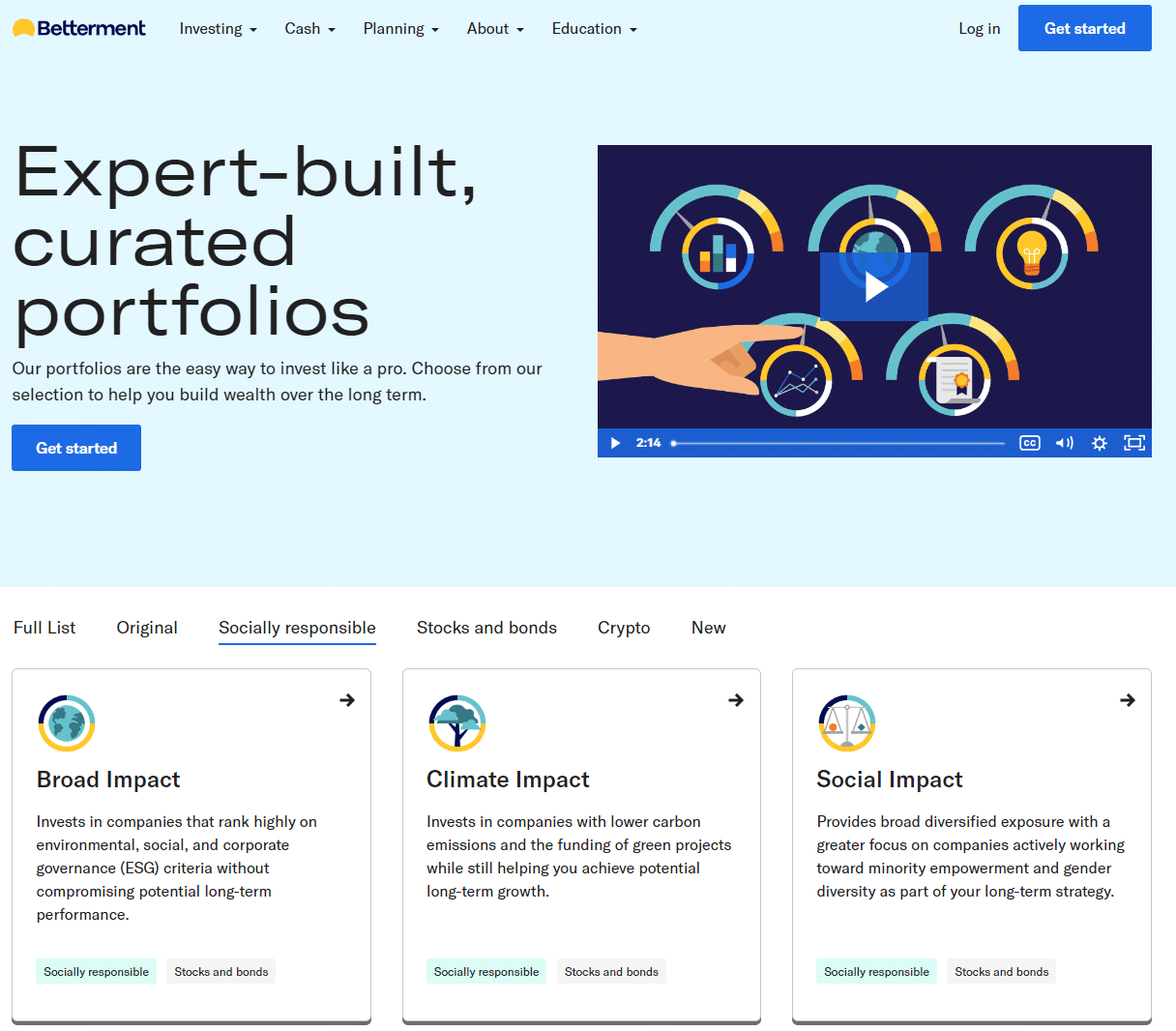 Betterment caters to investors of all types with its diverse offerings. For those seeking a more affordable solution, Betterment Digital is available with a management fee of just 0.25% of AUM and the option to access financial advisors for an additional fee. Alternatively, for individuals desiring a premium experience, Betterment Premium offers unlimited access to certified financial planners, tailored financial planning, and portfolio management for an annual fee of 0.40% and a minimum balance requirement of $100,000.
Founded in 2014, Ellevest is a digital wealth management company that provides a range of wealth management services, including automated investing, financial planning and private wealth management. While accessible to anyone, Ellevest places a special emphasis on serving women.
Ellevest constructs its portfolios using a women-first approach, considering the unique needs of women when it comes to investing. They use a combination of ETFs and mutual funds, encompassing various asset classes. The allocation within the portfolio is tailored to your risk tolerance, financial situation, and investment objectives.
When it comes to socially responsible investing, Ellevest presents the Ellevest Impact Portfolio, a personalized investment solution designed to create a positive societal impact while being managed automatically. It specifically addresses the needs of women and effectively manages risks. What sets it apart is that over 50% of the portfolio is invested in ESG-focused ETFs and mutual funds that prioritize gender considerations, contributing to the advancement of women.
Ellevest's basic plan is priced at $12 per month, offering up to five goal-specific accounts and portfolios tailored to your financial objectives. It includes retirement planning, tax minimization strategies, and automatic rebalancing. Furthermore, subscribers of this plan receive an exclusive discount on one-on-one financial guidance. Ellevest also provides wealth management options with personalized financial planning and dedicated investment management, available at an additional cost.
#5 Wealthfront
Wealthfront at a glance
Minimum deposit
$500 for pre-built portfolios, $1 for self-directed portfolios
Fees
0.25% per year for pre-built portfolios, $0 for self-directed portfolios
Wealthfront is a well-known US-based robo-advisor founded in 2008, providing personalized investment portfolios, brokerage and cash management services. Following a short questionnaire, Wealthfront provides personalized investment portfolio recommendations based on your risk profile and financial goals. Notably, it offers a range of products, including cash management with a competitive APY, automated investing for retirement and education savings, and borrowing against your portfolio.
Wealthfront offers portfolios that prioritise sustainability, diversity, and equity as part of its socially responsible investing strategies. You just open an "Automated Investing Account", and you will get access to their socially responsible portfolios. Wealthfront employs a robust screening strategy that selects funds that exclude businesses involved in civilian firearms, controversial weapons, tobacco, thermal coal, and oil sands.
Furthermore, they emphasize investments in companies that excel in Environmental, Social, and Governance measures. Additionally, they manage the portfolio automatically by rebalancing investments and employing tax-loss harvesting when needed to optimize your tax obligations.
For those who prefer a hands-on approach, Wealthfront also offers a "Stock Investing Account," where you can invest in individual stocks that align with your values. Wealthfront provides a user-friendly platform with fractional shares investing ability, no commission trades, and a low minimum investment of just $1 for self-directed portfolios and $500 for pre-built portfolios.
#6 Wealthsimple
Wealthsimple at a glance
Fees
Between 0.2% and 0.5% per year for pre-built portfolios and $0 for self-directed portfolios
Founded in 2014, Wealthsimple is a leading Canadian wealth management firm that offers a comprehensive suite of financial services, including investing, saving, and trading. It is known for its user-friendly interface and commitment to innovation and has gained recognition for democratizing investing and making it accessible to a wider audience. It has become popular among Canadian investors seeking to effectively manage their wealth and take advantage of innovative financial solutions.
Wealthsimple offers the opportunity to construct socially responsible portfolios that prioritise sustainable and ethical practices. These portfolios adhere to the most stringent sustainability standards, aligning with the temperature-change goals outlined in the IEA Sustainable Development Scenario and the Paris Agreement. To ensure responsible investment, Wealthsimple screens out industries involved in fossil fuels, tobacco, and weapons, while also excluding the top 25% carbon-emitters in each sector to ensure responsible investment. Furthermore, they emphasize gender diversity on company boards as part of their commitment to social responsibility.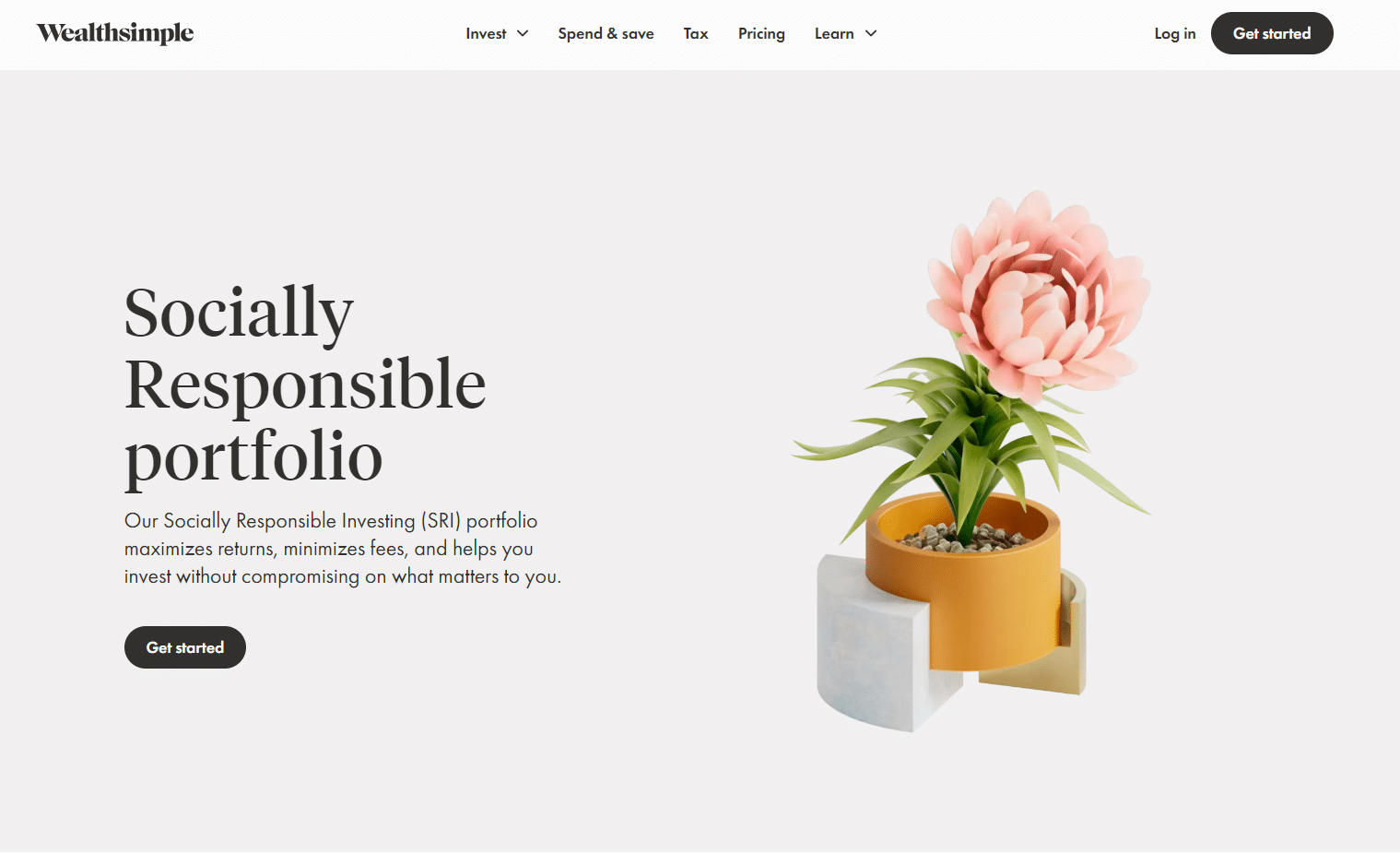 Wealthsimple also offers a self-directed investing option, allowing you to select and manage your investments personally. With this option, you can invest in fractional shares and enjoy the convenience of automatic dividend reinvestment.
Wealthsimple is only available in Canada, and you can start investing with as little as $1. The platform charges a management fee based on your assets under management, starting at 0.5%, decreasing to 0.4% once your assets reach $100,000, and can reach 0.2% for amounts higher than $500,000.
#7 eToro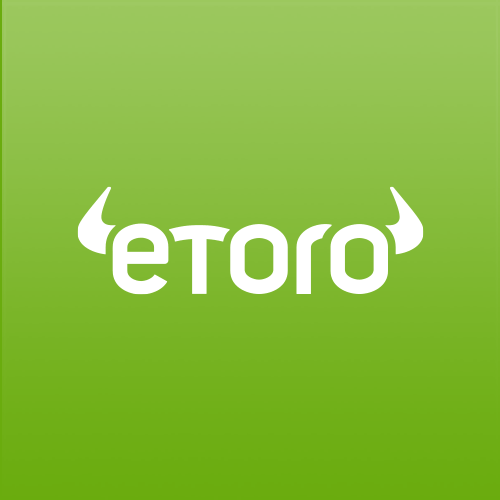 Visit eToro
74% of retail CFD accounts lose money.
eToro at a glance
Minimum deposit
$10 (depends on region)
Established in 2007, eToro is a leading social trading and investment platform that goes beyond traditional offerings. It provides investors ESG scores for over 3,000 assets, utilizing a user-friendly "traffic light" colour scheme. The green score indicates leadership in ESG within its sector, while amber signifies an average rating, and red suggests a poor ESG rating compared to peers.
These ESG scores on the eToro platform are regularly updated to reflect the latest market news and company-reported information. You can have various approaches to integrating ESG scores into your decision-making process. For instance, you can use these scores to gain additional insights into companies beyond financial analysis, apply them as a filtering mechanism for portfolio selection (preferring high-scoring companies or excluding lower-scoring ones), or leverage them as flags for monitoring purposes (investigating changes in ESG scores as potential signals).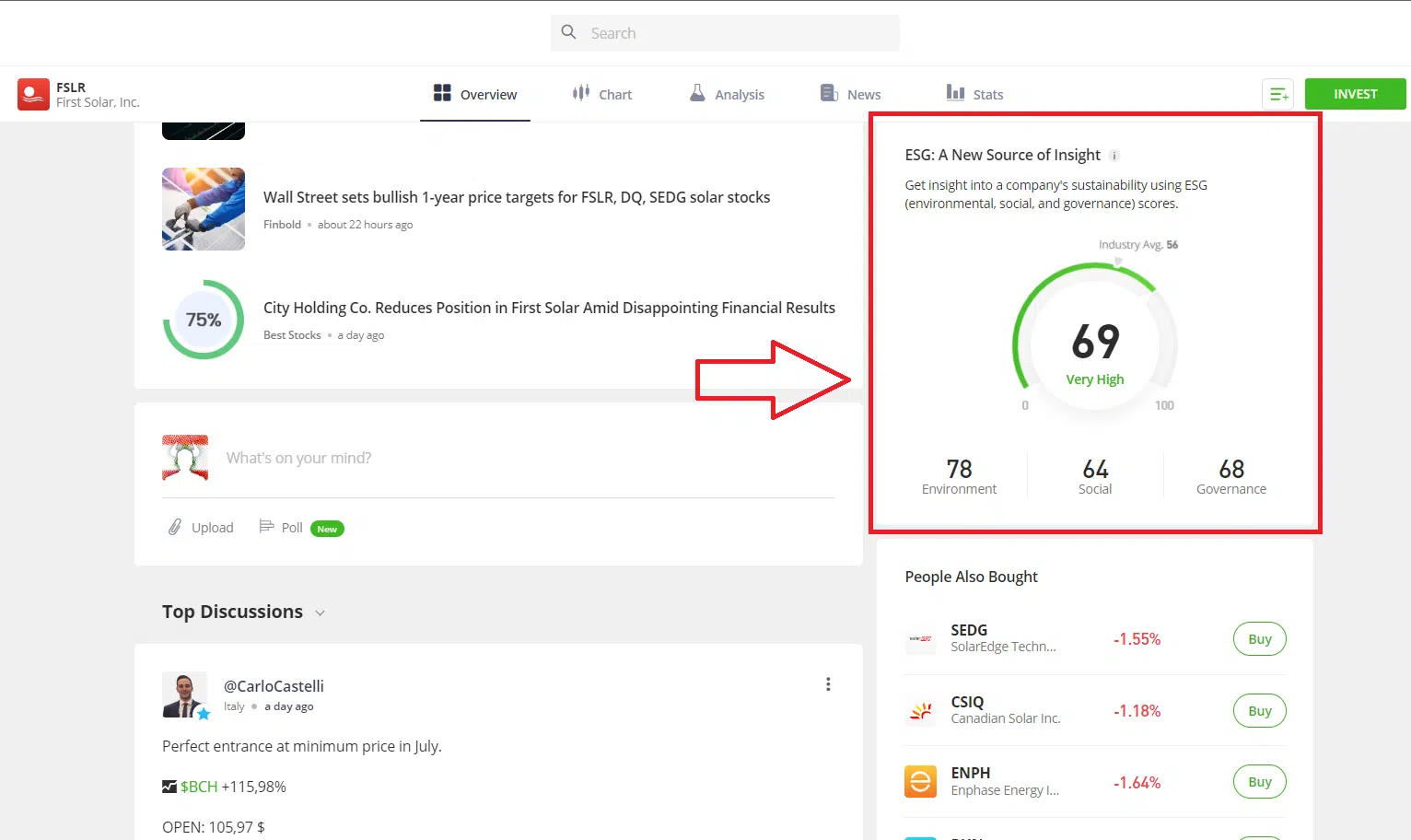 eToro also allows investors to invest in ESG smart portfolios that focus on themes such as renewable energy and female leadership. Additionally, it provides a unique feature that allows you to copy the investment strategies of successful investors who prioritize companies making a positive impact on society and have demonstrated a commitment to responsible investing.
The minimum deposit on eToro varies depending on your country (starts at $10). Additionally, eToro offers the opportunity to invest in non-leveraged positions without incurring fees. For more detailed information and insights about eToro, I recommend checking out our comprehensive eToro review.
eToro is a multi-asset investment platform. The value of your investments may go up or down. Your capital is at risk.
CFDs are complex instruments and come with a high risk of losing money rapidly due to leverage. 74% of retail investor accounts lose money when trading CFDs with this provider. You should consider whether you understand how CFDs work and whether you can afford to take the high risk of losing your money.
Zero commission means that no broker fee will be charged when opening or closing the position and does not apply to short or leveraged positions. Other fees apply including FX fees on non-USD deposits and withdrawals. Your capital is at risk. For more information, click here.
What Makes a Good ESG Investing App?
With the growing interest in sustainable and responsible investing, ESG investing apps have emerged to cater to investors seeking to align their portfolios with their values. Here are some key factors that make a good ESG investing app:

Comprehensive ESG Data and Analysis:

A good ESG investing app should provide comprehensive and reliable ESG data and analysis. This includes detailed information on companies' environmental impact, social practices, and governance policies. The app should offer ESG scores or ratings for individual assets or portfolios, allowing investors to evaluate the sustainability and ethical practices of their investments.

Diverse Range of ESG Investment Options:

An ideal ESG investing app should offer a diverse range of ESG investment options, including access to companies that excel in ESG criteria across various industries. For instance, investment opportunities in renewable energy, clean technology, gender diversity, and other sustainable sectors. The app should provide a wide selection of ESG-themed portfolios or funds tailored to different investor preferences.

User-Friendly Interface and Tools:

A good ESG investing app should have a user-friendly interface that simplifies the process of researching, analyzing, and investing in ESG assets. It should provide intuitive tools and resources for investors to explore ESG data, track their investments' performance, and monitor their ESG goals' progress. The app should also offer educational materials and insights on ESG investing to help users make informed decisions.

Transparency and Disclosure:

A reputable ESG investing app should be transparent about its methodology for evaluating and scoring ESG factors. It should disclose the sources of its data, the criteria used in the assessment, and any limitations or biases in its analysis. Clear and transparent reporting of the ESG impact of investments is also important for investors to track and measure their sustainability goals.

Low minimum deposit requirement:

A good ESG investing app should have a minimum deposit that is accessible and flexible for a wide range of investors. This allows individuals with varying investment budgets to participate in ESG investing and have a positive impact on their future.
All in all, the rise of ESG and impact investing has paved the way for a new generation of investment apps that prioritize financial returns and positive social and environmental impact. These apps offer a range of features, such as ESG scoring, socially responsible portfolios, and customizable investment options, empowering investors to align their portfolios with their values.
Whether you're an experienced investor or just starting, we hope this article has provided valuable insights into the best ESG and impact investing apps. These platforms equip you with the tools and resources to make informed investment decisions that align with your values while generating financial and societal returns. By utilizing these apps, you hold the power to make a positive impact with your investments and contribute to building a better world for future generations.
What is ESG investing?
ESG, which stands for Environmental, Social, and Governance, is a framework used to evaluate the sustainability and ethical impact of investments. It considers three key factors:
Environmental:

This focuses on a company's impact on the environment, including carbon emissions, energy usage, waste management, and resource conservation.

Social:

This examines how a company manages relationships with stakeholders, such as employees, customers, and communities. It includes factors like labour standards, diversity, community engagement, and product safety.

Governance:

This evaluates a company's internal structures, policies, and practices related to decision-making, transparency, and accountability.
How does ESG or impact investing differ from traditional investing?
ESG and impact investing differ from traditional investing in their focus and objectives. Traditional investing primarily considers financial returns as the primary goal, with little or no emphasis on environmental, social, or governance factors. Impact investing goes a step further by explicitly seeking investments that generate positive social or environmental outcomes alongside financial returns. It focuses on investments that address pressing societal or environmental challenges, such as renewable energy, affordable housing, or clean water. The intention is to make a measurable and beneficial impact on specific issues while still achieving competitive financial returns.
Can I customize my portfolio based on specific ESG values or impact themes?
Yes, many ESG and impact investing apps offer customization options. They allow you to select specific ESG values or impact themes that align with your values and investment goals. This allows you to tailor your portfolio to focus on areas such as renewable energy, gender equality, or sustainable agriculture, among others.
Are there any risks associated with ESG and impact investing?
As with any investment, there are risks involved in ESG and impact investing. These risks can include market fluctuations, company-specific risks, and the potential for underperformance compared to traditional investments. It's important to conduct thorough research, understand the specific risks associated with each investment, and diversify your portfolio to mitigate potential risks.
Are there any minimum investment requirements for ESG and impact investing apps?
The minimum investment requirements vary depending on the ESG and impact investing app or platform you choose. Some apps have low or no minimum investment requirements, allowing you to start with a small amount. However, certain platforms may have specific minimum investment thresholds that you need to meet.