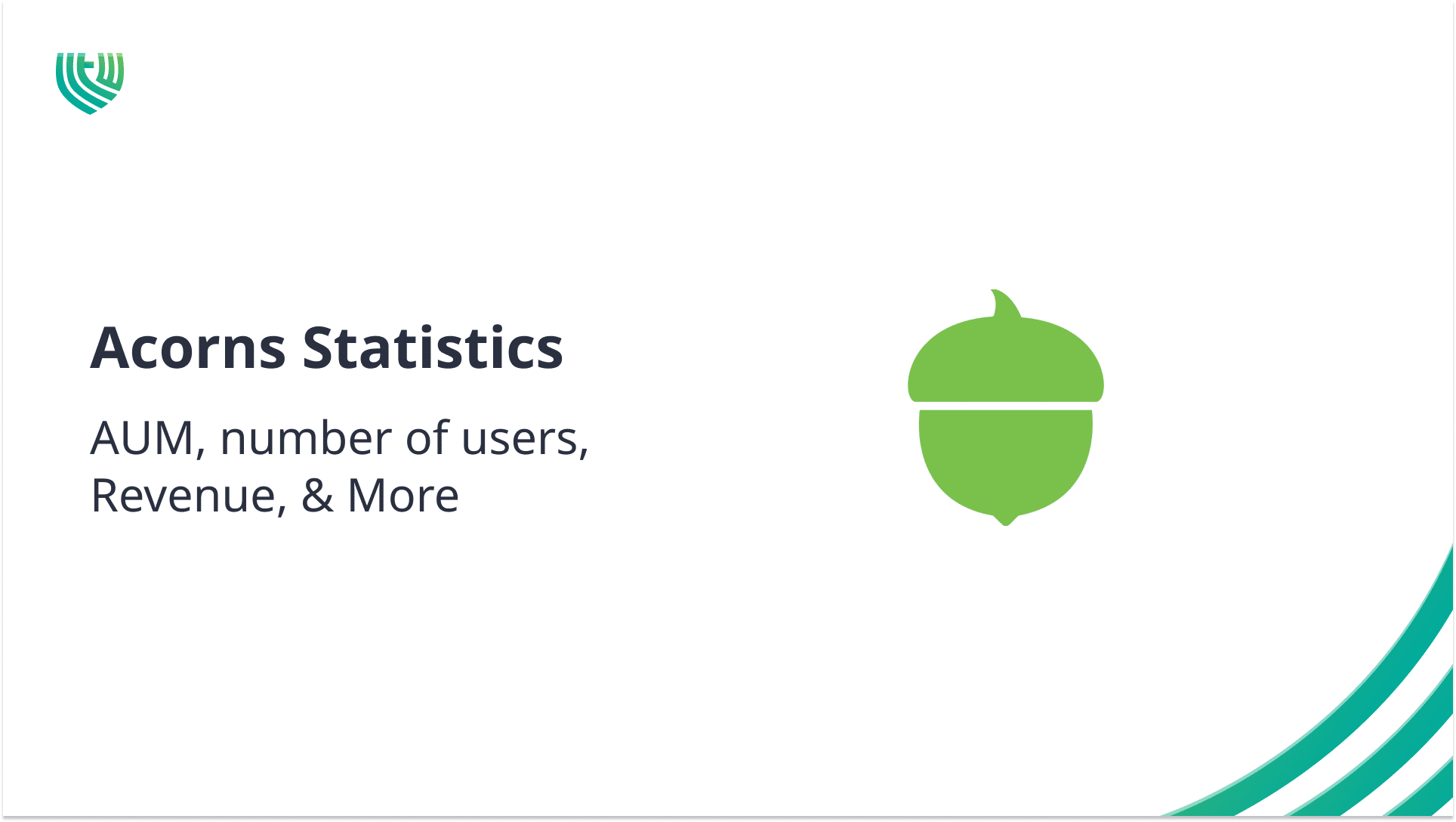 Acorns is a fintech company that has evolved into a popular investment platform for those looking to start saving and investing for their future. Acorns have grown rapidly since 2012, gaining millions of customers who trust the platform with their money.
In this article, we'll delve into the latest statistics on Acorns, including its assets under management (AUM), the number of users, revenue, and other key metrics. We'll explore what's driving the company's growth and provide insights into its future prospects.
So whether you're an Acorns user or just interested in the fintech industry, keep reading to learn about the latest trends and insights on Acorns' performance through 2023.
Acorns is a popular Robo-advisor that offers automatically managed portfolios and allows its clients to round up any transaction to the nearest dollar, and invest it in a diversified portfolio of ETFs. This "round-up" feature is one of the company's defining features, making investment more accessible and affordable for many users.
Its investment options are based on a user's investment goals and risk tolerance, making it easier for users to invest in a way that aligns with their financial goals. The company also offers a range of financial education resources to help users make informed investment decisions.
Acorns have consistently expanded its offerings by introducing new features that have helped it remain a popular choice for investors. One of its features is "Acorns Checking," a checking account with a debit card that allows users to save, invest and earn while being FDIC-protected at the bank level. Another innovative feature is "Acorns Earn," a rewards program that allows users to earn rewards on purchases made with one of Acorns' partner brands. In terms of pricing, the monthly fees charged by Acorns start at $3.
Here are some key corporate facts about Acorns:
Founded:

2012

Headquarters:

Irvine, California, United States

IPO date:

Sector:

Financials

Industry:

Robo-advisor, Investment Management

Founders:

Jeff Cruttenden, Walter Cruttenden
Number of employees: 490 (March 2023)
Acorns is a privately-owned company, and its ownership is split among its founders, investors, and employees. The company was co-founded in 2012 by Jeff Cruttenden and his father Walter Cruttenden. Since then, Acorns has raised over $500 million in funding from over 50 investors.
Acorns Investors
Acorns has experienced significant growth in a relatively short amount of time. According to the Acorns presentation, it took 12 quarters for Acorns to reach its first million users. However, the company's user base grew more rapidly after that, taking only seven quarters to reach 2 million users, then four quarters to reach 3 million, and just three quarters to reach 4 million.
This rapid growth can be attributed to a combination of factors, including the company's innovative approach to investing, its focus on financial education, and its partnerships with major brands to offer cash-back programs. Acorns claims on its website over 10 million registered users have used the app. However, its latest filing reported a user base of 6.58 million. This suggests that a significant portion of Acorns' user base is inactive or has stopped using the app. Here's a breakdown of Acorns' users' evolution:
Acorns users per year
| | |
| --- | --- |
| Year | Number of users |
| 2014 | 49.8K+ |
| 2015 | 353.0K+ |
| 2016 | 1.12M+ |
| 2017 | 1.35M+ |
| 2018 | 2.06M+ |
| 2019 | 2.96M+ |
| 2020 | 5.44M+ |
| 2021 | 6.06M+ |
| 2022 | 4.61M+ |
| 2023 – Q1 | 6.58M+ |
Source: Acorns filings, Radient Analytics
Acorns' assets under management (AUM) have grown significantly in recent years, reflecting the company's rapid user growth and its success in attracting new investors. As of the end of March 2023, Acorns reported an AUM of over $6.3 billion, while it started in 2014 with only around $5 million.
Acorns AUM
| | |
| --- | --- |
| Year | Assets Under Management (in USD) |
| 2014 | 4.8M+ |
| 2015 | 87.0M+ |
| 2016 | 257.0M+ |
| 2017 | 545.1M+ |
| 2018 | 1.15B+ |
| 2019 | 1.18B+ |
| 2020 | 3.38B+ |
| 2021 | 5.88B+ |
| 2022 | 6.17B+ |
| 2023 – Q1 | 6.30B+ |
Source: SEC Acorns filings
Acorns average account balance
While Acorns does not publicly disclose the average account size of its users, we can estimate this figure based on available data. In March 2023, Acorns reported over $6.30 billion in AUM across a user base of around 6.58 million users. Using these figures, we can estimate an average account size of around $957. By following the same calculation, we get the following breakdown by year:
Acorns average account size
| | |
| --- | --- |
| Year | Average account size (in USD) |
| 2014 | 96 |
| 2015 | 246 |
| 2016 | 230 |
| 2017 | 405 |
| 2018 | 558 |
| 2019 | 617 |
| 2020 | 621 |
| 2021 | 970 |
| 2022 | 1,338 |
| 2023 – Q1 | 957 |
It is important to note that this is an estimated calculation. It may not accurately reflect the true average account size. The actual average account size could be higher or lower, depending on the reporting date and fluctuations in market conditions during the year. Nevertheless, this estimated average account size gives us some insight into the typical account size of an Acorns user.
Acorns' valuation has seen significant fluctuations over the years, reflecting the company's growth and market conditions. In 2019, the company was valued at $860 million. However, by the end of 2021, its valuation had increased substantially to $2.2 billion. It planned to go public through a SPAC merger with Pioneer Merger Corp. Unfortunately, this deal was terminated in January 2022. Currently, Acorns is exploring alternative options to go public. On March 2022, Acorns' valuation decreased to $1.9 billion.
Acorns valuation
While filing for its SPAC merger, Acorns revealed some of its financials. Acorns generate money from the majority of its revenues. Specifically, 79% was generated from subscription revenue, which is based on a monthly subscription model and determined by the subscriber's choice of tier. The remaining 21% of the revenues were generated from non-subscription revenue sources, including debit card interchange fees, brand partnerships, and bank negotiation fees.
Acorns Revenue and operating income
| | | |
| --- | --- | --- |
| Year | Revenue (in USD) | Operating Income (in USD) |
| 2019 | 44M | -109M |
| 2020 | 71M | -65M |
After 2021, it became challenging to assess the performance of Acorns as its financial information is no longer publicly available following the termination of its SPAC deal. However, in that presentation, Acorns was expecting to generate the following revenue and operating income:
Acorns Revenue and operating income
| | | |
| --- | --- | --- |
| Year | Revenue (in USD) | Operating Income (in USD) |
| 2021 | 126M | -85M |
| 2022 | 207M | -82M |
| 2023 | 309M | -35M |
During 2021, it was notable that Acorns did not project generating any operating profit even until 2023.
Based on Acorns' presentation, it was observed that in 2021, half of its user base consisted of parents. In terms of gender distribution, 56% of users were male, 43% were female, and 1% identified as non-binary. Furthermore, 60% of its users were first-time investors, and the average age of its user base was 34.
In conclusion, Acorns has established itself as a popular and innovative financial platform that offers investment and savings services to users of all levels. Despite its failed SPAC deal in 2022, Acorns managed to continue expanding its user base and AUM, making it one of the largest Robo-advisors by AUM. Although being a privately held company means that it is not required to disclose as much information, we have tried to gather all the relevant statistics for Acorns in this article.
Overall, with its unique features, user-friendly interface, and commitment to making savings and investment accessible for everyone, Acorns remains a major player in the fintech industry, poised for further growth and innovation in the future.
Is Acorns safe and insured?
Yes, Acorns is a member of SIPC and provides insurance to protect securities in user accounts up to $500,000. Acorns Checking accounts are also insured up to $250,000 per depositor.
Is Acorns regulated?
Yes, Acorns is regulated by the Securities and Exchange Commission (SEC) as well as the Financial Industry Regulatory Authority (FINRA).
Is Acorns available outside the U.S.?
Unfortunately, Acorns is only available to clients residing in the U.S. However, there are other Robo-advisors that may be suitable for your needs. You can check out our "Help Me Choose" feature for recommendations or check out the Acorns alternatives article.