Hi, we will review Revolut Trading to help you find out whether it is the right investment platform for you! We recommend Revolut Trading for beginners and for people who want to get quick exposure to the biggest US stocks, Cryptos or Precious Metals.
Revolut offers one of the cheapest and easiest ways to invest. On the downside, there is a low range of markets and products covered, and our research indicates that there are some issues regarding the security of your investments (more about this below).
Founded in 2015, Revolut has more than 25 million customers across several countries globally. It is worth approximately 11 billion US dollars according to its latest funding round, making it the most valuable British tech startup.
Want to know more about Revolut Trading? Here's what we'll cover:
Revolut Trading Review
1. Overview
Revolut was created with the primary goal of disrupting the banking industry by reducing and removing fees associated with the traditional banking system.
Indeed, one of its value propositions that have fuelled the company's growth has been its highly competitive exchange rates associated with a free debit card, which allows clients to save money when they exchange between different currencies and when a payment is made in a foreign country.
The company has also added other services to its offering, namely the possibility of buying US stocks, cryptocurrencies, and precious metals (Gold and Silver) with low commissions and using fractional shares. The quick access to investment products, especially stocks provided by the platform, combined with low commissions, remains the most engaging differential that enables Revolut to stand out from its competitors.
However, we note that clients who value advanced brokerage services (or other banking services such as advisory) would be better served elsewhere.
Customer support is provided entirely through the app via chat, which means that if you experience significant problems, you won't be able to talk with someone directly.
Besides, Revolut does not allow the transfer of stocks into or out of your Revolut account. Regarding crypto transfers, you can only do it to another Revolut user. So, you will not be able to receive cryptocurrencies sent from outside the Revolut platform. Though, financial assets transfer services are scheduled on its roadmap.
Revolut Trading Highlights
| | |
| --- | --- |
| 🗺️ Supported Countries | Mostly EEA countries, the United States of America, and the UK |
| 💰 Stocks fees | One free trade per month |
| 💰 Cryptos fees | 1.49% or EUR 0.99, whichever is higher |
| 💰 Currency Conversion fee | 0% (up to €1,000 per month) |
| 💰 Custody fee | 0.15% per year |
| 💰 Inactivity fee | €/£0 |
| 💰 Withdrawal fee | €/£0 |
| 💵 Minimum Deposit | €/£0 |
| 📍 Products offered | Stocks, Crypto, ETFs (only some accounts), and Commodities |
| 🎮 Demo Account | No |
| 📜 Regulatory entities | None (investment side) |
Revolut Trading Review
2. Pros and Cons
Simple trading platform
Easy account opening process
At least, one free trade per month
Low trading commissions
No inactivity fee
Low product offering (bonds and other financial products are missing)
Investments not covered by the Financial Services Compensation Scheme
Annual custody fee of 0.12%
Revolut Trading Review
3. Account Opening
Opening an account in Revolut is practical, simple, and fast. All it takes is to download the app, insert your personal information together with your documents, wait for all the information to be cleared, and you are ready to go.
After finishing registration, you will have immediate access to the payment and investment services, where you can set saving vaults and access data that provides you with insights on how to spend your money.
Revolut Trading Review
4. Trading Platform
Revolut's central platform for trading is the mobile app. Nonetheless, you might also trade on the web version (for stocks and crypto).
Even though Revolut's trading platform is not the most advanced, it fundamentally provides valuable analytical information covering news, companies' financials, and the analysts' average target price for a particular stock.
For beginners, the way Revolut presents this sort of information is accessible enough to meet investment goals, with valuable functionalities such as price alerts, "add to your favourites" and limit orders, increasing the platform's attractiveness and ease of use even more.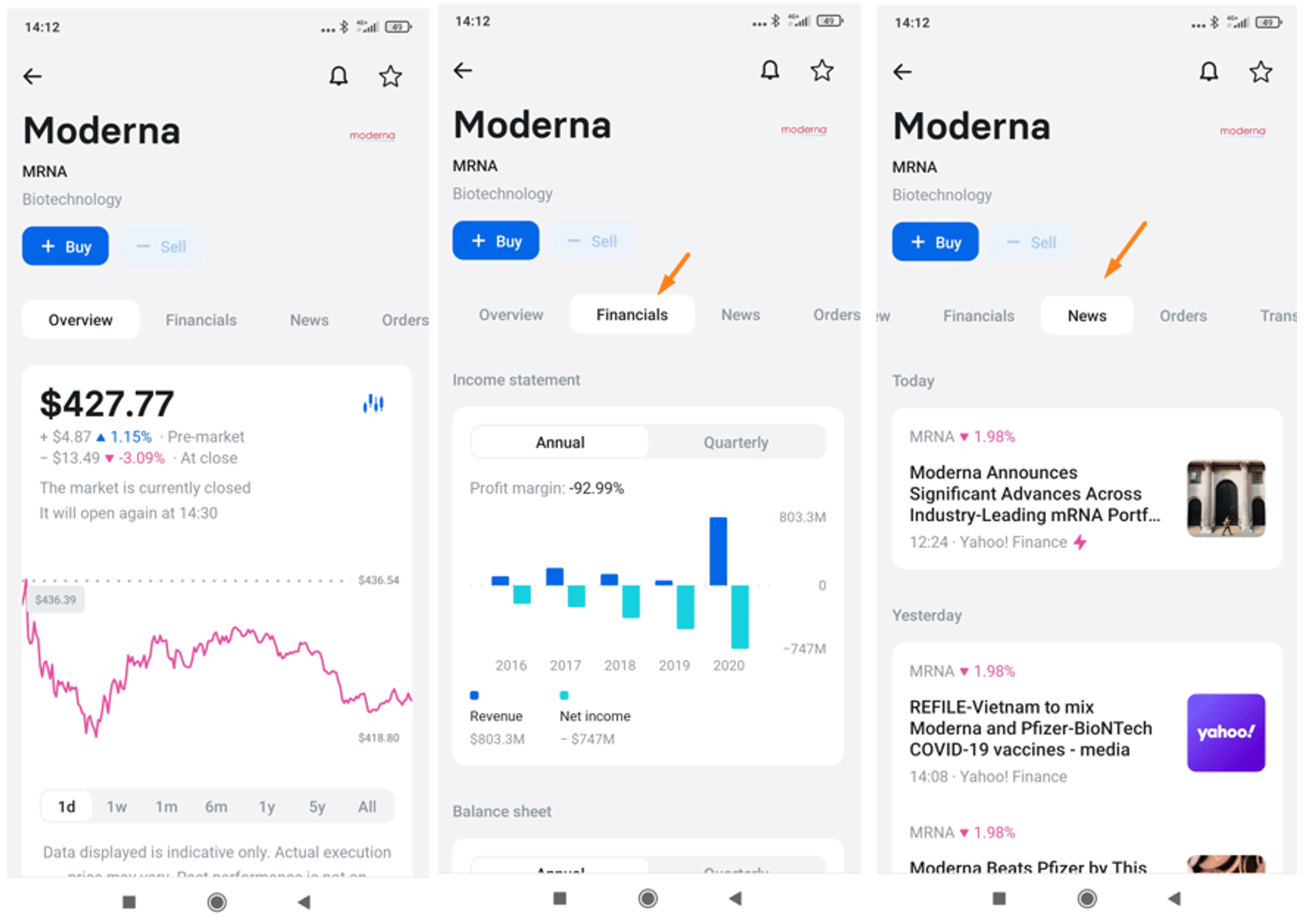 Revolut Trading Review
5. Products and Markets
The lack of diversified investment products is a significant downside for Revolut. The only assets a client may purchase are US stocks (over 1,000), precious metals (Gold and Silver), cryptocurrencies, and ETFs (only available in accounts under Revolut Securities Europe UAB).
Funds, non-American stocks, options, CFDs, and other types of products are not available. Furthermore, leverage trading is not available.
For clients with less money to invest, the ability to buy fractional shares may be something worth considering. However, we wouldn't recommend investing large amounts due to security reasons (more about this in "safety").
We also noticed that finding stocks and crypto trading is pretty straightforward as soon as you open the app, although investing in Gold and Silver seems to be a little "hidden". These are the steps to find Gold and Silver:
Open the Revolut App and click on "Hub";
Scroll down to "Wealth", choose "Commodities";
The default commodity investment is Gold.
For the silver investment option, click on the ingots icon.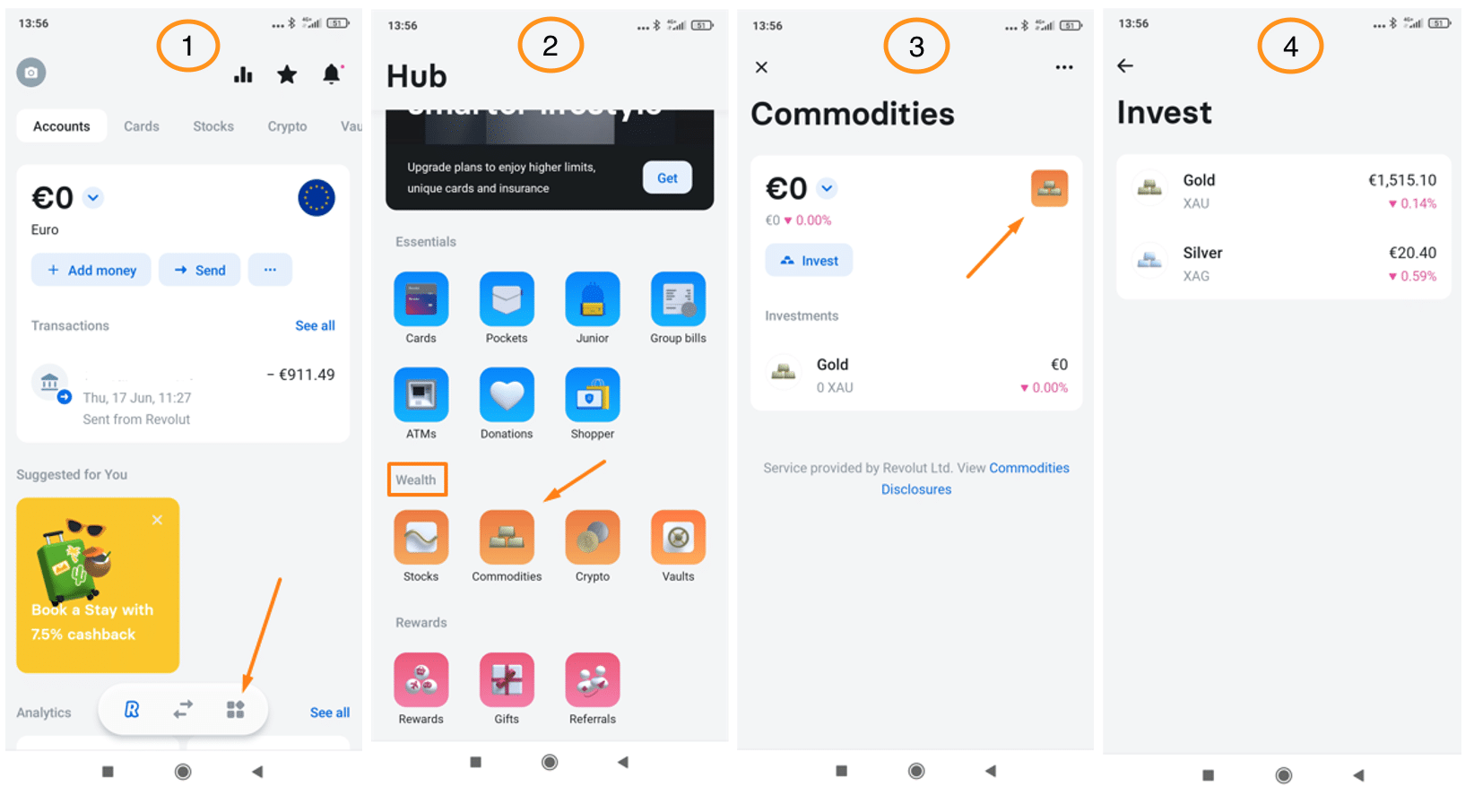 Revolut Trading Review
6. Fees snapshot
There are no fees associated with depositing, withdrawing money or not moving your money (inactivity fees).
However, an annual custody fee of 0.12% will apply (for example, if your portfolio holds 10,000 USD worth of stock, an annual fee of 12 USD will be charged), and if you surpass your monthly free stock trades, trading fees will also apply. Trading cryptos and commodities will also incur fees.
Make sure you read Revolut's fees in your country of residency, as these can change depending on your location.
Below, we elaborate on the specific fees charged when investing in each asset class (stocks, cryptos, and commodities):
Revolut Stock Trading Fees
Revolut offers a certain number of free stock trades every month, depending on your plan.
You are allowed one free stock trade per month for the standard plan (free of charge). If you opt for the paid versions, the pricing is:
Plus (€2.99/month): 3 free stock trades per month and an applicable commission per trade thereafter.
Premium (€7.99/month): 5 free stock trades per month and an applicable commission per trade thereafter.
Metal (€13.99/month): Unlimited free stock trades.
Once you pass your limits, you will need to pay a fee of either 0.25% of the order amount or the minimum country-specific fee* – whichever is greater. This fee is charged in USD using the FX rate at the time of receiving the order.
*The minimum country-specific fees per trade are:
UK: GBP 1.00
Eurozone: EUR 1.00
Denmark: DKK 9.00
Norway: NOK 11.00
Poland: PLN 4.00
Romania: RON 5.00
Czech Republic: CZK 28.00
Sweden: SEK 11.00
Bulgaria: BGN 2.00
Hungary: HUF 368.00
Croatia: HRK 8.00
Revolut Crypto Trading Fees
Depending on your plan and country of residence, Revolut will charge you a crypto exchange fee of up to 1.49% or EUR 0.99, whichever is higher (the 1.49% fee will be charged every time you buy and sell).
Revolut Commodity Trading Fees
Depending on your plan and country of residence, Revolut will also charge you a commodities exchange fee of 0.25% or 1.5% (this fee will be charged every time you buy and sell).
Revolut Trading Review
7. Safety and Regulation
As we dig into Revolut's safety, we find a couple of issues.
Revolut Trading Ltd is an appointed representative of Resolution Compliance Ltd, authorised and regulated by the Financial Conduct Authority (FCA). However, Revolut is not itself an authorised firm and is not a member of the Financial Services Compensation Scheme (FSCS). As such, they are not entitled to compensate you (investments) if something goes wrong: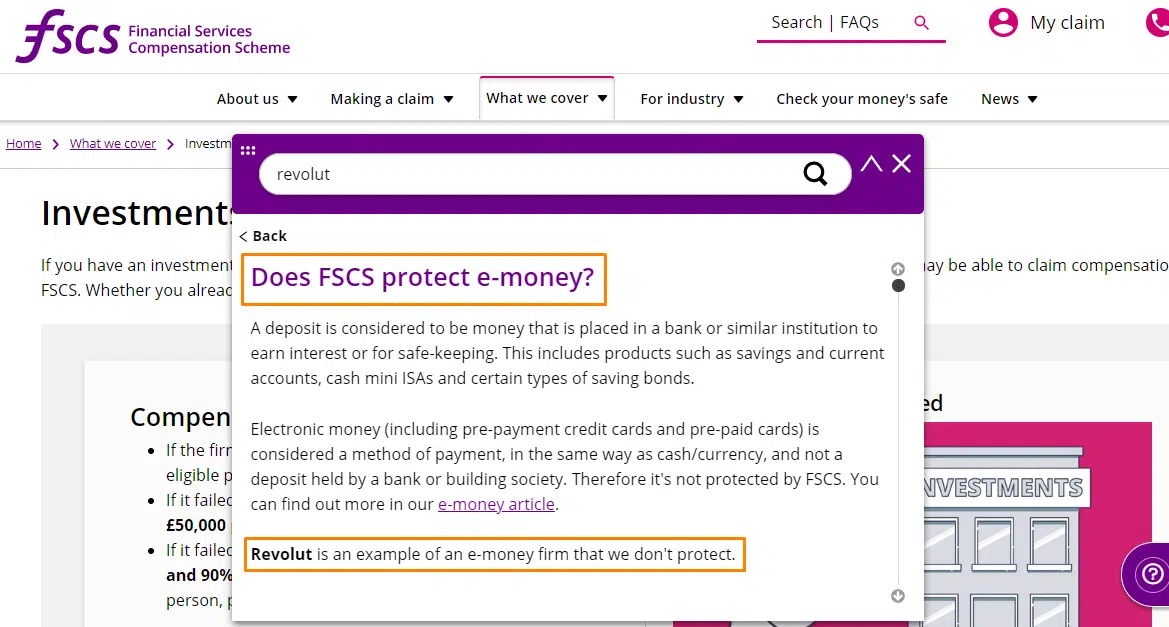 Below, we explore how your money and investments are protected:
Money Protection
The internal and external procedures to ensure the protection of your money will depend on the Revolut entity you are registered to.
Revolut Bank UAB: All deposits held with Revolut are insured by the Lithuanian State Company Deposit and Investment Insurance, which assures a maximum of 100,000 EUR for each depositor if the bank cannot oblige with its financial commitments.
Revolut LTD: The account you hold with Revolut is an electronic money account (not a bank account). The Financial Services Compensation Scheme does not cover your money.
You can check which one you are registered to in the app if you click on the icon with your name and scroll down:
In summary, the client's funds are held in segregated accounts in all three subsidiaries, which means that, in theory, you are safe if Revolut goes bankrupt because Revolut creditors will have no claim to your money or investment assets. Still, there is no regulatory body to guarantee your investments, it is possible you could lose everything in a worst-case scenario.
Investment Protection
The company responsible for providing custody and trading services for Revolut is Revolut Securities Europe UAB ("RSEUAB"), who is responsible for the execution of your orders and for the safekeeping of your US shares. RSEUAB uses DriveWealth LLC (for both of these services), which is "The third-party broker", a US-based institution not regulated in Europe. Still, it falls under the US federal regulation by the Securities and Exchange Commission (SEC) and the Financial Industry Regulatory Authority (FINRA). So if something happens to Drivewealth LLC, investors of RSEUAB are protected, in aggregate (not individually), up to $500,000 (including up to $250,000 cash) under the Securities Investment Protection Corporation's (SIPC) insurance.
As previously stated, the fintech keeps the client's assets in an omnibus account across several exchanges. The same method is used with Gold and Silver. Revolut has an account as a member of London Precious Metals Clearing Limited, where all Gold and Silver bought by their clients is stored. Technically, you do not directly own your assets.
Let's suppose that you bought stocks through a traditional broker, which goes bankrupt after a couple of weeks. You own these assets. Later, you would receive a request to nominate a broker where your assets need to be transferred. However, if this happens to Revolut, the outcome might be different, as the assets are not being held in your name.
On cryptocurrencies, the protection environment is not favorable to you. As per the Revolut website: "Cryptocurrencies are not like the e-money in your Revolut account. Cryptocurrencies are not e-money, and in the UK, they are regulated by the Financial Conduct Authority (FCA) only for the purposes of anti-money laundering and counter-terrorist financing. In Lithuania, they are not regulated by the Bank of Lithuania. When you buy cryptocurrency through the Revolut App, it will not be protected by the Financial Services Compensation Scheme (FSCS) or the Lithuanian Deposit Insurance Scheme, and if you have a complaint, it is not likely to fall within the scope of the jurisdiction of the Financial Ombudsman Service (FOS)". (our emphasis)
If RSEUAB becomes insolvent and your money cannot be returned to you, it is protected up to EUR 22,000 under the Law on Markets in Financial Instruments of the Republic of Lithuania.
Revolut Trading Review
8. Supported countries
Currently, Revolut accepts new customers from the following countries: Australia, Austria, Belgium, Bulgaria, Croatia, Republic of Cyprus, Czech Republic, Denmark, Estonia, Finland, France, Germany, Greece, Hungary, Iceland, Ireland, Italy, Japan, Latvia, Liechtenstein, Lithuania, Luxembourg, Malta, Netherlands, Norway, Poland, Portugal, Romania, Singapore, Slovakia, Slovenia, Spain, Sweden, Switzerland, United Kingdom, United States, and United States of America.
However, Revolut Trading is only allowed in certain countries, such as EEA countries, the United States of America, and the UK – you can verify this by checking your country's Revolut website.
Not available in your country? Take a look at some Revolut alternatives!
Revolut Trading Review
9. The Bottom Line
Revolut is increasingly gaining traction due to its large target audience, and Revolut Trading makes it an excellent product for cross-selling. Since the platform is hassle-free and you do not need a finance degree to navigate it, it becomes appealing for someone just starting their investment journey.
The low availability of financial products will not be a drawback initially. Still, as you progress in your investment knowledge, you might feel the need to diversify your investments to other products (maybe Revolut will include a broader basket of asset classes later on!). In addition, we feel that Revolut's money and investment section is not well explained in their "terms & conditions", so please be aware of the above-mentioned issues.
All in all, if your primary concern is to find an easy-to-use mobile app with low trading fees (including free trades), Revolut might be the partner for you.
Was this review helpful? Did it help you make your decision regarding opening a Revolut account? Let us know your feedback!
Revolut Trading Review
10. Alternatives to Revolut as an Investment App
Broker
Minimum deposit
Supported Products
Trading fees on US stocks

eToro

$

50 (varies across countries)

ETFs, stocks, cryptocurrencies, CFDs

0% Commission

Interactive Brokers

€/$/£0

Stocks, bonds, ETFs, mutual funds, currencies, options, and futures

$0.0005 (Tiered); Free to US investors

XTB

€/$/£0

Stocks, ETFs, CFDs and Forex

0% Commission (in some European countries)

Trading 212

€/

£

1 (€/

£

10 for bank transfers)

Stocks, ETFs (Trading 212 Invest), CFDs (Trading 212 CFD)

0% Commission

Saxo Bank

€/$2,000

(depending on your residency)

Stocks, ETFs, bonds, currencies, futures, options, mutual funds, CFDs

$5 minimum (Classic account)
Disclaimer: Investing in financial products involves taking risks. Your investments may increase or decrease in value, and losses may exceed the value of your original investment. Past performance is not an indication of future results.