Founded in 1978 and publicly listed on NASDAQ (ticker: IBKR), Interactive Brokers is one of the world's most trustworthy brokers worldwide. It has surpassed major financial crises, showing resilience and a rigorous risk management process.
This article will uncover if you can buy cryptocurrencies in IBKR (real cryptos and crypto derivatives) and the Interactive Brokers crypto alternatives for those interested in a broader range of crypto assets.
Can you buy Crypto with Interactive Brokers?
Yes, Interactive Brokers offers crypto trading for some clients, but before you get too excited, let us indicate some caveats:
Only four cryptos are available: Bitcoin, Ethereum, Litecoin and Bitcoin Cash.

Your access to cryptocurrencies on IBKR will depend on where you live (more about it below);
IBKR crypto trading is only allowed if your account was opened under the Interactive Brokers LLC subsidiary and you reside in one of the +140 countries described in the FAQs.
So, European investors are not allowed to trade real cryptos on Interactive Brokers: if you registered with "Interactive Brokers Ireland Limited" or "Interactive Brokers Central Europe Zrt.", you are restricted.
Finally, cryptocurrencies are also not available for UK residents (neither real crypto nor derivatives)! On the 6th of January 2021, the Financial Conduct Authority (FCA) decided to prohibit the sale of crypto-derivatives to retail clients. Real crypto is still allowed for UK residents on other platforms, but IBKR chose to exclude it from their platform.
Interactive Broker's Crypto fees
Cryptocurrency trading on Interactive Brokers has a low commission of 0.12% to 0.18% of the trade value, with a $1.75 minimum per order, and a maximum of 1% of the trade value – e.g., for a $100 order, your expense would be $1.
Plus, there are no added spreads, markups, or custody fees.
Crypto derivatives on Interactive Brokers
As an Interactive Brokers user in any subsidiary, except for IB LLC, you can only get crypto exposure through crypto derivatives, specifically, Futures contracts.
A Futures contract is a standardised agreement to buy or sell an asset at a predetermined price at a specified time in the future. So, you don't actually own the cryptocurrencies, but you can still benefit from the price movements if that's your goal.
This is the IBKR crypto futures list:
CME (Bitcoin Futures)

: Search for "BRR";

CME (Ether Futures): Search for "ETHUSDRR";

ICE (Bakkt® Bitcoin Futures): Search for "BAKKT".
The CME Cryptocurrencies Futures commission starts at $0.10 per contract (CME Micro Ether Futures Options – MET) and can be as high as $5 per contract (CME Bitcoin Futures – BRR). In addition, you may be subject to exchange, clearing and regulatory fees.
Pros and Cons of investing in Crypto Futures
Easy way to invest in crypto through your broker. The hassle of opening a new account in an exclusively dedicated crypto broker or another traditional broker with direct exposure to cryptos may not be entirely justified (for organizational purposes, for example).
You use only a portion of your money. You just need to put in a margin that works as collateral if the market moves opposite to the position you have taken and incurs losses. This can also be a Con ("leverage issues").
You have no direct ownership of crypto. Since you do not directly own the cryptos, you can't transfer into another wallet, make peer-to-peer transactions, use voting rights, and other keyholder rights.
Whereas Cryptocurrencies can be traded 24/7, Futures only transact during market hours. CME and ICE exchanges operate between 17:00-16:00 and 19:00-17:00 Chicago Time, respectively, from Sunday to Friday.
Leverage issues. In a Future contract, you are leveraged. So, if you do not initiate your trade with that in mind, you may overexpose yourself to the crypto market risk.
Expiration. Every Future contract has an expiration date. For instance, in the CME Group Micro Bitcoin Futures Contracts, your contract ends in 6 months. So, you would need to reenter another agreement. In real crypto, you can hold any crypto forever.
Please remember that to trade cryptocurrency futures, you must have trading permissions for US Crypto Futures. It can be done through the Client Portal by clicking the "User menu" (head and shoulders icon in the top right corner) followed by "Manage Account". Next, click the gear icon in the top right corner of the "Trading Experience & Permissions" section. Go to the "Futures" section and check off "United States (Crypto)".
Interactive Brokers Crypto Alternatives
If you are one of the unlucky people restricted from trading crypto in IBKR or looking for a wider variety of crypto assets, here are our top alternatives:
Trusted by 30 million users worldwide, it gives you access to over 60 cryptocurrencies. You can trade by yourself or copy other investors' trades through social trading features. Read our eToro summary.
Coinbase is a top crypto exchange in the US and the second-largest exchange worldwide by trading volume. It has over 80 million users spread across 103 countries. Explore our Coinbase summary.
A crypto investment and staking platform (earn interest). It created a native cryptocurrency called Cronos (CRO). It enables customers to pay for goods and services using the Crypto.com DeFi Wallet App. Explore our Crypto.com summary.
Kraken is the fifth largest Bitcoin exchange globally, according to trade volumes. Kraken is operational in over 200 countries, with a chunk of its 10 million users resident in Europe. Read our Kraken summary.
Disclaimer: You should be aware that the risk of loss in trading or holding digital currencies can be substantial. As with any asset, the value of digital currencies can go up or down, and there can be a considerable risk that you lose money buying, selling, holding, or investing in digital currencies.
1# eToro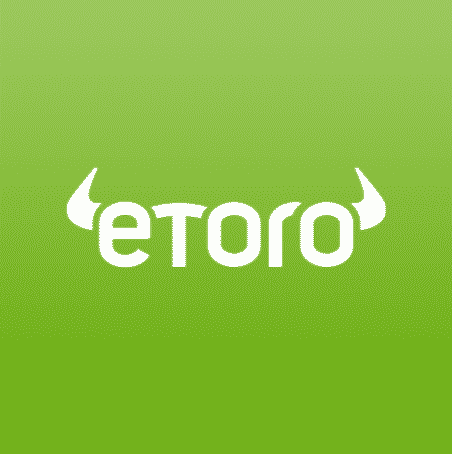 Visit eToro
76% of retail CFD accounts lose money.
eToro at a glance
Nº of cryptocurrencies
+60
Minimum deposit
$10 (it varies between regions)
Regulators
CySEC, FCA, ASIC
Established in 2006, eToro is a well-known worldwide fintech startup and leader in social trading (following other people's trades), with over 30 million users worldwide. Apart from letting you trade a wide range of crypto products, it also allows you to invest in other products such as CFDs, ETFs, stocks, commodities and Forex.
The eToro platform is intuitive and straightforward to use, making it a good choice for beginners. It offers commission-free stock and ETF trading (other fees apply).
Opening an account and depositing is easy, and you can even try it out with virtual money. You can buy cryptocurrency via various payment options, including credit cards and PayPal. On the downside, the only currency accepted is the USD, so you'll pay currency conversion costs upon deposit and withdrawal, and spreads can be high for some products.
Want to know more about eToro? Read our full eToro review.
CFDs are complex instruments and come with a high risk of losing money rapidly due to leverage. 76% of retail investor accounts lose money when trading CFDs with this provider. You should consider whether you understand how CFDs work and whether you can afford to take the high risk of losing your money.
2# Coinbase
Coinbase at a glance
Nº of cryptocurrencies
+100
Regulators
New York State Department of Financial Services and others
Coinbase is the most successful crypto exchange by the number of customers. With over 90 million registered users worldwide, it was designed for beginners and professional cryptocurrency investors (for this last group, it also offers its more advanced Coinbase Pro platform).
The range of cryptocurrencies available is enormous, ranging from the most famous ones to the newer digital currencies. Besides the typical web platform, it also has a highly functional mobile app that allows users to buy, sell, and manage their cryptocurrencies at their fingertips.
On the "not so good side", Coinbase has high fees on its standard Coinbase platform (particularly for smaller transactions – below $200) and a kind of complex fee structure.
Coinbase is licensed for money transmission in most US jurisdictions. In Europe, Coinbase Ireland Limited (and not Coinbase Europe limited) is regulated by the Central Bank of Ireland.
3# Crypto.com
Crypto.com at a glance
Nº of cryptocurrencies
+90
Crypto.com is an all-in-one crypto trading platform. Founded in 2016, crypto.com gives its users the possibility to trade, spend and store cryptocurrencies, especially the Crypto.com coin.
It is a solid crypto platform with over 90 crypto assets available at your disposal, offers a pre-paid Visa card that allows crypto spending and even earns rewards. You can keep your crypto in a high yield savings account.
Keep in mind that If you are new to cryptocurrency, you may be overwhelmed by Crypto.com's trading interface, it will be hard to find any educational materials, and you will experience higher fees for low-volume trades.
4# Kraken
Kraken at a glance
Nº of cryptocurrencies
+65
Regulators
FinCEN, FINTRAC, AUSTRAC, FSA in Japan
Founded in 2011, Kraken is one of the oldest crypto exchanges in the world. You can easily buy/sell over 65 cryptocurrencies with low fees (up to 0.16%), versatile funding options, 24/7 customer support via live chat and high-security standards.
Kraken has a dedicated section for educational purposes called "Crypto Guides". These are excellent tools for beginners to be informed before making any decision.
Placing an order by using "instant buy" can be expensive. Fees start at 0.90% for stablecoins and jump to 1.50% for any other crypto. Besides, Kraken's trading platform and mobile app are pretty basic, so you might be disappointed if you're looking for more advanced features.
Which Crypto Platform Should You Choose?
If you are not in one of the +140 countries where IBKR gives access to real crypto, you must look elsewhere, except if you understand the complexity of derivatives.
Before making your final decision, some factors should be addressed, including exchange security, fees, liquidity, past lawsuits, markets, and user experience. Finding the best cryptocurrency exchange can take some time and effort, but it is definitely worth your time!
The best crypto exchange in your specific case will depend on your experience, preference, and objectives. Explore the websites above and decide for yourself!
A reminder that the above should not be seen as investment advice and should be considered information only. Investors should do their own research and diligence about the best-suited services and opportunities for risk, returns, and impact strategy.
Hope we helped, and leave your comments below.
Can I transfer my crypto assets from the IB-linked Paxos Account?
Yes, you can! Even if IBKR ceases operations, you would be able to do it with no problem. Please look for the Paxos T&Cs instructions for how to do it.
Can I short-sell cryptocurrencies at IBKR?
No, you are not permitted to short cryptocurrencies in Interactive Brokers.
Can I trade Shiba Inu, Ripple, Stellar, Cardano, Dogecoin, or other altcoins in Interactive Brokers?
No, IBKR only offers access to four cryptocurrencies: Bitcoin, Ethereum, Litecoin and Bitcoin Cash.
What is Paxos Trust? Is it involved in my crypto trading?
Paxos Trust is a New York Limited Trust Company licensed by the New York Department of Financial Services, specifically authorized to engage in virtual currency services. A partner of IBKR working as an independent entity.
As soon as you start trading cryptocurrencies, you are logging through Interactive Brokers but opening an account with Paxos Trust so that all crypto trading will be performed within your Paxos account. This means Paxos Trust will be your custodian and counterparty for crypto trades while holding your digital assets for you and representing the ownership (yours) on their internal ledger.
Is crypto investing covered by SIPC, FDIC or any other Investor Protection Scheme?
No, crypto investing is not covered by any investor protection scheme.
Crypto entities are not insured banks, so the Federal Deposit Insurance Corporation (FDIC) coverage, $250,000 per depositor, is not applicable.
In addition, the Securities Investor Protection Corporation (SIPC) does not protect digital assets. Brokerage firms are not permitted to have custody of non-securities digital assets. A broker wanting to offer crypto investing for its clients must work with an additional party (Paxos Trust in the IBKR case). These crypto brokers/custodians are not broker-dealers, crypto assets are not securities, and so the SIPC coverage of $500,000, which includes a $250,000 limit for cash, does not apply.
Can I trade Bitcoin and Ethereum on Interactive Brokers?
Yes, Interactive Brokers Bitcoin and Ethereum trading are available.