Hello, fellow investor! We will review Freedom24 to help you find out whether it is the right investment platform for you!
We recommend Freedom24 for people looking to buy new stocks at the IPO price (previously only available for institutional investors) and low commission on stock and ETF trading. On the downside, it requires a minimum of $2,000 for its exclusive feature of IPO subscriptions, charges €7 per withdrawal, and presents an above-average currency conversion fee.
Founded in 2015, Freedom24 has already offered to its 400,000+ worldwide clients the stocks of 260+ new companies at the IPO price, as well as 40,000+ stocks, 1,500+ ETFs, 800,000+ US Stock Options, and 147,000+ bonds on the largest exchanges in Europe, Asia, and the US.
Want to know more about Freedom24? Here's what we'll cover:
Freedom24 Review
1. Freedom24 Overview
Freedom24 provides several financial services, including the traditional broker service, as you would find in its competitors like eToro or DEGIRO, plus the exclusive feature of IPO subscriptions! In the past, institutional investors were always one step ahead of retail investors (people like you and me) because they bought new stocks at the IPO price, before going to the market. Freedom24 is trying to democratize these investment opportunities for everyone!
To begin trading, customers can choose one of the different service plans in EUR ("Smart", "fix" and "Super") and USD ("All inclusive") that fit their trading style and goals. Each of the plans provides various options to decrease trading costs. After the registration, new users can benefit from the free Promo plan, which allows them to trade for free for the first 30 days.
Also, a helpful tool for beginning (and experienced) traders is the InvestIdeas blog from award-winning Freedom24 securities analysts, which includes actual recommendations and financial forecasts.
In terms of security, Freedom24 must report to several entities through its holdings and subsidiaries: Securities and Exchange Commission (SEC) in the US, the Cyprus Securities and Exchange Commission (CySEC) in Cyprus and the Federal Financial Supervisory Authority (BaFin) in Europe.
Freedom24's customer service is ready to help new traders with their questions and requests for advice on investments in specific areas. The customer service can be reached by phone call, secure e-mail, live support chat, and social messaging applications, depending on the customer's geographical area.
Freedom24 Highlights
| | |
| --- | --- |
| 🗺️ Supported Countries | +30 countries, mostly European |
| 💰 Stocks and ETFs fees | From €/$0.02 per share (min. €/$2) |
| 💰 Currency Conversion fee | ~2% |
| 💰 Inactivity fee | €/$/£0 |
| 💰 Withdrawal fee | €7 |
| 💵 Minimum Deposit | €/$0 (€/$2,000 for IPOs) |
| 📍 Products offered | Stocks, ETFs, Bonds, Futures and Options |
| 🎮 Demo Account | Yes |
| 📜 Regulatory entities | CySEC, BaFin, SEC |
Freedom24 Review
2. Pros and Cons
No fees for the first 30 days
Early access to new stocks at the IPO price
Low commissions on stock and ETF trading
No minimum deposit for general trading
Demo trading
USD saving accounts at 3% per annum
Slick, modern, and easy for anyone to use
No custody fee
Minimum deposit of $2,000 for new stocks at the IPO price
€7 per withdrawal
High currency conversion fee
High costs for stocks bought at the IPO price
Freedom24 Review
3. Account Opening
You can open a Freedom24 account in a matter of minutes (2-15 minutes for validation) once you supply your personal information. This will let you immediately try out their Demo trading platform to test its functionality.
Here are the steps required to open an account:
Fill your tax residency;
Sign the agreement.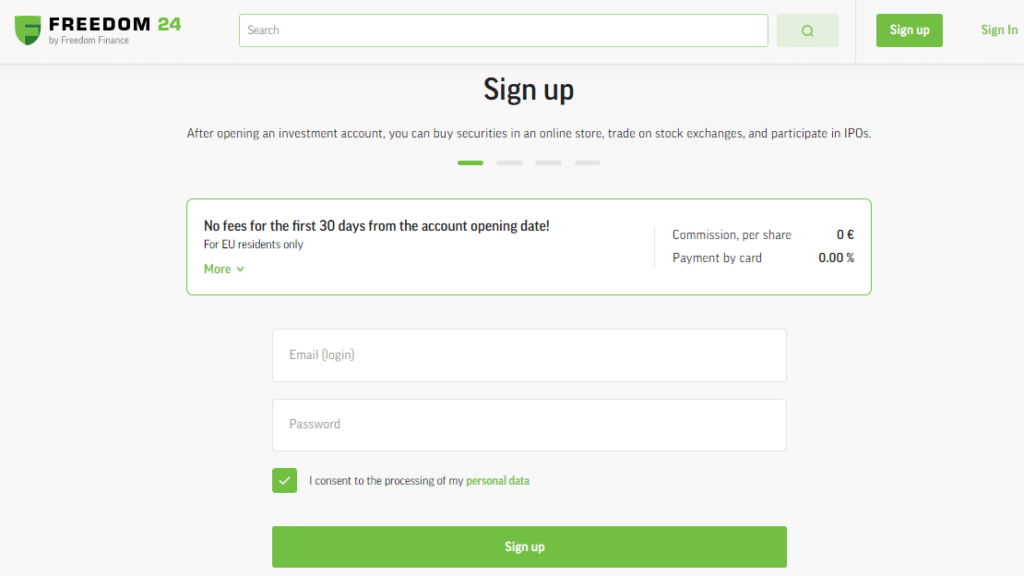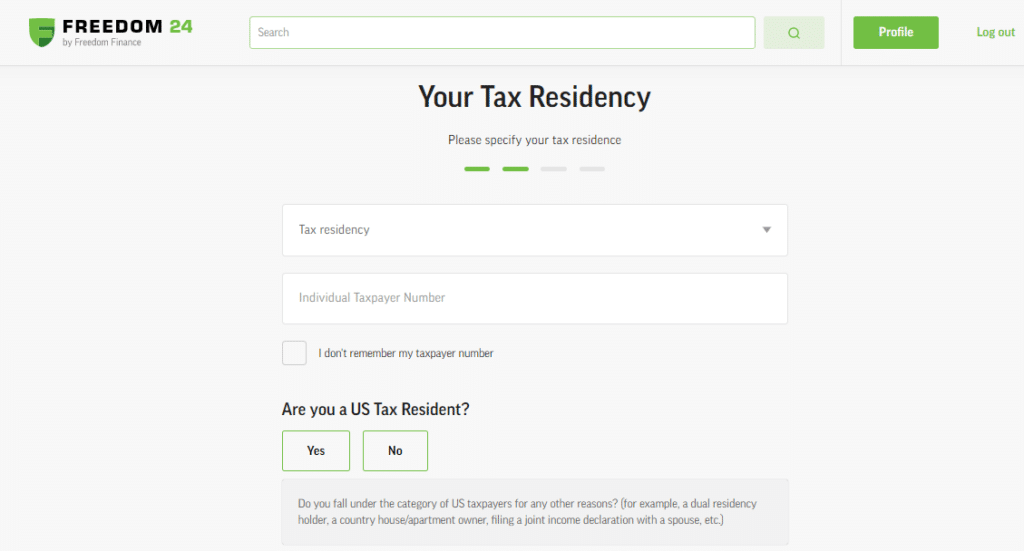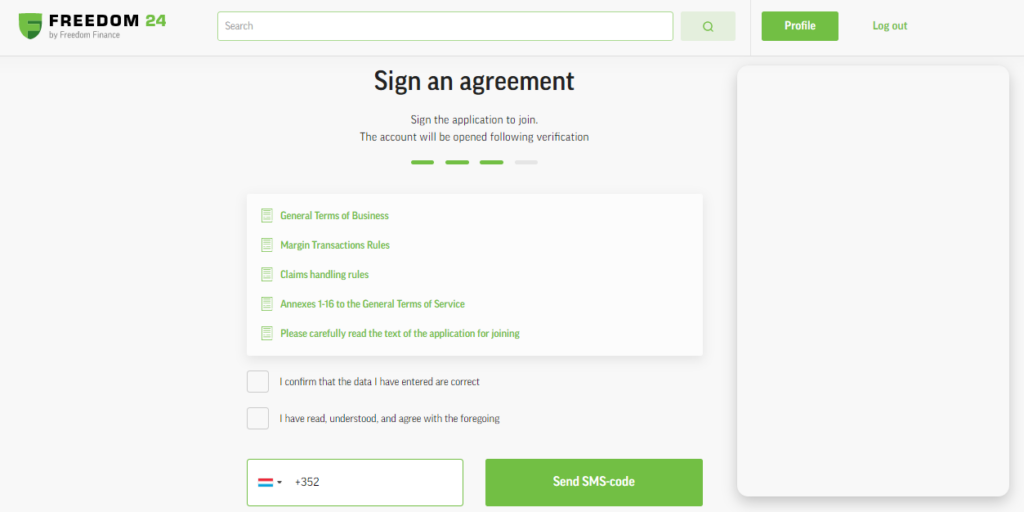 Freedom24 has no minimum deposit amount for stock, ETFs, bonds, and options trading. However, to buy new stocks at the IPO price, you will need a minimum investment amount of $2,000.
There are two different deposit methods available to clients: Credit Card or Bank Wire Transfer. Credit card funds will appear on your account immediately. A Bank Wire Transfer usually takes up to 3 business days.
To withdraw, you will be asked to fill in the details of your banking information (IBAN, Beneficiary Account Number, SWIFT,…):
Freedom24 Review
4. Trading Platform
If you want to invest via Freedom24, you have two options – web version or through the mobile app. Both trading platforms are adequate for executing trades. They are well designed and intuitive, but lack customization options.
Starting with the web version, after login, you will notice a straightforward summary of your account:
This overview is enough for most investors (we value platforms that state the information in a simple manner). From there, you have access to several features such as the "InvestIdeas", "News" and, most importantly, the "Web-Terminal".
The demo terminal appears as soon as you complete the first step of registration (between the step when you fill your e-mail and the final confirmation with selfie and opening real account). However, if the real account is opened, the terminal becomes real. You can register another "unconfirmed" account if you want to continue "real trading" and "demo trading" in parallel.
For security reasons, some accounts requests are "blocked". To unlock, you will receive an SMS message on your mobile phone to ensure it is you (note: this has no cost! You will understand why we mention it as soon as you get to the "Fees" section).
The mobile app works in the same logic as the web version, which makes it a perfect alignment with the web version:
Freedom24 Review
5. Products and Markets
Freedom24 offers thousands of trading instruments, including stocks, ETFs, bonds, futures, and options on major American, Asian and European exchanges (NASDAQ, NYSE, CME, HKEX, LSE, Deutsche Börse). From growth to value stocks, dividend aristocrats to oil companies, you have plenty of variety in which investment to choose from.
The exclusive feature of Freedom24 is providing new stocks at the IPO price for individual investors (previously accessible only for institutional investors). The Freedom 24 analysts carefully study the business indicators and market environment to suggest the most promising offerings to its clients – who can buy IPO stocks at an initial price and sell them at market price after a 93-day lock-up period.
You can easily see the analytics for upcoming IPOs (and past IPOs) to evaluate the track record of Freedom24. From the 260+ IPOs that Freedom24 analysts have recommended since 2012, the average price growth during the lock-up was 53% (as of 19.12.2022). The results have been spectacular, but please always remember that past investment results do not guarantee future returns.
Usually, there is a high demand for new stocks at the IPO price. More often than not, investors do not get the total shares they were hoping to buy. The way to increase the number of shares allocated to you is by improving your rating. To do that, you should:
Build a portfolio of liquid assets (shares received after the IPO are not considered liquid during the lock-up period)
Make transactions more often (buy/sell stocks, use your margin, invest in options)
Participate in all IPOs uniformly (invest roughly the same amount)
The rating score will range from 1 to 5. You can view your rating before applying to trade new stocks at the IPO price when you log into your account (go to the "Orders" section and move to Trading Orders > IPO Trading) or via the Freedom24 mobile app.
Still, within the IPO process, you have the possibility of locking up your price. Imagine the following situation: You enter a stock at €10. Then, it rises to €30. You think it is a reasonable return, and you want to make sure you do not lose it until the end of the 93-day lock-up period. What do you do? Well, Freedom24 lets you use a forward contract to fix that price (it is a process similar to short selling a stock). Freedom24 estimates that this cost varies between 10 to 20% of the stock price when the placement of the forward contract is done. Given these assumptions, in the worst-case scenario, you would get €24 (still not bad!).
In addition to the above, all Freedom24 clients have D-accounts – USD saving accounts at 3% per annuam, which is higher than most European saving accounts (let´s be fair, we are comparing to EUR accounts that are at 0%). In a couple of clicks, customers can instantly transfer the funds from the trading account to the savings account and backwards. This can be seen as a passive investment!
Freedom24 Review
6. Fees snapshot
Freedom24 offers three pricing structures in EUR: "Promo", "Smart", "Fix" and "Super". And one in USD: "All inclusive".
Promo is only a temporary plan meaning that you will pay no fees for the first 30 days from the account opening date. So, no commissions per trade in stocks, ETFs, bonds and options. This may be a great way to test the platform!
After the 30-day window, you must choose one of the following four pricing plans (you may change it again afterwards):
Smart: You have no monthly fee, $/€0.02 of commission per share in stocks and ETFs in the US, Europe and Asia (with a minimum of $/€2 per order), 0.08% commission per share in stocks and ETFs from Russia and Ukraine (with a minimum of $0.2 per trade) and, as optionality, SMS notifications (transactions and alert notifications) for €0.05 each.
Fix: You have a €10 monthly fee but lower commissions on trades: $/€0.012 of commission per share in stocks and ETFs in the US, Europe and Asia (with a minimum of $/€1.2 per order), 0.04% commission per share in stocks and ETFs from Russia and Ukraine (with a minimum of $0.2 per trade) and, as optionality, SMS notifications (transactions and price alerts) for €0.03 each.
Super: This one is dedicated to very active traders. You have a €200 monthly fee, still with the lowest trade commission within Freedom24: $/€0.008 of commission per share in stocks and ETFs in the US, Europe and Asia (with a minimum of $/€1.2 per order), 0.03% commission per share in stocks and ETFs from Russia and Ukraine (with a minimum of $0.2 per trade) and free SMS notifications (transactions and price alerts).
All inclusive: This pricing plan is the only one in USD. You have no monthly fee, with trade commissions of 0.50% of the trading value + $/€0.012 of commission per share in stocks and ETFs in the US, Europe and Asia (with a minimum of $/€1.2 per order) and free SMS notifications (transactions and price alerts).
For more details on the fee schedule, please visit this page.
Here, it is vital to know how much you expect to be trading and in what currency. We decided to do some calculations to see when it compensates within a particular plan. To make it simple, we assume that you will be trading stocks and ETFs in the US, Europe or Asia every month, and each trade is denominated in the same currency (EUR). Our results:
All in all, if you plan to do transactions above 1,250 or 47,500 shares per month, you will be better off within the Fix and Super plans, respectively. The USD pricing plan will depend more on the amount than the number of shares traded.
Besides these fees, there is another set of fees that are the same across all service plans, namely:
Margin Lending: 12%. Every time you decide to leverage your investments, you will pay an annual lending rate on the amount leveraged.
US Stock options per contract: $0.65
Withdrawal via bank transfer: €7
Debiting securities: $60. This fee is for transferring securities from Freedom24 to another broker.
A crucial aspect to consider is the pricing regarding stocks bought at the IPO price will vary according to the value of available assets in the investment account on the day preceding an IPO (the amount of the assets consists of the amount of cash and the value of market-valued securities [NAV]):
Less than $20,000: 5% of the trade amount
From $20,000 to $49,999: 4% of the trade amount
From $50,000: 3% of the trade amount
Sales commission: 0.5% of the transaction amount
Finally, whether your base account is in EUR or USD, you need to be aware of the currency conversion fees. On the 7th of April 2022, at 4.20 p.m, the USD/EUR was quoted at 0.9169 (0.9169 EUR per 1 USD). At the same time, the purchase and sale price in Freedom 24 was 0.9272 and 0.9069, meaning a spread of roughly 2.19%.
In order words, if you want to purchase a US stock using EUR, you will need to convert your EUR at 0.9069 and, if you decided to instantly convert again to EUR, you would get back your EUR at 0.9272. It would translate to an immediate loss of 2.19%.
Freedom24 Review
7. Safety and Regulation
Freedom Holding is supervised by the SEC. At the same time, Freedom Finance Europe Ltd is regulated by the Cyprus Securities and Exchange Commission (CySEC) under license CIF 275/15 and it is registered in several countries under the "freedom to provide services".
Freedom24 clients' assets are segregated in separate entities[1] and thus protected against insolvency. In the unlikely event that the segregated assets cannot be returned to clients, Freedom24 falls under the Investor Compensation Fund (ICF), which compensates for any losses from non-returned investments up to EUR 20,000.
Freedom24 only acts as an intermediary between you and the stock exchange, meaning that the stocks you buy are yours. Still, in an extreme bankruptcy scenario, the regulators would assign an asset manager, after which the clients would be able to request to transfer their assets to another broker.
Public company details
Freedom24 is the online trading platform of Freedom Finance Europe. And Freedom Finance Europe is an EU-based subsidiary of Freedom Holding Corp, listed on the NASDAQ. Public companies are subject to rigorous disclosure laws regarding the financial condition, operating results, management compensation, and other business areas. This means that it is much higher scrutinized when compared to a private company.
Moreover, since their financial statements are displayed to everyone, it brings an additional layer of trust because we can follow their financial situation transparently, and that's precisely what we have been doing. Looking at the 10-Q (September 2021), we notice a massive increase in "net gain on trading securities" compared to the previous quarter:
The company states: "We do not consider the significant increases in realized and unrealized net gain on trading securities to be indicative of a trend toward higher net gains on trading securities in the future". Still, the portion of "Trading Securities" in the Balance Sheet is relatively high when compared to the items "Cash and cash equivalents" and the "Shareholders' Equity". This means that the Freedom Holding corporation may be sensible to market risk:
Apart from the stated above:
Freedom Holding Corporation has a "B" long-term credit rating assigned by Standard & Poor's Global Ratings.
Fully compliant with the MiFID II, a European regulatory framework that ensures the highest investor protection possible.
Member of the Association for Financial Markets in Europe (AFME).
[1] Example: securities bought in US stock exchanges are allocated with LEK Securities, which has accounts in DTC, a US-based depository. Securities bought over the counter in Eurobonds are settled by and stored at Unicredit with Euroclear accounts in the EU.
Freedom24 Review
8. Supported countries
Freedom24 accepts clients from the following countries:
Austria, Azerbaijan, Belarus, Belize, Belgium, Bulgaria, Croatia, Czech Republic, Denmark, Estonia, Finland, France, Georgia, Germany, Greece, Hungary, Ireland, Iceland, Italy, Liechtenstein, Lithuania, Luxembourg, Latvia, Kazakhstan, Malta, Moldova, Netherlands, Norway, Poland, Portugal, Qatar, Romania, Slovenia, Slovakia, Spain, Sweden, Switzerland, Thailand, Ukraine, Russia, United Arab Emirates.
In the United Kingdom (UK), Freedom24 is temporarily not accepting new customers due to the new regulatory framework. The company is working closely with the Financial Conduct Authority (FCA) to reopen its activity in the UK.
Freedom24 Review
9. The Bottom Line
Every trading platform has its pros and cons, and Freedom24 is no exception. One of Freedom's biggest strengths is its ability to minimize the fee structure without compromising on the services it offers.
Freedom24 trading platforms, both PC and mobile, are well-designed and simple to use. It offers a "demo trading", but it "pressures" you to start with real money since the first 30 days of commission-free trading will be counting as soon as you open an account. It can be an excellent choice for investors looking for a low-cost trading platform.
Although its high pricing structure to buy new stocks at the IPO price is high, the expected return with each one more than compensates for the initial cost. Still, always consider that past returns are no guarantee of future returns.
Was this review helpful? Did it help you make your decision regarding opening a Freedom24 account? Let us know your feedback!
Disclaimer: Investments in securities and other financial instruments always involve the risk of loss of your capital. Buying stocks at IPO prices may involve additional restrictions. The forecast or past performance is no guarantee of future results.