By reading this article, we can say one thing about you: you have heard about Venmo and how it changes how we transfer money, right? The bad news is that Venmo is not available anywhere in Europe. To open an account in Venmo, you must fulfill some eligibility criteria.
The main criteria are that users are over 18 years old and must be physically located in the United States to complete transactions on the app. At the moment, as a US citizen, Venmo isn't a viable option if you want to send money to family abroad or complete other international transactions.
As of now, Venmo has not yet publicized any projects for expanding beyond the U.S. Nonetheless, we will keep you updated about any such plans if they come up.
Do you want to know the most suitable alternatives in Europe? We have got you covered!
What is Venmo, and why has it become so famous in the US?
For our American friends, Venmo is an excellent service. It allows them to send and receive money quickly, easily, and efficiently while costing (almost) nothing for either the sender or receiver (like Cash App – one of its US competitors). Venmo is owned by PayPal and offers several valuable services for users and businesses.
Let's take a quick look at Venmo's four services, and then we can try to find the closest European solutions for each of them.
The significant edge is that Venmo has no signup fees, and it costs nothing to send or receive money using the balance in either your Venmo account or a linked bank account; this includes a debit card; however, there is a bit of fine print stating that Venmo does charge a 3% fee for sending money using your linked credit card. More info here.
You can move money between your Venmo account and your bank account, which can either take between 1 to 3 business days for free or if you need the money sent instantly, you are charged a 1% fee with a minimum of $0.25 and a maximum of $10.
Venmo allows direct deposits to your Venmo account, giving you access to the funds up to 48 hours sooner than some banks would allow.
Venmo offers a debit card service to use your funds to pay where regular Venmo payments are not accepted.
Is Venmo available in Europe? What are their expansion plans?
Venmo is only available for internal transfers in the US, so it does not work internationally. The same applies to those of us here in Europe (Belgium, Denmark, France, Germany, Greece, Ireland, Romania, Russia, Spain, Sweden, Switzerland, the UK, and Ukraine). So Venmo is not an option available, nor are there any announcements for when Venmo will be coming to any country outside of the US. Thus, we must look for some alternatives to do such a task!
Fortunately, some innovative companies in Europe are doing what Venmo has done locally in the US, some providing a host of services, including low-cost international transfers.
Several of these companies can be used to transfer money for free (or nearly free) between borders. With their online mobile platforms, these six alternatives can easily beat traditional bank rates when transferring money worldwide:
Venmo Europe Alternatives
# Monese
Monese at a glance
Currency exchange fee
Up to 2% of transaction value (min. €/£2)
ATM withdrawal fee
Up to €/£1.5 per withdrawal
Monthly fees
Up to €/£14.95
Regulators
"Tied agent" to an entity regulated by FCA
Monese is a British digital bank that offers current account and money transfer services. It has a slick and modern mobile app and a debit card and charges low fees compared to traditional banking. Monese works across Europe and the UK and offers a free account for those who wish to use the more basic service. Monese provides the following plans:
Simple: No monthly fee; Free and instant account in GBP, EUR, and RON; Great for spending, traveling and sending money abroad;
Classic: €/£5.95; Simple plan features + Lower fees and higher allowances;
Premium: €/£14.95: Classic features + lowest fees, highest allowances, and VIP Customer Support.
To give a practical example of how these fees differ, in the Simple plan, you would be charged 2% for transfers in other currencies. However, within the Premium plan, no charge would be made. That's why you notice on the "at a glance" text that we state the fees as "up to".
With a Monese account, users can receive their salaries, make deposits, withdraw money from ATMs, and make card payments. For those interested, Monese allows you to open an account in one of three different currency accounts: EUR, GBP, and RON (only people from the UK can open an account in GBP). Your money is safeguarded under the EU Electronic Money Directive 2009/110/EC and UK Electronic Money Regulations 2011.
New users can enter the code IITW upon signup to get £10 after the first successful card transaction.
Venmo Europe Alternatives
# Wise
Wise at a glance
Free withdrawals up to €200 a month
Wise, formerly known as TransferWise, is a peer-to-peer money transfer service with the main purpose of saving you money from hidden fees charged by traditional banks, focusing their efforts on international transfers. It was developed by two Estonian, Taavet Hinrikus (Skype's first employee) and Kristo Käärmann, who felt they were being overcharged when travelling abroad.
Ever since Wise has seen superb growth! It allows you to transfer money internationally in a cheap way (for example, transfer €1000 to $1000 will cost you €5.14 – see image below) and gives you access to a multi-currency account where you can convert money internally. Besides, you can receive, send and spend money (with your debit card). You can also withdraw money from ATMs but only 2 free withdrawals up to a total of €/£200 each month (a 1.75% applies after the €/£200 amount).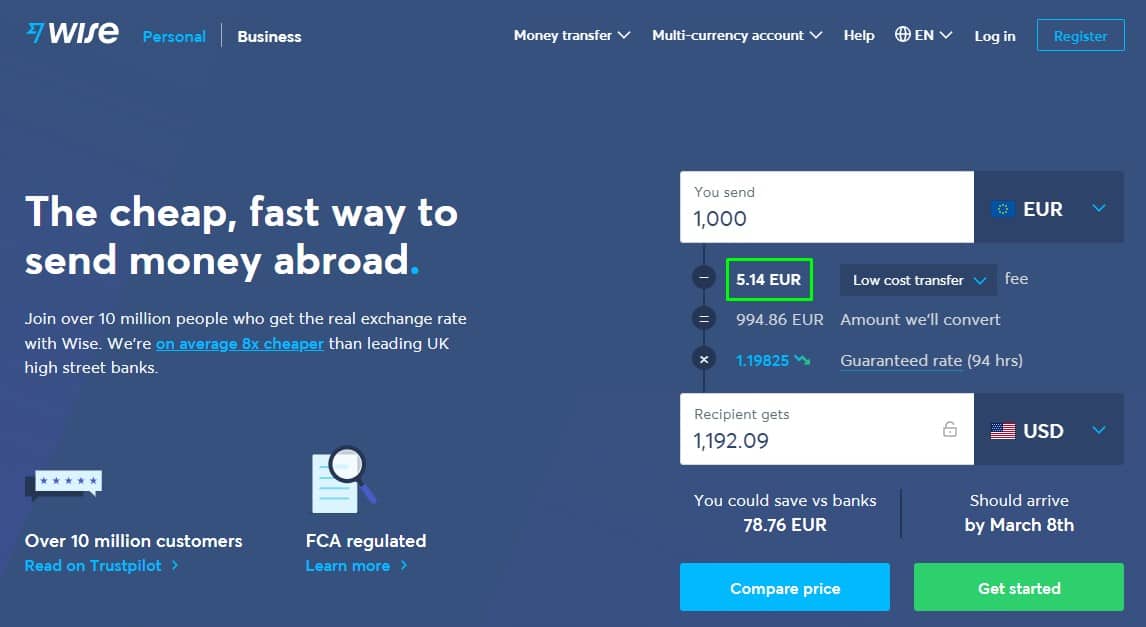 The software is super intuitive, both in mobile and PC versions, which means you will get along pretty quickly with its main features. Wise offers three types of remittance depending on your needs (speed, type of transaction, and location).
In terms of safety, Wise is an authorized money institution under the Financial Conduct Authority (FCA). It maintains strict adherence to all FCA standards and strives to make each transaction as safe and secure as possible.
Venmo Europe Alternatives
# Revolut
Revolut at a glance
Free withdrawals up to €200 a month
Revolut is a multi-function fintech with the ambition to replace your bank account. Revolut provides a business model dedicated to every individual who wants to get things done without focusing too much on unnecessary complexities involved in traditional banking.
The UK Fintech enables you to send money worldwide quickly and securely, relying on the real exchange rate, which can let users save a huge amount of money (see the image below). You can even use this feature to easily split bills with your family or friends or get paid back. But there is a catch: you only have €/£1000 of free allowance per month, a 0.5% fee applies thereafter (for unlimited transfer and currency exchanges, you have a premium plan of €7.99 a month).
If your account is the Standard one (free version), you will have a limit of €200 in free ATM withdrawals each month, for instance. In paid plans, starting from €2.99, you will be offered priority in the 24/7 client support, higher limits on withdrawals, free overseas medical insurance, and other perks.
Revolut is licensed and authorized in the UK by the FCA. However, since Revolut has an e-money license and not a banking license, the Financial Services Compensation Scheme (FSCS) does not apply to Revolut customers.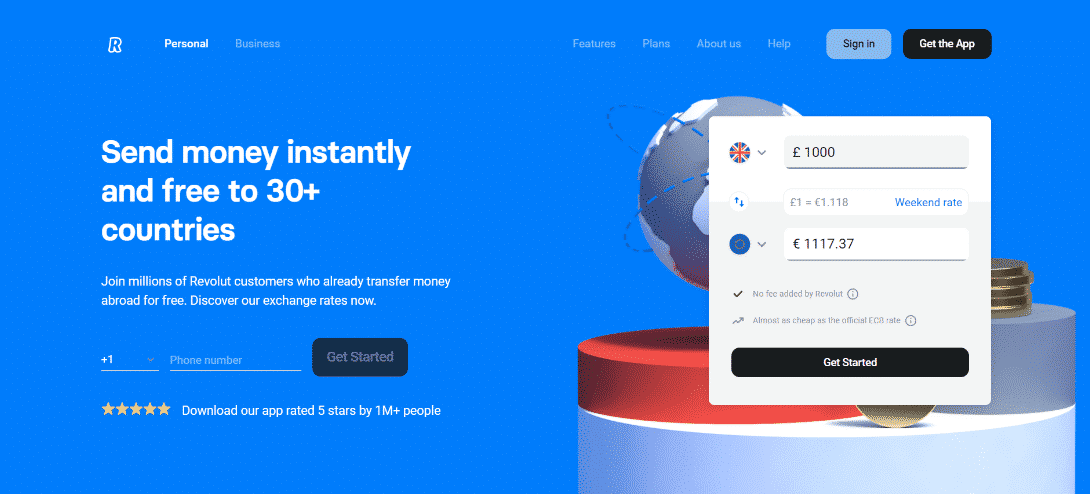 Venmo Europe Alternatives
# WorldRemit
Founded in 2010, WorldRemit is a low-cost alternative to traditional ways of transferring money abroad (through your current bank, for instance). Its service is available in over 50 countries, from where it is possible to send money in 90 currencies to 150 countries around the globe.
For your Euro-Euro small-value transfers, WorldRemit allows you to send money with zero fees. They focus on remittance and nothing else. With Worldremit, the recipient receives the money the next day. Worldremits rates are very competitive (nearly as good as Wise) for non-Euro-Euro transfers. However, they may indirectly charge you money through non-favourable currency exchange levels.
As an example, look at the image below. A transfer of €1000 to US Dollars costs €3.99 plus an unfavourable exchange rate of $1.1993 (at the time of this review, the EUR/USD market rate was 1.2132), meaning that you were paying in total €15.40 (€3.99 + €11.41*).
WorldRemit is considered safe since it is authorized and regulated by the Financial Conduct Authority (FCA) and the National Bank of Belgium (NBB).
*=((€1000*1.2132) – (€1000*1.1993))/1.2132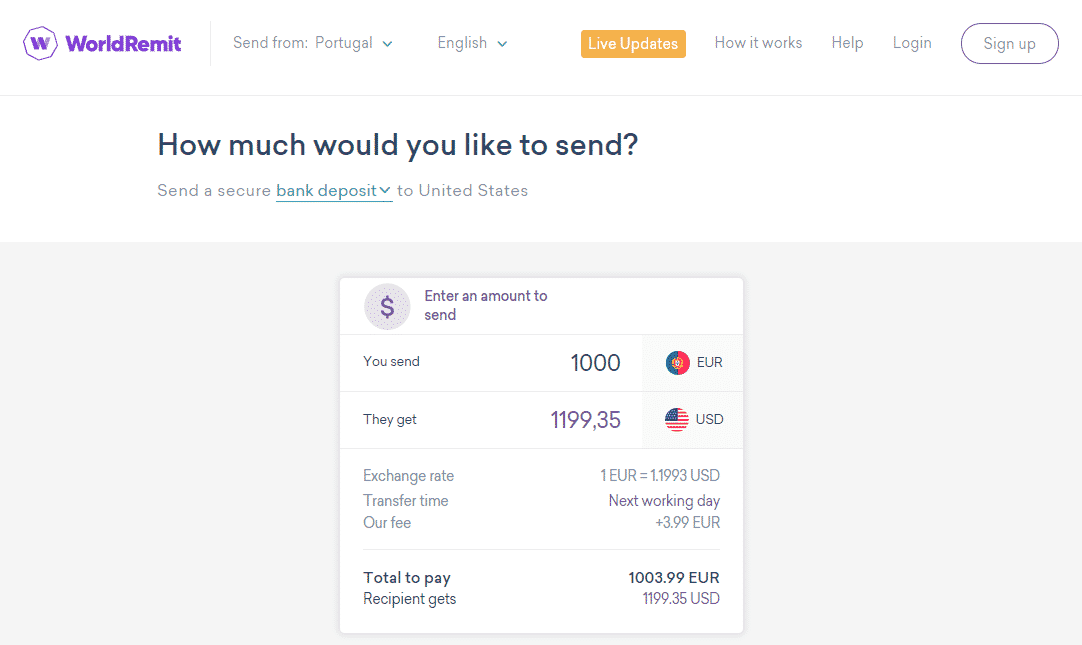 Venmo Europe Alternatives
# Remitly
With Remitly, you can send money anywhere and at any time in a convenient manner. Founded in 2011, Remitly presents itself as a web-based money transfer provider that lets you send money fast from 15+ countries to 85+ countries worldwide.
This service is quite good if you want to send money to countries other than those in Europe. Their prices are very competitive, but inter European transfers may not be an option in some instances. See the following image (Transfer from the UK to France):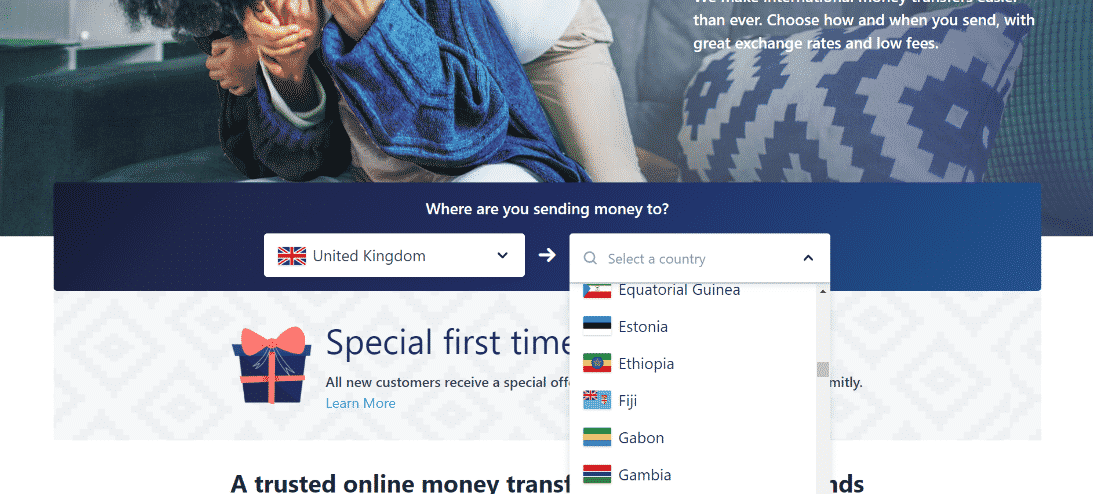 Remitly also has a 100% satisfaction guarantee, which means that if your money doesn't arrive on time, they will refund their fees.
On the downside, the fees can be quite expensive; in some locations, you may be limited on how you transfer (or receive) the money, and you will have daily and monthly limits on the amount you send.
Remitly has an excellent reputation among its users, with a TrustPilot rating of 4.0 (out of 5) in over 39k reviews. Also, Remitly, formerly known as Remitly Europe Limited, is regulated by the Central Bank of Ireland (CBI). In the UK, they are regulated by the Financial Conduct Authority (FCA).
Venmo Europe Alternatives
# XE
XE at a glance
Regulators
FinCen, FCA, ASIC
XE is a money transfer and currency exchange company based on a low-cost business model compared to traditional ways of sending money. With the XE money transfer service, you can transfer money between almost any two countries in the world.
It may charge you no direct fees, but you will be charged a worse non-currency exchange rate. In other words, you pay a fee in either way. So, you need to pay attention to that before selecting the "confirmation" button.
The app can be clunky at times, and the fact that you need to pay a subscription fee might turn you off. It all depends on what you value the most!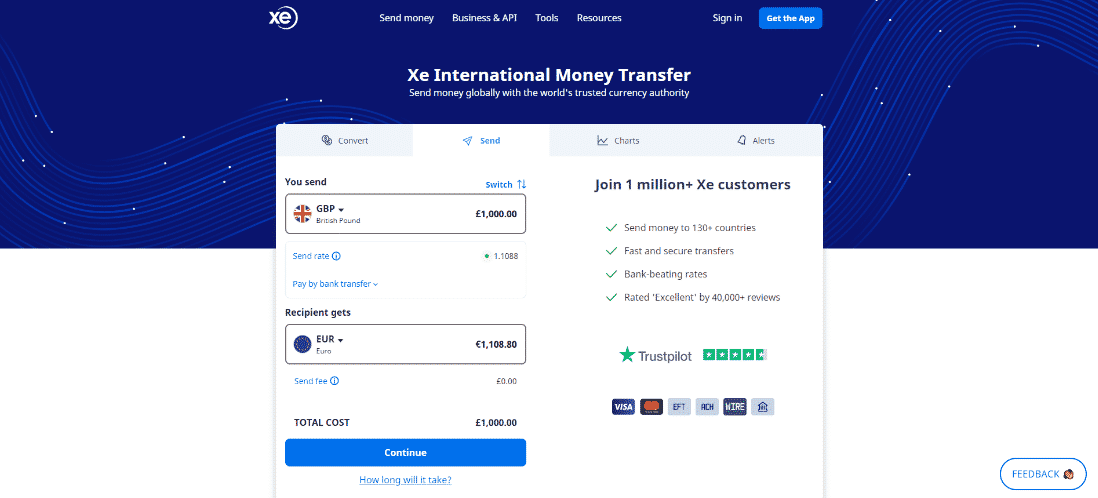 Xe is for consumers and business, has up-to-date live currency prices and are known for having generous support and being highly regulated, giving a bit more assurance to their service. Our research indicates precisely that! 4.1 out of 5 stars in TrustPilot in over 57k reviews, and Xe is regulated by the UK's FCA and the Dutch Central Bank (DCB) in the EU.
The bottom line: which should I go for?
Sending and/or receiving money is much easier and cheaper now than in the past, but you still have to remember that when sending abroad, there are monetary regulations that can still get in the way. Payments can be held for "verification" by the receiving bank or country that can hold up your transfer for 24 to 48 business hours. This wait is not the fault of the remittance service you use; it is usually in place to prevent fraud and money laundering and is out of the service's control.
With all the transfer money services, it isn't easy to know which is the best service to use when sending money from one country to another. What complicates this further is that each service's fees depend on the amount of money you wish to send (under €1000, over €7000, etc.) and the type of transaction you wish to conduct (to a bank account or for cash pick up, using a debit card,…).
No matter where you are, there is an excellent option for you to transfer money quickly and cheaply if it is to a friend with you at the restaurant table or someone halfway around the world. Many of the services we have outlined as Venmo replacements offer other benefits that can help with budgeting and finance and save you fees that a bank typically charges.
Take your time and choose wisely!
Hope we helped, and leave your comments below.
Cheers!