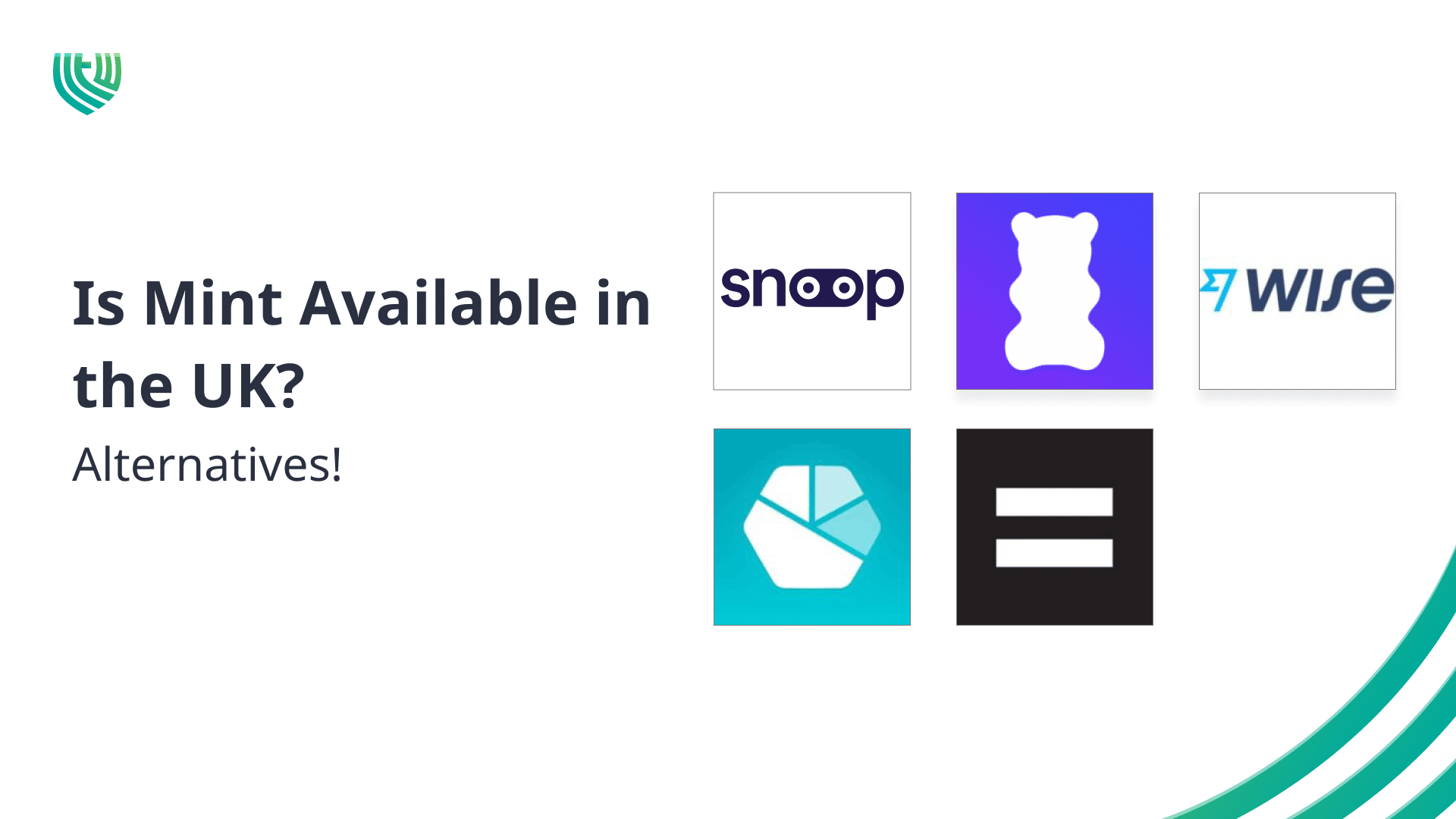 If you feel the need to take a step back and rethink your spending habits because you just realized that you spent over £100 on coffee last month, we completely understand your pain. Who hasn't been there?
Mint could be an excellent way of experiencing good budgeting habits, but, you guessed it, Mint is not available in the UK, nor in Europe, and, for the time being, it appears that it has no expansion public plans around the world… It seems that their primary focus for the near future will continue to be in the US and Canada.
It is a pity, we know! But do not get demotivated! The database for this kind of app is extensive, and we have pre-select some viable options particularly useful for UK residents. With no further ado, let's begin!
First and foremost, what is Mint?
Mint is one of the oldest budgeting apps. Owned by Intuit since 2009, Mint provides a valuable service for free in aggregating a pretty big chunk of data from banks, credit card issuers, brokerages, lenders, and other financial institutions to clarify where your money comes and goes. All in one location.
The attractiveness of this app comes from the All-in-one achievement, everything in one location. First, you allow the app to link and synchronize with your financial accounts. Secondly, you can easily view virtually every aspect of your financial life through Mint's dashboard: credit card and bank account balances, investment performance, credit score;…
How does Mint make money? Since nothing comes for free, it has to make money somewhere, and it does by simply recommending products and services through its website. We would say it is not invasive for the user, so it is a Win-Win situation.
Is there an alternative to Mint in the UK?
There are several budgeting apps to choose from. Each has its own distinct features. One is good to register your spendings and set realistic targets using spending reports, while another is better to categorize transactions automatically. One may offer savings advice whereas another one may be better to travel abroad.
So, the spectrum is quite wide, but here are our top picks:
Are you looking for a comprehensive solution to help you manage your finances amid the rising cost of living in the UK? Look no further than Snoop, a free money management and budgeting app designed to help you control your spending, reduce your bills, and make your finances more manageable.
Snoop simplifies your financial life by consolidating information from your bank accounts and credit cards into one easy-to-use platform. By tracking your spending habits, the app ensures that you're not overpaying on your bills and highlights any potential issues that need your attention.
As a Snoop user, you'll gain access to exclusive offers and deals that can help you save even more. And if you're not yet signed up, don't worry! You can still use the switching services on Snoop's website to find better deals and save on expenses.
Snoop's personalised spend analysis allows you to monitor your spending by category (e.g., groceries) or merchant, enabling you to compare your performance against the previous month. The app also lets you create custom budgets for your monthly spending and specific categories. You can build these budgets from scratch or let Snoop set them for you based on your spending habits.
One of Snoop's standout features is its ability to find clever ways for you to save money at the places you already shop, which are referred to as "Snoops". By keeping an eye on your daily account balances and bill increases, the app ensures that you're always in the loop about your financial situation.
So, let Snoop do the heavy lifting and give you the insights you need to make informed decisions about your finances. Take advantage of this powerful tool and enjoy the benefits of smarter money management in the UK.
MoneyHub can help you guard against spending too much. Besides, it links to your financial accounts and helps you track your spending compared to your monthly budget.
For a £1.49 monthly subscription (annual option, it's only £14.99), it enables you to keep track of all your money in a single place, giving you powerful insights into your daily life spending habits and even connecting to get advice from a Financial Advisor. Also, a forecast feature is provided, meaning it can predict your spending by simulating various scenarios (similar to a Monte-Carlo simulation).
As stated on their website, they charge you for using MoneyHub because they do not sell your data to third parties. If you value that, it may be worth signing up! It gives you an extra layer of safety.
On the drawback side, it remains some lack of information in the "Find Adviser" tab, and not all providers are supported, which will not allow you to get an overall picture of your wealth easily.
Money Dashboard is like a virtual personal assistant app that is excellent for setting your goals, and it has proven to be worthy by over 500.000 clients and by being voted the best personal finance app in 2017, 2018, and 2020.
It allows you to connect your bank accounts to see everything in a single place, categorize all your spending, so you know exactly what you have been spending your money on, and, over time, Money Dashboard can recognize each transaction and gets better at categorizing them.
On the less appealing side, it does not provide much guidance within the app (the desktop version is better). You may still need to manually insert your spending in certain instances since it has no perfect synchronization tool (yet, we hope!).
It is entirely free, so you may wonder: "How in the world do they make money?". The company has some agreements in place with products, and services suggested to you, such as credit cards, home loan offers, or insurance, without compromising their mission to save money.
Emma is a money management app that helps you avoid overdrafts, find wasteful subscriptions, and gives you the control you need over your finances while allowing you to group several accounts in a single platform. Co-Founder, Edoardo Moreni, describes Emma as a "fitness tracker for money".
The idea is to make you delegate everything to their app, which can take care of the whole spectrum of your personal finance. So, since it is a free app, there is no need to do the hard work yourself. However, if you want to get a more customizable experience, you can get it starting from £4.99 a month.
Emma offers some features you may not find in other budgeting apps, such as receiving a referral fee for inviting a friend (you may show the app before without showing your data – "scramble mode"), cashback in particular retailers, and highlighting banking fees.
The drawbacks are that not all banks are supported, so a manual process to register your expenses may be required for certain expenses, and it shows no saving category within the app.
Overall, their users seem pretty satisfied with their services: 4.7 out of 5 stars in over 2500 reviews on iOS and 4.5 in 1300+ reviews on the Google Play Store.
# Wise
Wise at a glance
Free withdrawals up to €200 a month
Wise, formerly known as TransferWise, is not a money management app like the previous one (the reason for being in the last position). Still, it can be a huge help when traveling abroad or simply converting money from one currency to another.
Basically, Wise is a peer-to-peer money transfer service with the primary purpose of saving you money from hidden fees charged by traditional banks. It was developed by two Estonian, Taavet Hinrikus (Skype's first employee) and Kristo Käärmann, who felt they were being overcharged when traveling abroad.
It gives you access to a multi-currency account where you can convert money internally – between balances – (for example: 1000 USD to 1000 EUR will cost you 4.18 USD). Besides, you can receive, send, and spend money (with your debit card). You can also withdraw money from ATMs, but only two free withdrawals up to €200 each month (a 1.75% applies after the €200 amount).
Regarding safety, Wise is an authorized money institution under the Financial Conduct Authority (FCA). It maintains a strict adherence to all FCA standards and strives to make each transaction as safe and secure as possible.
The bottom line: which should I go for?
A new wave of budgeting apps appeared due to the regulation from the European Commission (and the UK), and the revised Payment Services Directive (known as "PSD2"). In plain English, these apps benefit from the Open Banking system, where banks must share a customer's information if they request it, which allows these apps to work alongside you.
Let's be honest: it is not easy to find the best one since their offering is pretty similar. In order words, the baseline for a decision is not rocket science. Most of the time, what distinguishes each platform is not something that will dictate a 180º degree turn in your mind.
We believe you should first try out the free apps to get a taste of what you might expect and see how you handle all the in-app features and procedures. Indeed, we suggest you go through the same order we applied in this article.
If you do not like any of these apps (it won't be easy!), you may stick to the basics and use a spreadsheet (it never gets old!).
Hope we helped, and leave your comments below.
Cheers!