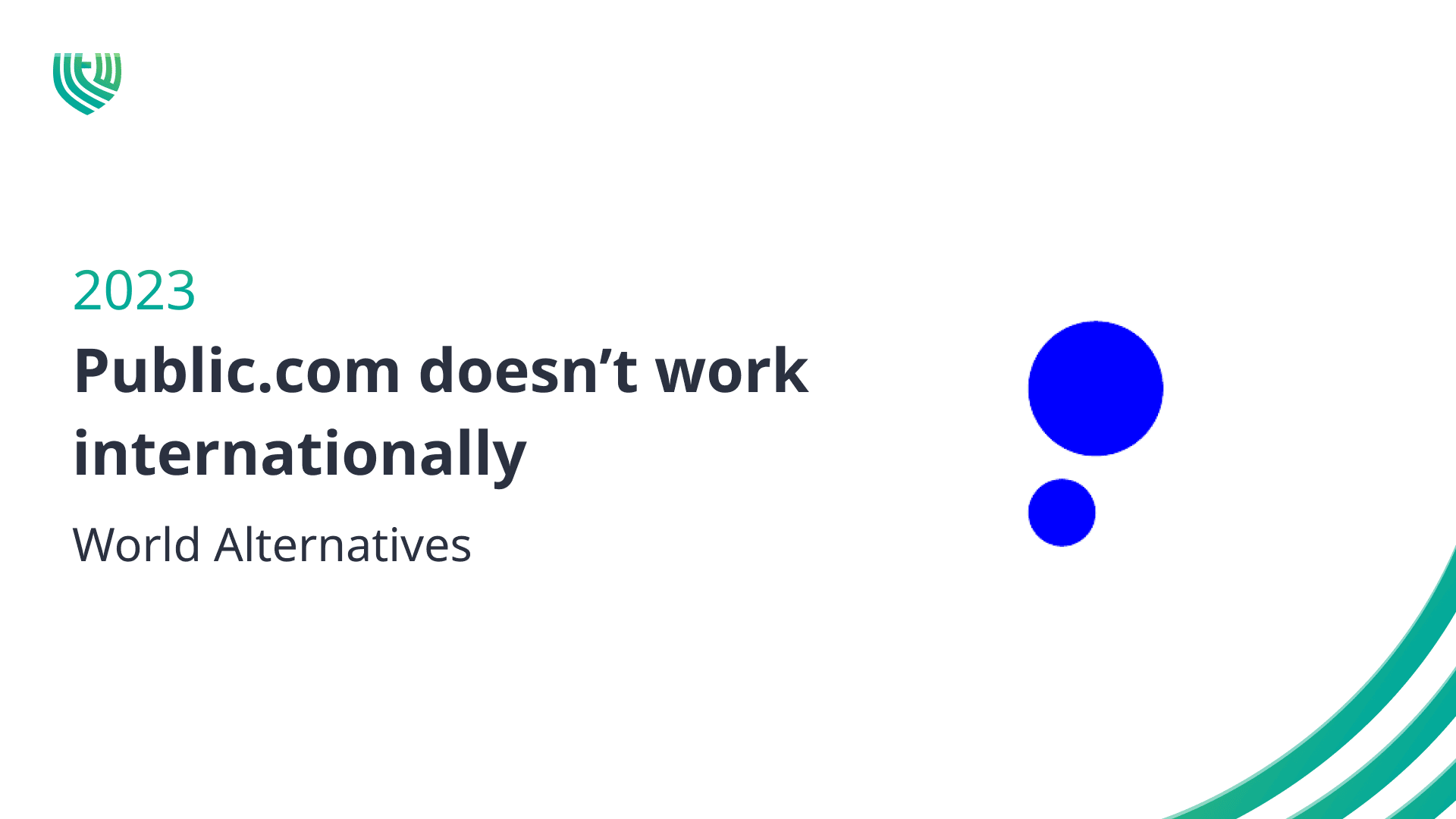 Supported by celebrity investors and offering a unique investment approach, Public.com has attracted a lot of attention for allowing its users to make long-term investments without costing them an arm and a leg (yes, we are talking about fees). It introduced an affordable and convenient way to invest in stocks and ETFs with no minimum amount required.
Unfortunately, as you've probably already guessed from the title of this piece, the Public investing app isn't available outside the US. This means that if you live in Europe (including the UK), Canada, China, Russia, or any other country outside the US, you won't be able to open an account.
However, the Public investing app has created a waiting list for global investors meaning that an international expansion is underway! Still, there is no launch date or reference to what countries Public.com will be available.
Thankfully, some fantastic alternatives to Public.com offer similar features! Who said that the brokerage industry outside the US was not dynamic? Keen to find out more? Keep on reading. We've got you covered!
What is Public, and why has it become so famous in the US?
Founded in 2018, Public is the new kid around the block. The investment app displays a set of plain vanilla assets: stocks and ETFs. It expanded from those two investment products by offering fractional shares investments in high-performing stocks that could otherwise easily cost you thousands of dollars per share (look at Google or Amazon, for instance). It could be kind of scary for newbies to start with such amounts. Luckily, on Public, you can begin your investment journey with just one dollar.
Besides, Public is an investing social network where members can follow popular creators and share ideas within a community of investors. This social aspect creates an inclusive and educational place with social features that make it easy to learn about the "rules" of the investment world while building users' confidence as investors.
Last but not least, Public lets you automatically reinvest your dividends, meaning you will not jeopardize the compounding effect of stock returns (the 8th wonder of the world, as once said, Albert Einstein), which SIPC fully insures.
Lucky you, fellow American investors!
But then, how does Public make money?
Before moving on, let's enlighten you about how Public makes money. As economists like to say, "There is no such thing as a free lunch.". No doubt about that! In the past, Public made money through payment for order flow, which consisted of paying brokerages to route orders to market makers for trade execution, thus creating a potential conflict of interest between the brokerage and the customer. At the moment, Public makes money in the following ways:
Tipping: An optional feature that allows investors to tip a certain amount every time they trade. Public is the only platform that has introduced this form of compensation so far.
Securities Lending: Your stocks or ETFs are most likely not parked in a single place. Usually, brokerage firms lend your securities in exchange for an interest rate. Third parties borrow securities for several reasons, such as hedging a position, arbitrage an opportunity, creating a structured product, or betting against the stock price.
Interest on cash balances: Just like your securities are not parked, your uninvested cash balance isn't either. Public invests it at the interest rate set by the Federal Reserve (0.25% as of April 2021).
Alternatives to the Public App
Now, the real question is, "Will I find a similar app to Public?". The short answer is yes!
Based on our due diligence on the field, using some criteria such as top-tier regulators, customers feedback, the platform's ease of use, accessibility for the vast majority of investors, and costs, we have compiled a list of international alternatives, all together in the following oh-so-handy bullet point list:
81% of retail CFD accounts lose money.

Worldwide.
Exceptions include Canada, Japan, Hong Kong, Russia.


The UK, New Zealand, Brazil, Australia.

81% of retail CFD accounts lose money.

Worldwide.
Exceptions include the United States, Australia, Japan, Belgium, Brasil, Hong Kong, India.

Worldwide (+220 countries, exceptions apply).
Is it safe to invest your money through these companies?
All of the investment companies described in this guide are compliant with the relevant regulatory bodies. The amount of investor protection varies from regulator to regulator. For companies based in Europe, the usual protection amount is €20,000. For other countries, the protection limits may differ.
Remember, there's no reason to restrict yourself to the Public alternatives discussed in this guide. While we wholeheartedly stand by our recommendations, your final decision should be informed by self-conducted research and in-person due diligence.
Explore the options you find interesting, and decide for yourself! If you haven't found a match, you can still look at our list of online brokers available by country.
As a reminder, the above information should not be construed as investment advice and should only be considered information. Investors should do their research and diligence about the services and opportunities best suited for their risks, returns, and impact strategy.
We hope you've found our breakdown of Public and its alternatives useful. And remember, if you have any questions, feel free to leave a comment below.
Happy investing!
In which countries is Public.com available? 🌎
The Public.com app is only available in the US, but it plans to open up its US platform to non-US investors. However, no indication of the launch date or in which countries will be available. A waiting list is available here.
Does Public.com work in Canada? Can Canadians use the Public stock app? 🇨🇦
No, only US citizens can use Public. However, there is already a waiting list for other countries (no specific country is mentioned, and no launch date has been announced).
Does Public work in Europe and the UK? 🇪🇺🇬🇧
No, the Public investment app is not available in Europe or the UK. However, there is already a waiting list for other countries (no specific country is mentioned, and no launch date has been announced). You can still find similar alternatives that are available in Europe.
Is the Public trading app available in Australia? 🇦🇺
No, Public is not available in Australia. However, there is already a waiting list for other countries (no specific country is mentioned, and no launch date has been announced).