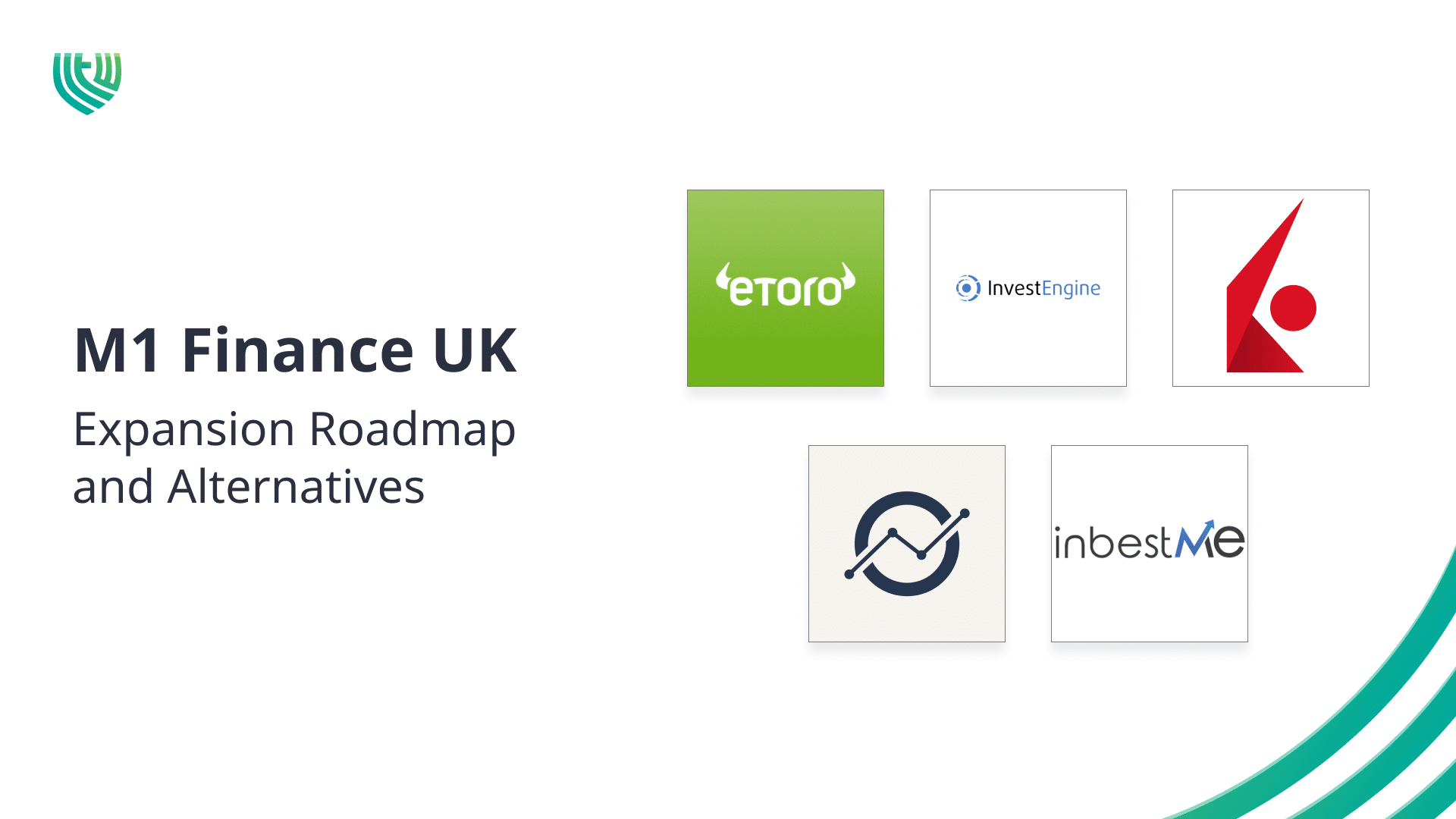 By now, you are probably familiar with M1 Finance! Let us start with the bad news: M1 Finance is not available in the UK. To open an M1 Finance account, you must check some boxes: be over 18 years old and a US citizen or permanent resident (a green card holder) and have a current US mailing address.
As of this writing, M1 Finance has not yet announced any plans to go outside the US. It is something we will try to keep you posted on if any update comes up. Want to know the M1 Finance alternatives available in the UK? Keep on reading. We've got you covered!
In a nutshell, what is M1 Finance?
M1 Finance is based in the US, launched in 2015 and presents itself as an investing platform with three distinct services:
Invest: where you may invest on your own in over 6,000 stocks and funds (both ETFs and Index Funds) and build custom investment pies or select from nearly 100 experts pies while enjoying the benefits from automated deposits and portfolio rebalancing.
Borrow: you can ask for a loan of up to 35% of your investment portfolio with an interest rate starting from 2%. Not only do you have the option to use it as a way to leverage your portfolio and increase your potential returns, but also to use it as a loan for expenses (car, holidays, student loans,…) and even handle it as an emergency fund.
Spend: M1 Finance gives you access to a debit card just like any other bank. If you upgrade to "M1 Plus", you even get a 1% cashback on certain debit card purchases, but that comes with an annual cost of $125.
What M1 Finance alternatives can I find in the UK?
As you just witnessed, M1 Finance offers a wide variety of services within the same app. As we are not aware of the particular aspect you may be looking for, we will give you our best choices for each feature inside M1 Finance.
M1 Finance UK Alternatives
Are you looking for low-cost online brokers?
Commission-free stock (including fractional shares) trading. You can also diversify your investment by copying other traders. Easy-to-use website and mobile app, and trusted by a global clientele of over 30 million people. Read our eToro review.
Disclaimer: 77% of retail CFD accounts lose money when trading with this provider.
Founded in 1978, IBKR is one of the world's most trustworthy brokers. It offers an enormous range of financial products (stocks, ETFs, Options, Cryptos,…), and low currency conversion fees (FX fees). Check our Interactive Brokers review.
M1 Finance UK Alternatives
Are you looking for the Robo-Advisor side of M1 Finance?
InvestEngine is a UK-based robo-advisor and investment platform focused on ETFs. It is a great solution for buy-and-hold investors looking to only invest in ETFs for the long term. Check our InvestEngine review.
A Robo-Advisor with multiple portfolio options and customization. The service is fully automated and even offers tax-loss harvesting (tax efficiency). It charges a maximum management fee of 0.41%/year. Access to a human advisor is available for amounts above €100,000.
Another great Robo-advisor to manage your investments in a stress-free wealth management service. The pricing varies according to your investment amount. It goes from 0.35% to 0.75% in case you invest £1,000,000 or £10,000, respectively.
M1 Finance UK Alternatives
Is it safe to invest in the fintechs mentioned above?
All the investment fintech in this article are regulated and/or registered in the Financial Conduct Authority (FCA). All clients are covered up to £85,000 by the Financial Services Compensation Scheme (FSCS). Therefore, in the unfortunate event of bankruptcy, your money will be safeguarded.
Despite their recent activity, we have seen that they were capable of withstanding the massive spike in volatility that occurred especially in March and April of 2020 due to Covid-19. We hadn't seen that much market instability since 2007-08, during the global financial crisis, so it gives us good comfort to know that none of those apps suddenly crashed as happened with Robinhood, a US-based peer of M1 Finance.
At the end of the day, everything will depend on your specific case (profile, preferences, objectives…) and on the importance you give to every single factor involved.
In general, it is crucial always to be aware of the fee charged, make sure that they are regulated by top-tier institutions such as the FCA in the UK, know the range of products they allow you to trade (not all platforms allow you to trade EU stocks, for instance), and know how responsive the customer service is, among other factors.
Explore the websites and decide for yourself!
A reminder that the above should not be construed as investment advice and should be considered information only. Investors should do their own research and exercise due diligence about the services and opportunities best suited for their risk, returns, and impact strategy.
Hope we helped, and leave your comments below.
Happy investments!