MetaTrader 4 (MT4) is one of the most popular trading platforms in the world. Millions of traders use it to trade Forex, CFDs, and other financial instruments. Although MetaTrader 5 (MT5) may be considered more advanced, there are still a significant number of traders who prefer to stick with MetaTrader 4 due to their reliance on specific robots and strategies.
As MetaQuotes discontinued the sale of full MetaTrader 4 licenses in 2018, a white label solution is your only choice if you are looking to offer your clients an MT4 trading platform. However, when selecting a white label provider, several crucial factors should be taken into account, including the provider's reputation, the platform's features and tools, as well as the associated fees.
In this article, we will review some of the best MT4 white label brokers and providers available. We will discuss the features and tools offered by each broker, as well as the fees charged. We will also provide tips on how to choose the best MT4 white label broker for your needs. If you are thinking about creating your own brokerage service using an MT4 white label solution or just want to learn more about it, this comprehensive guide is for you. So read on to find out everything you need to know.
What is a MetaTrader 4 (MT4) White Label Broker?
A MetaTrader 4 (MT4) White Label Broker refers to a brokerage firm that leverages the MT4 trading platform under a white label agreement. In this arrangement, the broker can offer the MT4 platform to their clients with their own branding, customised features, and additional services while relying on the technology and infrastructure provided by the MT4 platform provider.
The MT4 trading platform is a popular trading platform that is used by millions of traders around the world. It is renowned for its user-friendly interface, advanced charting capabilities, automated trading options, and extensive library of technical indicators and analysis tools. It caters to the needs of both beginner and experienced traders, offering a seamless trading experience across multiple financial markets.
By becoming a white label MT4 broker, you can tap into the established reputation and robust features of the MT4 platform without the need to develop your own trading software from scratch. This allows you to focus on your core competencies, such as client acquisition, customer support, and additional value-added services.
Best MT4 White Label Brokers and Providers
A white label provider that offers advanced technology, liquidity solutions, and customisable trading platforms, including MT4. They offer transparent and competitive pricing, and their platform's stability and support are well-reviewed.
A well-established brokerage technology and services provider offering a complete suite of solutions for Forex, CFDs, crypto, and social trading. The MT4 white label solution is available as a standalone package, and other legal and liquidity support offerings can be added.
Offers the MT4 white label trading platform in three packages: basic, standard, and full. The platform includes integration with a Client Office/CRM system, which can assist in efficiently managing clients and optimising business operations.
Tickmill Prime is a liquidity provider and prime broker that caters to institutional clients and professional traders. They offer MT4 white label solutions to financial institutions looking to establish and grow their Forex and CFD trading businesses for a setup fee of $5,000 and a monthly fee of $1,000.
#1 X Open Hub
X Open Hub at a glance
Deployment time
Depending on the solution required (approximately 2 weeks)
White branding fee
Starting at $1,000 per month
X Open Hub is a leading UK-based fintech company that provides multi-asset liquidity and advanced trading technology to banks, brokers, and startups. The company has over 15 years of experience with offices in 11 countries with a team of over 600 professionals, including 200 IT specialists. X Open Hub's licenses are passported to over 20 countries, enabling you to serve a diverse range of clients across international markets. As an EU-regulated company, X Open Hub ensures high-quality standards compliant with EU and international regulators.
X Open Hub stands out as an exceptional MT4 white label supplier, offering a vast range of instruments from their liquidity pool. By partnering with X Open Hub, you can benefit from platform and liquidity support so you can focus on sales, marketing, and customer service. Retail brokers looking to launch an MT4 white label can provide their clients with an enterprise-level experience right from the start, thanks to X Open Hub's fast, fully automatic, and reliable execution through their Smart B-Book Executors. This solution ensures ultra-low latency and a multi-asset feed.
The MT4 white label partnership through X Open Hub gives you access to all the features of MT4, including Expert Advisors (EAs), automatic order monitoring, advanced charts, MT4 Strategy Tester, and more. Additionally, they provide xRisk, a risk management software offering advanced features and tools to control your risk. Features include individual trade hedging, so you can choose to hedge specific trades, and the ability to set exposure limits by client, client group, or instrument. xRisk also has advanced reporting tools, meaning you can reactively assess your risk management performance and continue to optimise your trading book on an ongoing basis.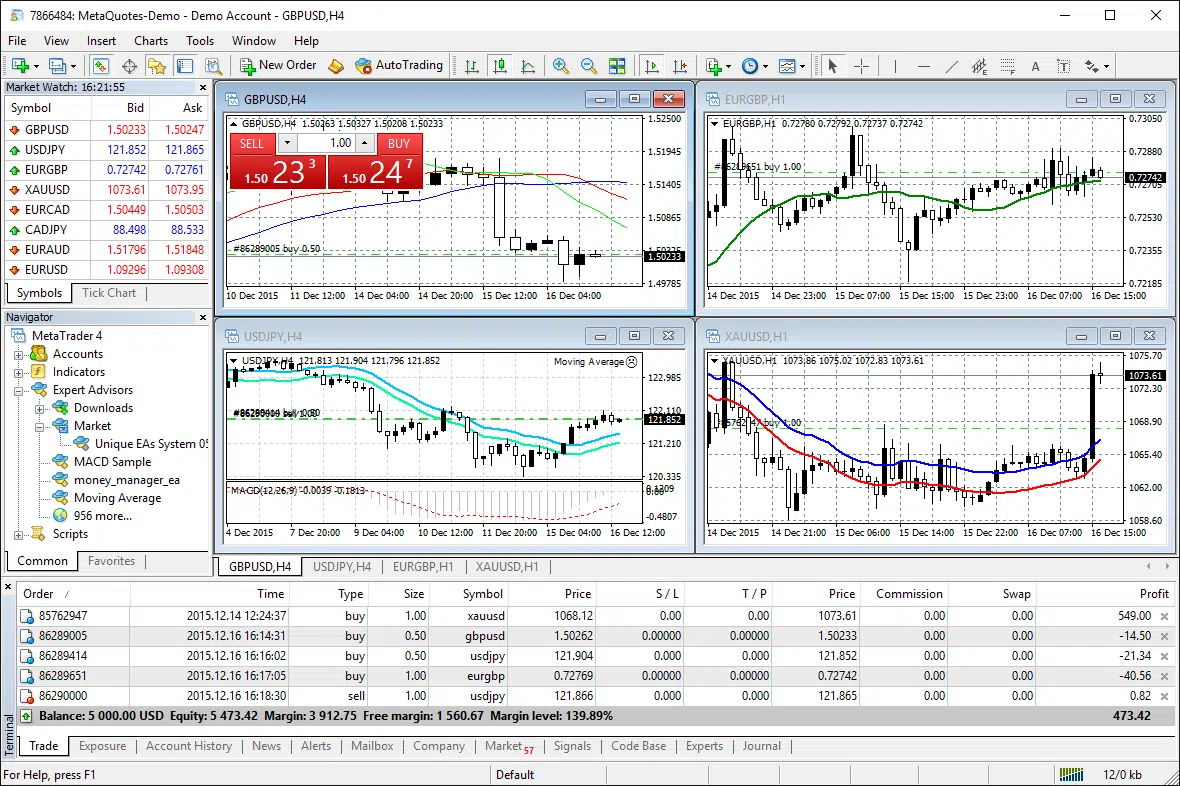 In addition to their comprehensive range of services and ability to provide flexibility and scalability, X Open Hub also offers liquidity solutions specifically tailored for MT4 brokers, helping them reduce the total cost of maintenance and trading and increasing their profitability potential. It offers a variety of features, including no volume commissions, a broad selection of asset groups covering over 5,000 instruments, and ultra-low institutional swaps, making it an attractive choice for partners working with STP/ECN models. They also offer negative protection, no minimum deposit requirement, and spread rebates. Their widely recognised MT4 liquidity is trusted by international institutions, banks, and brokers.
If you are interested in becoming an MT4 white label partner with X Open Hub, you can get in touch with their sales department to explore the MT4 white label proposal. X Open Hub offers an express start-up package that can be completed in under two weeks. This package includes a trading platform, an intuitive back office system, and access to their premier liquidity. Pricing bundles start at $1,000 per month, letting you select the services that align with your needs and budget. In addition, X Open Hub provides consulting services to help you identify initial requirements, meet regulatory standards, and assist with training and marketing. You will also have access to 24/7 account manager assistance for any inquiries or concerns.
#2 Leverate
Leverate at a glance
Deployment time
Depending on the package and the features requested
White branding fee
Undisclosed, but the fee is fixed
Founded in 2008, Leverate is an established technology provider in the brokerage industry, offering innovative solutions for Forex, CFD, and crypto brokers. Their flagship product is LXSuite, an all-in-one platform encompassing web and mobile trading, CRM, and other tools. However, Leverate also provides MT4 white label solutions.
With over 150 employees and round-the-clock support, Leverate is known for its unmatched customer service. Their commitment to client satisfaction has made them a trusted choice for over 200 brokers who provide services to over 65,000 traders.
Leverate offers two primary packages – LXSuite and LXLite.
LXSuite provides an extensive suite of tools tailored for Forex, CFD, and crypto brokers. Key features include:
MT4 white label

Branded website and mobile apps

Robust data security

Social trading via Sirix Social

Sirix Web Trader white label

Top-tier liquidity access

CRM optimised for brokerages

Automated trading capabilities

Lead generation
LXLite offers a more cost-effective solution with essential trading platforms, back-office tools, marketing support, payment solutions, and additional services like:
MT4 white label

Sirix Web Trader white label

Marketing and lead generation

Global payment providers

LXCapital liquidity access

Broker-optimised CRM

Reliable market data feeds
To get started with Leverate, you can contact them via phone, email, Skype, or social media. A success manager will guide you in selecting the right package while their technical team handles implementation. Dedicated training will help you fully leverage the platforms. They also offer services that help you with affiliate marketing, payment solutions, and website development.
Leverate's MT4 back-office empowers brokers with maximum flexibility. Brokers can exercise full control over trading conditions, assign role-based managers, create client groups and market segments, and customise every element of the platform using dedicated APIs. Leverate's solution enables brokers to tailor the platform to their specific business requirements, ensuring a personalised and efficient trading environment.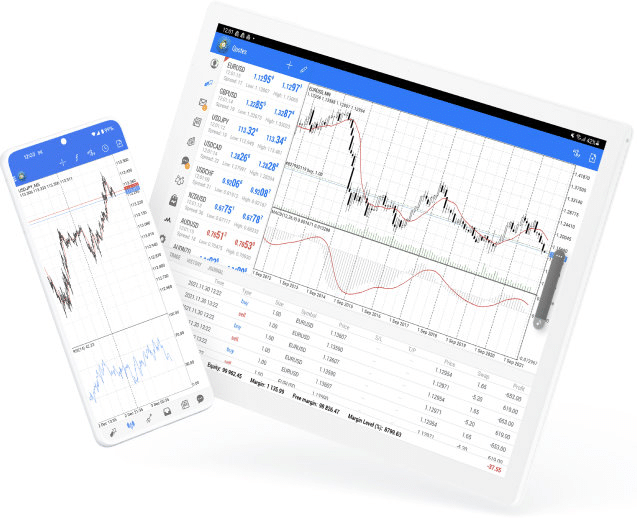 #3 Match-Trader
Match-Trader at a glance
Deployment time
Depending on the package and the features requested
White branding fee
Undisclosed, but the three packages are available
Match-Trade Technologies is a fully integrated Forex technology provider that aims to help Forex brokers optimise their businesses and increase profitability. With 10 years of experience in the Forex industry, Match-Trade operates from seven offices across the USA, Europe, and Asia and a team of 150 highly skilled experts.
Match-Trade offers comprehensive MT4 and MT5 white label solutions, allowing brokers to either start a new white label or transfer their existing one to accelerate business growth. Their solutions are designed to minimise start-up costs and reduce ongoing operational expenses, providing an optimal MT4 solution at a reasonable price.
In addition to offering a fully branded and customised MT4 white label platform, here are a few other key features offered:
A-Book and B-Book Executions:

Match-Trade offers A-Book and B-Book execution options, ensuring the finest execution quality that is fully automated and reliable. Integration is made easier by connecting to your partner liquidity provider for free.

A technical documentation page:

Match-Trade offers a comprehensive

library

containing all the documentation needed to efficiently manage your MT4 trading platform. This documentation covers everything from basic platform setup to advanced platform management. The documentation is written in clear and concise language and easy to follow with videos and screenshots.

Tools to Support Your Business:

They enhance your brokerage's operations with dedicated registration forms to onboard clients seamlessly. They also offer multiple deposit options and a Client Office with CRM to keep track of withdrawals and manage client relationships effectively.
As a leading technology provider for brokers, Match-Trade offers comprehensive technical support, including software maintenance, IT support, and hosting. Their dedicated team ensures that you receive prompt assistance whenever you need it, without the need for a ticketing system.
Match-Trade Technologies offers a range of comprehensive packages as part of their MT4 White Label solutions. These packages are designed to meet the specific needs of brokers of various sizes and provide them with essential tools and features. The package you choose determines the number of account managers, groups, availability of a Crypto Payment Gateway, PAMM accounts, and other features. It allows you to customise your solution based on your requirements.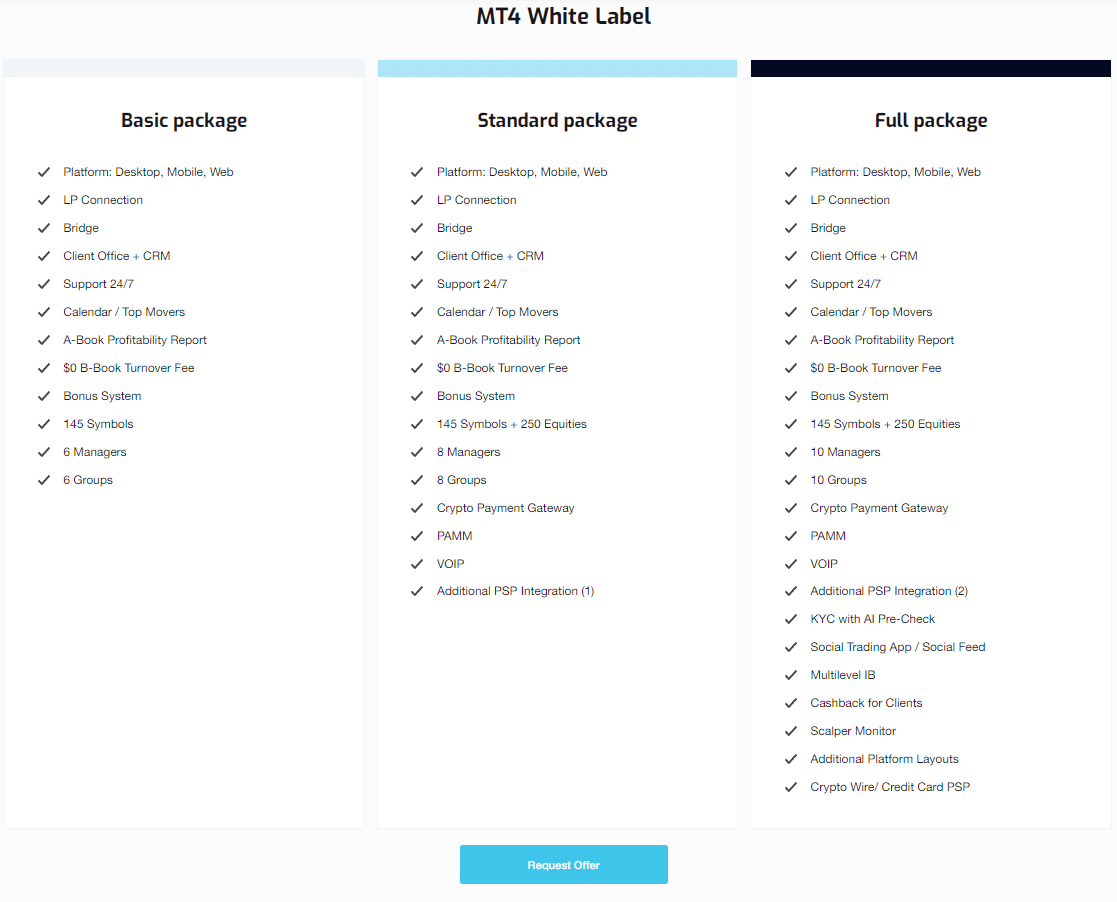 #4 Tickmill Prime
Tickmill Prime at a glance
White branding fee
$5,000 setup fee; $1,000 for platform and $750 for mobile app monthly
Tickmill Prime is a globally recognised Forex and CFD liquidity provider, catering to institutional clients worldwide. They also offer MT4 white label platform solutions, allowing brokers and financial institutions to establish and expand their Forex and CFD trading businesses swiftly and cost-effectively.
The MT4 white label solution by Tickmill Prime allows you to maintain full control and confidentiality while delivering a high-quality trading experience to your clients. Here are some of the features of Tickmill Prime's MT4 White Label Solution:
Customised branding:

Tickmill Prime lets you personalise the MT4 client platform with your company logo and corporate details.

Client management tools:

The solution includes a personal MT4 Manager program, empowering you to efficiently manage your clients and their trading activities. This feature streamlines client onboarding, monitoring, and support.

Multi-account management (MAM) tool:

Tickmill Prime offers an easy-to-use and reliable MAM tool for Money Managers. This tool allows for efficient management of multiple trading accounts, catering to the needs of professional money managers.

Seamless customisation:

You can conveniently request updates to your trading settings through an online technical spreadsheet to adapt your trading environment to meet specific requirements.

Ongoing support:

Tickmill Prime prides itself on providing exceptional support to its MT4 white label clients. Brokers can rely on their experienced support team for prompt assistance and technical guidance whenever needed.
Regarding pricing, Tickmill Prime's MT4 white label solution offers a competitive pricing structure. The setup fee is $5,000, and the monthly fee is $1,000. Moreover, if you want to offer the mobile app, the setup is free, and you only pay an additional monthly fee of $750.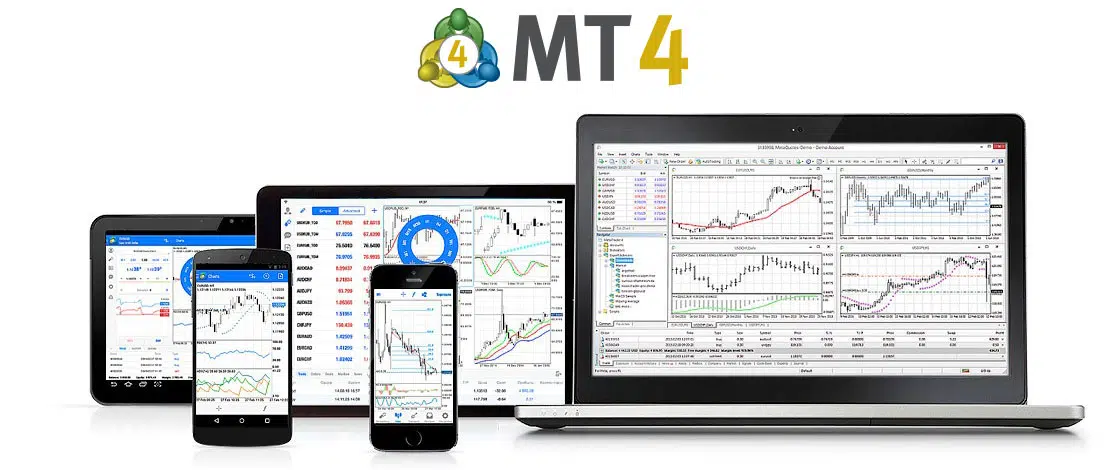 Requirements for an MT4 White Label Solution
The requirements for an MT4 white label solution can vary depending on the specific provider and your needs. However, here are some common requirements by MetaQuotes to consider when seeking an MT4 white label solution:
Certificate of Incorporation:

The white label provider is only permitted to provide services to companies that are engaged in activities such as investment services, trading of financial instruments, online Forex services, brokerage, and other financial services. So, a company must be registered before obtaining an MT4 white label platform, and a brokerage license may be required depending on your jurisdiction.

Register of directors and register of shareholders:

Recent and certified documents, including a copy of the director's passport and a selfie of the director with their passport, are required. Identity verification through video recording with the passport/ID may also be necessary.

Registered and physical address:

A registered address is provided in the standard set of documents, but proof of a physical address is also required. A certified utility bill for landline, water, gas, or electricity can serve as proof. If the company is older than 6 months, a recent certificate of good standing may be necessary.

Domain ownership confirmation:

The domain ownership needs to be registered under the full company name.

Corporate account verification: A certified reference letter or statement issued by the bank is needed to verify the existence of an active bank account. The letter should include the company's registration number and registered address.
Pros and Cons of White Label MT4 Brokers
Established platform:

MT4 is an established and widely recognised trading platform with a strong reputation in the industry and is known for its intuitive and user-friendly interface.

Customisation options:

You have the flexibility to customise the MT4 platform to align with your brand identity, incorporating your logo, colour schemes, and other branding elements.

Technical infrastructure:

You can leverage the provider's robust technical infrastructure, including server maintenance, data feeds, and connectivity. This allows you to focus on client acquisition and business operations.

Access to tools and features:

MT4 offers a wide range of tools, indicators, and analysis features. Traders can benefit from advanced charting, automated trading options, and a vast library of technical indicators. Additionally, the strategy tester allows traders to backtest their trading strategies on historical data for performance assessment and optimisation.

Community support:

The MT4 platform has a large and active community of traders and developers, which provides support, resources, and a marketplace for additional plugins and expert advisors, expanding the functionality and possibilities for white label brokers. Traders can access a marketplace of custom indicators, expert advisors, and scripts, enhancing the functionality and possibilities of the platform.

Cost considerations: White label solutions can be more cost-effective than developing a proprietary trading platform. There can still be associated costs, such as licensing fees, setup fees, and revenue-sharing agreements with the platform provider.
Dependency on provider's server:

White label brokers depend on the MT4 platform provider for technical support, updates, and infrastructure maintenance. Any issues or delays on the provider's end can impact the broker's operations and client experience.

Limited brand differentiation:

While white label brokers can customise certain aspects of the platform, they still operate within the framework of the MT4 platform. This means that the core features and user interface remain consistent across various brokers, making it difficult for them to stand out from the competition.

Limited scalability:

As your business grows, scalability can become a challenge. The platform provider may have limitations on the number of clients, trading volume, or customisation options, requiring additional negotiations or migration to a different solution.

Outdated design:

MT4 has been around for a while, and its user interface design may appear outdated compared to newer trading platforms. Some traders may prefer more modern and visually appealing platforms.

Mobile app limitations:

While MT4 has a mobile app for trading on the go, the mobile version may have fewer features and functionalities compared to the desktop version. Traders who heavily rely on mobile trading may find the mobile app's limitations restrictive.

Limited offering: The MT4 platform does not have native support for trading stocks. It was primarily designed for Forex trading, and its default installation does not include stock market instruments.
Factors to Consider When Choosing an MT4 White Label Provider
While MT4 is a standard platform, some providers offer additional features, customization levels, or other services that can make your brokerage firm more efficient. Here are some key factors to consider:
Reputation:

Look for a provider with a good reputation in the industry. Check reviews and testimonials, and ask for referrals to get a sense of their performance and reliability.

Regulatory compliance:

This is one of the most important factors to consider when choosing a white label brokerage provider. Check that the provider is licensed and supervised by recognised regulatory authorities to ensure compliance with all applicable laws and regulations.

Customer support:

Consider the quality of customer support the provider offers. Look for a provider that offers 24/7 support via multiple channels, such as email, phone, and chat.

Range of trading instruments:

Consider the range of trading instruments offered by the provider, including Forex pairs, commodities, indices, and cryptocurrencies. Look for a provider that offers a diverse range of instruments to meet your client's needs.

Pricing and fees:

Review the provider's pricing and fee structure, including spreads, commissions, and account maintenance fees. Compare this to other providers to ensure that you get competitive pricing.

Customisable trading conditions:

Choose a provider that allows you to create your own trading conditions with commissions, markups, swaps, margins, and risk settings. Also, ensure you can adjust swaps, dividends, markups, and spreads to meet your client's needs.

Integration with third-party providers:

Consider the provider's ability to integrate with third-party providers such as payment processors, liquidity providers, and risk management systems. This can help streamline your trading operations and improve efficiency.
By evaluating these features, you can choose a provider that best suits the needs of your potential customer base and business.
In conclusion, MT4 remains a popular choice in the competitive trading market due to its robust features, user-friendly interface, and diverse range of trading instruments. While MetaQuotes no longer offers new MT4 licenses, opting for a white label solution allows you to provide clients with a customised MT4 trading platform branded under your own company.
When selecting the best MT4 white label provider, factors such as reliability, customisation options, integration capabilities, support, and scalability should be carefully considered. To find a reputable provider, consider the recommendations in this article, as they offer proven success and a comprehensive range of features to elevate your trading business.
Thank you for reading!
Starting a White Label MT4 brokerage FAQs
What is the cost of establishing a white label MT4 brokerage?
White label brokers typically charge a one-time setup and monthly subscription fee for using the MT4 platform. The fees vary depending on the client base, level of customisation, support, and scope of services.
How much can I make as a white label MT4 broker?
The potential earnings of a white label MT4 broker vary based on client base, trading volume, fee structure, market conditions, competition, costs, and value-added services. It's challenging to predict specific earnings, but effective marketing, customer service, and business growth strategies are key to maximising potential earnings. Developing a comprehensive business plan and seeking professional advice can provide valuable insights.
Is a license required to start an MT4 white label?
The white label model allows you to utilise the MetaTrader 4 trading platform under your own branding without needing t a separate license from MetaQuotes. Instead, you typically enter into agreements with technology providers or liquidity providers who offer the MT4 platform as a white label solution. These providers handle the licensing and provide the necessary infrastructure for brokers to offer the platform to their clients. However, it's important to note that you may still need to comply with relevant regulatory requirements and obtain the necessary licenses to operate as a brokerage business in your jurisdiction.
Do UpTrader and B2Broker offer MT4 white label solutions?
UpTrader and B2Broker are well-known providers of white label solutions in the financial industry. They both used to offer MT4 as a white label solution, but currently, they are not offering it anymore. If you're specifically looking for MT4 white label solutions, we suggest exploring alternative providers mentioned in this article.