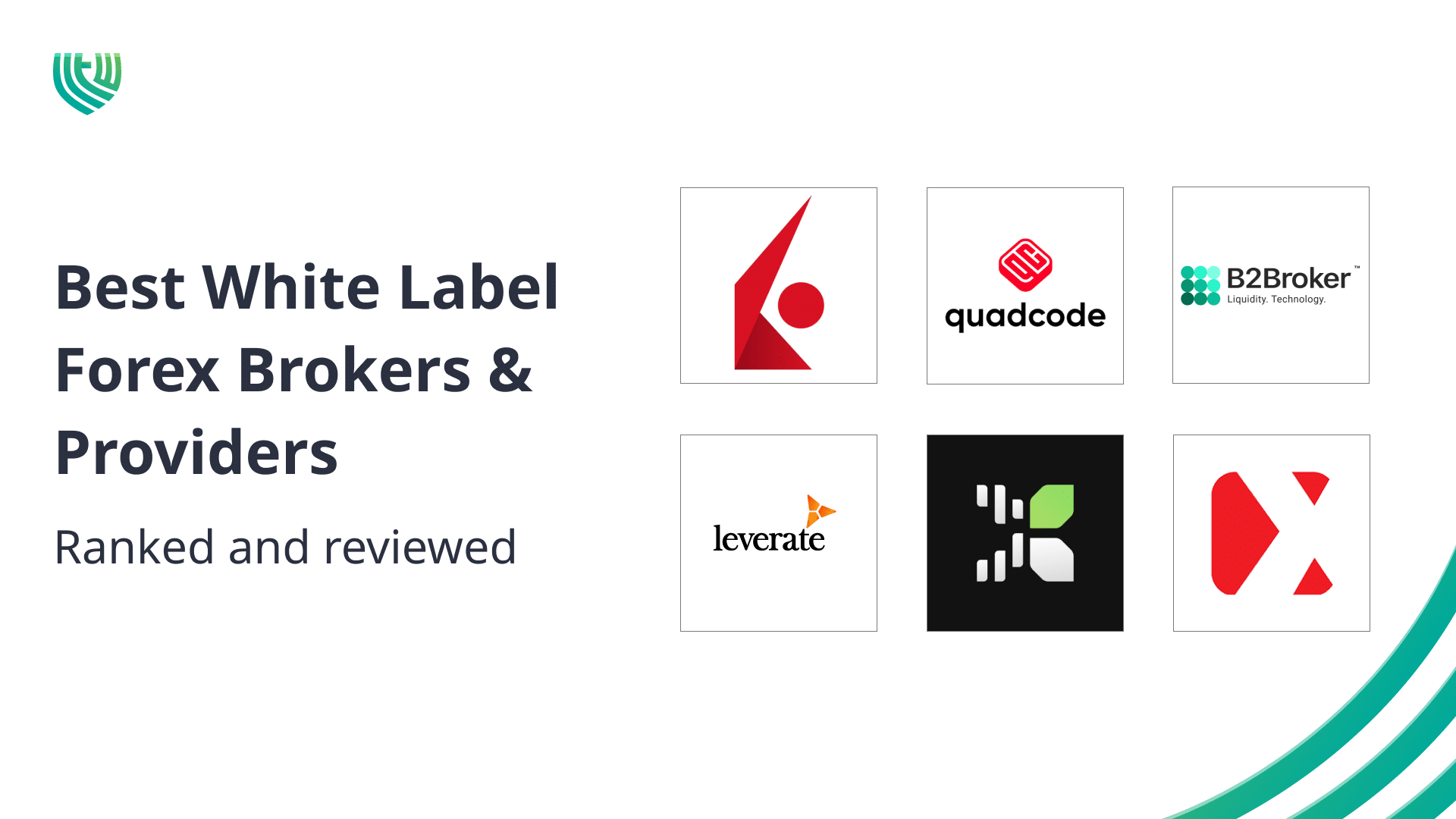 The Foreign Exchange (Forex) market is the world's largest and most liquid financial market, with an estimated $7.5 trillion in daily trading volume. As the Forex industry expands, more companies seek to enter the market and offer their own Forex trading platforms. However, building a Forex platform from scratch can be time-consuming, complex, and expensive. This is where White Label Forex Brokers and Providers come in. Without significant development resources, businesses and startups may easily and rapidly build their branded Forex platform using a White Label solution.
In this article, we'll explore the best white label brokers and providers, taking a closer look at their features and what makes them stand out from the competition. If you're thinking about creating your own Forex brokerage service using a white label solution or want to learn more about it, this comprehensive guide is for you. So, keep reading to find out everything you need to know.
What is a White Label Forex Broker?
A white label Forex broker is a type of brokerage company that offers trading services to clients under its brand name but operates using the technology and infrastructure of a third-party provider. This makes it an ideal option for small to medium-sized firms looking to enter the Forex industry. It allows them to offer the same trading services as established brokers without the costly investment.
When it comes to white label Forex brokers, there are three main types of models:
A-book

involves passing on all trades to a liquidity provider;

B-book

involves taking the opposite side of trades from clients;

Hybrid combines elements of both A-book and B-book models, allowing brokers to choose the best approach for their business needs.
Pros and Cons of White Label Forex Brokers
Using a white label Forex broker can offer many benefits, regardless of which business model you choose. It can help you save valuable time and resources while enabling you to concentrate on building your brand and delivering top-notch customer service. Let's look at some of the pros and cons of working with a white label Forex broker.
Faster time-to-market:

When using a white label Forex broker, you can bring your products and services to market much quicker than if you were to build your platform from scratch. This is because you can leverage the technology and infrastructure of the third-party provider, which has already been established.

Cost-effective:

Creating a trading platform from scratch can be expensive. Thus, utilizing an existing platform reduces development costs and saves money.

Enhanced branding:

Since you saved time and money, you can focus all your resources on building your brand and developing client relationships

Access to expert support: White label Forex providers offer extensive technical support, customer service, and compliance expertise that can be difficult to match with an in-house support system.
Limited customization:

The white label Forex provider usually pre-determines the level of customization of its platform and trading tools.

High costs in the short run:

While using a white label Forex broker can save money in the long run, there may be higher initial costs. Some providers may charge setup fees or require minimum monthly fees, which can add up and eat into the broker's profits, especially if they have low transaction volume. If the customer base does not increase, you might end up paying high fees.

Dependence on third-party providers:

White label Forex brokers rely on their provider's technology and infrastructure. As such, if the provider experiences technical difficulties or goes out of business, it can significantly impact the broker's operations.
Best White Label Forex Brokerage Providers
1# Interactive Brokers
Interactive Brokers at a glance
Trading platforms offered
Trader Workstation (TWS)
Forex currencies available
100+
White Labeling services available for
Registered advisors, fully disclosed brokers and non-disclosed brokers
Deployment time
Generally between 2 to 3 weeks
White branding fee
Not disclosed
Interactive Brokers (IBKR) offers a white label program for Forex brokers, which allows them to leverage IBKR's technology and infrastructure to create a branded trading platform for their clients. IBKR's white label program particularly benefits Forex brokers who want to expand their offering beyond Forex and into other asset classes, such as equities, futures, and options. With IBKR's multi-asset platform, brokers can provide their clients with access to a wide range of financial instruments, including 150 markets across 33 countries.
Furthermore, IBKR's white label program offers high customizability, allowing brokers to tailor the platform to their specific needs and preferences. This includes customizing the user interface, risk management tools, and even IBKR's Trader Workstation (TWS). Brokers can also manage user access rights, implement flexible fee structures, automate fee administration, and provide dynamic fee management with electronic invoicing. Here is a short video about IBKR's white branding process:
The integration of TWS into white labeling allows Forex brokers to offer their clients a well-established and trusted trading platform with a wide range of currency pairs. IBKR offers a vast selection of over 100 currency pairs for trading, including major pairs like EUR/USD, USD/JPY, and GBP/USD, as well as minor and exotic pairs. Additionally, traders can access Forex options through the TWS platform, allowing them to trade options on currency pairs.
When integrated into white labeling, the platform's features and benefits are still available to the broker's clients, but with the added advantage of having the broker's brand front and center.
White labeling with IBKR allows brokers to offer their clients competitive pricing on FX trading by leveraging IBKR's deep liquidity pool and advanced technology. Brokers can also benefit from IBKR's transparent pricing model and the ability to access interbank spreads without markups, which can be especially attractive to professional traders and institutions.
The pricing for FX trading depends on the volume traded, the currency pair being traded, and the account type. IBKR offers two types of accounts for FX trading: a commission-based account and a spread-based account.
The white branding fee for IBKR is not disclosed and can vary depending on the level of customization needed and the broker's specific requirements. To obtain an accurate quote, it is necessary to contact IBKR directly and discuss the requirements. The application review process takes approximately 2-3 weeks, and initial funding of $10,000 must be deposited into the account, which will be applied towards the first five months of commissions.
2# Quadcode
Quadcode at a glance
Trading platforms offered
Quadcode
Forex currencies available
100+
White Labeling services available for
No Restrictions
Deployment time
Depending on the requirements (approximately 6 weeks)
White branding fee
Fixed fee from $20,000
Quadcode is a global multi-brand fintech leader, creating user-friendly fintech solutions for B2B clients since 2013. It oversees 9 innovative projects across investment, banking, and white-label brokerage, fostering innovation in cutting-edge trading platforms, neobanking, proprietary trading, education, and beyond.
Quadcode's white-label solution provides clients with a full-packed brokerage business tailored to their needs, powering 150 million trading accounts in over 170 countries. It serves brokerage firms and financial institutions seeking impeccable, off-the-shelf fintech solutions redefining industry standards.
Among others, Quadcode received the 2023 UF AWARD for the Best All-in-One Brokerage Solution for its excellence in the fintech industry.
Quadcode's white-label brokerage platform is designed for the retail Forex, options, indices, commodities, crypto, and CFD industry. Quadcode's trading platform, its flagship product with 99.5% uptime, has been developed as a turnkey white-label solution offering a swift launch of a fully customizable brokerage platform from scratch in merely 6 months, skipping the hassle of installation, setup, support, and updates.
This all-inclusive solution offers a ready-to-go brokerage infrastructure, allowing you to eliminate development concerns and concentrate on marketing.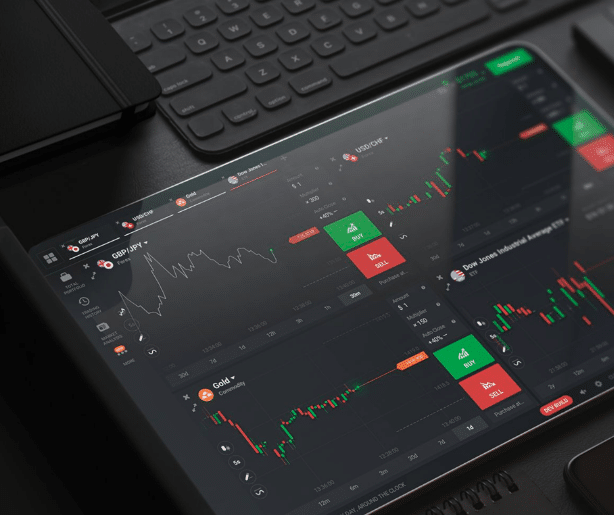 Quadcode provides anti-fraud, customizable trading conditions, payment gateways configuration (over 200 international and local options), dealing desk, hosting (a security monitoring team, tiered access to data, and PCI DSS license), KYC/AML/Compliance, CRM & Affiliate modules, Tech and Client Support via ticketing system, live chats, chatbots, and telephony system, and many more. It also offers an advanced toolset, including Stop Loss/Take Profit, Pending Order, Trailing Stop, portfolio management & technical analysis tools.
Over 60% of traders actively participate in mobile trading. The platform offers cutting-edge UI, encompassing Web, Desktop, PWA, iOS, and Android applications, enabling brokers to fulfill client needs and reach a broader audience. Quadcode's mobile client has a sleek and modern design with a multi chart layout, diverse alerts & widgets, and over a hundred free technical indicators making it an ideal platform for trading on the go.
With Quadcode, you can add a personal touch to your traderoom, choosing a logo, color scheme, and trading tools to make your brand stand out.
3# X Open Hub
X Open Hub at a glance
Trading platforms offered
XOH Trader platform, XOH Mobile, MT4 White Label
Forex currencies available
60+
White Labeling services available for
Brokers and financial institutions
Deployment time
Depending on the solution required (approximately 2 weeks)
White branding fee
Starting at $1,000 per month
X Open Hub is a division of XTB SA that offers white-label solutions for brokers, startups, and banks. They have over 12 years of experience, a team of over 250 IT professionals, and have built over 100 partnerships to deliver top-notch services to their customers.
X Open Hub offers a White Label Forex Solution that allows brokers to differentiate themselves and meet client demand by creating new front-end trading systems using their API. The platform is highly stable and reliable, while its flexible and advanced back-office system supports fully customizable securities settings, local time zones for clients and reporting tools, and no limitation when it comes to the number of instruments.
X Open Hub provides its clients a wide range of trading instruments, including 60+ currency pairs, majors, minors, and exotics. The platform is cloud-based, with no hosting costs, and designed for speedy and high-quality execution. X Open Hub offers ultra-fast feeds and execution through various connectivity options such as FIX 4.3, FIX 4.4, xAPI, MT4/MT5 Gateways, or Bridge Providers. Additionally, they offer clients several benefits, including $0 volume commission on OTC instruments, low effective spreads, no requotes, and deep liquidity on FX. It is regulated by FCA, KNF, CySec, IFSC, DFSA, and FSCA, and operates under a robust regulatory framework to ensure the best interest of its clients.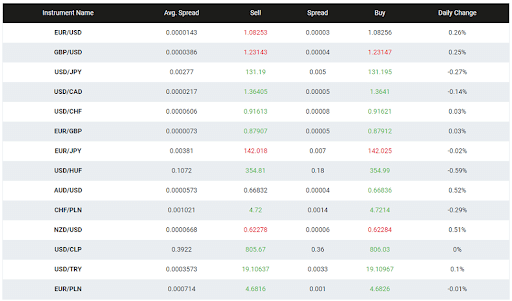 XOH Trader platform provides brokers with a customizable and modern front-end system, including advanced charting tools, regulatory compliance, and mobile capabilities. The xManager back-office system is designed to help partners manage their clients, monitor live trading activity, set up different trading groups and spread markups, commissions, and users. Partners can also access a mobile app for account management and real-time financial trading.
With X Open Hub, becoming a Forex broker is easy and can be done in less than two weeks with their express start-up package, which includes a trading platform, an intuitive back office system, and access to their premier liquidity. When it comes to pricing, X Open Hub is flexible and allows you to choose the services you need, so you can manage your expenses. The bundles start at $1,000 per month, allowing you to select the services that align with your needs and budget. They also provide consulting services for identifying initial broker requirements, meeting regulation standards, training, and marketing. Additionally, you will have access to 24/7 account manager support to assist you with any queries or concerns.
In addition to Forex, X Open Hub provides deep institutional liquidity on 5,000+ global instruments, including indices, commodities, shares, ETFs, and crypto.
4# B2Broker
B2Broker at a glance
Trading platforms offered
cTrader, MetaTrader 4, MetaTrader 5, B2Trader, Match-Trader, and B2Margin
Forex currencies available
80+
White Labeling services available for
Corporate, professional and institutional clients
Deployment time
Between 2 and 8 weeks
White branding fee
Setup fee of $5,000 and starting at $2,000 per month
B2Broker is an international company founded in 2014 that assists brokerages and exchange firms in achieving their business objectives. B2Broker's extensive client base has served over 500 customers, including 298 corporate clients, 170 professional clients, and 32 institutional clients. With a team of more than 380 employees, B2Broker provides top-quality solutions to meet its client's needs.
B2Broker offers a turnkey solution for entrepreneurs interested in launching their Forex brokerage. The solution is an all-in-one package that includes services and software solutions designed to minimize the effort, time, and costs associated with starting a new Forex brokerage. Among the services included are B2Core, a trader's room that helps manage clients' accounts, PoP Liquidity, an investment platform, and a payment service.
In addition to providing access to the financial markets, a Forex broker can offer other asset classes, including indices, metals, and energies. To add value to clients, many Forex brokers offer client-focused services such as tutorials, bonuses, contests, and investment services like Copy Trading, PAMM/MAM, Liquidity, and IB Modules. B2Broker offers all these features.
B2Broker's Forex instruments include 80 currency pairs, 12 CFDs on indices, and 13 metal instruments. In addition to Forex, they offer a comprehensive selection of over 1,000 financial instruments across 7 asset classes, including Crypto Derivatives/CFD, Indices, Energy, Equities CFD, and ETFs CFD.
B2Broker's Forex liquidity solutions offer a direct and efficient way for its clients to access major Tier-1 FX liquidity venues benefiting from a deep liquidity pool, fast execution speeds, and professional support. Its liquidity solutions have been developed with a focus on high-frequency trading (HFT) systems, making them ideal for handling even the most complex trading strategies. Their Forex liquidity solutions come with competitive trading costs spreads starting from almost zero, margin requirements set at just 1% and execution speed starting from 12ms.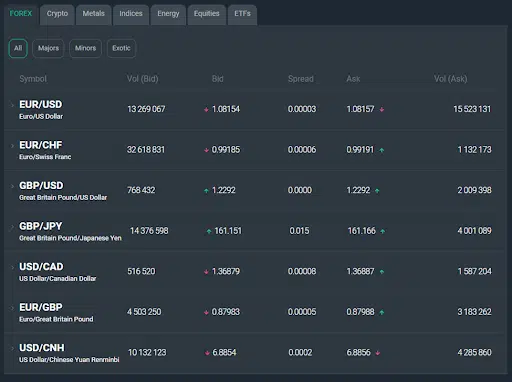 Additionally, B2Broker offers a multicurrency-denominated margin account to minimize volatile risks between clients' equity and brokers' equity, allowing client accounts in different currencies to be connected to one margin account.
Starting a Forex brokerage involves various aspects that business owners need to consider, such as legal, marketing, sales, operations, finance, liquidity, and technology. B2Broker considers all of these aspects to provide a comprehensive solution for its clients. This not only saves time but also reduces operational costs. The white label service includes detailed documentation for each feature and transparent pricing, with a one-time setup fee of $5,000 and a monthly support fee of $2,000. However, the monthly fees vary depending on the services requested and the level of customization needed to offer the desired services to clients.
5# Leverate
Leverate at a glance
Trading platforms offered
SIRIX, MetaTrader4, MetaTrader5
Forex currencies available
150+
White Labeling services available for
Brokers
Deployment time
Depending on the package and the features requested
White branding fee
Undisclosed, but the fee is fixed
Leverate is a leading white label Forex provider offering a range of innovative products and services to Forex brokers and other financial institutions. Their flagship product, LXSuite, is a comprehensive suite of trading tools that includes a web-based trading platform, a mobile trading platform, a CRM system, and various other applications designed to help brokers manage their businesses effectively.
Leverate offers a package for Forex brokers looking to establish themselves called "SmartStart". It is an all-in-one affordable brokerage package designed to help individuals launch their fully-branded Forex/CFD/Crypto brokerage. With SmartStart, Leverate provides a comprehensive solution that includes all the necessary tools and resources to build a successful brokerage from the ground up.
One of the key features of SmartStart is the Sirix platform, Leverate's trading platform which is available on both the web and mobile. This platform offers traders a seamless trading experience with built-in copy trading and crypto capabilities. Additionally, the package includes a fully-branded broker website and application, which is designed to attract clients with a slick design and top-notch user experience.
SmartStart also includes Leverate's CRM system, which is tailored to the needs of brokers and provides top-level security. The package also comes with dedicated support from a professional success manager who guides you through the process of launching and growing your brokerage.
To ensure that the brokerage is up and running smoothly, Leverate offers comprehensive training to the team members using SmartStart's tools. The package also includes traffic and lead solutions to help drive traffic to the broker's website and attract potential clients.
Apart from SmartStart, Leverate's MetaTrader4 and MetaTrader5 White Label solution is another great option for new brokers who want to offer traditional and popular trading platforms to their traders without incurring the cost of purchasing a full MetaTrader license. This white-label solution offers several benefits, such as a wide variety of signals and indicators, easy trader segmentation, an integrated economic calendar and financial news, customization options, and availability on desktop, web, and mobile devices. It is a comprehensive solution that provides traders with an excellent trading experience while helping brokers grow their businesses.
6# Soft-FX
Soft-FX at a glance
Trading platforms offered
TickTrader
Forex currencies available
50+
White Labeling services available for
Brokers, blockchain platforms, dealers, banks and funds
Deployment time
Depending on the package and the features requested
White branding fee
Starting at €15,000 as a setup fee and a monthly fee of €3,000
Soft-FX is a fintech development company that provides software and support services to the financial services industry and digital asset platforms. It was founded in 2005 and made several partnerships with Forex and digital currency brokers, blockchain platforms, dealers, banks and funds.
Soft-FX offers the Forex Broker Turnkey solution as a one-stop portal to enter the FX business market. This comprehensive solution provides the necessary tools for a Forex brokerage with a reliable software foundation, multi-layered liquidity, robust trading platform, and a convenient back office. The solution includes over 30 technical connectors to major FX liquidity providers, advanced analytics modules, KYC/AML services, and integration with 60+ fiat payment systems. The trading platform has advanced features, including algorithmic trading capabilities, multilingual trading terminals, and advanced trading orders to satisfy even the most demanding clients. Additionally, Soft-FX provides full support throughout the solution implementation process.
In addition to the features mentioned earlier, Soft-FX's Forex Broker Turnkey solution provides additional benefits that can aid in the successful launch of your brokerage business. This includes the ability to offer trading services for various financial instruments, such as stocks, commodities, and indices, giving you the flexibility to provide your clients with a diverse portfolio of assets and attract more traders to your platform. The solution delivery and installation process can be completed within a quick time frame of just 2 weeks. Additionally, you can employ a hybrid business model that combines A-Booking and B-Booking to maximize the profit potential of your brokerage.
Their trading platform, TickTrader, provides a flexible setup scheme for different trading conditions, allowing brokers to manage Forex and digital assets transactions efficiently. It offers several trading account types designed for both spot operations and margin (leverage) trading, catering to a wide range of trading strategies. The platform also offers multi-language client terminals available on Web, Windows, Mobile iOS, and Mobile Android, making it accessible to traders worldwide.
When it comes to pricing, Soft-FX offers a user-friendly pricing calculator tool that enables prospective clients to get an estimate of the cost of the Forex Broker Turnkey solution. The pricing calculator considers important factors such as the required liquidity, chosen software modules, and additional services required. The minimum possible setup fee is €15,000, with a monthly fee of €3,000.
Factors to Consider When Choosing a Forex White Label Provider
When choosing a white label Forex provider, it's important to consider a range of factors to ensure that you partner with the right provider for your business needs. Here are some key factors to consider:
Reputation:

Look for a provider with a good reputation in the industry. Check reviews, and testimonials and ask for referrals to get a sense of their performance and reliability.

Regulatory compliance:

This is one of the most important factors to consider when choosing a White Label brokerage provider. Check that the provider is licensed and supervised by recognized regulatory authorities to ensure compliance with all applicable laws and regulations.

Customer support:

Consider the quality of customer support the provider offers. Look for a provider that offers 24/7 support via multiple channels such as email, phone, and chat.

Range of trading instruments:

Consider the range of trading instruments offered by the provider, including Forex pairs, commodities, indices, and cryptocurrencies. Look for a provider that offers a diverse range of instruments to meet your clients' needs. Maybe you want to add more trading instruments after launching your Forex brokerage firm.

Pricing and fees:

Review the provider's pricing and fee structure, including spreads, commissions, and account maintenance fees. Compare this to other providers to ensure that you get competitive pricing.
After carefully selecting a set of service providers based on those factors, the next step is to examine the technical features they offer. By evaluating these features, you can choose a provider that best suits the needs of your potential customer base. Here are some key technical considerations to remember when selecting a White Label provider:
Trading platform:

Consider the quality of the trading platform offered by the provider. Look for a user-friendly, reliable and customizable platform that supports a range of trading instruments and functionalities.

Technology:

Check the provider's technology infrastructure, including server location, uptime, and security measures. Ensure the provider has a robust technology infrastructure to support your trading needs.

Display customization:

Look for a provider that offers a high degree of customization, allowing you to brand the trading platform with your own logo, colors, and other visual elements.

Customizable trading conditions:

Choose a provider that allows you to create your own trading conditions with commissions, markups, swaps, margin, and risk settings. Also, ensure you can adjust swaps, dividends, markups, and spreads to meet your client's needs.

Marketing and branding:

Look for a provider that allows for white-labeling of their trading platform and other materials to ensure that you can brand your offering effectively.

Account setup:

Look for a provider that offers various denominations for accounts based on any currency from the liquidity list with up to 2 decimals precision. Additionally, you might offer different leverage levels from 1:1 to 1:20 (for European users) and reaching 1:100 or even 1:500 for international users.

Integration with third-party providers:

Consider the provider's ability to integrate with third-party providers such as payment processors, liquidity providers, and risk management systems. This can help to streamline your trading operations and improve efficiency.

Check the business models available: The Forex brokerage industry differs from other industries because brokerage firms can take the opposite side of their clients' trades. This is where the concepts of A-Book and B-Book brokers come into play, as well as the hybrid model that incorporates both. Check which business model your service provider supports.
What is the cost of establishing a White Label brokerage?
Starting a white label Forex brokerage firm can be expensive. Still, it's important to remember that the costs will vary depending on the platform provider and the services that are included in the package. Here are some expected costs associated with a white label brokerage firm:
Platform provider fees:

The cost of using a white label brokerage platform will depend on the provider. Some providers may charge a flat fee, while others may take a percentage of each trade made on the platform.

Set-up fees:

Most white label providers will charge a one-time set-up fee. This fee covers the cost of customizing the platform to your brand, designing your website, and integrating the platform with your website.

Marketing and advertising costs:

To attract clients, you must invest in marketing and advertising. This may include paid advertising on social media, email marketing campaigns, and content marketing.

Regulatory costs:

Depending on your location, you may need to register with regulatory bodies and comply with certain regulations. This can include fees for licenses, compliance costs, and ongoing regulatory fees.

Ongoing operational costs: Once your platform is up and running, you will need to cover ongoing operational costs, such as server fees, employee salaries, and customer support.
In conclusion, selecting the right white label Forex provider is crucial for the success of any brokerage firm, especially in the ever-evolving Forex industry. By partnering with a reputable and reliable provider, new brokers can leverage the provider's expertise, technology, and resources to offer clients a robust trading experience. This allows brokers to avoid technical hassles and concentrate on their core competencies
In this article, we reviewed some of the top white label Forex providers in the industry, which offer a vast range of services, advanced trading technologies, risk management tools, and compliance solutions that can help startups enter the Forex industry and compete effectively.
Ultimately, it is crucial to select a white label provider that provides clear and transparent pricing along with a comprehensive range of services to assist with cost management. When comparing various providers, it's important to inquire about all of the fees and services included in the package, as well as any potential additional expenses.
Starting a White Label Forex brokerage FAQ
What is a White Label Forex brokerage?
A White Label Forex brokerage refers to a partnership program provided by Forex brokers that enables individuals or companies to establish their own Forex brokerage business by utilizing the technology and resources of the Forex broker. In this type of partnership, the partner company or individual operates the White Label Forex brokerage using their own branding. At the same time, the Forex broker offers essential technology, liquidity, and back-office support.
What are the benefits of starting a White Label Forex brokerage?
The main benefits of starting a White Label Forex brokerage include:
Quick entry into the Forex industry without the need for significant investment in technology, infrastructure, or personnel,

Customizable platform and a trading environment tailored to the new company's needs and preferences

Access to advanced trading tools, analytics, and risk management solutions without the need for extensive investments
What services do White Label Forex providers offer?
White Label Forex providers offer a wide range of services. These are some of the most common services:
Trading platforms and technology solutions with the ability to customize

Access to liquidity and market data from multiple sources

Risk management solutions, including margin monitoring, risk profiling, and automated risk controls

Back-office support, including account management, client onboarding, and compliance monitoring

Marketing and sales support, including website design, promotional materials, and lead generation tools

24/7 technical support and training.