TD Ameritrade, one of the largest stockbrokers in Singapore, recently announced the discontinuation of its services for retail clients, choosing to exclusively serve accredited investors. This news has left many long-time users searching for new options to continue investing.
Navigating this transition is crucial, especially if you're looking to transfer your investments to another broker without incurring penalties. Whether you're a seasoned TD Ameritrade investor in Singapore or a first-time investor, it's time to explore other options.
Want to know what is happening with TD Ameritrade in Singapore and the alternatives available? We've got you covered!
TD Ameritrade Closing in Singapore
In a significant announcement on September 26th, TD Ameritrade revealed its decision to discontinue services for retail investors (a.k.a non-Accredited Investors) in Singapore starting December this year. The company is realigning its focus towards accredited investors, emphasising that this strategic move will enable them to better cater to the distinct needs of local investors.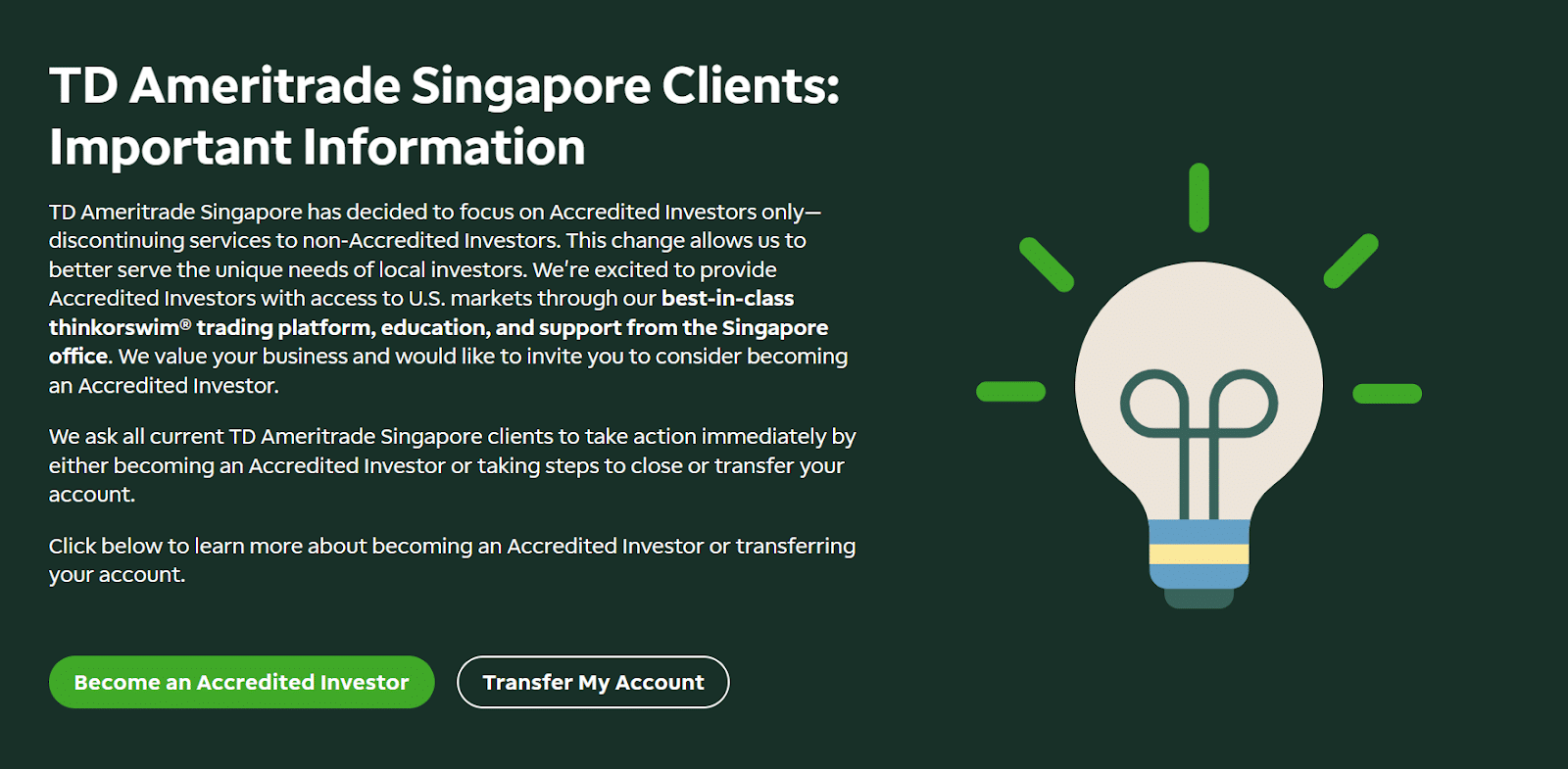 TD Ameritrade is actively encouraging its retail clients to explore the possibility of becoming accredited investors. This strategic shift signals a deliberate restructuring of TD Ameritrade's business model in Singapore, targeting a specific segment of investors.
TD Ameritrade Singapore Closure Timeline
In the TD Ameritrade Singapore closure plan, important updates are underway.
Starting October 27, 2023,

non-accredited Investor accounts will face a monthly fee of USD 50

, calculated based on month-end cash balances. Accounts with less than $50 will incur charges to bring them to a zero balance.

Effective December 1, 2023, non-Accredited Investor accounts will not be able to accept new trades or deposits in thinkorswim, the TD Ameritrade platform. However, liquidating existing investments is still allowed.
By December 4, 2023, a significant phase is reached. Remaining accounts (excluding Accredited Investors) with a negative balance may undergo investment liquidation to ensure a zero or positive cash balance. This marks a crucial step in the closure process. Stay tuned for further updates.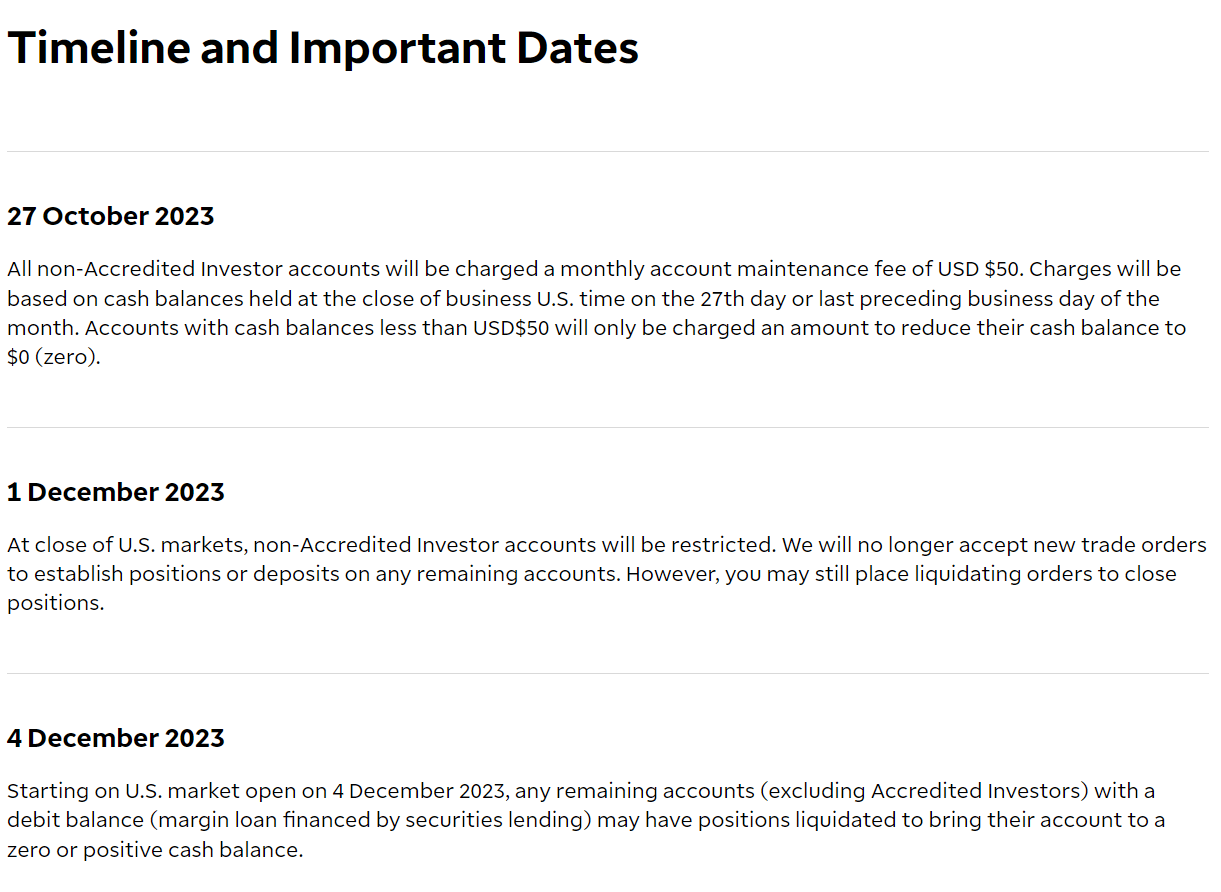 How to Become an Accredited Investor?
Individuals must meet specific criteria set by the Monetary Authority of Singapore (MAS) to qualify as an Accredited Investor: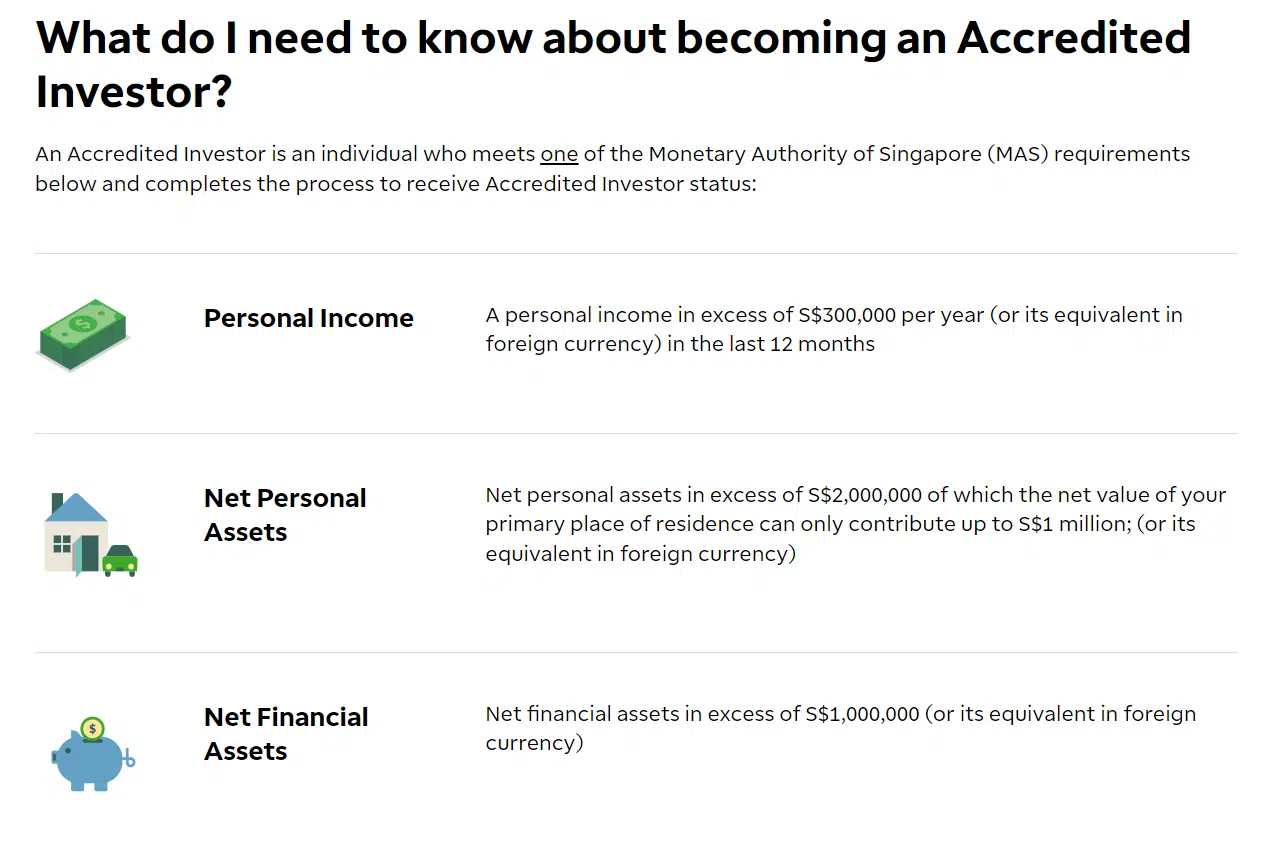 TD Ameritrade Alternatives in Singapore
If you are a Singaporean investor who cannot qualify as an accredited investor, there are two viable options to consider for managing your investment portfolio:
You can either choose to

close out your current positions

within TD Ameritrade, withdrawing the resulting funds to your bank account and then transfer those funds to another broker,

or explore the alternative of transferring your assets from TD Ameritrade to another brokerage like Interactive Brokers (IBKR).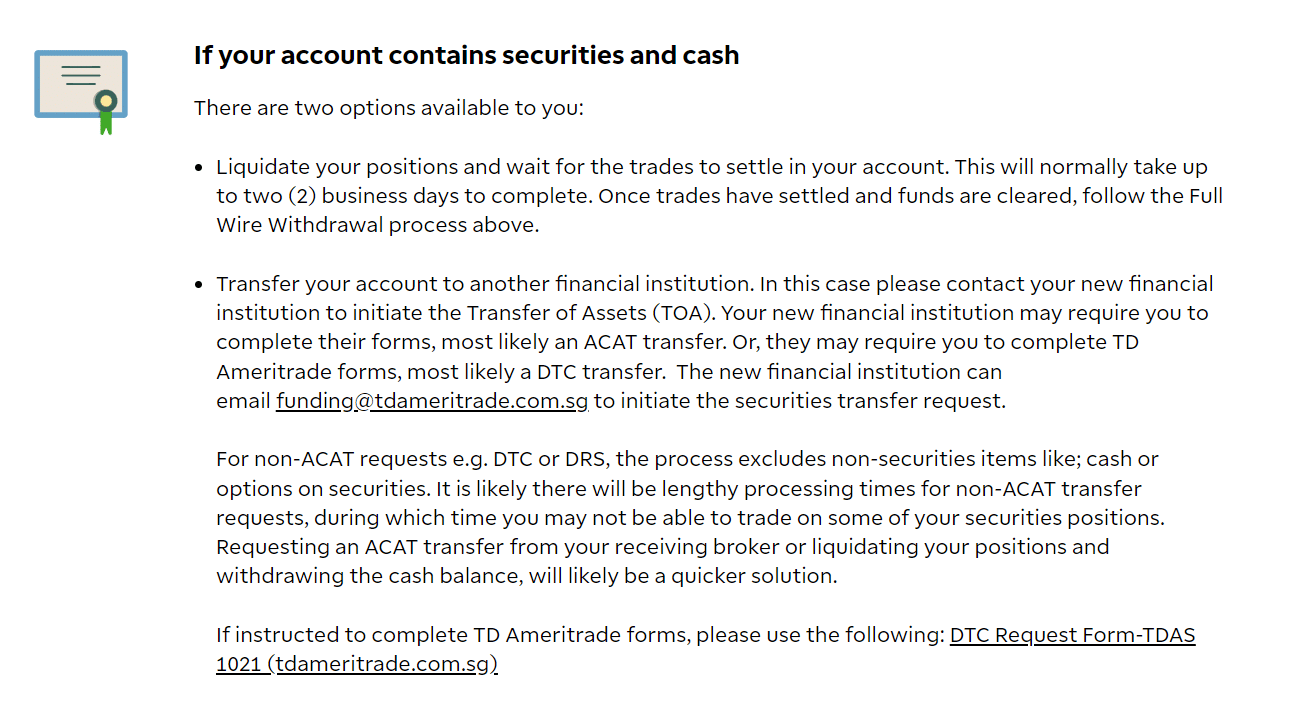 If your TD Ameritrade account contains only cash, your sole option is to withdraw your funds by transferring them to your bank account (and then transfer to another broker). It's essential to be aware that withdrawing cash from your TD Ameritrade Singapore account necessitates utilizing an international Telegraphic Transfer (TT).
If your account also contains investments l, you can either sell your current positions and withdraw the money to your bank account or transfer your positions to another broker (explained below).
How to Transfer your Investments from TD Ameritrade to Interactive Brokers (IBKR)
Licensed and regulated by the Monetary Authority of Singapore (MAS), Interactive Brokers (IBKR) is focused entirely on the urgency for Singaporean investors to transfer their accounts out of TD Ameritrade and into another financially strong and secure trading platform.

IBKR also provides Singaporean investors with low trading costs, trading around the clock, and global investing access and its financial strength and security can endure through good and bad times. Besides, Interactive Brokers offers the Trader Workstation (TWS), a trading platform as complete as thinkorswim, the TD Ameritrade trading platform. More about their offer on their website!
As a current investor using TD Ameritrade in Singapore, exploring IBKR as a viable alternative is a strategic move worth considering. As mentioned earlier, you can close your existing positions, withdraw your funds to your bank account, and subsequently transfer them to IBKR. Alternatively, you can initiate a portfolio transfer through the ACATS (Automated Customer Account Transfer Service) process.
Our team has put together a step-by-step guide to help you transfer your investments from TD Ameritrade to IBKR using the ACATS process. You can also check the IBKR's FAQ about this topic!
To get started, ensure you have an approved Interactive Brokers account. If you don't have one yet, sign up for IBKR here.
2 – Transfer your positions
After receiving approval for your account, you can initiate the process of transferring your positions. Ensure to log in to your TD Ameritrade account and securely download your account statement. This precaution is essential for any disputes or complications arising during the transfer process.
Visit the Interactive Brokers website and log in to the portal to proceed. On the top search bar, type "Transfer Positions" and click on it!
Next, you'll encounter a screen resembling the one below, prompting you to select your region. Opt for the United States, so you have the option to choose TD Ameritrade's suggested ACATS method for your transfer.
After you select the United States, you will find the available transfer methods, where you will need to choose ACATS (Automated Customer Account Transfer Service).
Next, you'll find a screen prompting you to input your broker details. Given TD Ameritrade's recent announcement, it appears in the "Popular Brokers" section. Locate and choose TD Ameritrade, then enter your account number and specify your account type.
When you scroll down on the same page, you will find a section called "Assets".
If you're looking to move all your TD Ameritrade investments, simply click "yes" to transfer everything. For specific mutual funds not supported, opt for "yes" to authorise their removal during the transfer process.
Check for U.S. micro-cap stocks by reviewing your holdings. If uncertain, click the "Click here" button, enter your stock symbol, and verify if they fall under the micro-cap category.
In the following step, you'll land on the confirmation page. Here, simply enter your digital signature to kickstart the transfer. Once you've typed in your name, you're all set!
Typically, the transfer process usually spans four to eight business days. It's important to remember that for ten business days following the receipt of an account transfer, you won't be able to withdraw funds or transfer assets to another broker.
Will I Be Charged Any Fees?
TD Ameritrade will waive or refund any transfer or wire fees incurred by clients until December 31, 2023, solely for entire account transfers and wire withdrawals.

If you decide not to transfer your entire account, it's unclear whether fees will apply. Be aware of potential charges in this scenario!
TD Ameritrade recently disclosed a strategic shift exclusively targeting accredited investors in Singapore. Effective October 27, 2023, this change introduces monthly fees for non-accredited investor accounts, accompanied by a complete cessation of new trades or deposits by December 1, 2023.
The process of becoming an accredited investor may not be viable for all TD Ameritrade users. Non-accredited investors are left with two practical choices: either closing positions and withdrawing funds or transferring assets to an alternative broker like Interactive Brokers (IBKR).
Interactive Brokers, regulated by the Monetary Authority of Singapore (MAS), offers low trading costs, global accessibility, and financial stability. Capitalising on these advantages, our team has meticulously crafted a user-friendly guide to facilitate the seamless transfer of your investments from TD Ameritrade to IBKR using the ACATS process.
While TD Ameritrade will waive transfer fees until December 31, 2023, the clarity regarding fees for accounts not fully transferred remains uncertain. It is unclear what fees apply if the entire account is not transferred.