You might already be familiar with SoFi, a personal finance company and online bank headquartered in San Francisco.
More than just a typical online broker, it provides a comprehensive range of financial services such as loan refinancing, banking, investing, insurance, personal loans, mortgages, and credit cards.
Want to know if SoFi is available in Canada, its expansion plans, and the alternatives available for Canadian users? We've got you covered!
Is SoFi available in Canada?
Unfortunately, Sofi is not available in Canada. Therefore, if you are a Canadian citizen or resident, you are unable to open an account with SoFi.
SoFi went international in April 2020 with its acquisition of the Hong Kong-based investing app 8 Securities. However, its global reach still remains limited to the United States and Hong Kong, implying that Canadian users are still unable to utilise the service.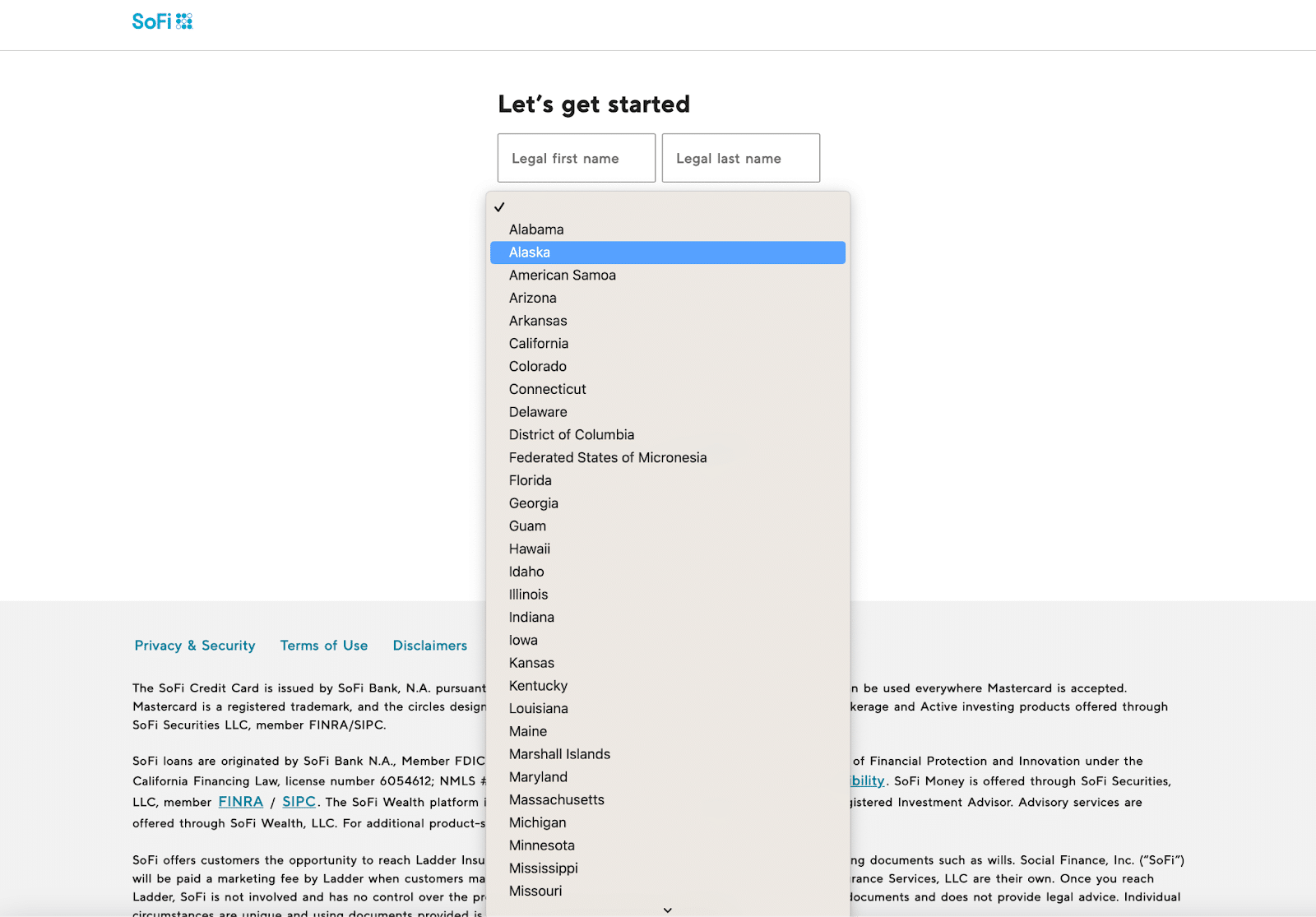 Is SoFi coming to Canada?
SoFi initially intended to enter the Canadian market in 2017; however, the initiative was subsequently abandoned. Since then, there's been no news about SoFi starting up in Canada.
So, for now, SoFi is not available in Canada, and there's no clear sign that they're planning to change that anytime soon.
SoFi Alternatives in Canada
The good news is that our team has gathered the top alternatives for you, as a user in Canada, seeking a one-stop-shop similar to SoFi. With that in mind, here are our recommendations:
Online broker with a sophisticated trading platform that offers a wide range of products. The company, founded in the US and active in Canada for decades, also lets you access the useful IBKR GlobalTrader app.
WealthSimple | Best for online-banking
This digital bank combines cash-back debit cards, stocks, ETFs, cryptos, commission-free trades, managed to invest accounts, and tax filing services (Canada).
Questrade | Excellent Platform
The Canadian brokerage offers DIY investing services and pre-built portfolios with different objectives like retirement and education. It's a great low-cost option allowing you to invest in stocks, ETFs, options, mutual funds and more.
Qtrade | Simple Fee Structure
Based in Canada, Qtrade has been around for over 20 years and offers Canadian investors the ability to trade stocks, ETFs, mutual funds, and options. It offers a few different price plans and also commission-free trading on some ETFs.
| | | | | | |
| --- | --- | --- | --- | --- | --- |
| Broker | Minimum Deposit | Products | US Stock Fees | CA Stock Fees | Regulators |
| Interactive Brokers | CAD $0 | Stocks, futures, options, Forex, commodities, bonds, mutual funds, hedge funds, ETFs, CFDs | Tiered pricing: Fom $0.0005 per share, min. $0.35, max. 1% of trade value | Tiered pricing: From CAD$ 0.003 per share, min.CAD $1, max. 0.50% of trade value | IIROC, FINRA, SIPC, SEC, CFTC, FCA, CBI, AFSL, SFC, SEBI, MAS, MNB |
| WealthSimple | CAD $1 | Stocks, ETFs, options cryptocurrencies | CAD $0 | CAD $0 | IIROC, SEC, FCA |
| Questrade | CAD $1,000 | Stocks, ETFs, options, forex, bonds, CFDs | $0.01/share (min. $9.95) | CAD 0.01/share (min. CAD 9.95) | IIROC |
| Qtrade | CAD $0 | Stocks, ETFs, options, mutual funds, fixed income and exchange-traded debentures | CAD 8.75 per trade (CAD 6.95 if you make 150+ trades per quarter or have a CAD 500k+ account balance) | CAD 8.75 per trade (CAD 6.95 if you make 150+ trades per quarter or have a CAD 500k+ account balance) | IIROC |
For Canadians seeking financial solutions akin to SoFi, unfortunately, SoFi is not available in the country. Despite initial plans in 2017, there's no recent indication of its arrival in Canada.
On a positive note, we've gathered excellent alternatives to SoFi for Canadian users. Interactive Brokers (IBKR) stands out as a reliable, all-in-one app with diverse trading options and a longstanding presence in Canada. Wealthsimple, a top choice, excels in online banking, offering services from robo-advisory to commission-free stock trading. Questrade is an excellent DIY investing platform, providing pre-built portfolios and allowing investment in various assets. Qtrade, known for its straightforward fee structure, is a Canadian brokerage facilitating trading in stocks, ETFs, options and gives great advantages to younger investors.
A reminder that the above should not be seen as investment advice and should be considered information only. Investors should do their own research and diligence about the best-suited services and opportunities for their risk, returns, and impact strategy.

Hope we helped, and leave your comments below.