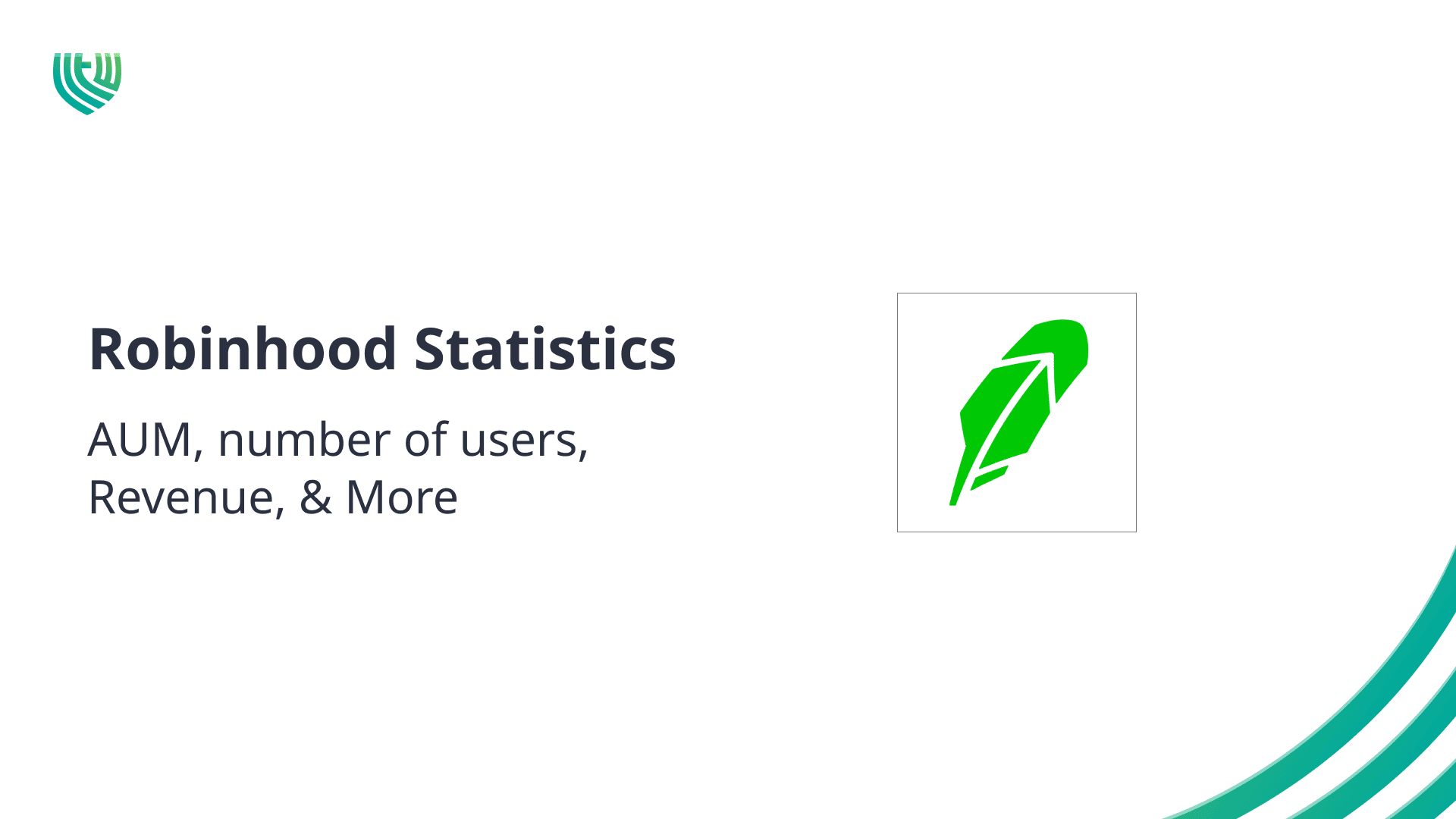 Robinhood has quickly become one of the most popular brokers, offering commission-free trades and an intuitive interface. The platform has gained a massive customer base in the US, making it a major disruptor in the finance industry.
In this article, we'll examine the statistics that matter most, such as Robinhood's assets under management (AUM) and user base, as well as revenue and other metrics. By examining these key metrics, we'll uncover valuable insights into the company's growth and success, as well as its impact on the investing world.
Whether you're a professional investor or simply curious about Robinhood's statistics, continue reading to find out more about the most recent 2023 statistics.
Robinhood Markets, Inc.is a well-known fintech firm that provides an online discount brokerage platform offering commission-free trading for stocks, exchange-traded funds (ETFs), options, and cryptocurrencies. It was launched in 2013 with a focus on providing commission-free trading and democratizing access to financial markets which has largely contributed to the company's rapid growth and influence in the investment industry.
Here are some key corporate facts about Robinhood:
Founded in: 2013

Headquarters: Menlo Park, California

IPO date: July 28, 2021

Listed exchange: NASDAQ

Sector: Financials

Industry: Investment Banking and Brokerage

Ticker: HOOD

Founders: Vladimir Tenev and Baiju Bhatt

Number of employees: 2,400 (as of Sep 2022)
Robinhood's assets under management (AUM) have experienced impressive growth since its launch, reaching a peak of $102 billion during the second quarter of 2021.
Robinhood Yearly Assets Under Management
Robinhood Quarterly Assets Under Management
Robinhood's rapid growth in popularity can be seen through its two major user metrics: Net cumulative funded accounts and Monthly Active Users (MAU). While net cumulative funded accounts represent the total number of accounts that have ever been opened and funded on the platform, MAU represents the number of unique users who have used the app in the past month.
Robinhood Users – Net cumulative funded accounts and monthly active users (MAU)
As of 2022, Robinhood reported 23.0 million net cumulative funded accounts, showing that a large number of individuals have shown interest in using the platform for investing. In contrast, the platform had 11.4 million Monthly Active Users in December 2021. This difference between the two figures is significant, as it shows that a large number of Robinhood's users may have created an account in the past, but are not actively using the platform. Nonetheless, Robinhood's user base has been growing significantly in recent years, and it remains a popular choice for investors.
Robinhood generates revenues through transaction-based revenues, net interest revenues, and other revenues. Transaction-based revenues come from routing customer orders for options, cryptocurrencies, and equities to market makers. Net interest revenues are earned through securities lending transactions and margin loans to users. Other revenues include subscription fees, proxy rebate revenues, and fees for facilitating the transfer of accounts to other brokers.
Robinhood's revenue growth has been impressive in recent years. In 2020, it reported revenues of $959 million which further increased to $1.8 billion in 2021, representing year-over-year growth of 89%. However, the trend took a downturn in 2022, as the revenue declined by 25% from the previous year, dropping to $1.4 billion.
Robinhood Yearly Revenues
Below, we will present the quarterly revenue figures for Robinhood.
Robinhood Quarterly Revenues
Average Revenues Per User
The Average Revenue Per User (ARPU) is a critical metric for evaluating a company's revenue generation efficiency. It is obtained by dividing the total revenue for a given period by the average of Net Cumulative Funded Accounts for that same period.
Robinhood Average Revenue per User
The figures show that Robinhood's ARPU has been volatile over the years, peaking in 2020 at $108.9 and slightly declining to $103.3 in 2021. However, the latest figure for 2022 shows a more significant decline, with the ARPU standing at $66. This metric offers insight into the revenue generation strategy and growth potential of Robinhood. However, the decline in ARPU may not necessarily indicate poor productivity, it could be attributed to factors outside of Robinhood's control, such as the bearish market in 2022, which likely impacted revenue generation across the industry.
Robinhood has not reported a net profit since its inception, apart from a modest $7.4 million in 2020. The company suffered a significant net loss of -$3,686.4 million in 2021, while its losses decreased to -$1,028 million in 2022, yet it is still unprofitable. These financial results emphasize the challenges Robinhood has encountered in expanding its business, growing its market share and dealing with regulatory scrutiny.
Robinhood Yearly Profit
Robinhood Net Deposit by year
Robinhood monitors the Net Deposits, which serves as a key indicator of customer trust and engagement. This metric reflects the net value of cash deposits and asset transfers from customers, excluding reversals, withdrawals, and other transfers out of the platform. Robinhood considers this metric critical in assessing the growth of its customer base and its financial performance.
Robinhood's net deposits have shown a significant increase over the years, starting at $1.7 billion in 2017 and rising to $18.4 billion in 2022. The platform experienced substantial growth in net deposits from 2020 to 2021, with $31 billion and $27.4 billion, respectively. The steady growth of Robinhood's net deposits is an indicator of the platform's ability to attract and retain customers.
Robinhood Yearly Net Deposits
Robinhood Average Account Size
The average account size is an important metric that can provide insights into the demographics and behavior of Robinhood's customer base. Since Robinhood does not explicitly disclose its average account size metric, we will calculate it using data on its AUM and net cumulative funded accounts.
Robinhood Yearly Average Account Size
| | |
| --- | --- |
| Robinhood Average Account Size 2017 | $2,371 |
| Robinhood Average Account Size 2018 | $2,533 |
| Robinhood Average Account Size 2019 | $2,771 |
| Robinhood Average Account Size 2020 | $5,038 |
| Robinhood Average Account Size 2021 | $4,317 |
| Robinhood Average Account Size 2022 | $2,695 |
In summary, Robinhood has disrupted the financial services industry by providing a commission-free platform that has attracted a large and growing user base. The platform's success can also be attributed to its user-friendly interface which made investing more accessible to a broader range of investors.
Although Robinhood is not among the list of largest brokers by AUM, it has established itself as a major player in the industry due to its rapidly increasing AUM and net deposits.
What is Robinhood?
Robinhood is a commission-free investment and trading platform that allows users to buy and sell stocks, exchange-traded funds (ETFs), options, and cryptocurrencies.
Is Robinhood available in my country?
Robinhood is currently only available in the United States and certain territories, for a list of alternatives you can check our list of Robinhood alternatives.
Is Robinhood a good platform for investing?
Robinhood can be a good platform for investing, especially for those who are just starting out. Its commission-free structure and simple interface make it accessible to new investors. However, it's important to note that the platform has had some technical issues and controversies in the past, so it's important to do your own research before investing.
What are the fees associated with using Robinhood?
Robinhood is a commission-free platform, but it does charge fees for other services, such as margin trading and its premium subscription service, Robinhood Gold. It also charges regulatory fees on certain transactions.
How has Robinhood's user base grown over the years?
Robinhood's user base has grown rapidly over the past few years, from 0.5 million users in 2015 to over 23 million as of 2022.
Can I buy fractional shares on Robinhood?
Yes, Robinhood allows users to buy fractional shares of stocks and ETFs.