Robinhood is a financial services company from the United States founded in 2013. The platform allows investors to trade stocks, ETFs, derivatives, and cryptocurrencies without charging a commission. According to its founders, their service is disruptive because it makes investing more accessible than before, considering that investing was restricted to wealthy individuals.
Whether you are new to the world of investing or even if you are an experienced trader, it might be handy to experiment with your investments without risking your money. Paper trading makes it possible to trade in a practice account that allows traders to simulate investments without risking any real money.
This article will uncover if you can have a demo account on Robinhood's platform, explore the advantages and disadvantages of the service and provide alternatives to use it.
Does Robinhood have a demo account?
No. Robinhood does not provide demo, practice, or simulated accounts. The company wants to make the trading experience cheaper for the user. In that sense, its platform has several attractive advantages. This includes no minimum deposit, no commission to trade in the app, no maintenance fee, and no minimum required balance.
Although it is not possible to paper trade on Robinhood, there are alternatives where you will be able to open the simulated accounts and experiment with your investments.
Robinhood Alternatives for Paper Trading
eToro is a social trading network where you can copy other traders and discuss investments. The platform has over 30 million users worldwide and offers stocks, ETFs, crypto, and CFDs (not available for US investors). It also features a virtual portfolio where you can access a demo account to simulate your investments.
Disclaimer: eToro is a multi-asset investment platform. The value of your investments may go up or down. Your capital is at risk.

This brokerage firm is considered one of the most sophisticated and trustworthy. Its platform offers a wide range of financial products, low FX fees, and the possibility of creating a trial account that works like a demo account. The service is suitable for institutional and professional investors.
💡 Interactive Brokers also launched IBKR GlobalTrader, a modern mobile trading app to trade Stocks, Options and ETFs, ideal for novice investors.
This online broker was founded in 2017 in the United States and offers a modern investment app with no commissions to trade some financial instruments. Webull also enables the user to practice investments by providing you with $1,000,000 to simulate your investments or create new investing strategies.
1# eToro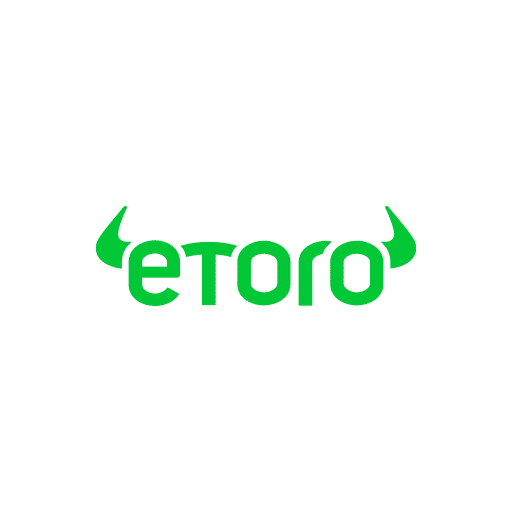 Visit eToro
74% of retail CFD accounts lose money.
eToro at a glance
Products offered
ETFs, Stocks, Cryptocurrencies and CFDs on Stocks, ETFs, Commodities, Forex, Indices and Cryptocurrencies
Minimum deposit
$10 (Varies by countries)
Regulators
CySEC, FCA, ASIC
eToro is a worldwide known fintech company with a very intuitive and user-friendly application to trade stocks, ETFs, CFDs, commodities, FX, or cryptocurrencies.
Both in the mobile app and in the browser platform, it is possible to switch between a real account and a demo account, which has the same interface and usability as the real one. This allows you to have a very realistic experience when experimenting with your investments. eToro provides $100,000 in virtual funds for you to practice, learn and create new investment strategies to use in your real account. This service is entirely free and can be used both in the mobile app and on your browser.
One of the best advantages of the practice account in eToro is that it perfectly replicates the real investment account. You can learn how to use the platform and even copy other traders to test their strategies before investing your own money. Besides that, you do not need to create a new account. You only need to switch accounts within the application.
CFDs are complex instruments and come with a high risk of losing money rapidly due to leverage. 74% of retail investor accounts lose money when trading CFDs with this provider. You should consider whether you understand how CFDs work and whether you can afford to take the high risk of losing your money.
2# Interactive Brokers
Interactive Brokers at a glance
No commission
(Commission fees may be applicable for users outside of the US)
Products offered
Stocks, ETFs, Bonds, Forex, Funds, Commodities, Options, Futures and CFDs
Regulators
FINRA, SIPC, SEC, CFTC, IIROC, FCA, CBI, AFSL, SFC, SEBI, MAS, MNB
Interactive Brokers is an advanced global online broker from the 70s with a wide range of products from many different markets. The service is generally recommended for advanced or professional traders. Its mobile trading app IBKR GlobalTrader, on the other hand, is more suitable for beginners. Both the platform for advanced traders and the simplified app allow you to have a demo account. If you use IBKR Lite you will not pay commissions when trading exchange-listed stocks and ETFs.
If you want to access the demo account, firstly, you need to set up a trial account. Upon its approval, you will be able to use the simulated account to practice your investments. The features and usability of your account will vary depending on the application you are using to access it. If you want access to more sophisticated tools, you can access the account in the desktop application. If you do not need advanced tools and are looking for a platform that is easier to use, you can access the account in the IBKR Mobile app or in the Client Portal, which is a web-based simplified trading app.
The trial account is free, and if you want to switch it to a real trading account, you can convert the account, and it will keep its settings and preferences.
3# Webull
Webull at a glance
Products offered
Stocks, ETFs, options and cryptocurrencies
Webull is a relatively recent commission-free investment app based in the United States. The application is suitable for active traders since it features technical indicators, agency ratings, a financial calendar, live data, and other tools.
One of the functionalities of this trading platform is its paper trading simulator that lets you use $1,000,000 of fake money to practice your investments. Webull's demo account is free. Besides that, if you download their app, you do not even need to set up an account. You can use it without having to register.
Pros and Cons of Paper Trading
No risk

: the main advantage of paper trading is that you will be able to trade without being at risk of losing money. This can be useful if you are a beginner, since you will be able to experiment in the market, but also if you are an experienced trader, as you can test out a strategy or test a new platform.

No stress

: investing can be rather stressful for the trader. By paper trading, you will be able to bypass the emotional distress brought up by the process and focus on the financial aspects of the investment.

Practice and learn

: by simulating your investments, you will be able to learn about your own profile as an investor, your strengths and weaknesses. You will also learn about the financial market and investments as you practice.
Different results

:

paper trading will not consider some costs associated with trading, such as fees or price slippage.

No profit

:

naturally, as you have no risk, you will have no profit from the investment. This lack of risk will probably lead you to make investments that you would not do if you were trading with your own money.

Lack of emotional reality

:

simulated trading does not affect emotions as the real trading does. While this can be a good thing, it will affect the accuracy of the simulation. In the real market, it is hard to act rationally always, which is something that paper trading cannot replicate.
Robinhood is known for being cheap for investors: it has no commissions and low transaction fees. But it does not provide demo accounts to investors.
As we mentioned, paper trading can be helpful to all types of investors, helping beginners to learn about platforms and investments or experienced traders to develop new strategies. Although you cannot access the service on Robinhood's platform, there is no need to worry: there are alternatives where you can set up the practice account. It is up to you to decide your preferences and choose the right service for you, always according to your needs. Please note that this article should not be considered financial advice, it is for informational purposes only.
We hope we were able to help you with your doubts. We wish you good luck with your investments, and please feel free to leave any questions or comments below!