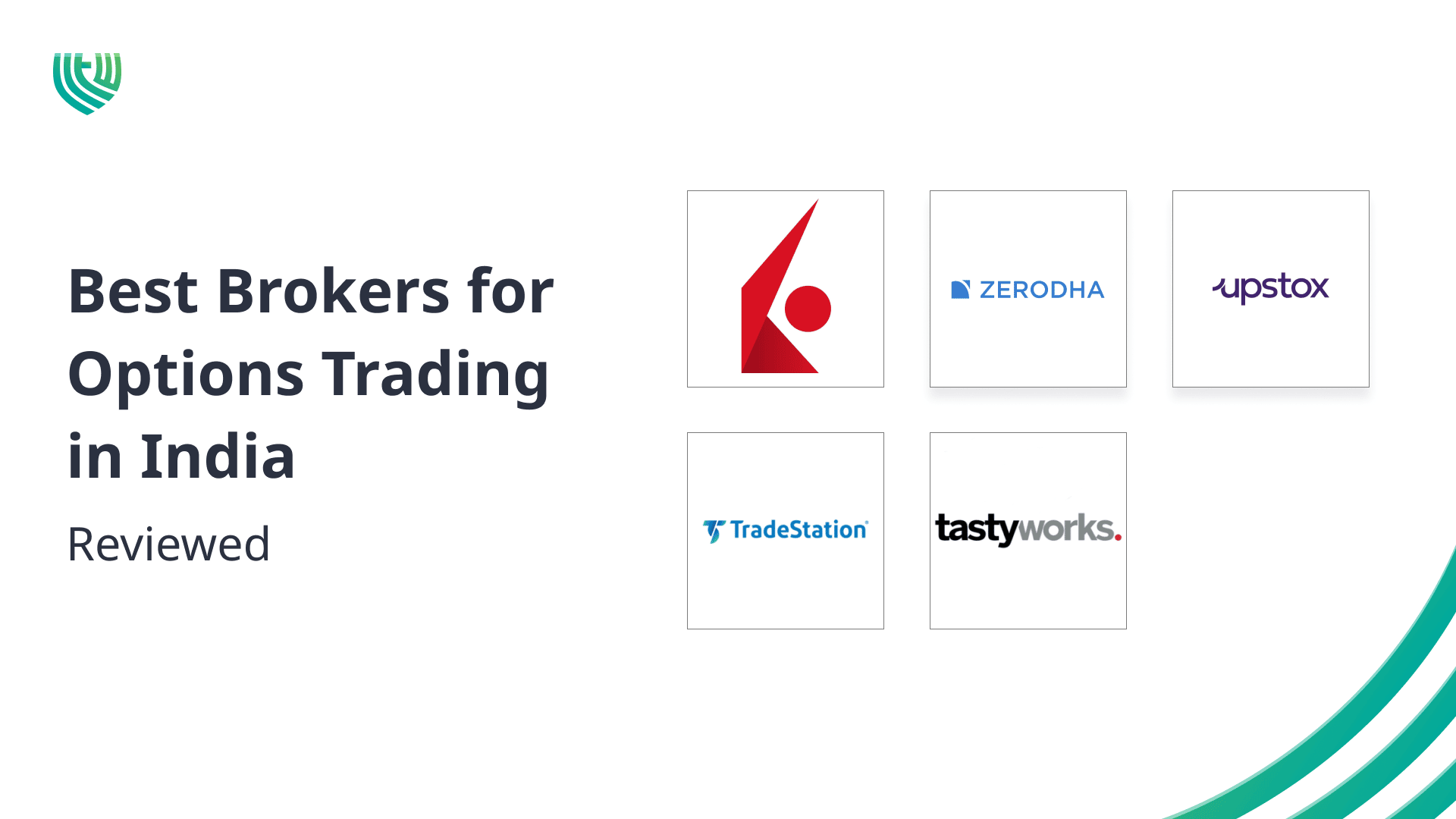 The CBOE Volatility Index (VIX) has been elevated recently as the interest in options trading has grown exponentially. One country in particular–India–has led the way, leading to a search for the best brokers for options trading in India.
There are many choices to choose from, with many articles and guides discussing which options and options brokers are the best in India. At the same time, Statista forecasts persistent increases in online trading through 2028!
We saw the need for a clear guide on options trading in India: to summarise its leading brokers, their merits, and where they fall short. This article delves into our top five picks, and why. Let's get to it.
What Makes a Good Broker for Options Trading in India?
Options brokers in India keep up with the global standards set by the US, the world's most active financial marketplace. Good brokers have these seven virtues in common:
Low account or trading minimums;
Competitive and transparent fees;
Many product options;
Multiple trading and analytic tools;
Support for news alerts;
Ample learning material;
A Demat account.
Not every options broker will make our list, but it helps us determine the truly best brokers out there.
The Best Options Brokers in India
#1 Interactive Brokers
Interactive Brokers at a glance
Options Commission
1 bp (NSE), up to USD 0.65 (USA)
Regulators
FINRA, SIPC, SEC, CFTC, IIROC, FCA, CBI, AFSL, SFC, SEBI, MAS, MNB
Publicly listed on the NASDAQ, IBKR continues to show a world-leading strength in navigating through financial crises, novel coronavirus included. They earn the trust of options traders and the top spot for our list of the best options brokers in India through their attention to global access and risk management.
The platform serves both institutions and individuals, beginners and professionals, by marrying global access to nearly all available asset classes–options included–with an accessible web platform and streamlined mobile apps. In particular, IBKR GlobalTrader leads the global industry for simplified stock and options, India included.
They charge a standard commission rate of 1 basis point for options on the NSE and up to USD 0.65 per contract for global markets. They provide zero account opening fees, no minimum activity fees, and a free DEMAT account.
Interested? Read our comprehensive IBKR review.
#2 Zerodha
Zerodha at a glance
Commission
INR 20 per contract
Founded in 2010, Zerodha is a young company with a bright vision for options trading in India. Zerodha's goal is clearly to democratize stock and options trading for all Indians, disrupting through low-cost and leading technology. The platform claims to contribute over 15% of India's retail trading volumes.
Zerodha provides options trading for INR 20, free equity delivery and free direct trading for mutual funds. In addition, they offer streamlined trading tools, inclusive of charting, alerts, and filtered market data. A Demat account comes without saying.
However, their options trading offering remains centered upon India's NSE. They lack the global prowess of IBKR and therefore earn second place for our list on India's best options brokers.
#3 Upstox
Visit Upstox
Investing involves risk of loss.
Upstox at a glance
Commission
INR 20 per contract
Designed as a one-stop-shop for budding or professional retail traders, Upstox is another disruptor providing India with discount access to a fantastic trading platform. Upstox's vision resounds clearly with disruptors based in the US or Europe–deploy capital effectively in a time of relentless inflation.
Upstox offers access to stocks, IPOs, options, futures, commodities, and currencies. They separate themselves from other options brokers in India by highlighting their professional trading tools. By these we mean lucrative opportunities such as ready-made options strategies, good-till-triggered orders, and embedded TradingView charts.
Like Zerodha, they're centered on India's exchanges, most notably the NSE. They do lack global access but remain a solid disruptor. They earn third place.
#4 tastytrade
tastytrade at a glance
Minimum Deposit
From $0.65 per contract
Commission
USD 1 per contract to open (free to close)
Research
Limited to following traders
Regulators
SEC, FINRA, ASIC
Based in the US, tastytrade is a relatively new options trading firm that caters to "do-it-yourself" traders who avoid algorithms or robo-advisors. They offer access to stocks, options, futures, indices, commodities, ETFs, and cryptocurrencies. In fact, their trading platform was built by the same engineers who devised TD Ameritrade's "thinkorswim."
Tastytrade provides a thorough trading platform across both desktop and mobile interfaces, but there is a learning curve wherein beginners should learn the basics of delta, gamma, and so on, before diving into tastytrade. Once you're past that, they do enable you to follow leading or popular options traders.
For stock options, they charge USD 1 per contract for opening a position and nothing to close. They also offer complete transparency by detailing each possible fee. They are competitive, but amongst Indian options brokers, they suffer from failing to offer the vital DEMAT account.
#5 TradeStation
Tradestation at a glance
Commission
USD 5 + USD 0.60 per contract
Similar to IBKR, Tradestation boasts a 40-year history as a US broker focused on providing the optimal trading experience. And they have succeeded, earning titles such as "Broker of the Year 2021" by TradingView and a "Top 5" acknowledgement for options brokers by "Investor's Business Daily."
TradeStation offers a wide range of products, including options, futures, bonds, mutual funds, IPOs, and cryptocurrencies. While they're good enough to be considered one of India's best options brokers, we'd have to rank them 5th on our list due to their high fees. They charge USD 0.60 per option contract plus USD 5 flat per trade.
They make it up, partially, with OptionStation Pro–an incredible piece of technology for trading options in India with features such as building options chains, analyzing options strategies, and providing instant execution. We suggest TradeStation if you want great research, leading technology, but don't mind high trading fees.
The future of options trading feels very promising for India. Selecting the best options broker as an Indian resident is going to be a difficult choice as the interest in retail trading has exploded throughout the growing nation. We've narrowed down the selection to five leading choices based on our criteria.
Each of our recommended options brokers in India excels at certain aspects. Do you already know what you're doing and want a streamlined broker? Tastytrade. Do you prefer an established platform known for their reliability and trustworthiness at the cost of slightly higher fees? IBKR.
Need more recommendations? Check out our platform finder.
Can you buy options in India?
Absolutely! Options trading in India has never been easier. Please review our top five picks above for the leading options brokers in India.
What is an options broker?
Usually related to "full-service brokers" that try to provide all the necessary tools for an intermediate or professional trader, an options broker is an online intermediary between you and the exchanges that enables the trading of options. The best options brokers, if permitted by law, offer global access to various options or stock exchanges.
How do you open an options trading account?
While the process changes per options broker, it remains relatively straightforward. Simply be ready to provide digital copies of official IDs (i.e., passport, driving license, etc.) and a proof of address, and transfer an opening sum through ACH or wire, for example. The options broker, like IBKR, may want to verify your age as well.
How do you buy options?
Thanks to advances in web and mobile trading platforms, trading options remains largely intuitive. Almost all mobile apps shall guide you through the purchase (opening) process and the selling (closing) processes. Web platforms may have a learning curve and require an introductory tutorial.
However, we recommend at least a beginner options course to walk you through calls, puts, strategies, opening, closing, and margin trading.
What are the risks in buying, trading and selling options?
Since options trading almost always includes the use of margin, or borrowed funds, the risks generally are much greater than trading stocks or commodities with only the cash you own. This is referred to as leverage. Again, we recommend going through a basic course in options trading, which are usually provided by options brokers in India.