Are you looking for new promotions for stocks and Investment Savings Accounts (ISAs)? Then you've come to the right place. Interactive Brokers (IBKR) has just launched a campaign for UK customers where you can gain a £55 commission credit. The conditions for participation are extremely simple, so you shouldn't waste this opportunity.
Interactive Brokers' ISA offers a flexible, low-cost way to invest tax-efficiently in global markets. Be sure to take advantage of this limited-time bonus offer. You must hurry, as the offer is only valid until the end of January 2024.
All you have to do is open an account with Interactive Brokers, meet a few simple conditions, and claim your commission credit. In this article, we explain step by step how to do it.
Interactive Brokers ISA Bonus Promotion Terms
Interactive Brokers offers a generous bonus for new clients who open a Stocks and Shares ISA account by 31 January 2024. Here's an overview of the key details:
| | |
| --- | --- |
| IBKR Stocks and Shares ISA Promotion | £55 commission credit bonus |
| Conditions | New IBKR client, a UK resident, at least 18 years old and a minimum deposit of £1,500 |
| Until when | Open account by 31 January 2024 |
| Who can benefit | New UK clients only |
| Where to apply | Interactive Brokers website |
How does the Interactive Brokers ISA Bonus Work?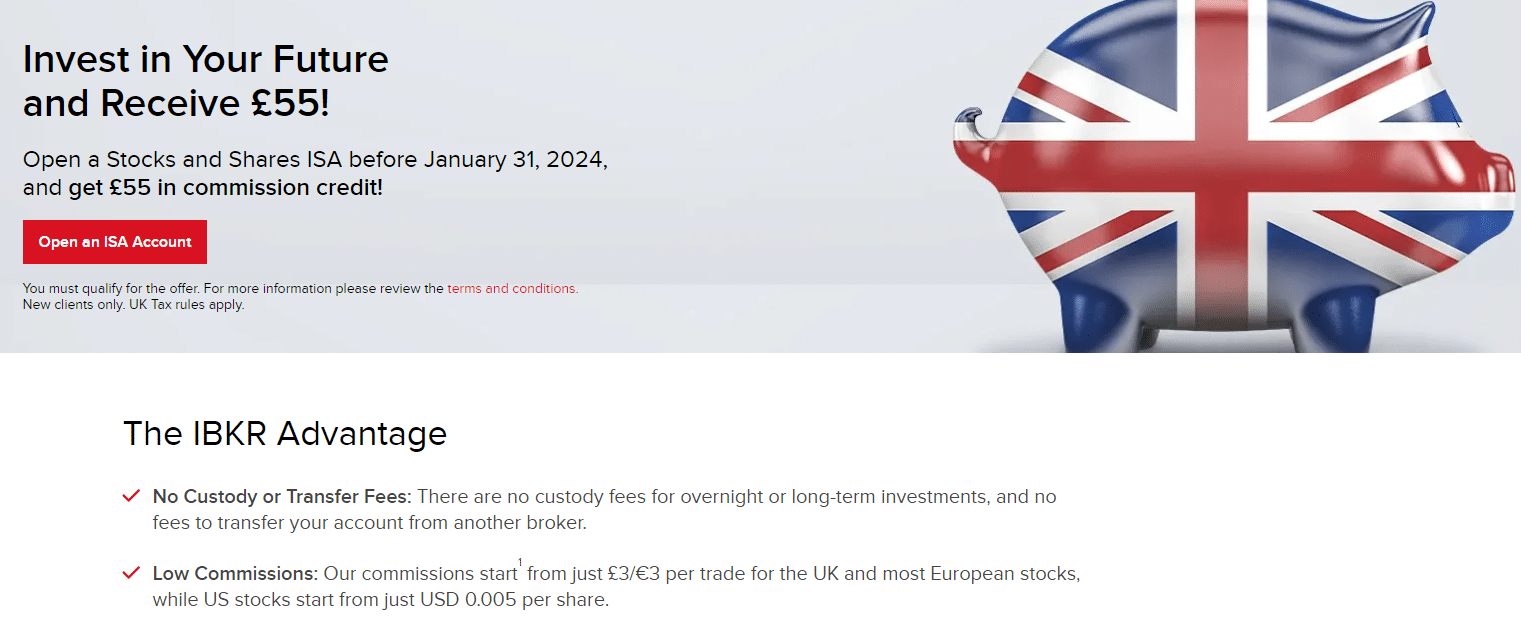 The Interactive Brokers ISA allows UK residents to invest up to £20,000 annually in a tax-efficient account. To qualify for the ISA bonus, you must be a new IBKR client, a UK resident for tax purposes, and at least 18 years old. Moreover, you need to open and fund a new IBKR ISA with £1,500+ before the end of January 2024. Remember, you must deposit funds within 30 days since the account was created.
To open an account and qualify for the bonus, simply visit the Interactive Brokers website and complete the online ISA application. The £55 commission credit will be deposited into your account within 30 days of meeting the minimum funding requirement. This credit can be used to offset your trading commissions on stocks, options, futures, forex, and other tradable products.
You'll have 12 months from the bonus credit date to use your commission credit before it expires.
IBKR's ISA Bonus – A Step-by-Step Guide
Step 1: Open an IBKR Account –

Go to

www.interactivebrokers.co.uk

and click on "Open Account" to begin the application process.

Select "Individual" as the account type and provide your personal details, including name, address, date of birth, and contact information.

Accept the customer agreement and submit your application.

Step 2: Verify Your Identity –

IBKR will email you to verify your identity and activate your account.

Click the link in the email and provide the requested identity documents, such as a passport, driver's license, or proof of address.

Interactive Brokers will review your documents and activate your account once verified. This may take 1-2 days.

Step 3: Open an IBKR ISA –

Log in to your IBKR account and navigate to the ISA section.

Click "Open ISA Account", accept the ISA agreement, and choose "Stocks and Shares ISA" as the account type.

Review and submit the ISA application form.

Step 4: Fund Your ISA –

Deposit at least £1,500 into your new IBKR ISA account.

This must be done by 31 January 2024 to qualify for the bonus.

Your ISA cash balance will be updated once the funds are received.

Step 5: Get Your Bonus –

Within 30 days of funding your ISA, IBKR will deposit the £55 commission credit bonus.

You can view this under the "Cash" section of your account.

The credit can be used to offset commissions on trades for 12 months.
And that's it! By following these steps and meeting the minimum funding requirement, you can qualify for IBKR's ISA bonus promotion.
What Are the Additional Criteria?
The promotion terms state that the balance of your account cannot fall below the minimum threshold of £1,500 before £55 will be applied to investments. The funds will be credited to your ISA account within ninety days from the time of funding the account.
Remember that commission credits are non-transferable and do not have any cash value. They cannot be withdrawn from the account and can only be used to offset commission charges. The funds can be used for 90 days, after which they expire.
Benefits of the Interactive Brokers ISA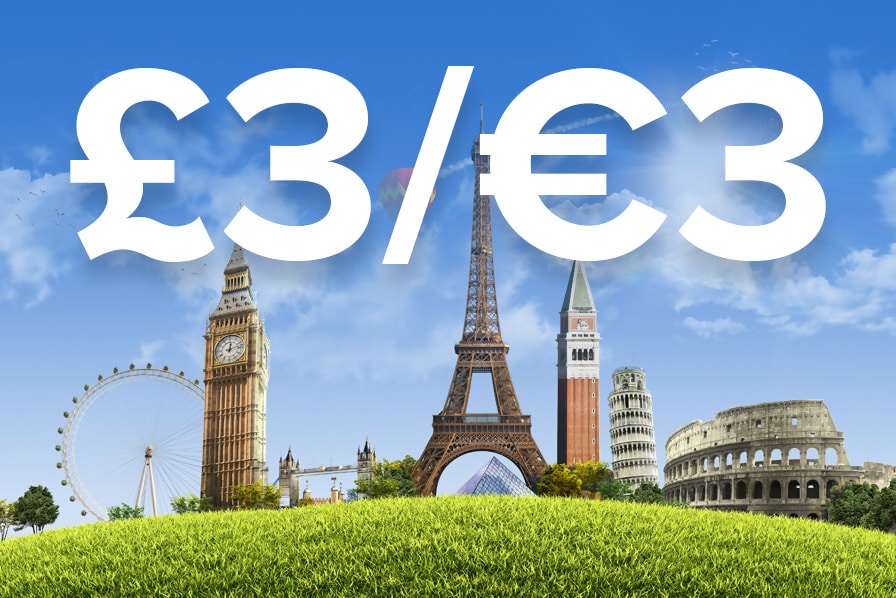 With the ISA bonus promotion, you can kickstart your account with £55 in commission credits for your trading activities. Additionally, opening an IBKR ISA provides several cool benefits:
Tax-free growth and income

– You don't pay any capital gains tax when you sell investments at a profit, and dividend income is exempt from dividend tax.

Low trading commissions

– Interactive Brokers offers very competitive trading commissions starting from just £3/€3 per trade for the UK and most European stocks, while US stocks start from just USD 0.005 per share.

Access to global markets and trading platforms

– The IBKR ISA gives you access to trade stocks, ETFs, options, futures, forex, and other securities on over 135 markets across 33 countries.

Sophisticated trading tools and analysis –

Interactive Brokers offers sophisticated trading platforms like Trader Workstation, WebTrader, and mobile apps.

Portfolio managing – IBKR offers portfolio margining, which can increase your leverage and buying power. By looking at your entire account's risk holistically, less margin is required overall.
Interactive Brokers is one of the largest brokers in the world. If you haven't had the chance to use its services yet, the free £55 could be a great opportunity to test the IBKR platform and its offerings. The clock is ticking on this unbeatable offer, so don't let the bonus hype pass you by.
Visit Interactive Brokers and fund your ISA to score this commission credit deal. Remember to familiarise yourself thoroughly with the details and terms of the offer.
Your future savings will thank you. This is one bonus you definitely don't want to miss out on!