In the fast-changing world of cryptocurrencies, white label crypto exchanges have become a critical solution for businesses looking to enter the digital asset trading market. These exchanges provide a ready-to-use platform that can be customised and branded to meet the specific needs of businesses, enabling them to offer their own cryptocurrency trading services.
With so many options available on the market, choosing the best white label crypto exchange is a critical decision. It not only affects the user experience but also determines the success and longevity of the business in the crypto industry.
In this article, we will explore the key factors to consider when selecting a white label crypto exchange and review some of the top options available. So, whether you are just starting out or want to learn more about white label crypto exchanges, keep reading to find out more.
What is a White Label Crypto Exchange?
A white label crypto exchange is a turnkey solution that allows businesses to launch their own cryptocurrency exchange platform without building it from scratch. The term "white label" refers to the fact that a third-party provider provides the platform, but it can be customised and branded to appear as if the business itself developed it. The white label exchange provider typically provides the necessary software, hardware, and support services. In contrast, the company or individual that purchases the white label exchange can customise it to meet their specific needs.
Best White Label Crypto Exchange Providers
Velmie is a trusted financial technology provider with a white-label solution for crypto exchanges. Their platform is scalable, reliable, and secure, offering fast time to market, end-to-end support, and a wide network of partners.
AlphaPoint is a leading white-label software company that provides cutting-edge solutions for global cryptocurrency exchanges. Its platform is flexible, scalable, and customisable, with regulatory approvals and high-performance infrastructure.
HollaEx offers open-source exchange software, crypto tools, and white-label solutions to businesses of all sizes. Their whiten label exchange software is tailored to businesses looking for a low-cost, customisable, and quick-to-market solution, focusing on cloud exchange hosting.
Antier is a blockchain consulting firm that offers a customisable white label crypto exchange platform. Their software supports various features, including high-volume transactions, a powerful trading engine, KYC/AML compliance, and multiple cryptocurrencies, while prioritising institutional-grade security measures.
PayBito offers a secure white label cryptocurrency exchange platform with fiat and crypto pairs, advanced security, and a convenient trading experience, including geography-specific verification processes for customer onboarding.
Best White Label Crypto Exchange Providers Reviewed
#1 Velmie
Velmie at a glance
Ideal for
Fintechs who want a platform up and running in a few weeks
Support for compliance with regulations
White branding fee
Not disclosed
Velmie is a financial technology provider that has been in the market for over 10 years and provides a white-label solution for cryptocurrency exchanges. The platform includes all the essential features needed to launch a crypto exchange, including mobile and web applications, an advanced back office system, a REST API, and numerous integrations with market-leading service providers for payments, liquidity, KYC, custody, and more. Velmie is a powerful software platform trusted by over 50 crypto companies. The platform is scalable, reliable, and secure and offers a one-stop solution for your product.
Velmie offers a fast time to market, with the ability to go live in weeks, not months. The platform also provides end-to-end delivery, with help from Velmie's team, to build unique product configurations, perform API integrations, and make other modifications for you to go live with a unique product. Velmie has a wide range of integrated partners for crypto liquidity, IBANs, payments, cards, and other essential services.

Velmie's crypto banking software offers a range of key features to enhance the digital finance experience. It supports master and sub-accounts for digital asset storage, incorporating automated configurable harvesting algorithms for efficient management. Businesses can set up their crypto nodes, enabling them to monitor and approve transactions independently. The platform also facilitates on-chain crypto deposits and withdrawals, as well as off-chain transfers within the platform and its connected partners.
Velmie's software provides extensive configurability for transaction fees, exchange fees, account fees, maker-taker fees, and markups, allowing businesses to flexibly define their revenue models. Various payment options are supported, including merchant payments, QR code transfers, payment links, and withdrawals with crypto, bank transfers, mobile wallets, or cards. Velmie's platform also facilitates bulk payments with batch transactions, optimising transaction fees and streamlining payout processes.
#2 AlphaPoint
AlphaPoint at a glance
Ideal for
Startups looking to work with a highly regulated provider
Support for compliance with regulations
(through guides)
White branding fee
Not disclosed
AlphaPoint is a leading white-label software company providing cutting-edge solutions for powering crypto exchanges on a global scale. Since 2013, AlphaPoint's blockchain technology has successfully assisted over 150 clients across 35 countries in executing their blockchain strategies. As part of their comprehensive service offerings, AlphaPoint empowers customers to seamlessly launch and operate cryptocurrency exchanges while enabling the digitisation of assets. Their distributed ledger platform is highly secure, scalable, and customisable, ensuring clients have the tools to thrive in the rapidly evolving digital asset landscape.
AlphaPoint is a regulated cryptocurrency exchange operator that has received approvals from multiple authorities worldwide, including US FinCEN, Canadian CSA, Peruvian SBS, UK FCA, Philippines CEZA, Thai SEC, and others. Its software enables clients to develop revenue streams from new asset classes, maximise liquidity, and conduct business efficiently and cost-effectively. With nearly 1 million transactions per second (TPS) matching engine performance, individual gateway management for over 10,000 simultaneous users, and a single Order Management System capable of handling up to 5 million accounts, AlphaPoint's product delivers high-performance infrastructure for seamless trading experiences. The platform boasts over 500 API endpoints, with individual permissions, providing extensive flexibility and customisation options.
AlphaPoint's onboarding process includes a dedicated deployment team to ensure a smooth setup, comprehensive technical and functional training, client environment configuration, and validation handover. Their service desk offers a dedicated account manager, production state support, service monitoring and maintenance, incident management, issue resolution, and upgrade assistance, ensuring ongoing operational excellence.
AlphaPoint offers "Remarketer", which instantly adds liquidity to an operator's exchange by delivering orders from leading exchanges. Remarketer also supports both sides of the market and offers customisable remarket depth, thresholds, and equations, resulting in higher order profitability. AlphaPoint also offers a fully customisable user interface (UI) and user experience (UX) toolset, allowing operators to tailor the platform's look and feel according to their branding and preferences.
You can request a demo to see the platform in action. You can also read case studies that describe how the platform has been used by established exchanges such as Coinext and Bitex.
#3 HollaEx
HollaEx at a glance
Ideal for
Startups with low budget
Support for compliance with regulations
White branding fee
Between $700 and $4,500 per month, depending on the features requested
HollaEx creates open-source exchange software and crypto tools that are simple to use and allows anyone to start their own crypto business online from their website. The platform supports popular digital tokenized assets and provides a live demo for interactive exploration. HollaEx white label exchange software emphasises cloud exchange hosting, customizability, built-in liquidity, and fast time-to-market capabilities. It is suitable for various businesses, including existing crypto exchange companies looking to upgrade, IT companies, fintech firms seeking to offer additional crypto services, and entrepreneurs starting a new online business. The advanced technology of HollaEx supports trading operations and the creation of new crypto-based business applications.
The platform offers a modular architecture, allowing for the smooth integration of new workflows and features. This flexibility enables businesses to rapidly expand and innovate using the open-source system. HollaEx also provides a custody solution, ensuring top-level security for digital assets, with over a decade of experience in hot and cold wallet solutions. They offer an enterprise-grade back-end platform powered by a crypto core trading engine system, supporting all aspects of digital asset trading and developing advanced fintech products.
HollaEx enables the implementation of on and off ramps for fiat payment products, including white-label debit cards, online e-commerce payments, and more. Their built-in crypto wallet solution supports major fiat assets and cryptocurrencies, allowing for seamless conversion and instant purchase of various digital assets. The platform prioritises robust security with advanced features such as data encryption, two-factor authentication, cold storage, biometric authentication, multi-signature wallets, access management, action logging, and more.
HollaEx offers a variety of plans and pricing options to suit the needs of different crypto businesses. Whether you're just starting or have an established firm, you can choose the plan that best meets your requirements. The Basic plan is ideal for those new to the crypto business, costing just $700 per month or $5,500 per year. As you move up to the Crypto Pro and Fiat Ramp plans, you'll access more features and capabilities, such as customisation options, additional cryptocurrencies, advanced integrations, fiat support, anti-money laundering systems, and revenue sharing options. These higher-tier plans provide more extensive functionality for businesses with specific needs and requirements in the crypto space.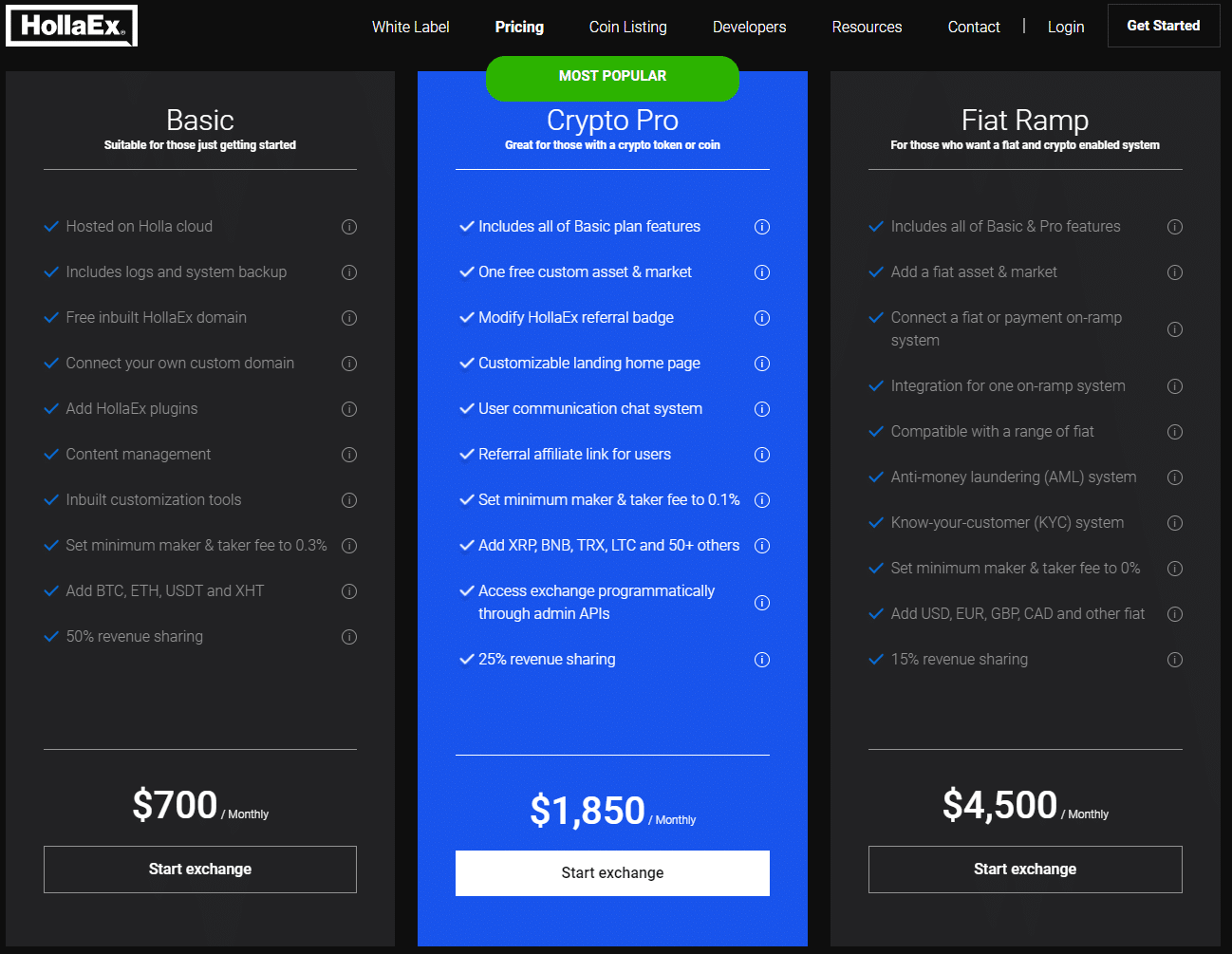 #4 Antier
Antier at a glance
Ideal for
Startups looking for advanced support in launching their white label crypto exchange
Support for compliance with regulations
White branding fee
Not disclosed
Antier is a full-stack Indian blockchain consulting firm that helps businesses build and launch their cryptocurrency exchanges by providing a leading white label crypto exchange platform. It provides a customisable front-end and a ready-to-deploy backend. This allows businesses to quickly launch their own digital asset trading platform with industry-leading features, so they can choose the features and functionality they want for their exchange. They also offer a range of other services, such as marketing and support, to help businesses succeed in the cryptocurrency exchange industry.
Antier's white label crypto exchange software is equipped with a variety of key features and functionalities, including:
High-volume transaction processing

A powerful trading engine for efficient order execution

KYC and AML compliance measures

Support for 500+ cryptocurrencies and fiat currencies

Automated trading capabilities

Referral and reward programs

High liquidity

Staking modules

Payment gateway integration

Multi-cryptocurrency wallets

Advanced admin consoles

Advanced chart tools for trading analysis
These features make Antier's white label crypto exchange software a powerful and flexible solution for businesses looking to launch their cryptocurrency exchange.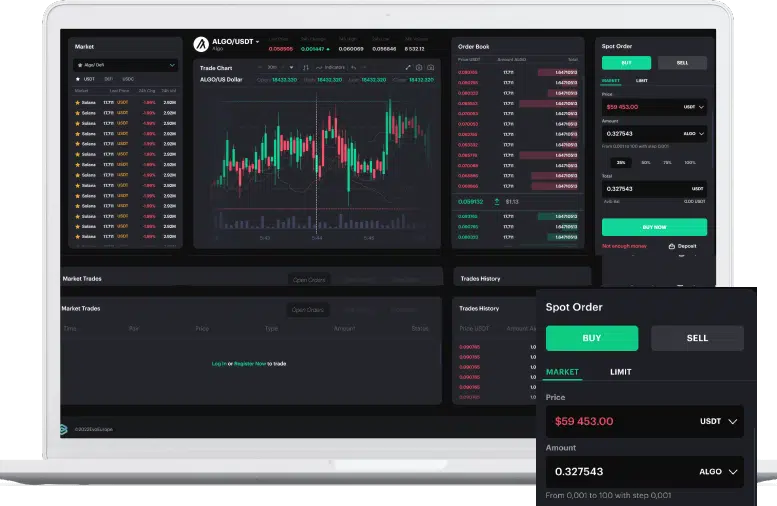 Antier provides institutional-grade security mechanisms for the trading platforms it develops. Their white label exchange software includes features such as token-based HTTP authentication, data encryption, jail login (which denies login requests for a preset amount of time after multiple unsuccessful logins), two-factor authentication, and many other security features that ensure the safety of data and the security of assets.
Antier Solutions offers comprehensive post-delivery support to ensure the success of your venture. Their team of over 600 experts is committed to assisting you beyond the product launch. They provide ongoing support to help you refine your offering, suggest the best tech approach, and set up communities and campaigns to drive growth. Their roadmap ensures a smooth and accelerated development and deployment process, enabling you to quickly enter the market and serve your customers effectively. While the pricing for their white label solution is not publicly available, you can contact their sales team for a quote and check out the demo to get a feel for the platform.
#5 PayBito
PayBito at a glance
Ideal for
Startups seeking a variety of plans to pick from
Support for compliance with regulations
White branding fee
Not disclosed
PayBito is a renowned provider of white label cryptocurrency exchange solutions, offering a robust and secure platform for buying, selling, and trading digital assets. The platform supports leading fiat currencies like EUR and USD, in addition to popular cryptocurrencies such as Bitcoin, Bitcoin Cash, Ethereum, XRP, Litecoin, ERC20, and HCX. Its flexible architecture allows for easy addition and deletion of cryptocurrencies, providing scalability and adaptability to changing market demands.
One of the key strengths of PayBito's white label solution is its comprehensive set of features. The platform includes a matching engine with an order book, customer management solution, KYC verification system, wallet management solution, admin access console, and UX/UI branding options. It also offers block confirmation tracking and compatibility with ERC20 tokens, ensuring seamless transactions and support for a wide range of digital assets.
PayBito's white label cryptocurrency exchange software is easily accessible across multiple platforms, including web, Android, and iOS, enabling users to trade conveniently from any device. The platform caters to clients and administrators, providing client app dashboards that display current balances, instant buying and selling prices, transaction history, and trend analysis of crypto prices. On the other hand, the admin panel offers a comprehensive overview of the exchange, including transaction details, user management, order book monitoring, and pending transaction authorisation.
The exchange platform implements advanced security measures such as multi-signature and SegWit support, ensuring the safety of digital currency transactions. It features a three-layer or point architecture, firewall or Firebase implementation, robust KYC and geography-specific verification processes. The exchange software also includes a matching engine with order book functionality, ensuring efficient and transparent trading processes.
PayBito does not reveal the exact price of its white label solution, but it does offer four different packages with different features and capabilities: Basic, Standard, Pro, and Mega.
Factors to Consider When Choosing a White Label Crypto Exchange
When selecting a white label crypto exchange, several essential factors should be carefully considered to ensure the success and suitability of the platform for your business. These factors include:
Security measures and protocols:

The exchange's security is paramount. Evaluate the platform's security measures, such as multi-factor authentication, encryption protocols, cold storage for funds, and robust risk management systems to safeguard against cyber threats and protect user assets.

Customisation options and branding capabilities:

Look for a white label solution that offers extensive customisation options, allowing you to tailor the platform's look and feel to match your brand identity. This includes customisable user interfaces, themes, colour schemes, and branding elements to provide a seamless user experience.

Liquidity and trading volume:

Liquidity is crucial for a successful exchange. Consider the platform's liquidity solutions and partnerships with liquidity providers to ensuresufficient trading volume and depth for various cryptocurrencies. Higher liquidity facilitates better trade execution and attracts more traders to your exchange.

Supported cryptocurrencies and trading pairs:

Assess the range of cryptocurrencies and trading pairs supported by the white label exchange. It is essential to offer a diverse selection of cryptocurrencies to cater to the preferences of different traders and provide ample trading opportunities.

Compliance and regulatory considerations:

Compliance with regulatory requirements is vital to operate a legitimate and trustworthy exchange. Ensure the white label solution adheres to the necessary Know Your Customer (KYC) and Anti-Money Laundering (AML) regulations and any other relevant regulatory frameworks in your jurisdiction.

Technical features and functionality:

Evaluate the technical features and functionality offered by the white label exchange. This includes a robust trading engine with order matching capabilities, advanced charting tools, real-time market data, intuitive user interfaces, and seamless integration with payment gateways and wallet solutions.

Customer support and service:

reliable customer support is essential for smooth operations. Consider the level of customer support the white label exchange provides, including responsiveness, availability of technical assistance, and ongoing maintenance and upgrade support.
By carefully evaluating these factors, you can choose a white label crypto exchange that meets your requirements, ensuring a secure, customisable, liquid, compliant, and feature-rich platform with excellent customer support.
White label crypto exchanges offer several benefits for businesses looking to enter the cryptocurrency market. They provide a turnkey solution that can be customised to meet the specific needs of each business. As the cryptocurrency market grows, white label crypto exchanges will likely become an increasingly popular option for businesses looking to get involved. However, selecting the best white label crypto exchange requires careful consideration of various factors to ensure a secure, customisable, liquid, and compliant platform that meets the specific needs of your business.
This article has emphasised the importance of assessing factors such as security measures, customisation options, liquidity, regulatory compliance, technical features, and customer support when choosing a white label crypto exchange provider. We have also presented some of the best white label crypto exchange providers on the market. We encourage you to conduct thorough due diligence and consider your priorities when choosing the platform that best suits your needs. Remember that a demo can always be helpful.
Starting a White Label Crypto Exchange FAQ
What are the benefits of using a white label crypto exchange?
There are various benefits to using a white label crypto exchange, including:
Reduced costs:

White label crypto exchanges are often less expensive to set up and operate than building a new exchange from scratch. This is because the third-party provider handles all development and infrastructure costs.

Faster time to market:

White label crypto exchanges can be launched much faster than traditional crypto exchanges due to the third-party provider's readily available features that can be customised in a shorter period.

Increased security:

White label crypto exchanges often have a higher level of security than building your own crypto exchange due to their experience and long track record in security and compliance.

Scalability:

White label crypto exchanges can be easily scaled up or down to meet your needs.

Support:

White label crypto exchanges typically come with support from the third-party provider, which can help you with any issues you may encounter.
What are the risks of using a white label crypto exchange?
There are a few risks associated with using a white label crypto exchange, including:
Limited control and reliance on the provider:

When using a white label solution, you dependon the provider for ongoing support, maintenance, and updates. If the provider lacks reliability or fails to address issues promptly, it can negatively impact the performance and stability of your exchange.

Regulatory compliance challenges:

Compliance with regulatory requirements is crucial in the cryptocurrency industry. However, relying on a white label exchange means entrusting the provider to adhere to these regulations. If the provider does not maintain compliance or fails to adapt to evolving regulatory standards, it could expose your business to legal and reputational risks.

Limited customisation options:

While white label exchanges offer customisation to a certain extent, there may be limitations in terms of the level of customisation and flexibility available. This can restrict your ability to tailor the exchange to your specific needs and differentiate it from other exchanges in the market.

Market competition and differentiation:

As white label exchanges become more popular, the market becomes increasingly competitive. It can be challenging to differentiate your exchange from others using the same white label solution, potentially affecting user acquisition and retention.
How much does it cost to start a white label crypto exchange?
The cost of starting a white label crypto exchange will vary depending on the provider and the included features. However, it is typically less expensive than starting a traditional crypto exchange from scratch. In this article, we have presented several options that offer low cost white label solutions starting at $700 per month.
How long does it take to start a white label crypto exchange?
The time it takes to start a white label crypto exchange will vary depending on the provider and the included features. However, it is typically much faster than building your own crypto exchange, ranging from a few weeks to several months.