Selecting a top index broker continues to be a challenge. Several factors come into consideration with index trading and in the search for the best brokers for indices, especially since index trading is often done through the use of options:
How many indices are on offer?

What are the commissions?

Are there hidden fees?

How are the mobile apps?

Who are the regulators?
And there are many more angles to consider. It's not possible to trade indices directly and CFDs (contracts for differences) or index options provide a great way to obtain various market exposures, in addition to ETFs.
The best brokers for indices not only need to satisfy the basics of security, investor education, and low fees, but lead the market in terms of available indices, deposit methods, and transparency.
This article presents our take on the top four, "best" brokers for indices available globally. Let's get to it.
Best Brokers for Indices
With index trading, you need what the investing world calls a "full-service broker." Alongside providing basic access to global markets, they provide a number of other perks, such as advice, research, and foreign market access. All of the four options below can be considered full-service brokers. Here's the list of our top picks for the best Brokers for indices:
#1 Interactive Brokers
Interactive Brokers at a glance
Products:
Stocks, ETFs, Options, Futures, Forex, Commodities, Bonds and Funds
Commission:
$0.005 per US share ($1.00 per order; up to $0.65 per option contract)
Regulators:
FINRA, SIPC, SEC, CFTC, IIROC, FCA, CBI, AFSL, SFC, SEBI, MAS, MNB
Interactive Brokers (IBKR) leads the industry as the most trusted broker out there, and earns it second place in our list on the best broker for indices. Founded in 1978, its track record spans over 40 years and through several financial crises. It's known for offering virtually every product a beginner or an advanced trader might want, alongside mobile apps tailored to experience level.
In other words, here's what over 40 years of experience brings: an extraordinary range of products, low trading fees, low margin rates, superb research tools, multiple trading apps, and several base account currency options. In addition, their new mobile trading app – IBKR GlobalTrader – is incredible in its ease-of-use and breadth of features.
IBKR is primarily a "one-stop shop" online broker for the globe, with CFDs not being the main focus–unlike eToro. However, the platform does offer CFDs covering major indices across the USA, Europe, and Asia. For example, the Nikkei 225 (Japan) or the Euro Stoxx 50 (Europe).
You can deposit funds to IBKR through ACH, check or wire transfer.
Please check out our in-depth IBKR review to find out why we consider it the runner-up in our list covering the best broker for indices.
#2 eToro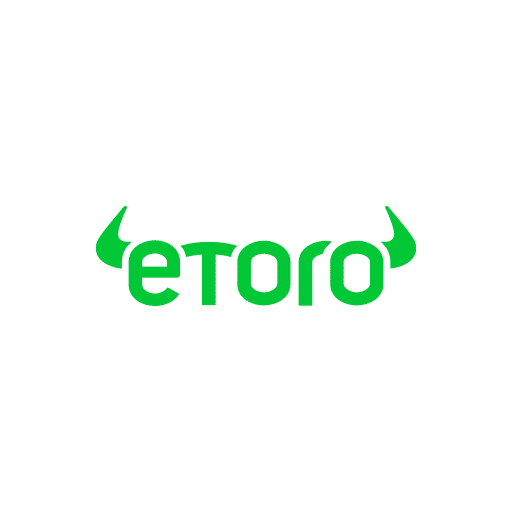 Visit eToro
74% of retail CFD accounts lose money.
eToro at a glance
Products:
Stocks, ETFs, CFDs, and Cryptocurrencies
Minimum deposit:
$10 (varies per country)
Regulators:
FCA, CySEC, ASIC
eToro represents our number one pick for the best broker for indices. Originally founded in Israel in 2007, eToro is foremost a social trading platform allowing beginners and advanced traders to copy or learn from one another. It's known for being hassle-free while utilizing CFDs for exposure with currencies, commodities, and indices. Major cryptocurrencies are also directly available.
Since active traders frequently trade indices and CFDs with a short-term lens, eToro's CopyTrader™ truly shines by allowing traders to copy one another. For example, a famous day trader could voluntarily share their trades on eToro, where the portfolios of others can copy said trades automatically.
The broker offers free stock and ETF trading (although not all ETFs are free), in addition to only a 1% charge for cryptocurrencies. The fees for CFDs are built into the trading spreads, whose amounts are consistent with the industry averages. In return, index CFDs with eToro enable traders to receive up to 30 times leverage and capitalize on market movements.
You can deposit funds to eToro through a debit card, online banking (ACH), paypal or wire transfer.
Please check out our in-depth eToro review to find out more about why we consider this the best broker for indices.
CFDs are complex instruments and come with a high risk of losing money rapidly due to leverage. 74% of retail investor accounts lose money when trading CFDs with this provider. You should consider whether you understand how CFDs work and whether you can afford to take the high risk of losing your money.
#3 Webull
Webull at a glance
Products:
Stocks, ETFs, Options, and Cryptocurrencies
Commission:
$0 (up to $0.66 per option contract)
Regulators:
FINRA, SEC, SFC
Webull leads the lower-cost, full-service broker industry in the United States through its aggressive fee structure, solid product range, and respectable learning library. Founded in 2017, Webull already has more than 2 million users. It's known for incredibly low fees and blending stocks and ETFs with options and cryptocurrencies.
However, CFDs are not offered and that is why it places lower in our list for the best broker for indices. A time-tested workaround is to use index options to speculate on the movements of various indices worldwide. Webull delivers here.
The broker offers free stock, ETF, option, and cryptocurrency trades. It does charge spreads, however, which are in line or slightly above (option) that the industry averages. What is also superb about Webull is the easy and efficient design of its web and mobile platforms.
You can deposit funds to Webull through an ACH or wire transfer.
#4 TD Ameritrade
TD Ameritrade at a glance
Products:
Stocks, ETFs, Options, Bonds, Mutual Funds, Currencies
Commission:
$0 ($0.65 per option contract)
Regulators:
FINRA, SEC, CFTC
TD Ameritrade leads those full-service brokers desiring great research and a capable desktop trading platform with a mobile trading app as a supplement. Founded in 1975, it remains one of the largest online brokers based in the United States and benefits from top-tier regulation like the rest of the contenders in this list. Despite being based in the US, TD Ameritrade is available internationally.
CFDs are not on offer, but the broker provides a range of index options for experienced traders. Its desktop trading platform, dubbed "thinkorswim," is one of the very best available in the market today. It also offers solid customer support that includes the option to call, and a great education library. All these reasons made TD Ameritrade a necessary add to our list for the best brokers for indices.
However, the platform charges higher margin rates and high fees for mutual fund trading. Being US-based, stock and ETF trades are free, but do expect higher costs with respect to derivative trading.
You can deposit funds to TD Ameritrade through ACH, check or wire.
What Makes a "Best" Broker for Indices?
Index trading, whether through CFDs or options, requires attention to several details:
Commission or spreads. Are they high?
Trade executions. Are they instant, or is there a reasonable delay?
Learning resources. Does the broker offer good video and reading material?
Monthly fee. Is there one, and if so, why?
Mobile app. Is it straightforward and intuitive?
Deposit method. Is ACH available, or at least a low-cost wire?
Regulators. Do we see a regulator from the USA, UK, or Europe (amongst others)?
The best brokers for trading indices succeed with all or almost all of these questions.
#1

Interactive Brokers

Best for professionals

Most indices

across the US, Europe, and Asia

#2

eToro
Best for social trading

All major indices

, but through CFDs

#3

Webull
Best for low fees

Primarily

US-based indices

#4

TD Ameritrade

Best for research and support

All major indices

, except Japan
Selecting the best broker for index trading is a challenging task, but it's done successfully everyday. Each trading platform offers something unique to the other. Do you want to copy other veteran traders? Do you value security more than anything else? It's a diverse industry, and ultimately that's great for us.
Whether you're an up-and-coming trader or an experienced investor, we hope this article answered your questions and eased your concerns with online index trading. Trading indices is a great way to play the movements of overall markets, the latest news, or the day's economic reports without focusing on one specific security or stock.
One final tip: consider opening a demo account–which are often available–and test the features of your prospective index broker first.
Which is better to trade: indices or stocks?
This remains a personal decision in line with your own investing strategy. However, the best brokers for indices will almost always have the same perks you should seek out in an online stock broker too. Indices refer to baskets of stocks, and through diversification, naturally have less volatility on average.
Should a beginner invest in indices?
Any beginner can start trading indices right away. The best brokers for indices will all have at least basic access to ETFs, CFDs, or index options. ETFs are a great beginning tool for novice traders.
Should you invest in an index with more constituents?
More constituents, such as stocks, does not necessarily make a better index. Many other factors come into play, depending on the investment strategy. For example, what is the current macroeconomic picture? What is the current inflation rate? What are those constituents?
How much risk is involved in trading indices?
There can be a substantial amount of risk in trading indices. The best brokers for indices provide at least a basic level of education material concerning this topic.
How much money is needed to invest in indices?
With fractional share trading and ETFs, index trading can start with as little as one unit of many major currencies. The minimum trade amounts for options and CFDs are usually higher. For example, the minimum trade size for a CFD on eToro is $1,000, including any leverage taken (funds borrowed).