Hello, fellow investor! Upon analysing key factors regarding Quotex, we do not recommend opening an account with them. You should not ignore several red flags, which we'll dive into in this review.
In the past, we have done a similar review on Pocket Option, another binary options broker that resembles a scam.
Looking for supervised and regulated brokers to invest in Argentina, Brazil, Colombia, Indonesia, Venezuela, and other countries? Keep on reading!
1. What is Quotex?
Quotex is a non-regulated online broker that exclusively offers binary options, a financial product where your payoff is "all or nothing" within your defined time frame. Let's say that Microsoft is trading at $100, and you believe it will be trading above that in the next 2 minutes. You get your money back plus a premium ($87 in this case – see image below) if the stock is above $100. If it finishes below $100, you lose all your money. That's it. Besides, the platform is user-friendly and well-designed, making it appealing for beginners.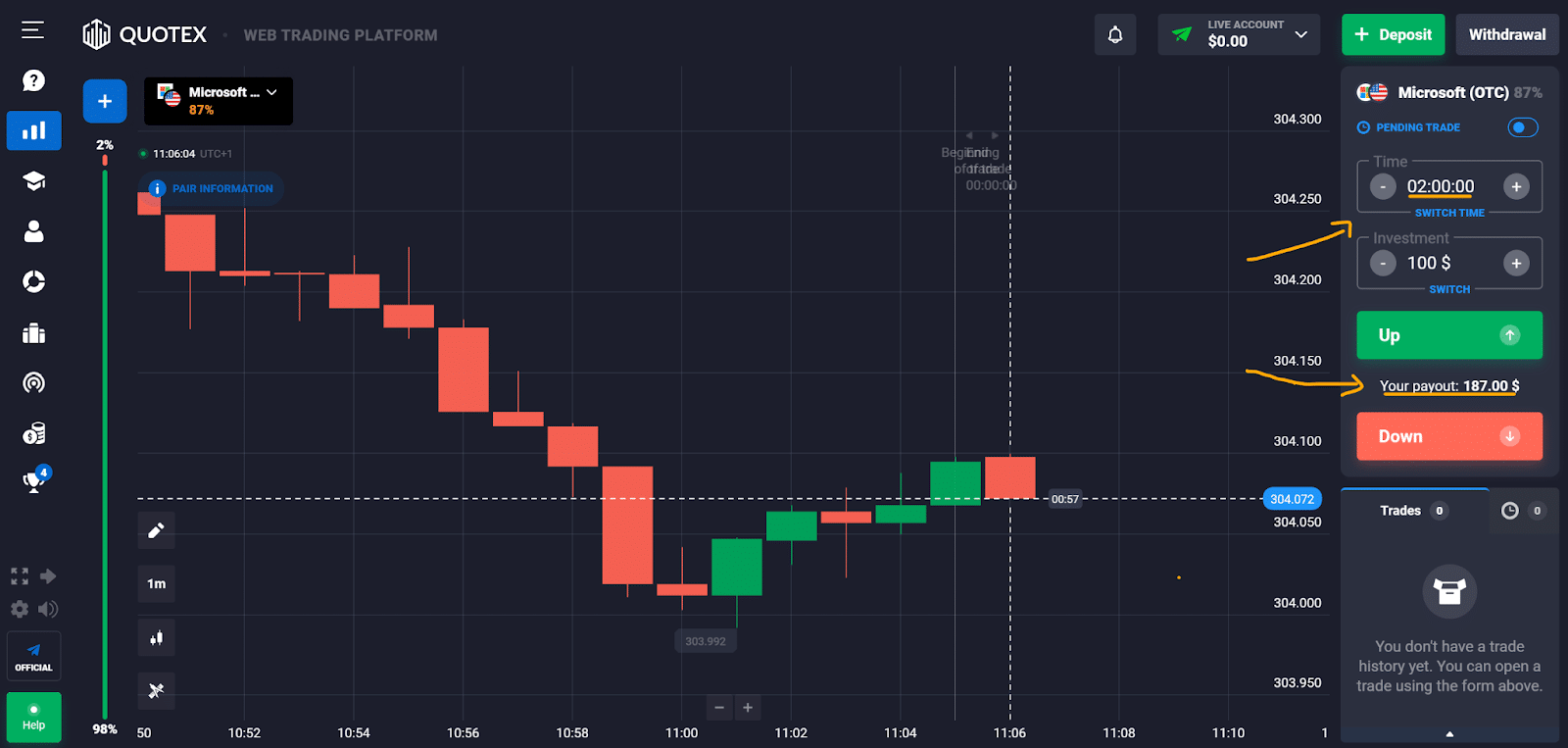 The payment processors seem to be well integrated (bank, e-payments, and cryptocurrencies):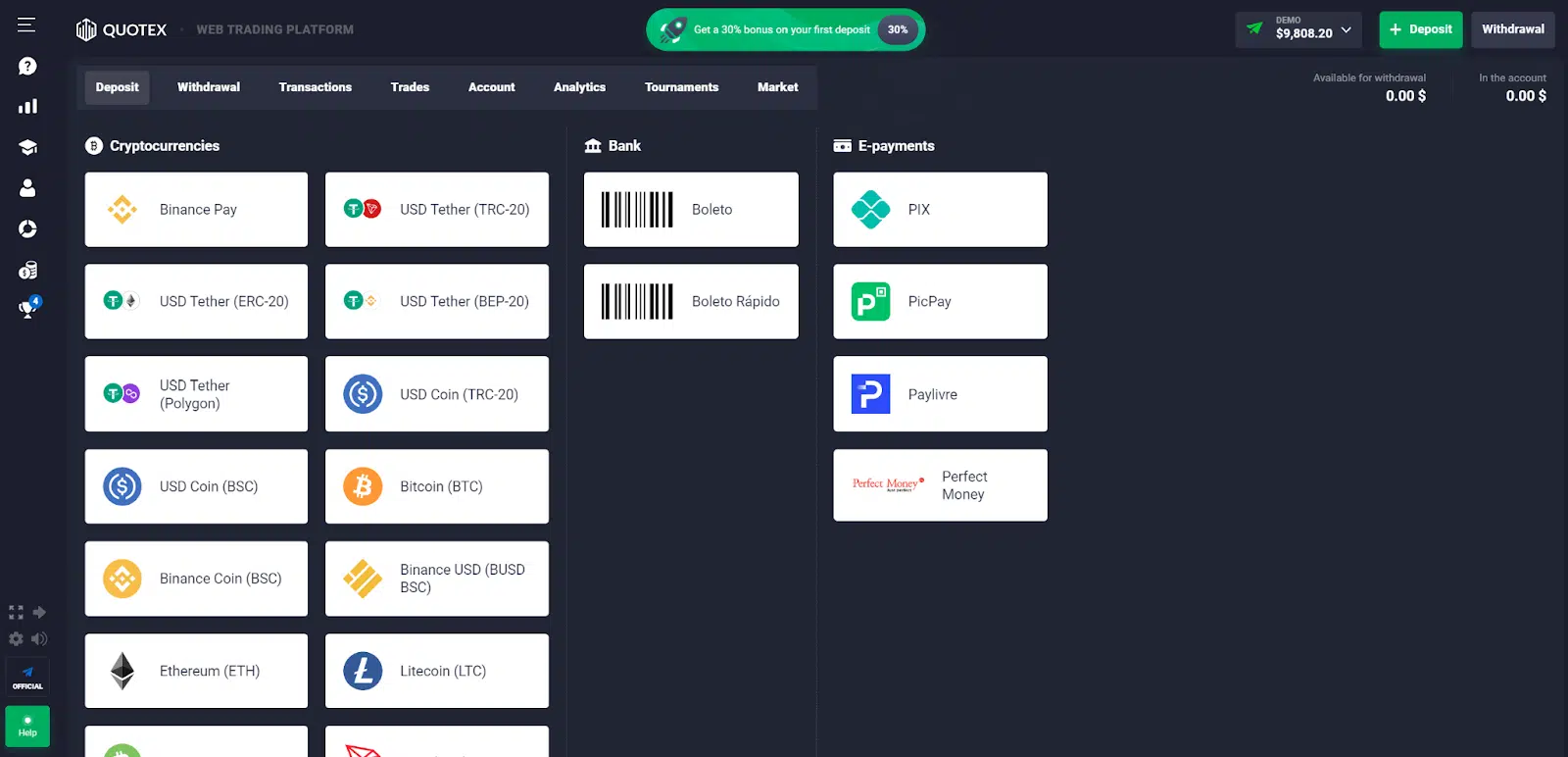 2. Is Quotex Regulated?
The biggest red flag: Quotex has no regulatory approval. Our first action in any broker review is to assess if reputable financial authorities regulate the platform within the US, European Union and/or the UK, like the Securities and Exchange Commission (SEC) or Financial Conduct Authority (FCA), criteria that Quotex did not pass.
The company behind the Quotex website, Maxbit LLC, is registered in St. Vincent and Grenadines, an offshore tax haven. It is not supervised by trustworthy regulators, and there is no guarantee that investors will be compensated if the broker goes bankrupt. Investor protection schemes are reliable within the US, EU, or UK financial regulatory environment but not in tax havens.
Indeed, several financial regulators in Europe, namely the CMVM (Portugal), CNMV (Spain), and CONSOB (Italy), have already issued warnings stating that the firm is not authorised to provide, promote, or offer financial services or products in those regions. Indeed, any resident from the US, UK, Canada, Hong Kong, EEA countries, and Russia cannot open an account: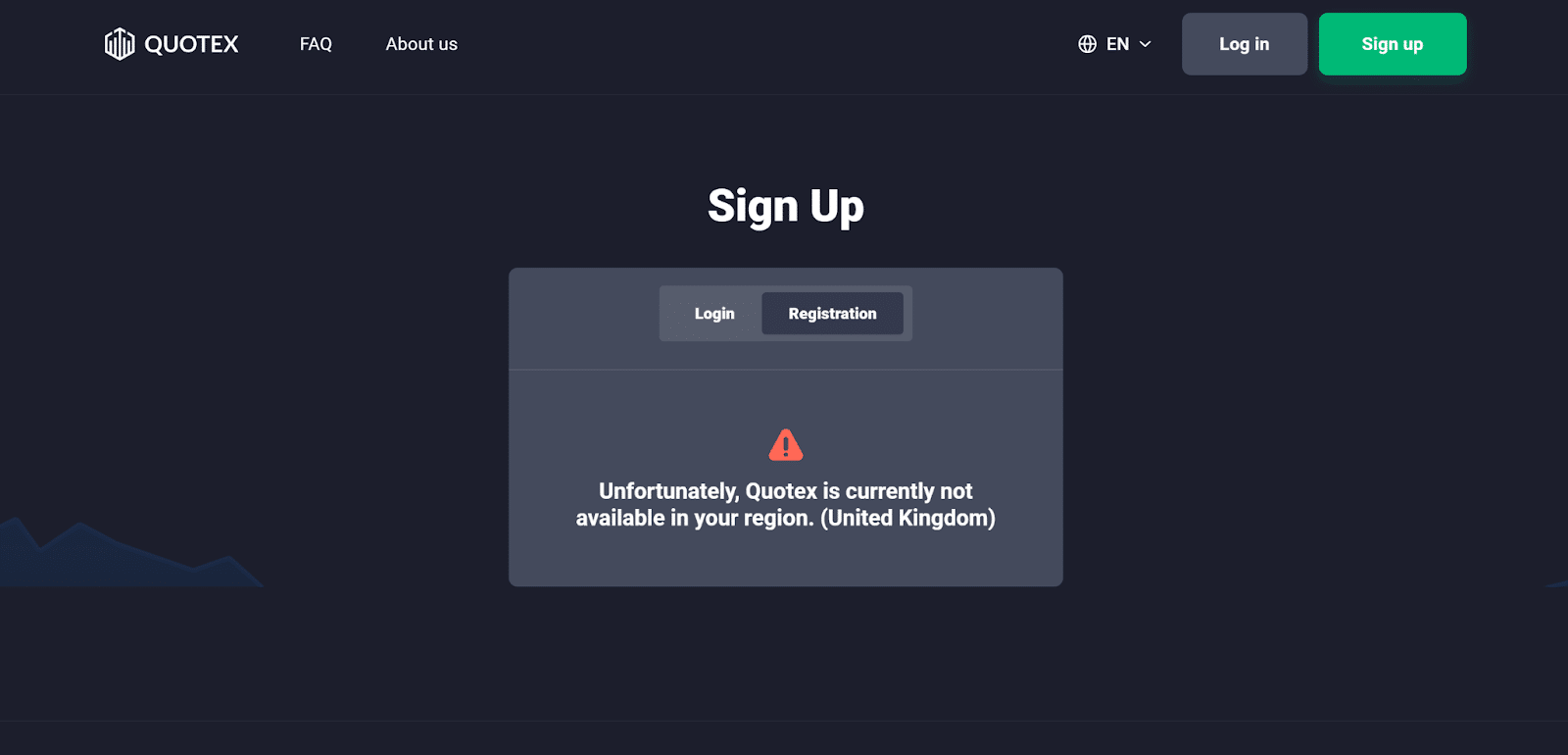 However, users from other worldwide regions (Argentina, Brazil, Colombia, Indonesia, Venezuela, etc.) are not prevented from opening an account due to – we suspect – the poor regulatory oversight of those countries.
When signing up as a Brazilian investor, the domain changes from quotex.com to qxbroker.com, and the registration process is simple (only the e-mail, password, and currency are needed):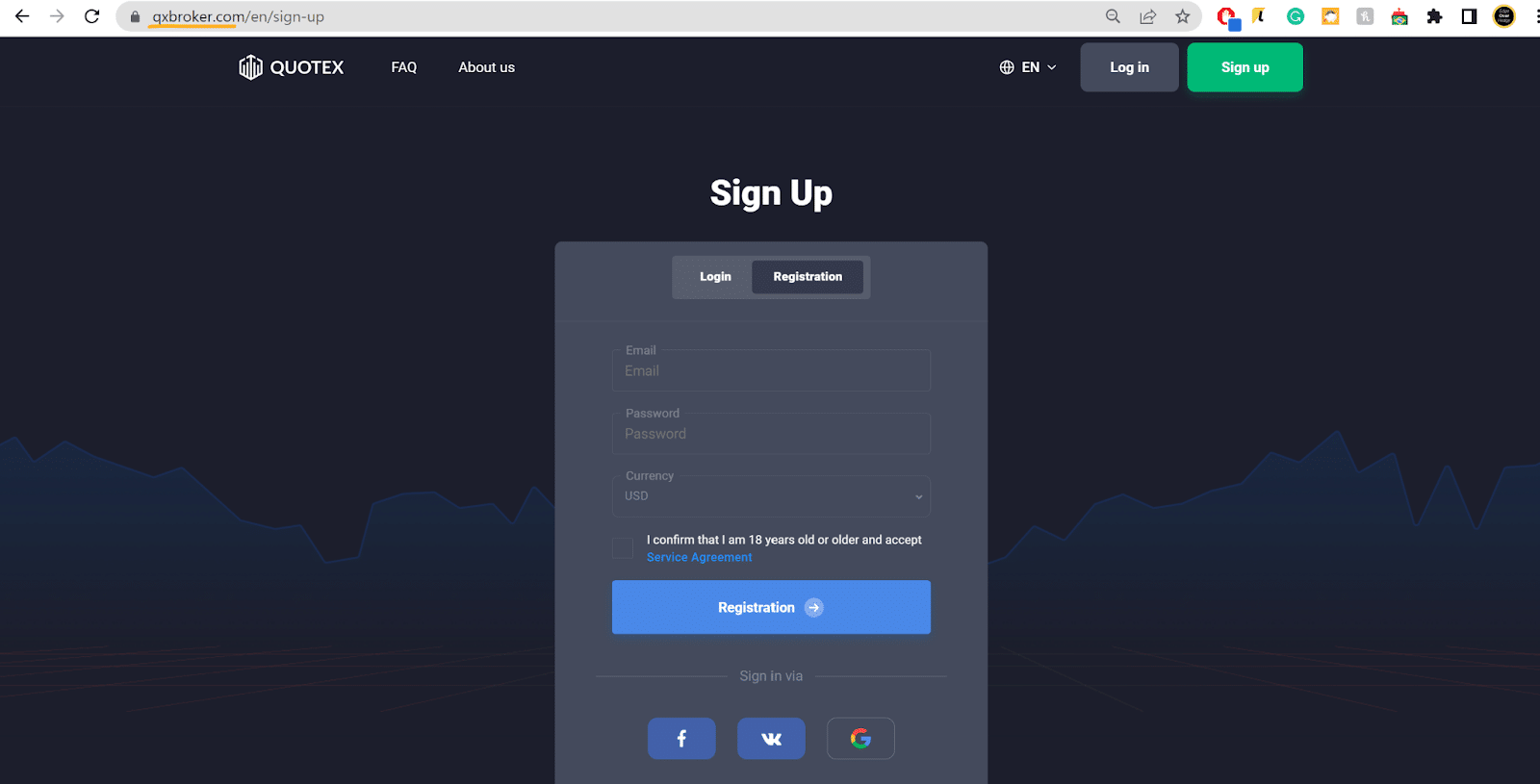 Also, please remember that it is common for these kinds of firms to change names regularly. Previously the companies owning the website were Quotex Ltd (old) and Awesomo Ltd (old).
4. So, is Quotex a scam?
At Investing in the Web, our confidence borders on certainty – we believe a big risk is associated with investing your funds in this platform. While it may not explicitly meet the definition of a scam, its operations raise substantial concerns we cannot overlook.
Again, we strongly recommend not investing in companies with so many red flags, no matter how appealing their offering might be (Quotex minimum deposit, demo account, or even an eventual Quotex promo code).
5. Regulated and Supervised Online Brokers (Our Recommendations)
There is a wide range of brokers where you can feel safe investing your hard-earned money. These options are fully regulated, have low fees, have good customer support, and have an easy-to-use investment platform, among others! Please take a look at the best ones:
eToro

: A commission-free stock and ETF trading platform. You can also copy other traders/investors. Slick, modern, and easy for anyone to use. It is trusted by over 30 million clients worldwide.

Interactive Brokers: Founded in 1978, IBKR is an online broker based in the US and one of the world's most trustworthy brokers. It offers an enormous range of financial products (stocks, ETFs, Options,…) and low currency conversion fees (FX fees). Interactive Brokers also launched IBKR GlobalTrader, a modern mobile trading app to trade Stocks, Options, and ETFs, ideal for novice investors.
Bottom Line
There is some information you should verify before considering opening an account with any broker:
Always double-check if the platform is regulated in major developed countries (US, UK, and EU);

Search on reputable regulators' websites (FCA, SEC,…) to check if the platform is registered or, on the other hand, is on a warning list;

If you feel a "salesy" approach, dig deeper;

Do not trust all reviews you read online (check several sources), particularly if no negative points are mentioned.
We hope you found this review useful! Do you have a question? Do let us know in the comments section below!
Other FAQs
What are Binary Options?
Binary options are a complex financial product with only two outcomes: win or lose. Binary options have an expiration date (set by you), a strike price, and a specific payoff. Let's use an example for better understanding: For example, it is Monday morning, and you believe stock X will be trading above $85 at 2:30 p.m. Through a binary option, you can bet that the stock will finish above $85. If it does, you win. If not, you lose the amount you bet. It resembles gambling more than investing. Given the all-or-nothing payout structure, binary options are sometimes called "all-or-nothing options" or "fixed-return options."
Please note that binary options differ from more conventional options since the latter lets you manage your position (trading the option before the expiration date). In contrast, a binary option is an "all or nothing" approach.
How does Quotex make money?
Supposedly, Quotex makes money by providing a lower payout ratio when someone earns. Example: You bet $50 that stock Y will rise above $20 in the next minute. Another person believes it will drop below $20, an opposite view to yours. Quotex may pay, for instance, $40 to the winner. So, one of the investors will lose the $50, and the other will win $90 (initial $50 + $40), so Quotex keeps the $10 for itself.