Hello, fellow investor! We will review Plus500 to help you find out whether it is the right investment platform for you.
We recommend Plus500 if you are a trader looking for a reliable broker with competitive spreads and a broad CFDs product portfolio.
Plus500 is available in over 50 countries, including the UK, Germany, Netherlands, Australia, South Africa, and Singapore. Besides, it is also listed in the London Stock Exchange (FTSE 250 Index), meaning it must disclose its financial statements, and it is regulated by top-tier regulators like the FCA in the UK.
Currently, Plus500 Invest and CFD are unavailable in the US. As such, this review does not apply to US residents. US residents can explore TradeSniper and Plus500 Futures, two Futures platforms created by Plus500.
That's Plus500 in a nutshell. If you want to find out what our research team has to say after analysing Plus500, keep reading. Here's what we'll cover:
Plus500 Review
1. Overview
Founded in 2008, Plus500 is an online broker based in Israel that offers a wide range of financial products, including real shares and CFDs on forex, indices, shares, commodities, options, ETFs, and cryptocurrencies.
There are two distinct platforms:
Plus500 CFD: It only focuses on CFD products;
Plus500 Invest: Where you can trade stocks (real shares).

The web platform you will use is the WebTrader, Plus500's proprietary platform, offering a stable trading experience and easy access from multiple devices, including a mobile app. All platforms are easy to use and responsive, and you can start testing the features by opening an unlimited demo account for free (Plus500 CFD).
Some brokers provide webinars, courses, and other educational materials to help clients efficiently gauge their investment strategies. Plus500 offers no relevant educational materials. The only tool it displays is the "Trading Academy", which includes an eBook and "how-to" videos, as well as weekly webinars. It is only advised for first-time traders.
Their customer support is helpful and easy to assess through a chat that is always shown on the trading platform. Besides, you can contact them through e-mail and a 24/7 WhatsApp contact. Their spreads are low, and they offer accounts in sixteen currencies, including USD, EUR, and GBP. Still, they charge a 0.70% currency conversion fee and a $10 monthly fee following three months with no activity. On Plus500 Invest, they charge a small commission per trade (US market: $0,006/share) plus a lower currency conversion fee of 0.30%.
Plus500 CFD also offers an unlimited demo account for free so that you can explore the Plus500 Webtrader with virtual money!
Finally, it is regulated by financial regulators like the FCA and CySec, meaning that Plus500 is appropriately supervised and that there is an investor protection scheme under the entity you open an account with. For instance, If you open an account as a European investor through Plus500CY Ltd, you are protected up to €20,000. Additionally, Plus500 provides negative balance protection for CFD trading on a per-account basis to all its clients (even outside the European Union).
Plus500 Highlights
| | |
| --- | --- |
| 🗺️ Supported Countries | +50 countries – Exceptions include the US and Canada |
| 💰 CFDs fees | Low |
| 💰 Currency Conversion fee | Up to 0.70% |
| 💰 Inactivity fee | $10/monthly after 3 months with no activity |
| 💰 Withdrawal fee | €/$/£0 |
| 💵 Minimum Deposit | €/$/£100 |
| 📍 Products offered | CFDs (and Stocks on Plus500 Invest) |
| 🎮 Demo Account | Yes |
| 📜 Regulatory entities | FCA, CySEC, ASIC |
Plus500 Review
2. Pros and Cons
Easy-to-use and responsive platform

Low spreads

No dealing commissions

Demo Account (Plus500 CFD)

Top-tier regulators
No ETF offering (if offers CFD on ETFs, however)

Inactivity fee ($10 per month after no login activity in 3 months)

High overnight funding fees

Very little research and education provided
Plus500 Review
3. Account Opening
To open an account with Plus500, it only takes seconds, literally. You just need to provide your e-mail and a password, and voilà: immediate access to their trading platform to test out its functionality (Demo account):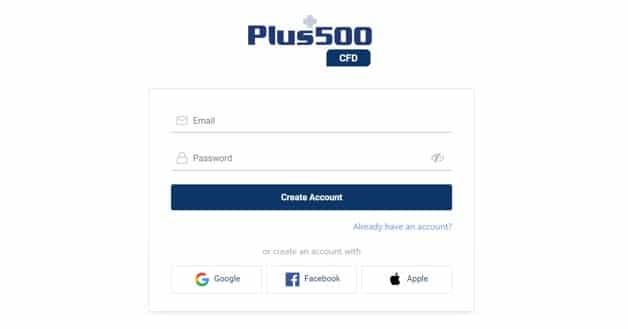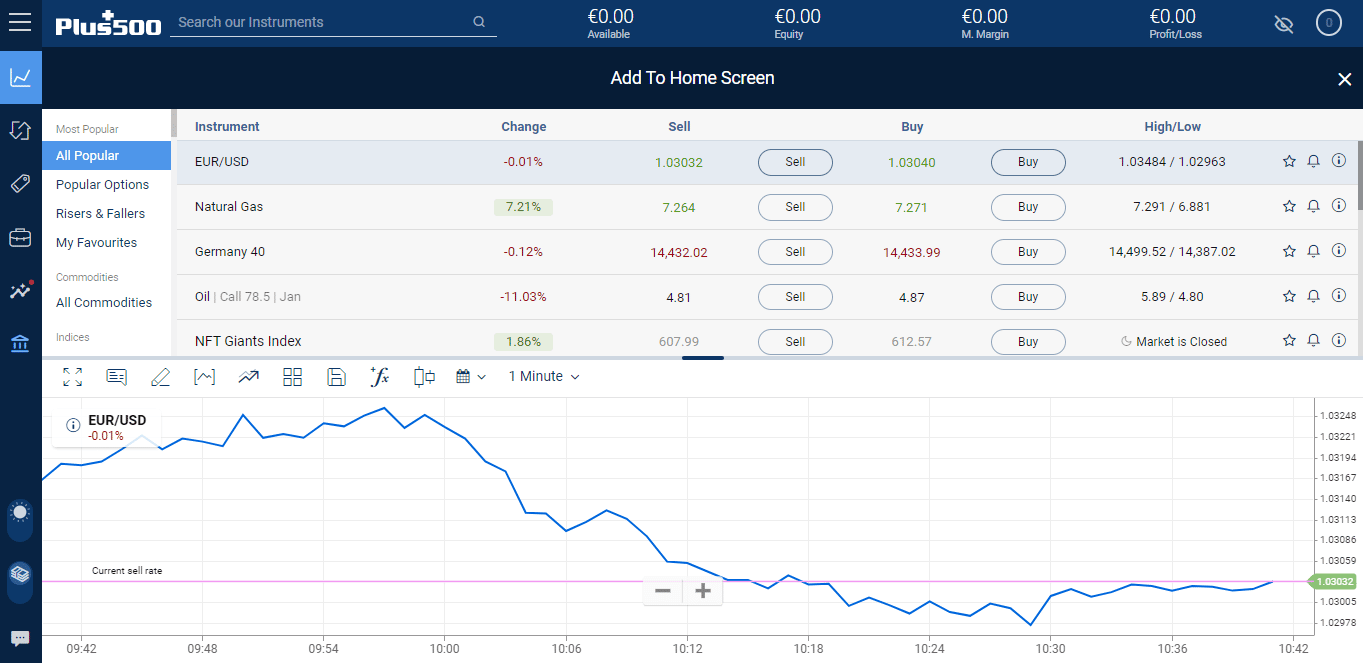 However, to start trading with real money, you will need to verify your identity and answer a questionnaire to assess your knowledge of financial products. This may take Plus500 up to 48 hours to verify these documents.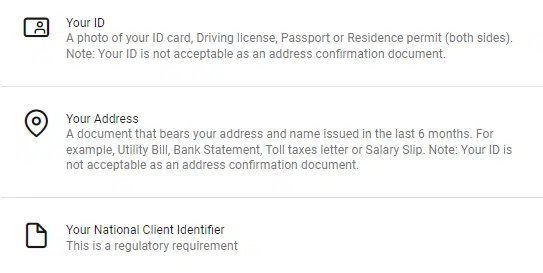 Multiple deposit methods are available to clients, including Bank Wire Transfer, Credit/Debit Card, Paypal, Skrill, Trustly, Apple Pay, and other local payment methods available for different countries. Bank card payments will appear on your account immediately. Deposits made via e-wallets are typically received within 48 hours. The minimum deposit amount is €/£100, but for a wire transfer, it increases to €/£500.
Plus500 Review
4. Trading Platform
As stated above, you will use WebTrader, Plus500's proprietary platform in Plus500 Invest and CFD account types.
You will not miss any essential features since you will encounter an intuitive and customisable dashboard, watchlists, alerts, and technical analysis tools. However, Plus500 does not make the popular MetaTrader 4 (MT4) platform available. We believe that this is only a drawback for really experienced traders.
On the top left side, you can switch from CFD to Invest account: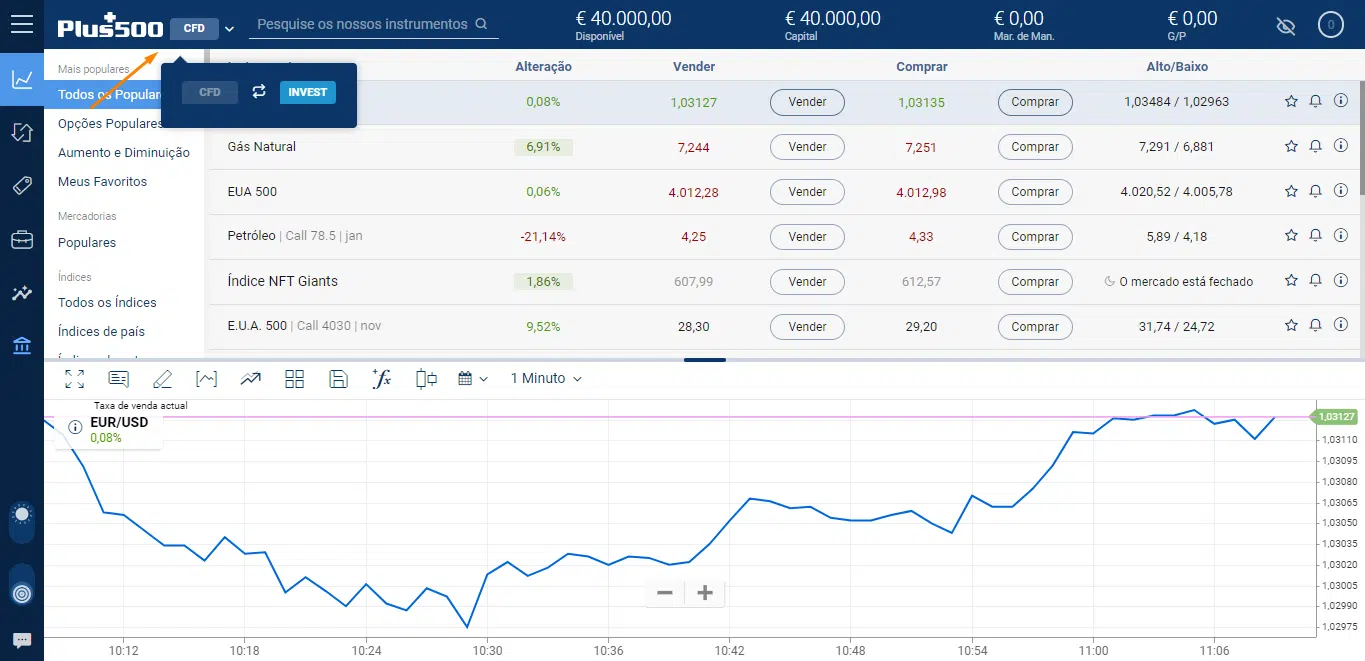 Within Webtrader, you will find +Insights, a trend exploration-driven tool – which allows users to explore predefined measurements such as "most bought", "most sold (shorted)", "most profit-making positions", "most loss-making positions", etc. And get a list of the "Top 10" instruments in that respective measurement – a glimpse into the "wisdom of the masses".
The newer addition – Instrument +Insights Tab – is an instrument-focused experience that lets users dive deeper into each instrument's data. The first part of this tab is based on 'Plus500' trading data – how many views has this instrument had in the last 24hrs? How popular is this instrument (how well is it traded)? The second part is where users can get an analysis of news, what the crowd thinks about it, the subjectivity of this opinion vs 'real-world' data, and the volume and source of those news items.
The Plus500 trading platform offers:
Risk management tools
110 technical indicators and 13 charts, allowing to use multiple simultaneously
Real-time Trading Alerts, unique to Plus500.
Watchlists – Users are able to manage multiple favorite lists.
All features are available throughout Plus500's native platforms (desktop/iOS/Android).
Plus500 Review
5. Products & Markets
At Plus500 Invest, you only find +2,700 stocks in exchange in the US and Europe, including small regions like Portugal or Austria.
At Plus500 CFD, the product offering widens to CFDs on Indices, Forex, Commodities, Crypto, Shares, Options and ETFs:

Some unique and exclusive to the Plus500CFD platform – AI Index, ESG and Impact Indices and a great number of options CFDs.
When placing an order, this is all the information you will get (EUR/USD as an example):

Retail account holders have access to up to leverage up to 30:1, depending on the instrument traded.
Plus500 Review
6. Fees snapshot
You will find no deposit or withdrawal fees and no custodial fees. So, what will they charge you? Trading commissions and a currency conversion fee.
You will be charged a $0.006 per share with no minimum fixed commission on US stocks. However, for most European stocks, there will be a trading commission of 0.045% of the trading value with a minimum per order of €2.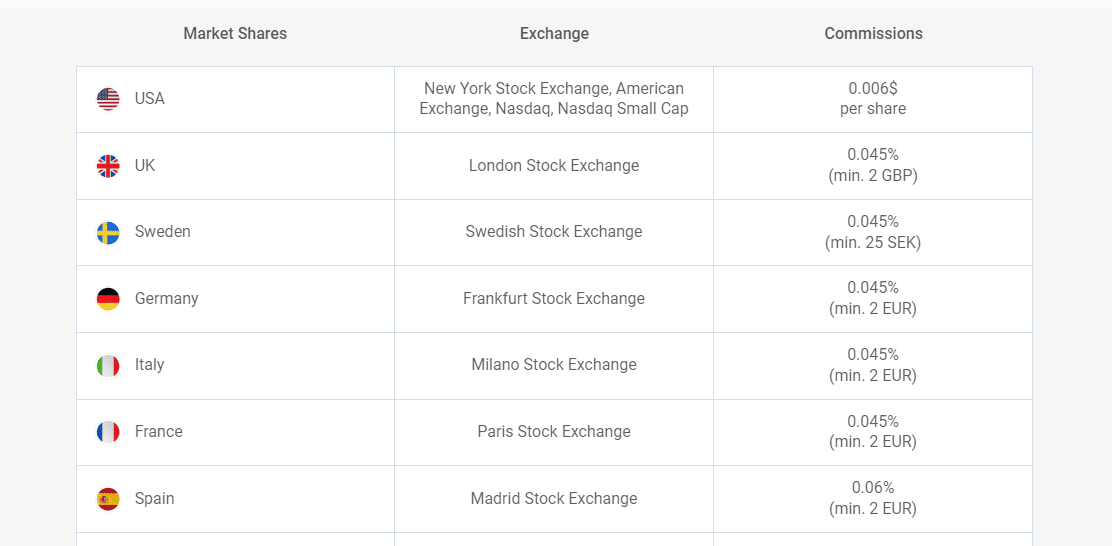 In addition, a currency conversion fee of 0.30% will be applied to every trade executed and transaction charged in a currency that differs from your account currency.
In the CFDs space, Plus500 does not charge dealing commissions. Their primary source of revenue comes from spreads. To ensure you understand what a spread is, let's use the following example: You are trading EUR/USD. If the ask price (the price you buy) is 1.21066 and the bid price (the price you sell) is 1.21058, Plus500 will earn the difference (a market spread of 0.8 pips – see image below).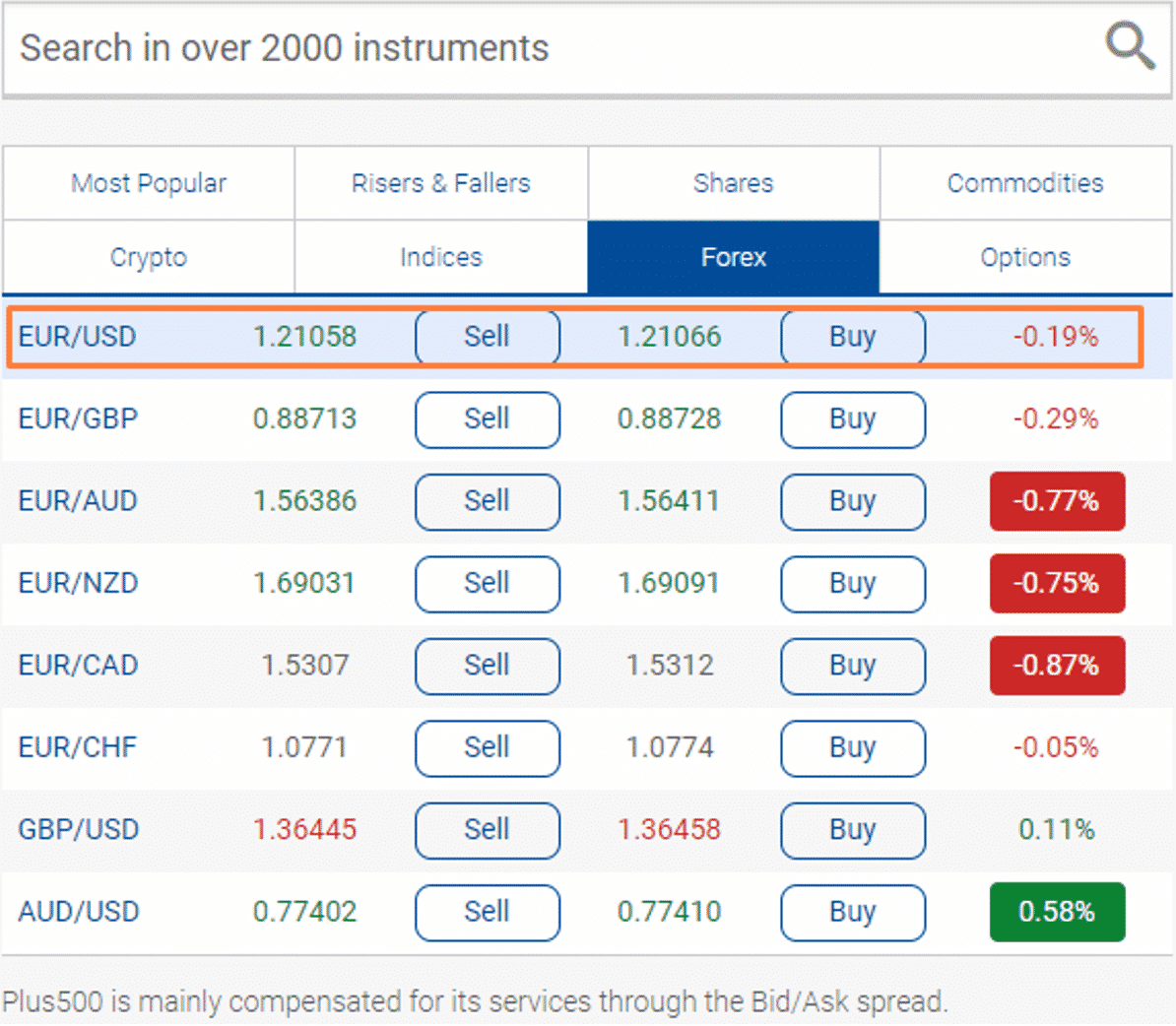 Other fees included are the following:
Overnight funding: It is another name for a daily interest rate. Remember that by trading CFDs, you are using leverage. In essence, you are being lent money in addition to your initial deposit, and, as you may imagine, that comes at a cost;
Currency conversion: As in Plus500 Invest, If you have EUR and want to invest in USD-denominated security, you must first convert your EUR to USD. That process comes at up to 0.7% each time you do that translation (yeah, when you sell your USD asset, you will be charged again).
Inactivity fee: If you do not log into your account in a consecutive three months period, a recurrent $10 monthly fee will be applied. It stops charging you as soon as you log in back again.
Besides, there is a particular type of fee that comes with an advantage to you, it is purely optional and might be handy in volatile markets: "Guaranteed Stop Order". It is an excellent way to protect yourself against extreme market turmoil (see more details in the "Regulation" section). The fee associated with it is charged via a wider spread.
Plus500's fees are pretty competitive in the brokerage industry. Plus500's website denotes transparency about all involved costs, enabling quick comparisons and calculations. Still, you will only be able to see some fees on "Details" (next to the instrument's name) inside the platform and not on their website. So, before placing an order, make sure to give it double-check.

Plus500 Review
7. Regulation
Plus500 is a trademark of Plus500 Ltd, which operates with several subsidiaries, giving it more than one regulatory approval. Plus500UK Ltd is authorized & regulated by the FCA (#509909) which is among the strictest regulators in the world.
Keep in mind that the Investor Protection Scheme does not apply uniformly for all Plus500' clients. For instance, a UK investor is protected under the Financial Services Compensation Scheme (FSCS), up to £85,000. Still, a German investor, for instance, is subject to the Cyprus Securities and Exchange Commission (CySEC) legislation.
As mentioned in the "Fees Snapshot", Plus500 entrusts an additional layer of safety by giving you a "Guaranteed Stop Order", not a common practice in the financial industry. This feature can only be enabled with specific conditions (more info here), but the message is clear: "it will force the position to close at your chosen rate (price) even if the market price surpasses it". In other words, you have no market gap risk. As an illustration, let's imagine you buy a CFD of Apple for 100 USD, and you set a stop loss at 95 USD. The next day, Apple opens dropping 10% in value and now is quoting at 90 USD. You would still sell your position at 95 USD, not at the current market price (90 USD).
Finally, following the August 2018 restrictions in CFD trading by the European Securities and Markets Authority (ESMA), Plus500 provides negative balance protection for CFD trading on a per-account basis (all retail clients). What does that mean? Imagine that you deposit 1000€ in your account and open a position with a 5:1 leverage. This increases your exposure to 5000€. If the market dropped 25%, you would lose 1250€ (25%*5000€). As you can see, it is above your initial deposit of 1000€, meaning that you would owe 250€ to your broker. With ESMA regulation, your account balance is automatically readjusted to 0€, so you only lose your deposit. (more info here).
Do you want to read a deeper analysis? Check out our dedicated article on investment protection (for EU investors)!
Plus500 Review
8. Accepted Countries
Plus500 operates mainly in Europe, but it is already present in over 50 countries, namely Andorra, Argentina, Australia, Austria, Bahrain, Bonaire, Bulgaria, Chile, Colombia, Costa Rica, Croatia, Cyprus, Czech Republic, Denmark, Dominican Republic, Estonia, Finland, France, French Guiana, Germany, Gibraltar, Greece, Guadeloupe, Hong Kong, Hungary, Iceland, Indonesia, Ireland, Isle of Man, Israel, Italy, Kuwait, Latvia, Liechtenstein, Lithuania, Luxembourg, Macau, Malaysia, Malta, Martinique, Mexico, Monaco, Netherlands, New Zealand, Norway, Oman, Panama, Poland, Portugal, Qatar, Reunion, Romania, Saudi Arabia, Seychelles, Singapore, Slovakia, Slovenia, South Africa, South Korea, Singapore, Spain, Sweden, Switzerland, Thailand, Taiwan, Trinidad and Tobago, United Arab Emirates, United Kingdom, and Uruguay.
Make sure to check Plus500's website regularly in case your country is not allowed yet.
Plus500 Review
9. What its clients say
Here is what the current clients of Plus500 think about the trading platform. It is rated 4.2 on the Apple App Store, 4.3 on the Google Play Store, and has a Trust Pilot rating of 4.1 with over 11,000 reviews.
Plus500 Review
10. Bottom Line
Plus500 is a well-known player in the CFD market. The low spreads, a simple and functional platform, and a good portfolio offering make it a real possibility for every kind of trader, from beginners to advanced.
The recent introduction of Plus500 Invest appeals to more long-term investors, but missing ETFs may still drag on attracting new customers (it offers CFDs on ETFs, however). Also, the trading commissions are not as competitive as we would expect.
Finally, its track record and rigorous regulatory supervision give us confidence that you will extract the most value from the platform!
---
82% of retail investor accounts lose money when trading CFDs with this provider. You should consider whether you can afford to take the high risk of losing your money.
Please note that CFDs are complex instruments and come with a high risk of losing money rapidly due to leverage.
Past performance is not an indication of future results.
¹ By total number of relationships with UK CFD traders, Investment Trends 2020 UK Leverage Trading Report.